With plenty of useful hair products, define your mid-length curls and embrace the natural malleability of your hair.
Whether your texture is soft, frizzy or heavily bound by ringlets, these rich looks will obviously steal the show! When you are confused, go for the chic medium cuts that totally fit with your curly-wavy hair type. Take a look below:
18 Superlative Medium Curly Hairstyles for Women
Black Medium Curly Hair
If you are looking for an effortless and trendy way to rock your curls, this might be it. With a strategic layering and messy look, it boosts both the structure as well as the fluffy texture.
Blonde Medium Hair with Curls
Soft curls are an absolute delight for your daytime shopping trips or evening dinners. Keep it chic and pretty with downright curls, set them free from the frizz.
Casual Hairstyles for Medium Length Hair
Intimate curls with a middle parting is one of the ways to style your blonde hair right. Keep it as happening as your elegance!
Medium Blonde Wavy Curly Hairstyle
With your mid-length silky, sleek curls you don't have to try too hard to blend in the right look for you.
Soft swirls, an awesome textured hair, moisturized part of hair and you are ready to roll!
Medium Curly Feather Hairstyle
It looks like the wind was playing with your hair. Get yourself a breezy yet a cozy look with bangs swept on a side. The effect is stunning and attractive much.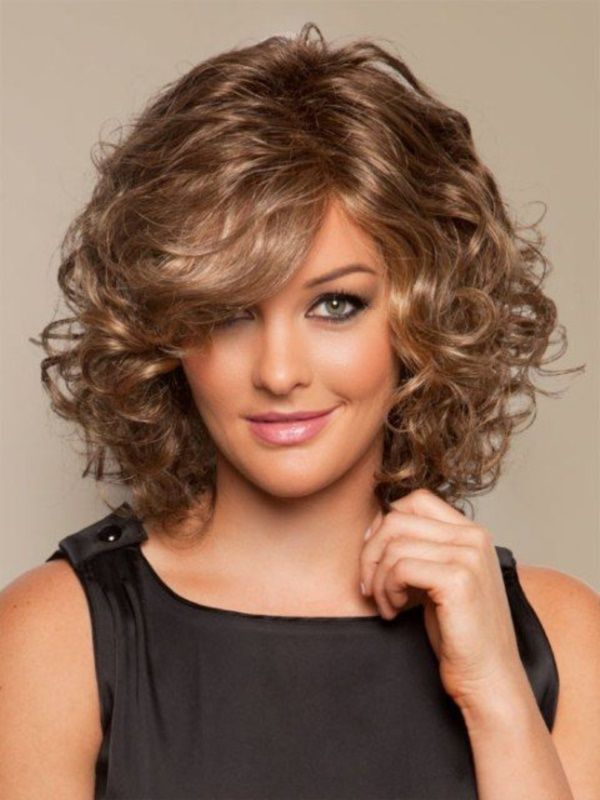 Medium Curly Hair with Bangs
Give a rich tone to your highlights and seize the look. To get the look, work with your natural texture by only curling pieces that need shaping.
Medium Curly Hairstyle with Side Swept Bangs
This cut has been a rage for a long time now. The ashy blonde highlights turn this style into something terrific. With a side parting, give a chin- cut droplets look.
Medium Curly Hairstyles with Waves
Look sassier and comfortable with this style. Loosely held waves layered asymmetrically is another way of getting your curls right.
Medium Hairstyles for Fine Curly Hair
If you already have curly hair, make sure you do not overdo it. Leave it open, let them breathe and, style it amazingly for a red carpet look!
Medium Length Curly Hairstyle
Cut short your hair in the front and allow your curls to roll down your cheeks in layers. If you let the frizz free, nothing else will make it merrier.
Naturally Curly Medium Hair
Not everybody can carry this look confidently. Be yourself and own the natural swirls you have.
Style it properly with the curling creams, spray them a little and rock the appearance.
Red Colored Medium Curly Hair
Colored red headdresses you uniquely. Twirl your medium curly hair and swoosh! Sideline the bangs and be proud of your coiffure.
Reverse Ombre Medium Curly Hair
Have you ever tried the reverse curls? Using some hair accessories, you can embellish your wavy hair and quirk up your style!
Savannah Jayde Medium Curly Hairstyle
Healthy curls give a healthy streak to the texture of your hair. Blow dry the natural frizz and acquire a different review!
Selena Gomez's Medium Curly Dark Hairstyle
You slay lady if you believe in the volume of your hair. Take them as it is and play with their mood. Sharp curls make it super sexy and appealing to the eyes.
Short to Medium Curly Haircut
Acquire the subtle hair cut with your curly texture, and if you've got some Goldilocks in the browns, waves at the ends and bends in the middle and grab the sophisticated look anytime.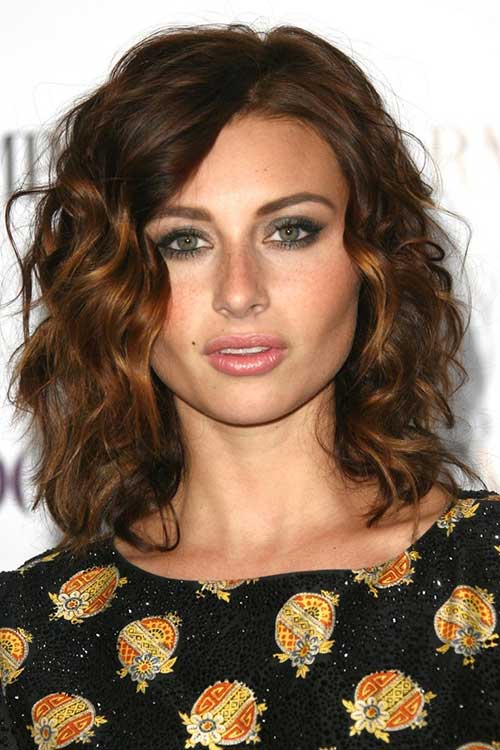 Shoulder Length Curly Hairstyle
The mismanaged curls will any day make you look hotter. Hit the gathering right with sass and boldness in the shoulder length curls like a boss lady.
Tyra Banks Medium Curly Hairstyle
You know it gives an outstanding result if you straighten your fringes and layer the medium curls at correct intervals.