To long side ponytail, braided ponytail, low ponytail, messy ponytails. Basically ponytails are being seeing everywhere as a style statement.
From the runways of NYC's fashion week to red carpet events, at celebrity weddings and award shows ponytails are an asset. Beautiful to wear and easy to style, it gives a formal outlook without looking too uptight. They look super sexy yet soft at the same time. One look at these pony styles and you'll be dying to try them.
21 Gorgeous Ponytail Hairstyles to Make You Look Beautiful
Braided Crown Ponytail
Remember the days when you just can't get your hair to listen to you. How much ever you try it just doesn't cooperate. Just when we want it to fall in bouncy curls or in waves, it ends up going the other way .That's when this style is a blessing in disguise.
Braided Pony
Here comes a style that can be worn anywhere and everywhere, weekend outings, picnics or just when you wanna hop to the mall. Whatever the occasion the braided pony is a messiah for those in distress.
Formal Pony
Ponytails do make a statement .For the modern age woman juggling between office meetings and luncheons, the formal pony serves as a dual purpose .Best suited for those with shoulder length or long hair , it serves as a day to night look . Getting the twists and the curls right is no major task for the woman of substance.
French Braid Ponytail
Reminiscent of high school days? A rage back then will not let you down now too – but with a twist. The French braid ponytail complements all hair types. Whether you're a blonde or a brunette 'got curly or straight hair – this hair style is non-fussy and easy to conjure, moreover it gives a neat finish.
Half Up Ponytail
Celebs love this half –up bun hairstyle. It's a 10/10 look for the stage, the airport or for any award night. It's a fun style for all socials. It can be tried with variations like backcombing or with extensions. The paparazzi won't get its eyes off you.
High Pony with Curls
There's so much thinking and planning that goes about in making your big day a grand success. The focal point being your look. To capture the special memories, elegant, charming gorgeous and ravishing is just what you need to look. This hairstyle is the one stop solution for all brides or bridesmaids who are dreaming of that princess like look.
High Ponytail
Red carpet hair and real life hair don't often intersect, but the high ponytail manages to give you just that runaway model look. The trick is in getting the placement right to give you the perfect model looks. Style it and there will be no road blocks to stop you from scorching the ramp.
Loose Top High Pony
No time for a hair wash and an impromptu dinner plan with friends crops up. Don't worry or fret this ponytail is a quick fix for times like this. It is effortless and makes one look beautiful. Undone and natural can be the perfect look for a style like this. A few strands of hair can be pulled out to give a softer and subtle look.
Low Side Ponytail With Texture
Side ponytails are for all occasions and suit most face types. It's simple and can be done in a jiffy. Whether you're a hand on full time mom or juggling work and home, you can style your hair in a side ponytail to create that salon look you've not been able to take out time for. Wavy hair gives the added texture which gives it a messy yet stylish look.
Messy Curls Low Ponytail
This style combines a low ponytail and face framing waves for a hairdo that can be worn with ease and pleasure to a park or to any game. It's girly and at the same time doesn't come in the way while playing any outdoor sport. Securing it with an elastic band will ensure that it doesn't fall apart.
Pulled Back Ponytail with Beachy Waves
The prominent center parting and understated volume makes this style simple and chic. It falls loosely by the sides and this kind of a low ponytail gives an air of nonchalance. The air can be brushed to detangle and the ponytail can be secured loosely at the nape. The effect is that of sun kissed hair falling in waves.
Short Ponytail
Who says short hair can't be styled in a ponytail. This spunky hairdo is perfect for a hot summer day, for the gym, in transit. It's the ideal look for a bad hair day and tying it in a pony is the best way to get it in place. The loose ends that come out makes it more natural, so be it Cameron Diaz or you- we are full of spunk a'int we?
Side Braided Low Ponytail
The front hair is used to make a double braid and either you twist a lock of your hair to secure it in a ponytail or you can use a hair tie. Take out wisps of hair at the sides to give a dreamy look. One portion of hair can be side swept to join the braids fashioned like a ponytail. Presto! With a swish of the magic wand you look like a fairy tale princess.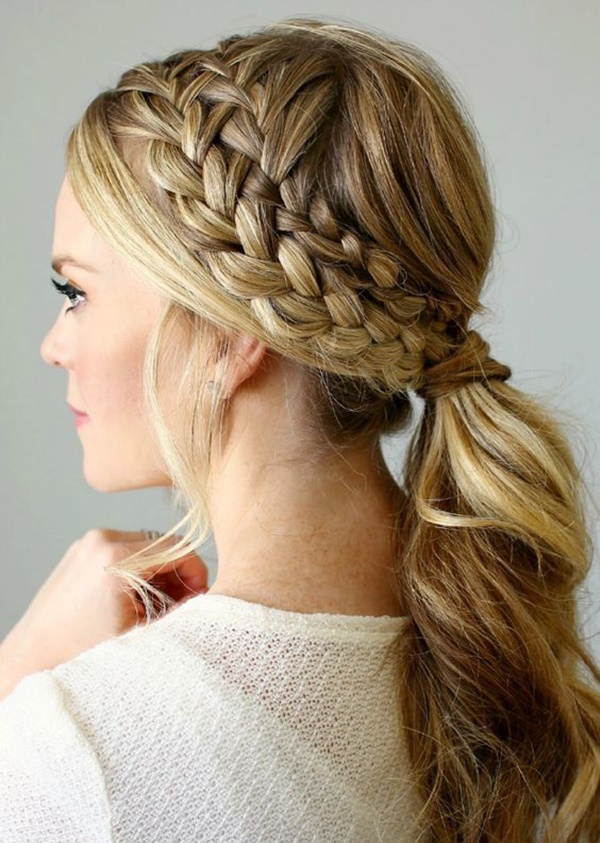 Side Fishtail Braids Ponytail
Long hair becomes bothersome sometimes to manage. The fishtail braid looks mesmerizing and gives a mermaid like look. Style your mane like a mermaid to captivate and hypnotize your prince charming. The loose strands that escape your hairdo makes you look more enchanting and pretty.
Side Parted Black Ponytail
Classy, chic, suave-All this is YOU!! The slicked back gelled look needs to be pulled off with gusto, and that's a quality which is rampant. So flutter those pretty eyelashes to get your way. Accessorize that long slender neck and you're ready to rock and roll.
Side Parted Sleek Ponytail
The sleek side parted ponytail is the solution when your hair is all dirty and greasy. You can pull this look off with confidence and you can be sure that it will be a hit. Like this say, "beauty lies in the eyes of the beholder" we assure that you'll be ready to cover the front page of the next vogue.
Side Swept Low Ponytail
The Side swept low ponytail is a stylish and trendy variation of an old time favorite. It is easy and suits every hair type and face shape. A section of the hair is intentionally left loose to fall at the sides. You'll be turning heads as you walk down the streets and making people stop dead in their tracks.
Sleek High Ponytail
Ah!! The perfect style to show off every contour, every nuance of your beautiful face and neck. The cheek bones are accentuated and though it looks stern and rigid there's an inexplicable softness which adds an aura to this unique style. Its versatility adds beauty to your accessories, bring out all the emeralds and rubies from hiding and flaunt it. As they so rightly say," If you've got it, flaunt it."
Sleek Ponytail
Looks best on long straight hair for an elegant and austere look. Sometimes vertical hair can be a boon too. The austerity of the look can be softened by accessorizing it right, a few askew strands of hair will soften the look. It is a complete head turner and a look favored by models.
Textured Mid Pony
A walk along the coastline during dusk with the wind blowing on your face- what a pretty picture it paints. This relaxing, easygoing and friendly hairstyle is just what you need to look the bronzed goddess that you are. This is the hairdo that you want to sport for the much awaited holiday photo-shoot.
Twisted Braid Pony
The woes of looking pretty and efficient at the same time are a struggle for many. Our quest for a morning to evening look which is a success ends here. The wispy strands of this style make it look romantic and dreamy. Hair falls down naturally in waves making it look relaxed and pretty.