With fine hair, it is easy to feel that there are very limited hairstyles on for you. We are here to prove the general notion wrong.
There are certainly a lot of hair styles which can suit your hair type. Here's a list of most stunning short haircuts for fine hair.
21 Most Glamorous Short Hairstyles for Fine Hair
Angled Pixie
Short thin hair? Angled Pixie is for you. This cute tapered hairdo gives anime feels. The angled hair will fix the volume problem and give a disguise of thick hair at the crown and in the front. Casual and cool this one can also go with work occasions and clothes.
Asymmetrical Bob
When you are a bob cut fan but don't like it basic, you go for asymmetrical bob. The gradually long hair from one side to another makes it look unique. The side parting and bangs neatly tucked to one end gives it fun but no fuss outlook!
Balayaged Pixie
The cute pixie with blonde-brunette balayage hair is sure a hot combo! If you like it off-beat and hippie-ish aura this haircut suits your needs. Pixie on the other hand gives the hair the required amplified thickness to the hair.
Blunt Cut
Easy to do, Easier to maintain. A blunt cut is sure traditional way to the hair. But with hair highlights and middle parting you can enunciate the whole look to the next level. Go for sharp imperfect ends so that the hair looks innate and naturally wavy.
Boy Cut
Tom-boyish or not, boy cut is blind try a girl longing short hair should give. Easy to maintain, a blonde boy cut is cute, classy and definitely not-so boyish. In long run, let the bangs grow and it can turn into a short bob with modest styling.
Braided Bob
If someone told you, braids are for long hair, show them this! Jet black hair and asymmetrical bob are only ingredients to this chic bohemian look. This intricate braiding will make you look feminine like nothing else! Pull this and braids can be super interesting.
Copper Hair with Blunt Bob
The sun kissed ginger hair is sure attention seekers. A side parted bob which is shoulder length gradually turning into a blunt is not-so mainstream way to do your hair. The red and brown hues are the underscore of the whole look.
Funky Undercut Hairstyle
You think you aren't made to fit into custom-made norms? Why force your hair to do so? The shaved ear line and the chin length bangs on the other side will perfectly define the extremists' side in you. The Burgundy undercut and contrasting silver surely won't go unnoticed.
Layered Straight Hair
Layers is the best way to do the straight hair. The pixie-like hair cut is subtle way to do the hair for older women. This needs no effort if you have got straight hair. The layers in the hair add to the volume and thickness of the hair.
Messy Pompadour
Messy but regal, this hairstyle will draws the focus on facial features. The unorganized back pulled hair rather looks like an organized and neat look. And that's the beauty of the contrasting hair. This is sure not going to make your hair look fine due to added front hair.
Mohawk
Long hair in the center and no/little hair in the sides is classic Mohawk. The grey hair with shaved undercut but long hair in the center gives it a Mohawk effect. This kinda haircut makes you look taller and cleaner due to no hair falling on your face. Enhance to look by adding statement earrings.
Pixie
When in doubt, make a pixie. With lot of celebrities going back to pixies, they have come back in trend and how!? The perfect juxtapose of edgy chop with romantic wisps is the latest trend. The above the nape hair cut scores 10/10 on our style quotient meter.
Razor Cut Pixie
Shear the undercut and keep the bangs long. This Razor pixie is surely going to make a lot of hair turn as the unfinished, razor cut hair draws a lot of attention. Do it blonde or do it in any hair color this hair style is versatile to accommodate all.
Retro Bob
Old is glam, like in this one. Retro was the golden era for the entertainment industry, so for the hair. This old time look requires low maintenance and is high on the glam meter. Color your hair to upgrade.
Shaggy Lob
The red curly hair, neatly side parted and wavy makes your bob look distinctive. This shoulder length sun kissed ginger hair are definitely for the ones who have loved barbies as it will make you look like a complete doll. Let it be shaggy, casual and unforced.
Short Layered Hairstyle
This multi length hair and multi color hair looks too adventurous? It is actually too happening and hot as it is a mixture of a bob, pixie and layers. More the hair put backwards, the volume of the hair will look proportionately amplified.
Side Parted Bob with Loose Curls
Loose curls are lovely way to do the hair if you are not a fan of trying something too adventurous. Side part the hair and tame the smaller side behind the ear. Rest let the larger side be loose and frisky. Play with the loose part of the hair on a date to let him know you are interested! wink
Side Parted Layered Straight Hair
This corporate hair is ideal for middle aged women who do not have time to maintain elaborate hairstyles. Be innovative with color but basic on the cut to strike equilibrium. Show off the layers with side parted hair style.
Sleek Bob
A sleek bob is a loud announcement of a simplistic, one dimensional style. A side parted sleek bob is one for you if you like to keep it retro and cute. This time tested hair cut has been pet to at least 4 generation of women. Sleek and well domesticated hair is perfect for this elegant hair cut.
Wavy Bob with Twisted Bangs
Long bangs and short nape hair are only meant for bold and beautiful women. Wavy bob is sure a fashionable way to do your hair. One-up by twisting the bangs at the back. You can also try braiding them for a different look. Highlighted hair remarkably complements this hairstyle.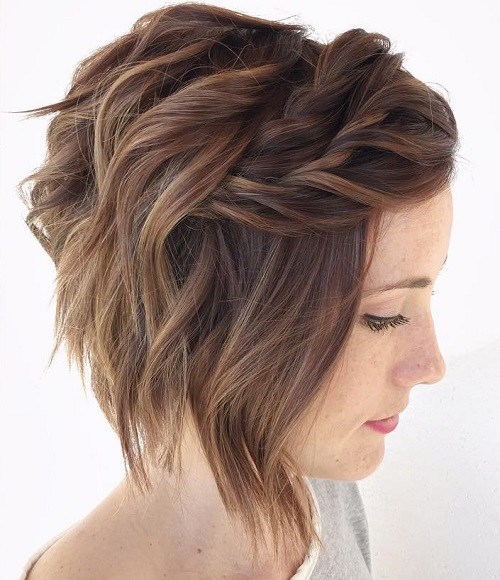 Wispy Layered Angled Bob with Highlights
Windswept hair is surely effortless looking style to do the hair. Wispy bob is angled to give a multi dimensional layered look. Highlight it into chestnut or honey color to augment the look. Volume! Volume! Volume! Is what you get as the end result.