Short haircuts can never go out of style and trend, but now you can have one more advanced level of short haircut is a short fade haircut that not only makes you salon trip less but they are also low maintenance.
Gone are the days when the choices were very limited for boys but now not only you have different haircuts but you also got many various styles in that particular haircut.
Good grooming has never been out of trend and will never be; fade haircuts give a subtle touch of baldness without being too flashy about it. A fade can happen anywhere on the head; some are small and confined to the sideburn, temple or neckline.
21 Short Fade Haircuts for Guys to Make a Style Statement
Short to Mid Fade Haircut
This mid fade haircut gives a lot of attention to the rest of the hair on your head; a slight curve can be called a tattoo which gives compliments to the rest of the look, with this cut you can be easy to go to work, gym or club.
Mostly suitable for an oval-shaped face, this fade can even make your face look a bit longer. This style goes with all types of attire very well and gives you an attractive and charming personality that girls find it hard to resist.
Short Hair with Fade Blended with a Faded Beard
A cool look to go for, with terse hair. The hairstyle is styled with a combination of faded head and faded beard hair. The dense hair at the top of the head is kept short, followed by a bald look at the ends to create a fade away look.
The hairstyle has given fine detailed with a sharp line at the front of the forehead. Similarly, the beard is also given fine detailed lines to compliment the overall look. Men with thin density beards must try out this look to look their best.
Mohawk Fade Haircut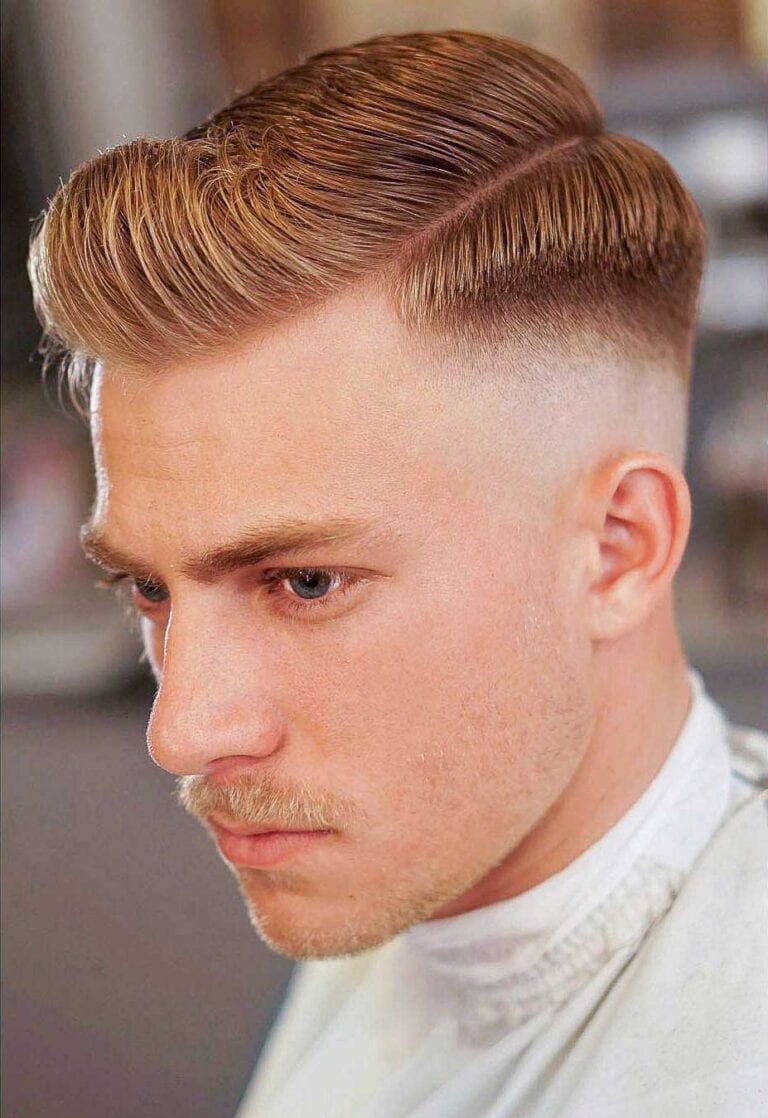 Side parted this fade haircut almost looks bald at sides, and the side hairs are styled like stairs with the help of a trimmer and the rest of the hair in the middle is styled in a front Mohawk way to give more volume to the hair, a bit of firm gel is needed to get this look and you are ready to rock your party.
This cool style is befitting for the younger generations specially the teenagers and college-goers. You can create your style statement with this alluring haircut.
Comb Over Fade Haircut
This comb over fade haircut gives a lot of volume to your hair, a brush, and some fixing gel is good enough for you to get this style, the side fade highlights the comb-over hairs.
This style will make any face shape look longer because of the comb overlook, once done with the barber, you need not visit the salon even if your hairs grow longer as they can also be combed over. Go and get styled with this classy haircut as this spunky look will definitely make you popular among girls.
Short Fade Haircut
Fade can be added to any length of hair whether short or long, for low maintenance try this fade haircut with short hairs, just some styling gel on your fingers and you can style them the way you want, well textured hair is much needed for this type of haircut as the smooth, radiant and silky finish gives you a great look in this haircut.
To beat the scorching hot summers, this hairstyle is a perfect look that saves you from long bushy hair in the summer as well as makes you look really stylish.
Heavy Crop Fade with a Beard
Here is a version of fade haircuts for guys with thick hair, the hair on top is heavy but still cut to enhance texture and reduce weight and a low skin fade to create an angled hairline which is attached to your beard to complete the look.
Such a style can enhance your personality and prominence to your look. The beard is also very well trimmed with the help of trimmer and such styles make your saloon visit regularly as they need high maintenance but the coolness of this hairstyle makes it worth the maintenance cost.
Drop Fade Haircut with Short Hair
This drop fade haircut gives you a complete gentlemen look with small hairs on top and some slight firm gel in front which gives a spike look, this look can be easily done at home and this style can be easily carried to work and even when you want to have some fun with friends in a club.
This haircut requires a good volume and texture and it gives you an illusion of side parting and requires very low maintenance. You can pair this style with formal and semi-formals to look at every bit of dashing.
Buzz Fade Haircut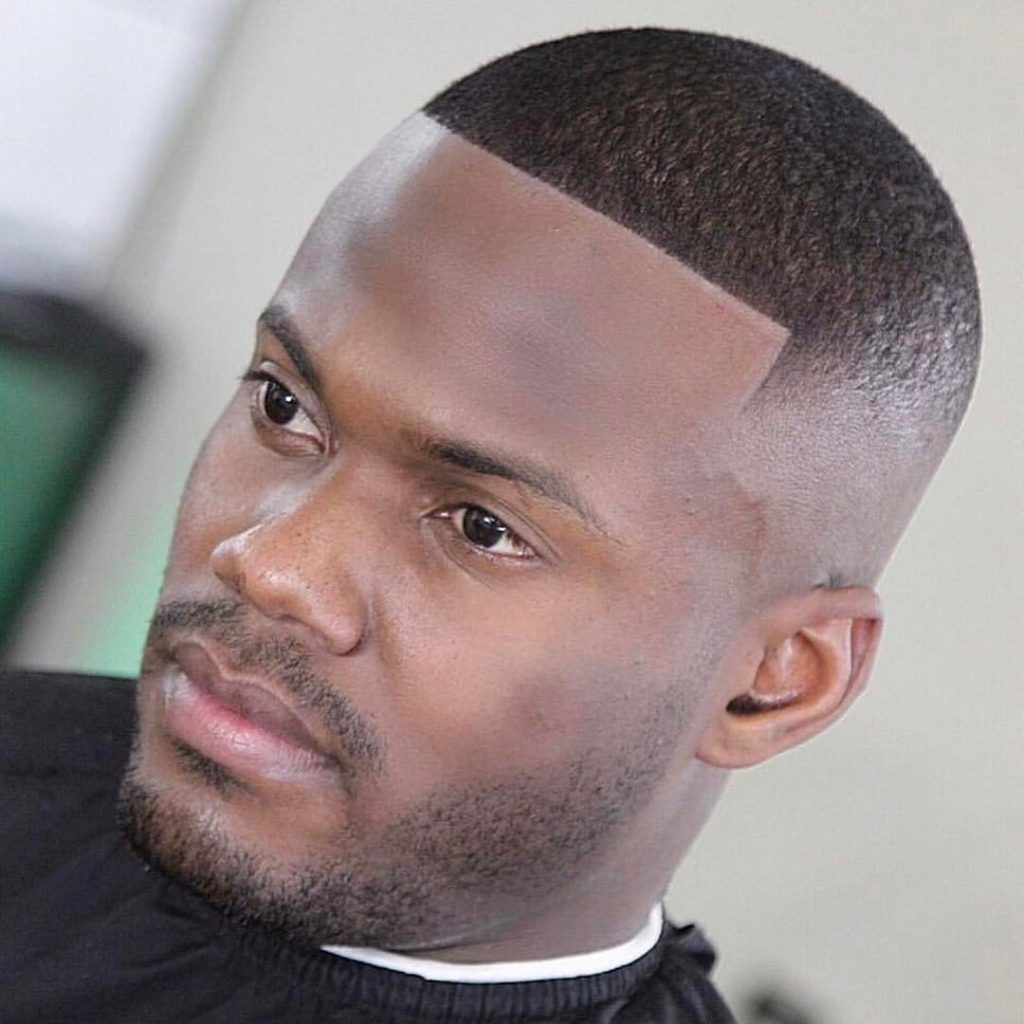 This buzz fade haircut is the most staple haircut which every barber knows, this is the most popular among men with short hairs as it looks best with the least amount of work, some love it, and some hate it. This truly low maintenance cut through minimal gives you classic status.
This cut is perfect for daring gents who know how to show their facial features well. Pair this style with any kind of outfit formal, semi-formal or casual; the haircut looks very classy with everything and makes you the center of attraction of all the parties you step-in into.
Clean Mid Fade Comb Over
A very decent comb-over hair cut where the partition is beautifully cleaned with the help of a trimmer and hair is mid-length and a comb-over in front gives a Mohawk illusion and is giving a polished look.
The fade on the sides gives a neat, clean and gentlemen look which is easy to maintain, though maintaining the comb-over at home need some of your effort, some fixing gel and a few gentle strokes with your hand gives you a perfect look. Try out this look to add some more charm to your personality.
Spiky Haircut with Fade out Ends
This haircut requires smooth, silky, glossy, and rich hair texture with absolutely straight hair. The hair is colored with grayish-brown shade to add a funky as well as an elegant touch both to your personality.
The hair at the top is kept fairly longer and styled with spikes with the help of a good hair gel. The hair at the end is a razor to give you a bald look. The thick hair at the top followed by shorter hair and then bald look brings a wonderful fade away appearance. This is a perfect boyish look to go for.
Low Fade Mohawk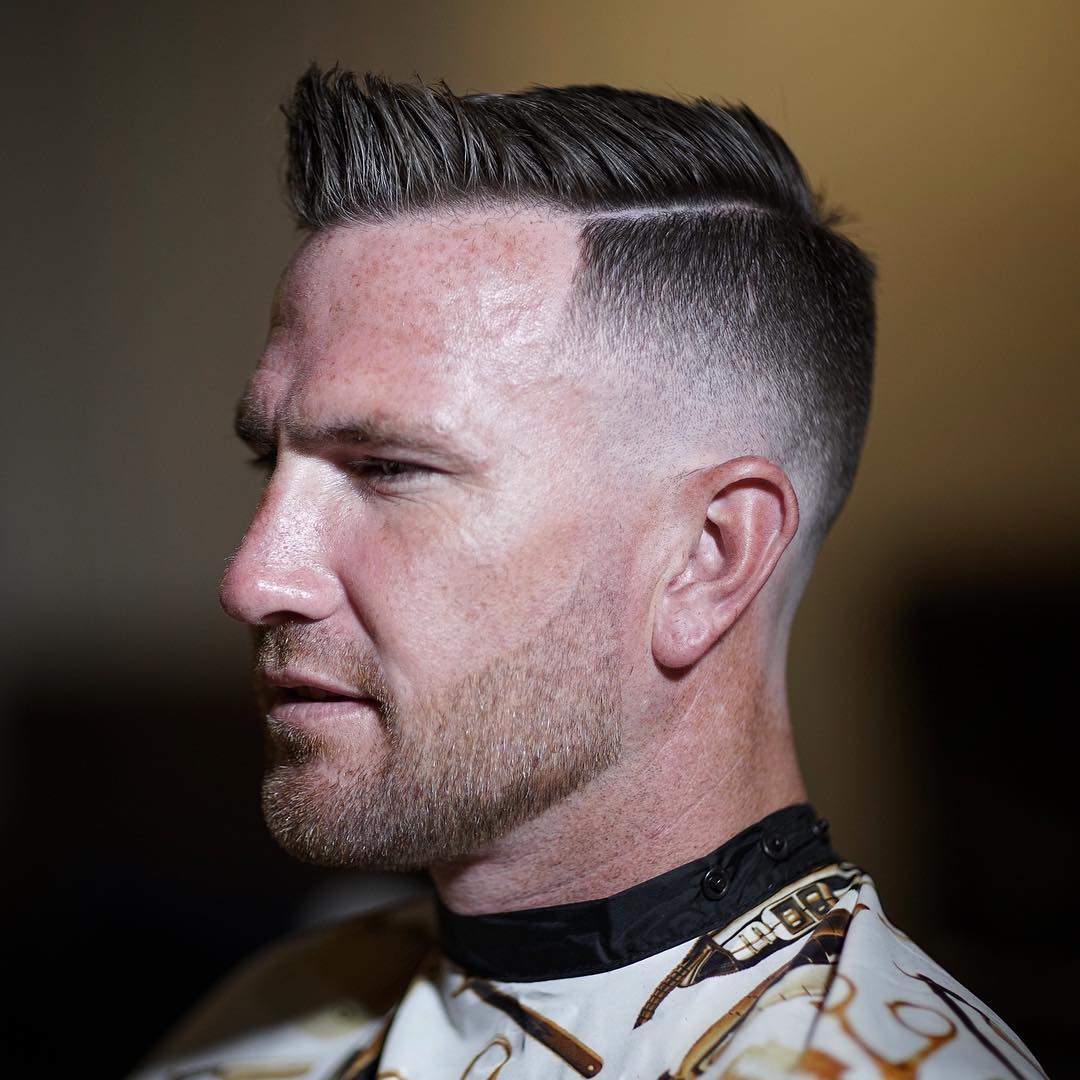 Side parted this low fade Mohawk can also be termed as faux fade Mohawk; in this style, the hair is of quite a short length and in the front, an illusion of Mohawk is given, and the rest of the hair is even smaller than the hair in front.
This hairstyle mostly goes well with oval shape face cut and once done in a saloon; it can be easily maintained at home with the help of some styling gels, goes well even for casual as well as formal looks. This is a comfortable yet stylish look to carry off in summers.
Classic Taper Fade Haircut
You can never go wrong with this classic taper haircut goes well on all shape, color, texture, and volume. This classic cut is very easy to maintain once done can be easily carried just a few trim sessions required to maintain the length of the hair.
It even enhances your facial features very well and gives you a neat and clean look along with which you have a complimenting beard that is well enough to make girls go wild on you. This style suits everyone as it is one of the everlasting fade haircut look.
Disconnected French Crop
A disconnect French haircut is a style where the hair becomes abruptly short in the sides and at the back from that at the top of the head, this style usually finishes with a definite length and even on the sides of the head.
It looks very versatile and is very low maintenance; this style gives your face an elongated look and a good volume. Smooth and soft hair texture is definitely needed to style with this haircut and enhance the overall look. It is funky looks that cool enough to give you a definite style statement.
Crop with Skin Fade
Extreme faded style and probably one of the most low -maintenance hairstyle, the hair on the side blends with your skin highlighting the hair on top, though it is a laid back style but yet look very effective, this style goes well on all type of color and face cut, can be easily styled at home using few strokes of your fingers.
For all the men, who like to keep their hairstyling part simple, less time consuming yet very stylish should opt for this style and look attractive all the time.
Curly Top with Side Fade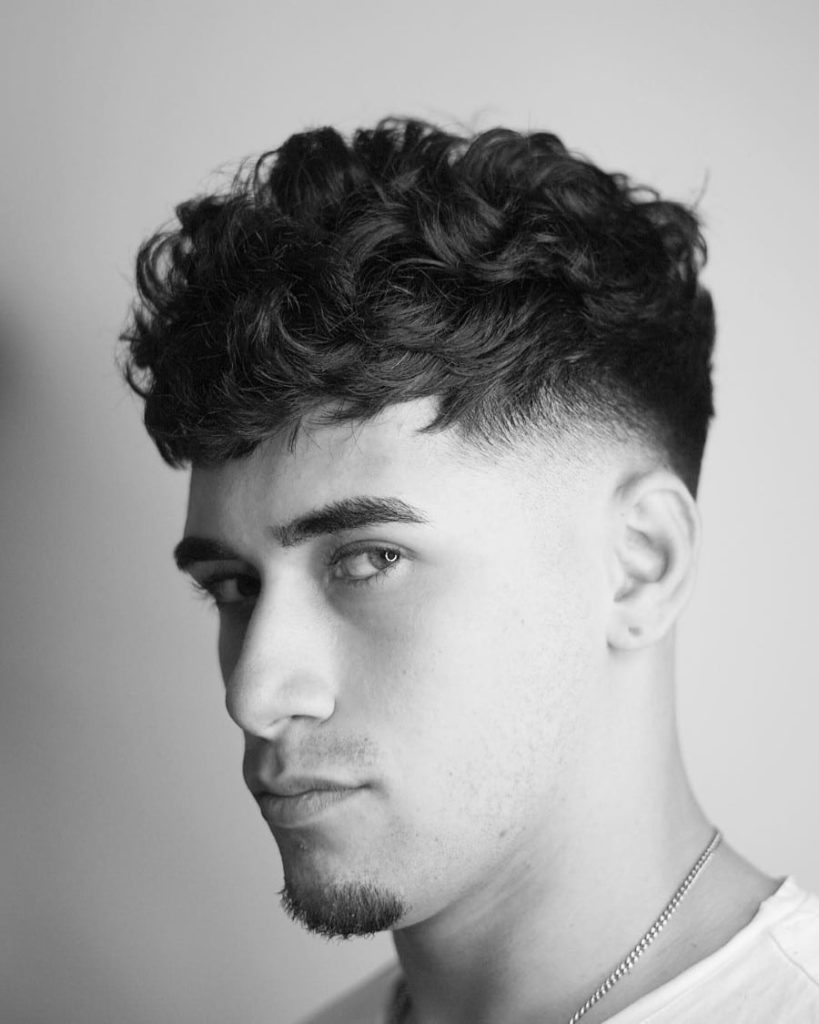 This curly side fade actually looks like no-fade it seems like all the hair are styled to form curls on top of your head, curls are tough for girls but they do add a lot of volume and texture to the hair without using too much of styling product and with very less effort.
The most versatile way to manage this curly hair is to keep all the hair on the side and back very short which helps in adding more volume on the top, and with this curly hair, you have many styling options.
Twist Curls with Surgical Part
This cool haircut for black men extends the hairline into an arched part, and it also divides long hair from short hair.
This surgical line is done with the help of a trimmer the short hair is extended to be part of beard and the top and back of hair is curly and gives a cushion feel, this type of hair generally requires some maintenance as you need to go to saloon very often to maintain the curls and lot of styling gel is also needed to maintain the softness of the curls.
Hipster Roman Emperor
This is what comes in our mind when we see this cut; this is so clean and perfectly blended with the rest of the hair. It has an extremely tight fade with hard edges, which makes you feel edgy. It goes guard free on the bottom from the neckline from where the line starts to fade.
The top of the hair is styled with the help of scissors and silky, straight and smooth texture and good volume is required for this style. Pair this style with cool jackets and denim to look like a heartthrob personality.
Shadow Fade with Blonde Hues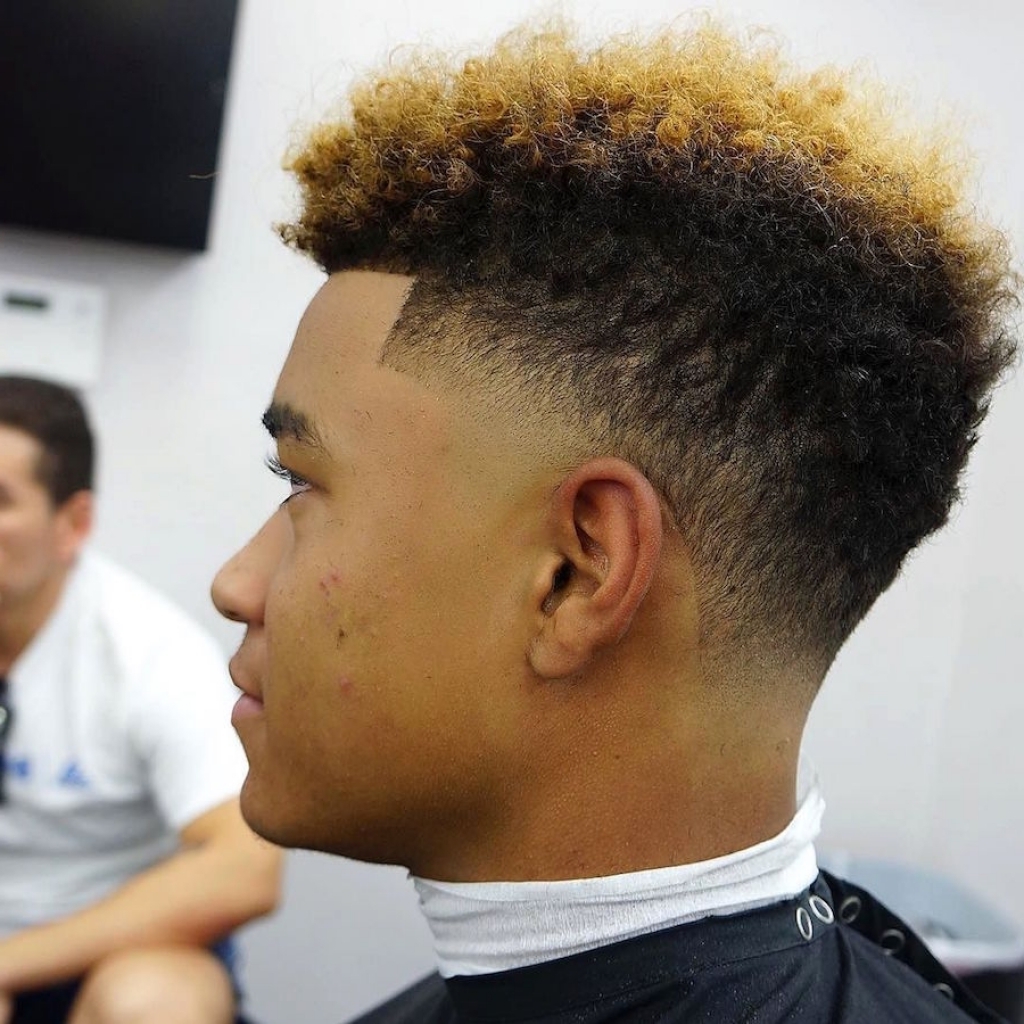 Not only girls but boys also love to play with colors when it comes to hairs, and that's the reason that men with long hair can go with any color of their choice and the blonde color is popular and very trendy for curls.
This haircut is ideal for every type of face cut and the color should be suitable according to your complexion. To maintain the curls you need good hair oil and for styling, a good gel or pomade will definitely help, one thing that should be kept in mind before going for this cut is that you should not color the whole hair as it will look too much.
Brush Cut
This cut requires a lot of maintenance as the length should be trimmed regularly, and styling needs some wax on routine. It is a low fade mid hair cut which is generally styled with the help of brush and a good volume and texture is definitely on the need to style this look.
The design on the side gives you a masculine look for those who choose to dare; even the design is of high maintenance and will make your visits to the salon quite often. But when you are looking great with this cut, visiting a salon is worth it.
Milky White Faded Haircut with Fine Strokes
The bold and unconventional hair color that is milky white gives your haircut totally different look and adds much of the glamour and style into it. The hairstyle requires very short hair followed by a bald fade away look at the ends of the back of the head and sides.
The haircut is designed with fine zig-zag strokes on the surrounding of the head. Also, a detailing is added at the front hair lining of the forehead. This look is a must-try by those who love to experiment with their looks and love to look different all the time.
Angle Fringe with Drop Fade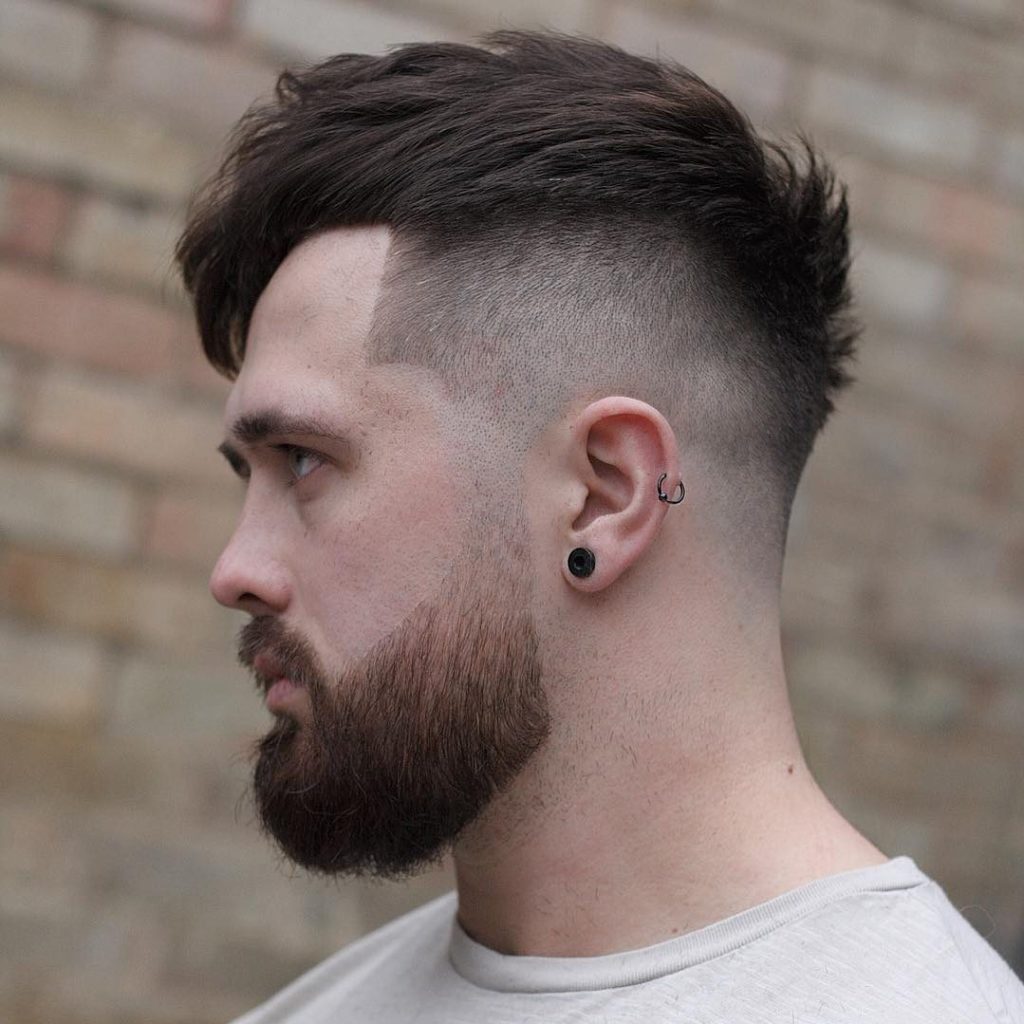 A good textured hair makes this very popular hairstyle with bangs and fade that drop down at the back and looks like a seamless arc. Such a cool dude hairstyle that makes you look like a stud and with that ear button complimented with a ring makes you feel carefree and gives out that attitude that nobody can ignore.
A good volume and some styling gels required to style this look and that arc are really to be maintained with the help of some trips to the saloon.
With this fast running time when the people are so much into their looks especially when it comes to social media that they really spend a good time taking care of their looks and you can't deny that hair plays an important part in that style and as compared to earlier there is a number of options available nowadays.
The most important thing that one should keep in mind before styling is the quality of your hair the healthier the hair the choices are limitless, and then nothing can stop you, the fact is that healthy hair comes with a healthy diet and a good lifestyle which is very necessary to maintain.