As the summers are already here, and we know that the bad hair day problem has started. But now you can style up your hair in the best way to get a perfect summer look. Why repeat the same hairstyles every now and then, when you can try something new and trendy? Yes, we are here, with cute summer hairstyles that can make you look pretty even in this scorching heat. Especially, the females with long hair, they can get ready with our cool and trending summer hairstyles.
Our summer hairstyles are the new look for any kind of occasion this summer season, be it any beach party or a pool party, or your office look, you can steal the show everywhere. Let's see what all hairstyles we have got for you this summer season.
22 Cool and Cute Summer Hairstyles for Women
Blonde Hair Top Knot Look
Top Knot hairstyle looks great especially when you have smooth and long hair. As long hair can help in making a good knot. Here, as you can see in this picture, the hairstylist has first made a high ponytail by taking all the hair tresses. The hair in the ponytail is kept loose, to make it look better. The hair of the ponytail is then passed from the ponytail hairband, to give it a look of the knot. The hair tresses are given two colors, that are brunette brown and blonde. The upper hair is done with blonde, and the inner hair and the root tip is kept of brunette shade.
Twin Braided Hairdo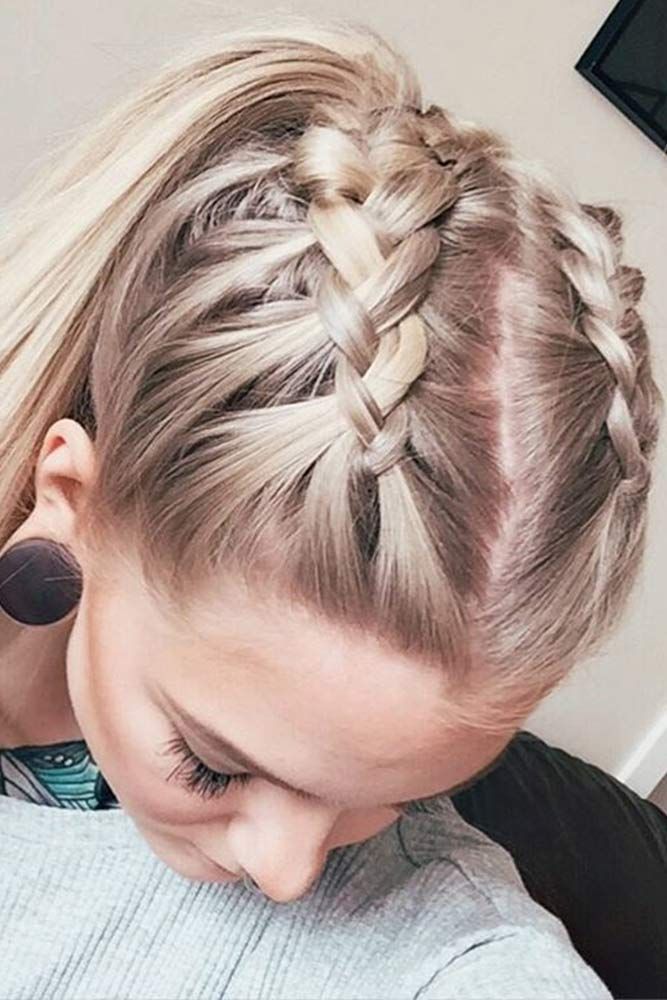 The twin braided hairstyles look cute on anyone. Especially, if you are a teenager or a college going girl, you can get this twin braided hairstyle to look pretty. In this hairstyle, the hairstylist has parted the hair from mid. Then, the hairstylist has made a French braid right from the front, near the forehead and it is gone till the upper back and is then tied there with a hair band. The hair left from the braid is left open only. Make the braid on both sides of the head.
Braided Messy Ponytail
We all love making ponytails. But how about making a ponytail with a twist. Yes, we have a different ponytail hairstyle for you, which will look different but will look really great. For long hair tresses, this hairstyle is a perfect go. In this hairstyle, you will have to make 2 to 3 braids, as you can see in the picture. But do not make a braid from complete hair, instead, make the braid by taking some hair tresses. As you will need the rest of the hair for making the ponytail as well. Loosen the braided hair from between. Gather the hair tresses and the braid together and then using few hair tresses, tie it into a low ponytail.
Make a Pull through Braid This Summer Season
Want to try a different hairstyle this summer season? Then, go for this pull through braid as it will give you a gorgeous look. You can try this pull through braid style on different occasions. Just be ready with some rubber bands. If you have long hair tresses, then pull through braid will look great on you. This braid starts with a ponytail, and when you will actually make this braid, you will learn that this braid is not like a usual strand braid, as it contains many ponytails. It will be better if you can take the help of a hairstylist to make this braid if you want a perfect braid like this.
Braided Low Hairdo for Stunning Summer Look
Just keeping the braids or making a high bun using the braids is a very old trend now. This summer season you can get this new braided look with a low hairdo. Starting with the mid partition and then making braids by taking few side tresses. And then adding and pinning up those braids at the back of the head. Take the left side braid by pinning it low near the neckline and taking it through the neckline to the right-side ear and vice versa with the right-side braid. Pin up the complete braid, so that it looks like a heavy braided hairdo. You can carry this look to your workplace also.
Golden Brown Long Curls
We have seen many girls worrying about how to style their long curly hair. But you all should know that long curly tresses especially the one which is properly and neatly brushed look damn good. You will not need any other hairstyle, if you will just go with this hairstyle as this hairstyle can go with any party, for your workplace, for any traditional event as well. To get this look, you also need to get your hair colored with golden brown hair color or with bronze hair color. Part your curly hair from the side and then keep your curls at the front on your shoulders.
Messy Side Braid
It is not necessary that one looks good only with the neatly brushed or combed hair. Sometimes a messy combination of the hairstyle can also make you look good. This hairstyle is not a normal 3 strands hairstyle, but this hairstyle goes with a ponytail. Leaving hair tresses at both sides and making ponytail from the hair at the front and center by pulling them towards the back. You will need a few elastic bands also in this hairstyle for securing the hair knot every time you will cross both side hair around the ponytail. In the end, you need to pull some hair from the braid, to give it a perfect messy braid look.
Messy Ponytail Hairstyle
Ditch your high ponytail look with this new messy ponytail look. If you just want to get going with the casual look, then this hairstyle is the right choice. Ponytails are always good when you don't have any other hairstyle in mind. And when you can make different types of ponytails, then one should definitely try. Comb your hair using a wide tooth comb and ensure that you tie your ponytail loose so that this hair look can be created. This will be a low ponytail hairstyle and it will be near the lower head. Once you have tied your ponytail with the elastic, you can wrap your hair tresses around it.
Half Up Half Down Fishtail Braid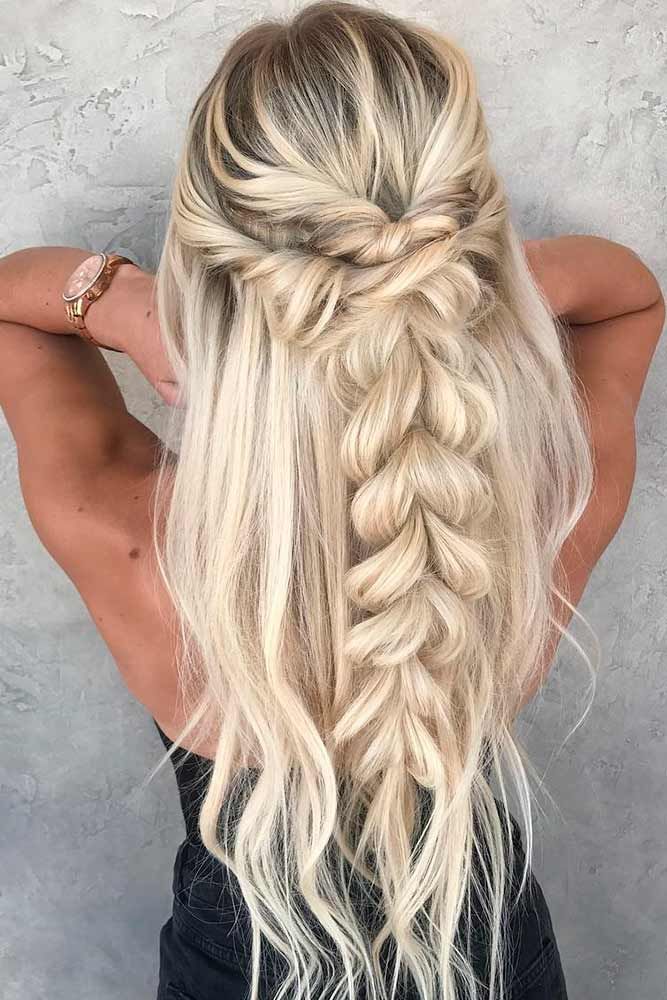 Planning to go for any event or any traditional function? But you are confused about the kind of hairstyle you should go with. So, look here, we have a really amazing braided hairstyle for you. This half up – half down fishtail braid hairstyle will make you look gorgeous among everyone. You may need external help for doing this hairstyle. With long and smooth hair, this hairstyle can be done easily. You should also get the hair color done in the same manner that is a nude blonde and burnt brown with dark brown inner hair color. Do not tie the braid at the end, so that it can give it a more natural look.
Get This Milkmaid Braided Look
If you are the one who does not like to keep their hair open for long especially during the summers, then get ready for the milkmaid braid look. Keep some bobby pins and elastic bands handy with you, when you will be doing this milkmaid braid. This is an easy braided look where you will have to make a braid on both the sides by taking hair tresses from the side. Later on, you will have to put the braid around the crown leaving some of the hair at the front near the forehead. Pin both side braid in a manner that they give you this pretty bohemian look.
Top Bun Beach Look
We guess, we do not have to describe this look much, as you all must be aware of this super cute beach look. No matter how far you are from beaches at this point of time, you can still get this look to flaunt in this summer season. With the shades of blonde, it is looking more attractive. You can style your high bun in different ways. You can make a mini braid and can roll it up around the bun, or you can simply make a messy high bun to get this beach look. But do not forget to add that accessory that is the metallic hairband with this hairstyle, as it is making this hairstyle look more beautiful.
Mini Braid with Beach Waves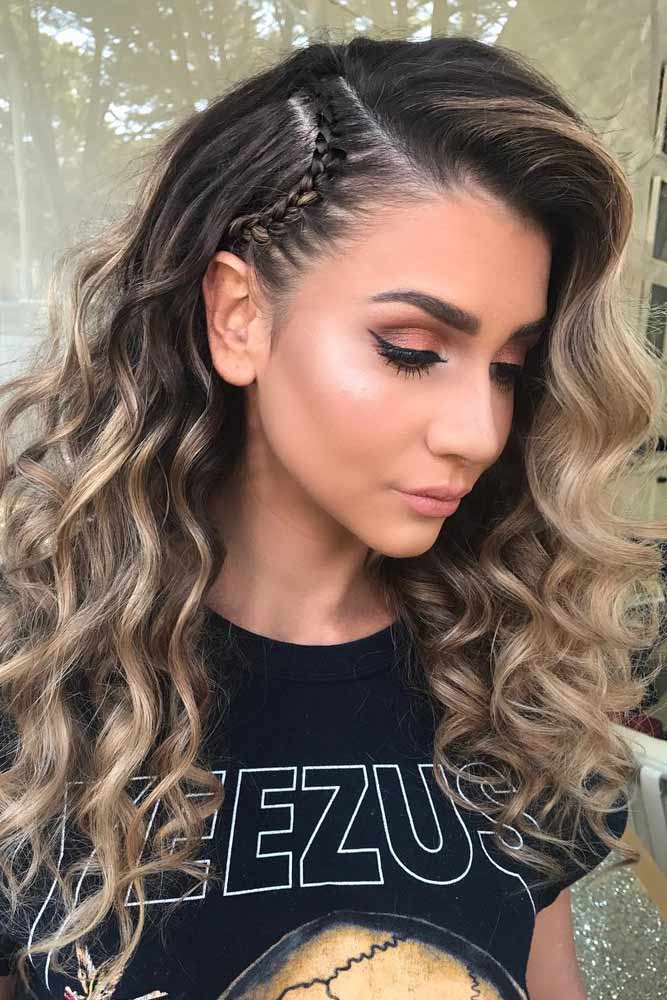 Want to get a stylish chic look this summer? If yes, then get ready for this hairstyle. This is from the latest summer collection, and you can do it easily on your own. Start with side parting your hair and then take a small portion of your hair at the front from the side with fewer hair tresses. Start making a mini French braid from the center to back of the ear, like in the picture. Once you are done with braiding, it's the time for getting your hair this wavy look. This looks more like the beach waves. To add more vibes to this hairstyle, keep your hair base color black or dark brown, and get the wavy streaks done with dark blonde shade.
Braided Ponytails with a Twist
Now if you will look at this hairstyle for the first time, you will feel that this is a braided hairstyle. But look closely, and then you will know that this has been done with the help of ponytails. You can make ponytails one under another and so on and secure them using the elastic bands. Do not tie them very tightly, as you will have to pass the ponytail hair from the gap. You will flip the pony upwards and then pass it through the hole. Repeat the same with all the ponytails, to get this look. So, here you are ready with a different hairstyle for your summer outings.
Half Up Half Down Short Hairdo
You all would have seen many half up and half down hairstyles with long or medium length hair. Here, is one for your summer vibes with short length hair. This hairstyle is somewhere giving the bob cut look also because of the hair tresses at the side. You can easily do this hairstyle by separating your hair into three parts that is lower side parting from both sides. Take the hair left at the center and make a high knot with it at the top. But do not tie hair very tightly, they should look a bit fluffy. Bring the side hair at front framing your cheeks. You can color the streaks of your hair with different color by keeping the base color dark brown.
Cornrows with the Top Bun
Cornrows are always in trend, and many celebrities keep trying the cornrows look. You all would have seen the cornrows braids many times, but now it is the time to make the cornrows braids bun. If you already have cornrows braids, it's great as you can simply make a top bun with the rest of the hair from the cornrow braids. But if you do not have cornrow braids, we suggest you take help from a hair stylist to get this look. This cornrow bun look is giving a bold appearance and you will look stunning with this hairstyle.
Half Up Blonde Wavy Hairstyle
This is a perfect wavy hairstyle with the true blonde shade. A simple hairstyle but because of the wavy hair tresses and the blonde shade, it is looking very elegant and classy. Leaving some of the hair tresses at the front on both sides and tucking rest of the hair at the back. Put the loose hair on your shoulders to make it look voluminous and more stylish. If you have naturally wavy hair tresses, this will look more beautiful.
Lob Cut with the Shades of Blonde and Brown
Most of us follow the hairstyles of the celebrities. That is why in our collection of hairstyles, we have brought the hairstyles of many famous celebrities. Just like this hairstyle which looks like a long bob cut and it is a very simple hairstyle for the mid-length hair. Just part your hair from the side and bring the rest of the hair by flipping them at the front, making them cover your cheeks. When trying bob or lob cut, go for different shades of brown and blonde combination.
Accessorized Short Wavy Hairstyle
All the females with short hair can get inspired by this short hair look. As females often complain that short hairstyle is comfortable but there are not many hairstyles which you can try with it. But by looking at this picture, you can see how beautifully one can try different styles with short hair. The twisted hair tresses tucked at the back and the loose wavy hair tresses are making it look great. And do not forget to accessorize your hairstyle with some beautiful hairpins and hair accessories.
Afro Stylish Braids with Beads
Afro style braid is becoming a personal favorite of many people. The good thing about this hairstyle is that once you get it done, you can keep them for days, however, extra care is needed. Here, also the Afro braids are done in a stylish way from one side to another. If you do not have long hair tresses, you can also make use of extensions to get these long and stylish Afro braids. Mostly, the Afro braids look great in jet black color only, so you can also try the same hair color for your Afro braids look.
Buns with Double Shaded Hairstyle
If you have tried the braids before, then you must be aware of the buns. You can also call them twin buns which you will be making on both sides of the head. Just part your hair in three parts, starting with the back side and front side hair partition and then part it from the mid in two parts at front. Now, make the two buns on both sides like in the picture. Leave the rest of the hair at the back untie only. Get your hair colored with dark brown shade as the base hair color and honey blonde shade to the bun hair and the hair at the back.
Get Going with the Top Bun
Sometimes it's best to keep the hair simple and classy. Especially, when you are staying at a place where the temperature is high, it is good to keep your hair in one place. And there is nothing better than a bun that can help you in keeping your hair tresses at one place. If you have a broad face, this top bun hairstyle will look good on you along with some catch eye makeup. Gather all your hair tresses at the top back of the head and start making a bun. If you have really long hair tresses, then do not forget to secure your bun with a greater number of bobby pins.
Wavy Bob Hairstyle
We all know that bob hairstyle is one hairstyle that people can carry in any season. Even the celebrities love to carry the bob hairstyle look. And when this bob look is combined with the wavy hair tresses, it looks more amazing. You can also try this hairstyle by getting a bob cut and then using a curler you can give a bit wavy look to your hair. Keep the color of the hair roots dark brown, and the rest of the hair of blonde shade. With minimal makeup also, you can look pretty with this hairstyle.
By checking out these cute summer hairstyles, you would have got an idea about how you can style up your hair in this warm weather. As we have listed summer hairstyles for all kind of hair, be it long or short or curly or smooth, so you can check and try the one that suits you. If you have more ideas for the trending summer hairstyles that can make one look cute and cool at the same time, then do share with us.