We all love our hair and protecting and guarding them is one of the most important concerns of all of us. In this fashion world, we like to flaunt our voluminous and healthy hair but what about the adverse environment and weather conditions that can simply ruin our gorgeous hair and left them dull and malnourished hair. In the world of hair styling, the alluring protective styles have become so wanted and significant for providing us with more styling options for masking and obscuring our hair on a whole host of the point. Protective hairstyles include a variety of styles like twists, braids, updos, curls, bun, wigs and much more. These protective styles open up a lot more options to suit your hair and your personality and at the same time secure your hair. Protective hairstyles make your work easy and much less by not letting you bother about the health of your hair. It allows you to stay simply stylish and focus on your daily routine jobs.
Protective hairstyle as the name suggests protects your hair from damage. The twist and combining of hair do not let the heat or dust hit the hair and enters into scalp. The hair is tied up tightly and thus requires less maintenance, and stay guarded and safe from the scalp to the ends. Protective hairstyles are also long-lasting and can last a few months. Protective cornrow and Ghana braids can be kept for as long as three months if given a proper amount of care. While weaving the braids creams and oils are used to hold the braids tight and settled. It also thwarts them from stretching on your roots too much. Here, are some of the best protective hairstyles you can go for and enjoy your summer with all the style and glamour.
25 Easy and Stylish Protective Hairstyles for Women
Havana Twist with Long Hair High Bun
This one is the most graceful and attractive protective hairstyle. This hairstyle is efficient enough in protecting your long, thick and shiny hair from sun, dust, and pollution and at the same time manage to give you an outstanding look. No one can maintain their hairstyle more aptly than this Havana twist hairstyle if they have such long and dense hair. Havana twists can be made from different ways of twists and twirls according to the texture of your hair. The high bun above is simply complimenting the Havana braids and adding on more of style and glamour.
Ultra-Thin Braided Streaks
Among protective hairstyles for natural hair, these thin braids are so befitting and make you look outstanding with attractive style, grace and modern look. It is a genius idea to go for this style if you have fine hair. The hairstyle just requires a lot and lot of thin braids loosely done. You can also go for hair extension if you wish to cherish longer hair. This style will make you look the best without having to compromise with the health of your hair. The braids are efficient enough to maintain the quality of hair and protect them.
High Back Bun with Wide-Ranging Braids
The super cool high bun is something that looks appropriate for all occasions and goes well with all outfits. Those who are blessed with long, thick and fluffy hair should go for this hairstyle. However, those who do not have long hair can go for extensions if they want to take the pleasure of such classy and elegant bun. In this hairstyle, you can see the variations in braids to give the overall hairstyle texture and trendy look. The creative hairstyle requires Havana twists at the front top, cornrow braids at the sides and a thick twirled streaks combined to form a high back bun.
Thick Faux Locks with Spiral Ends
Faux locks are becoming very popular these days and seem to be a progressive hairstyle. You can easily see how the style is looking so neat, sober and yet filled with style and glamour. This hairstyle is both easy to manage and style and appropriate to protect your hair. The hair is twirled in a way that they stay secured and safe. Though, this hairstyle can be both temporary and permanent as per your preference. Also, this hairstyle gives you several ways to accessorize and decorate your hair. It gives you cool and sassy look.
Box Braids with Knotted Ends
Braids are evergreen, and no one can beat this fact. Be it any occasion or event, braids look stylish and elegant all the time and are one of the best ways to keep your hair protected from dust and harmful atmosphere. If you have thick and voluminous hair, this hairstyle is most suited and appropriate for you. The box braids just require neatly and symmetrically done braids, and you can have knotted, and tied ends or you can keep it open as per your preference. These braids give you an option to accessorize your hair beautifully and flaunt your style.
Simply Done Cornrow Thick Braids
If you have naturally straight, long and silky hair, then this one is the aptest style for you to attain the same glossy, smooth and subtle texture. It looks classy, sober and neat and goes well with all types of outfits and can be worn in any occasions. Basically, the style can be enhanced with chic and casual jewelry. This style is super easy to manage and gives you a carefree and bold look. If you have short hair, you can go for extensions to attain the same look.
Rope Textured Twisted Streaks
As said above, twists can be done differently to create different textures. Here, the twists and turns are made to form rope-textured streaks. This is another sophisticated and classic way of giving a face-lift to your look. This hairstyle will make you look completely different and adorable. It is the best hairstyle to highlight the volume and density of your hair. If you have that black and luscious hair, simply wear a pair of golden earrings and beautiful one-piece attire, and you are ready to rock the party and grab all the attention.
Permed and Long Curly Hair
The hair is open but protected this way. This style is best for those who want to keep their hair untied and open and yet want them secured and guarded. The varied curls look really gorgeous and bring a girly feminine appearance. The curls guard the hair from damage by keeping all the hair bound and combined. The curly streaks look so trendy and stylish with different types of permed and wavy curls. This style is most suited for the younger generations and can be worn with any outfits and on any occasion.
Havana Twisted Streaks at Lengths
The more voluminous hair looks, the more attractive and Havana twists are the best way to manage and highlight voluminous hair. This hairstyle in all ways makes your hair look dense and attractive. The long twisted braids fall over the shoulders beautifully and keep the front hair tied up so neatly. This is an elegant, sophisticated and most graceful look that can be paired with beautiful accessories and jewelry. All types of dresses can be worn, and all occasions can be attended with this style. This hairstyle goes really well with naturally textured hair.
Wide Partitioned Cornrow Braids with a High Ponytail
Cornrow braids are the most liked and evergreen protective hairstyle. This type of hairstyle makes you look like any gal next door but with sophistication and hassle-free fashion. The hairstyle requires wide partitions at the top to form cornrow braids and tying up all of them together at the back to create a beautiful high ponytail at the back with stylishly braided streaks. This hairstyle offers you to use hair accessories to make the hairdo look more creative and more stylish.
Wide Cornrow Braids All Around with a High Bun
In this hairstyle, you can see the wide partitioned braids are formed from all around the head and tied together at a point on the top of back, where all the hair kept open and combined to form an alluring high bun. The beauty of this style is that beautiful braids surround the bun and the bun is made up of opened up hair. This style is apt for partying or ceremony nights and looks marvelous when paired up with beautiful gowns and one piece.
Havana Twists Created with Triangular Boxes
Havana twists looks so stylish and are very much in fashion. This Havana twist hairstyle is an Afro oriented style that is loved by all around the world for its super unique texture and casual, trendy look. It is hard to believe that protective hairstyles can also look this good and creative, but yes, there are many protective styles that you can opt for to achieve the style with protection. In this style, you can see the triangular partitions all over to form Havana twists accessorized with beautiful laces and rings.
Faux Locs with Afro Textured Hair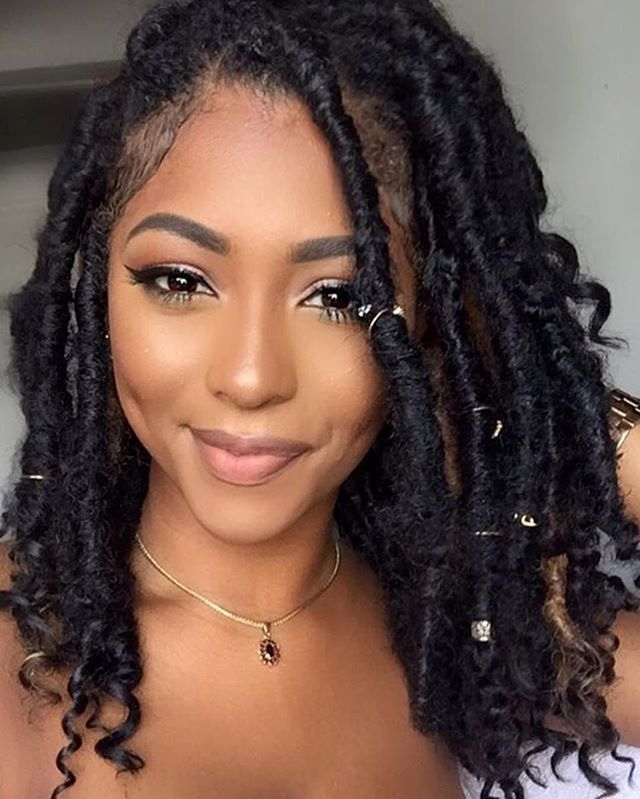 The super stylish and oldest hairstyle is the faux locs style. Those who like to keep their hair tied securely for a long time can choose this hairstyle. It looks voluminous with each and every defined and detailed hair strands. The use of splendid accessories in your hair is also possible with this type of hairstyle. You can choose any kind of rings or laces or beads you want to choose to decorate your style, it is up to your creativity, to look your best. This style is mainly youth-oriented and apt for partying and hanging out with friends and colleagues.
Pyramid Cornrow Braids at Sides and Back with a Puffed Bun at the Top
This hairstyle is very exclusive and matchless. In this hairstyle, you can see the pyramid partitions to form corn row braids from low to high and to form a puffed bun at the top. The hazelnut brown shade of the hair makes the hairstyle look even more attractive. This style is so trendy and apt for elderly and mature women. The style will keep the hair managed for a long time and are absolutely fine to be worn in a party or any event.
Alluring Number of Thin Braids
The thin braids made up to lengths gives the appearance of open and liberal hair. With this style, you can easily flaunt your hair length and hair density along with keeping the hair protected and guarded. These thin braided streaks give a girly, soft and feminine look that every girl craves for. This style is most appropriate for teenagers and college goers to look cool and can pair the style with casual and funky clothes. You can also use accessories to enhance the look. However, sometimes keeping a style simple is actually seems more stylish.
Front to Back Cornrow Braids
The cornrow braided hairstyle is versatile and can be done with a lot of variations. The jet black shiny and glossy hair gives this style the perfect adorable look. The style is well manageable and makes the person go carefree and comfortable. No matter the length of hair is short, middle or long, this style is apt for all hair type and all hair textures. If you are willing to go for a protective hairstyle, this hairstyle is very suitable, and you should surely think about it.
Middle, Side Horizontal and Backward Cornrow Braids
Protecting your hair with style is the smart move. The cornrow braids are made up so imaginatively and distinctively to bring a sense of exclusive and unique look to the style. This style requires a single braid from the middle top going backward, two side braids horizontally falling down on shoulders and remaining hair formed into many cornrow braids backward and tied together to form a high ponytail at the top of the back. The golden brown hue is adding on to the style and looks really complimenting.
Top Bun with Havana Twists
The style can be attained perfectly if you have that Afro hair texture. The fluffy permed hair brings a perfect texture to the Havana twists and makes them look bouncy, messy and attractive. This style is a blessing for the younger generations who want a carefree and liberal hairstyle with super styling and fond of accessorizing their hairdo. The top bun is extremely bold and makes you look like a bombshell diva. This style is all about Havana twists and requires combining of those twisted streaks nicely to form a cute bun at the top.
Spiral Bouncy Hair Strands All Over
A simply gorgeous and feminine look that is all about spiral curls and nothing else. The hair color in a hairstyle is something that can bring a huge difference in the look and styling. Here, in this hairstyle, you can see the beautiful hair color looks so bright and goes really well with all the spiral curly strands. The style requires lot and lot of spiral streaks with a perfect hair cut so that they can manage to scatter all around beautifully. The two tone shade is making this protective hairstyle looks outstanding.
Thin Jet Black Ropes Styled at the Top
If you have that natural hair with jet black color, smooth and silky texture and glossy shine, you can easily attain this hairstyle with perfection. The smooth texture gives the hairstyle a different style statement and looks really elegant, sober, rich and pure beauty. The hairstyle requires thin Havana twists that look like a strong rope. At the front top, the Havana twists are turned together and tied up at the back, and at the lengths, they are falling freely.
Burgundy Ultra-Thin Spiral Streaks
To convert your dull, frizzy and boring hairstyle into a stylish one, choosing for curls is a good option. The ultra-thin curls are formed to make the hair look bouncy and voluminous and at the same time protect the hair from the outside side, heat and bad weather. The glossy brown shade hair looks really good with this style. This style is for all age groups and is apt for both social gatherings and professional meetings. Though you can wear any outfit with this hairstyle, still formals look really great and go quite well with this hairstyle.
Permed Thin Spiral with Spike Touch
This is the aptest protective hairstyle for short curly or perm textured hair. The chestnut color balayage is perfectly done in the hair that makes the hairstyle look more sexy and appealing. Those who want to keep their short hair secure and sentinel should go for this style. The hairstyle requires lots and lots of spiraled streaks and a nice and perfect hair cut so that the spiral streaks can get scattered all around everywhere. The style is bold, dauntless and ultra modern.
Permed Fluffy Hair Turned to Form Strands
The jet black Afro textured hair seems hard to manage, but this hairstyle is there to solve all the problems. The hair is twisted and turned in such a way to form fluffy and bouncy hair strands. It is the best hair styling option if you wish to flaunt the volume of your hair and likes to keep it bouncy and playful. The style is exclusive and unique and requires a lot of guts to carry it off gracefully. Styling along with safeguarding is what we call smartness.
The Melon Top Havana Bun
The super comfortable and hassle-free hair styling is the bun. Simply gather all your hair and tie a bun at the top and feel free, cozy and ready to beat the hot summers. In this hairstyle, you can see the Havana twisted braids at the front hair combined with the rest of the hair to form a bun at the top. The bun is tied up properly in an oval shape and secured correctly with beautiful clips and bobby pins. The style is youth-oriented and appropriate to protect your hair from the summer season. This styling will look really amazing with designer one pieces paired with trendy clutches and high heels.
Long Box Braid Tails
If you have that silky, glossy and black hair with smooth and soft texture, you can cherish this splendid hairstyle and look every bit of hot and glamorous diva. The hairstyle requires long and straight side partitioned hair with too many box braids all over the head. This type of hairstyle can also be accessorized if you want to have that decorative look. But I feel these box braided streaks look gorgeous in itself and can walk over many hearts with your every footstep. This hairstyle is pertinent for all age groups and can be paired with both casual wear and party wear clothes.
These are the 25 best protective hairstyles; I have sorted out for you to protect and safeguard your hair, this upcoming summer from sun, dust and hot temperature. Styling is necessary but not at the cost of the health of your hair. Sometimes even we want to give rest to our hair and ourselves, and for that, we can just make a knot of our hair and tie them up to form a bun. This is the way of compromising with your style. But not to worry, the world's best-known hair stylist has come up with best protective hairstyle with amazing looks and fashionable style statement.
25 Easy and Stylish Protective Hairstyles for Women
was last modified:
February 25th, 2019
by