Long hair is something not everyone has. While many short and convenient hairstyles are trending, the beauty of lustrous long hair simply cannot be replaced.
Just like so many women prefer shorter hair, many other women love to grow their hair out and flaunt it in all its gorgeousness.
Keeping those ladies in mind, we have created a personalized list of the 25 best hairstyles for long hair. I hope you have fun going through it.
25 Long Hairstyles 2021 to Look Ultra Glamorous
Long Straight Blonde Hairstyle
Blonde is the queen of hair colors, and any list featuring hairstyles would be incomplete without blonde hairstyles. Not only do they look amazing on anyone, but they also have this classy vibe about them that you just cannot ignore.
Here, we can see that the hair is worn in long and straight layers, and the brunette roots are clearly visible.
In fact, this style, which reveals the dark roots, is also quite trendy, so you can not just get a blonde hairstyle for yourself, but also flaunt your original hair roots at the same time.
Caramel Blonde Alluring Beach Waves
One of the most requested and popular styles, the beach waves are just timeless and effortlessly beautiful. In fact, there is not much that needs to be done in terms of styling or anything.
Just blow drying your hair to get it in the right texture, and then getting few subtle and soft curls are more than enough.
However, it is still one of the most favorite hairstyles of all time of many ladies across the world. It brings out the natural beauty of your hair, and the caramel blonde highlights take it a notch higher.
Long Layered Hair
Long hair hanging on your shoulders in a perfectly tousled manner is one of the most beautiful sights you can see when it comes to hairstyling.
To get that perfection may take a lot of effort, but the end result of such tousled hairstyles is always worth the hassle.
This hairstyle is best for toning down the thickness of your hair and makes it look breezy. It is great for those who have a square face and are looking for hairstyles to offset this sharpness.
Sleek Silver-Blonde Hairstyle
The silver-blonde hair colors are just as popular as the blonde hair colors itself. They add so much beauty to your hair that you'll feel like you just can't get enough of it.
The hair here is maintained in medium length as a sleek and straight style, and the coloring has been done in silver-blonde ombre highlights which have dark roots at the top and the silver-blonde color being visible as we come down towards the bottom.
Flipped Layers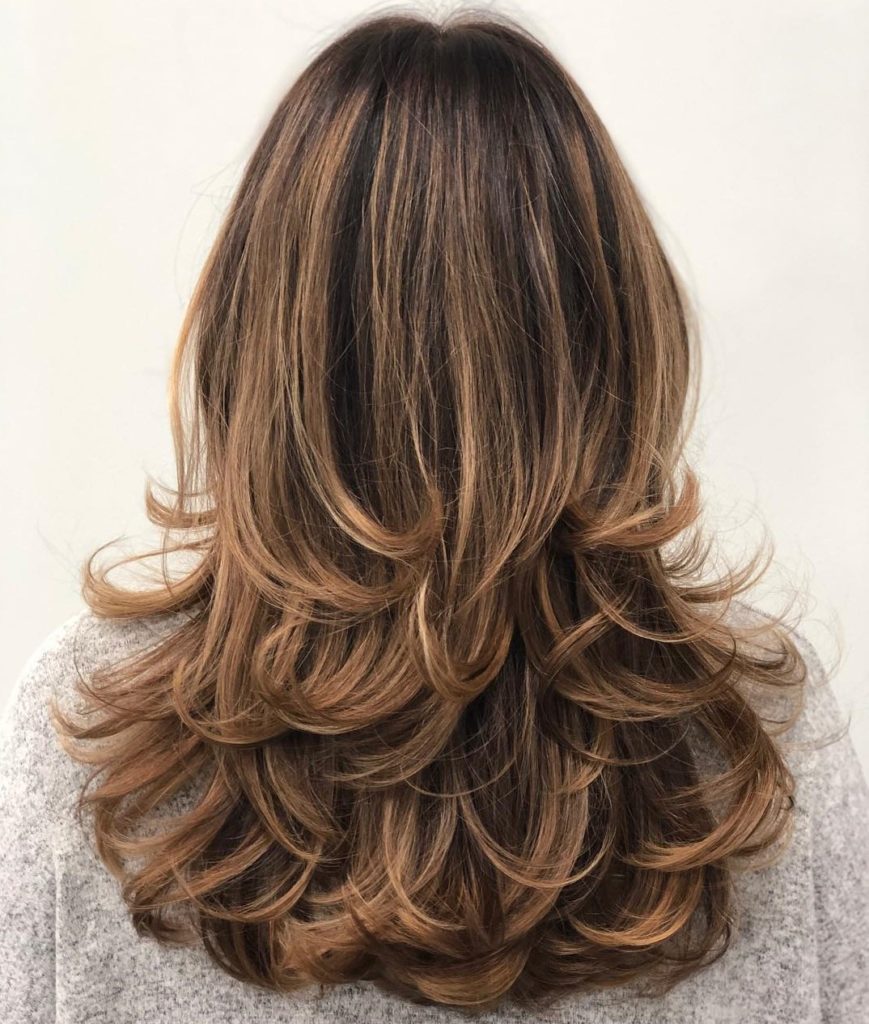 Just like how braids are, layers are a similar type of hairstyle that can be easily done compared to braids, but yet delivers somewhat a similar level of intricateness as braids do. Just take a look at this hairstyle, and you'll know exactly what we are talking about.
The medium length hair has been worn in a flipped layers style, and there is no doubt about how this hairstyle is gonna go great with all types of outfits and styles. And the soft glow of the light caramel blonde highlights is really beautiful to look at.
Long Layers with Blonde Highlights
How gorgeous is this long hairstyle, right? We can't stop drooling over its perfection. You do not need to worry about spending so much money to get a classy hairstyle like this.
As long as you have your hair cut in layers, you can try this out at your home itself. It's cool and effortlessly beautiful and can make you look the star of the show no matter where you go.
The slightly yellowish blonde highlights, which have been done in carefully placed streaks all across the hair, also looks stunning.
Middle Parted Braids
Braids are now being incorporated into a wide variety of hairstyles. Just a small braid here or there is sufficient enough to give your hair a classy and fabulous look.
Braids have greatly evolved from being a traditional hairstyle and have become one of the trendiest modern hairstyles even.
The hair here has been middle-parted neatly to both sides, and then a little portion of the hair in each of these sides has been tied into a single layer of the braid. The rest of the hair is loosely let down.
Long Hair with Asymmetrical Bangs
One of the best ways to flaunt your long hair would be in the way it naturally is. Just letting it down in all its glorious natural beauty, and if you want, you can add a bit of drama to this look by adding some asymmetrical bangs.
While symmetrical bangs are quite common and simply cover your entire forehead the way it is, asymmetrical bangs are a creative style and can instantly take your look to a whole new level.
Single-Sided Braids Style
Cara Delevingne looks absolutely gorgeous in that pink outfit which also has a beautiful braids hairstyle to complement it.
We are totally loving this look and would recommend it to anyone who wants to get a simple, fresh, and fun look without much effort.
This is the normal braids style itself worn as a single braid and then left hanging on to one side. If needed, you can pull out some loose layers on the front, which will help frame your face perfectly.
Topknot with Half Updo
A half up half down hairstyle is always beautiful no matter how old a trend it becomes. And when you add some beautiful caramel honey highlights and a few layers to the long hair, then you'll have for yourself a truly amazing style. So what are you waiting for?
If you have long hair, then this one is a must-try hairstyle at all costs. It is simple to do and doesn't require any effort either.
Long Hair with Braided Beads
We're sure that this unique hairstyle is the first time you may be seeing it. It is not like the usual hairstyles we see on any kind of hair and therefore looks really mesmerizing.
The hair has simply been done in a braid style, but instead of the center strand, golden beads have been carefully placed all across the length of the braid, and this is what makes it look extra special. A perfect hairstyle for festive events and such.
Long Blonde Layers
It is true that blonde never goes out of style. It's always in vogue, and you can try out a variety of different hairstyles on it.
Here, we can see that while there is nothing much special about this hairstyle, it is a beautiful and gorgeous one, and its simplicity is what makes it look this beautiful. You can also try this hairstyle with different colors.
Sleek Pulled Back Hairstyle
If you have super straight hair, then surely give this one a try. It is sure to look amazing. Even though it might appear to be really simple on the surface, getting such a pulled back and sleek hairstyle does take a lot of effort.
The hair needs to be of just the right texture and not too wet or too dry to get this look. It can be worn with many outfits and will also make you look totally fabulous for parties and events.
Braided Wedding Hairstyle
Yes, you read that right. This list also includes a special hairstyle for all those brides-to-be with long hair. If you are worried about what style to choose and whether the style will compliment your outfit, don't worry.
This loosely done single-sided braids hairstyle looks equally good on both traditional wedding dresses and modern-day wedding dresses.
Long Cornrow Braids
Cornrow braids are not just for people with curly hair. It can be easily worn by anyone who has really long hair and wants to keep their hair securely.
In fact, cornrow braids are hugely trending these days, so there is no harm in giving it a try. You can keep your long hair well maintained for months and not worry about it every single day. This itself is a huge benefit of cornrow braids.
Straight Blonde Highlighted Hair
Wait, is this for real? Because this picture looks too good and too perfect to be true. Keeping the bronde roots in its natural state itself, this straight and smooth, silky hair is like a dream for every girl out there who is crazy about their hair.
The blonde highlights, which have been done in a gradient manner, are what make this look truly beautiful. It may come to a few bucks but getting this hairstyle is worth it, and you are sure to catch everybody's attention.
Blonde Beach Waves
Beach waves are a perfect way to complement your long and straight hair and add some dramatic effect to it. We love this beach wave hairstyle.
The hair just needs to be blow-dried to the right amount so that the hair stays soft and smooth, and then you can take then ends of your hair and either twirl it around your straightener, or you can curl your hair to achieve this look.
Long Shaggy Waves
The shaggy waves are also very much in trend with the increasing number of messy hairstyles we are coming across. Here the hair is simply parted to both sides, and then each of these sides has been styled in a shaggy manner.
In fact, these days, instead of going for that absolute perfection, most women like to have a messy effect on their beach waves since that will give them a more natural and authentic look.
Sleek Ponytail
When it comes to creating trends by herself and having thousands of people follow her, nobody can beat Rihanna in that aspect.
She is the ultimate trendsetter. What she wears today might as well become the hottest trend of tomorrow.
In this style, she has maintained long and dark black hair in a very sleek and straight high ponytail with a section of the hair on the front being parted to the sides again.
Ponytail with Braids
Here is a fun way to wear your usual ponytail. Simply tie your hair into a ponytail, divide it into 3 strands as you would do when you create a braid, and then simply braid it in that manner.
This will make this braids hairstyle very classy yet simple. You can try out this hairstyle for casual outings, to your workplace, and if you know how to blend outfits and hairstyles together, you can wear this to a party.
Extra Long Cornrow Braids
Here is another super cool method of wearing the cornrow braids. The hair here is exceptionally long, stretching well below the hips area, and it's not a common sight to see such long hair.
The hair is also divided into various sections before the hair into each section is worn as long cornrow layers. If you want to add some glitter and glam to this look, then you can try out some beads or other similar accessories on the hair.
Braided Ponytail Hairstyle
A great style that can also be used as a wedding look, this style really does have our hearts. It looks natural and so beautiful.
Few layers of the hair on the front section are braided and kept on the hair in the style of a braided hairband. The rest of the hair is loosely but firmly pulled back and tied into a cute ponytail. All hearts for this adorable hairstyle.
Middle Parted Classy Waves
Waves done in perfection cannot be simply ignored. This center-parted hairstyle is very simple yet absolutely stunning due to the beauty of the waves.
It's quite easy to achieve this look if you have the right products. Waves are also a go-to hairstyle for any outfit, and it can make you go from nothing to ultra-glam in a matter of just a few minutes.
Braided Flower Knots
Who doesn't love a half up half down hairstyle? Even though they look great on all lengths of hair, half up half down style on long hair is something you can't resist.
The grace and beauty with which the upper portion is done in braids and a large knot complements the lower section of the hair really well. This hairstyle is best for when you need to whip up a quick hairstyle within minutes.
Braids with Ponytail
Last but not the least, we have a simple braided ponytail style. Only one side of the hair is tied in a braids style, which is thicker and bigger at the top, and as it comes down, it gets thinner.
The rest of the hair is simply pulled back and tied into a ponytail with this braid portion inserted in it. A cute hairstyle to try out when you are bored of the normal braids hairstyles.
We hope you love this list that we created especially for long hair. There are still many varieties of hairstyles out there other than the ones listed here.
No matter which hairstyle you choose, always make sure to take care of your hair properly so that all the effort you put into growing your hair over the years doesn't go in vain.