Ladies if you are blessed with long hair then you are the ones to envy. Long hair is beautiful and versatile. You can do a lot whatever you want with it, make any style for any occasion!
Well for girls, hair is considered to be some thing that may define their character. Having long and bright hair might reflect luxury and class. this is the reason why girls choose to have long, thick and textured hair. There are lot of different long hairstyles for women with long hair, whether it is curly or straight. Considering the hair color all different hair hues look amazing when hair is long, because they can be formed into particular hairstyles that will complement the color. No matter what type of your hair, you can style your long hair into many beautiful looks. So here we are to inspire you by covering these 25 beautiful hairstyles for long hair. Try it and glam it.
25 Most Beautiful Hairstyles for Long Hair
Alessandra Ambrosio's Long Wavy Hair
Celebrities are the ones to adore and follow. Here you see that Alessandra Ambrosio has totally rocked her high volume hair gained with deep center parted and weave to the roots end.
Blake Lively's Long Blonde Haircut
Blake Lively is the one to follow when it comes to fashion and style. Here you can see that she makes her beautiful long layered hair with the classic touch of ombre. Blond look is truly compliment her face.
Boho Hairstyles for Long Hair
Boho hairstyles are making their mark as one of the most romantic and coolest long hair for girls. This bouffant hairstyle gives a few height to the crown, so it could frame the face. To make it cuter, you could add some braids to your hair.
Bridesmaid Hairstyles for Long Hair
Running out of idea to accompany the bride this gorgeous and elegant bridesmaid hairstyle for long hair would be the great choice to make that big day. Highlight your side down long layers and glam the best look for yourself.
Chrissy Teigen's Long Wavy Hairstyle
Chrissy Teigen gives us an inspiration with her perfect long wavy hair and polished face, and her new 'do is something exceptional. Try it on your own this fabulous long wavy hairstyle will make you style diva like her.
Dakota Johnson's Long Tousled Waves
Tousled is great for any event and is truly low maintenance. Dakota Johnson wear this effortless waves which are loosely wrap strands around a wand curling iron.
Half Up Half Down Long Braided Hairstyle
For this ultimate long mermaid braids you need to make the front gathered around half-up hair, with a slight tease at the crown. This half up half down hairstyle is beautiful to try for yourself.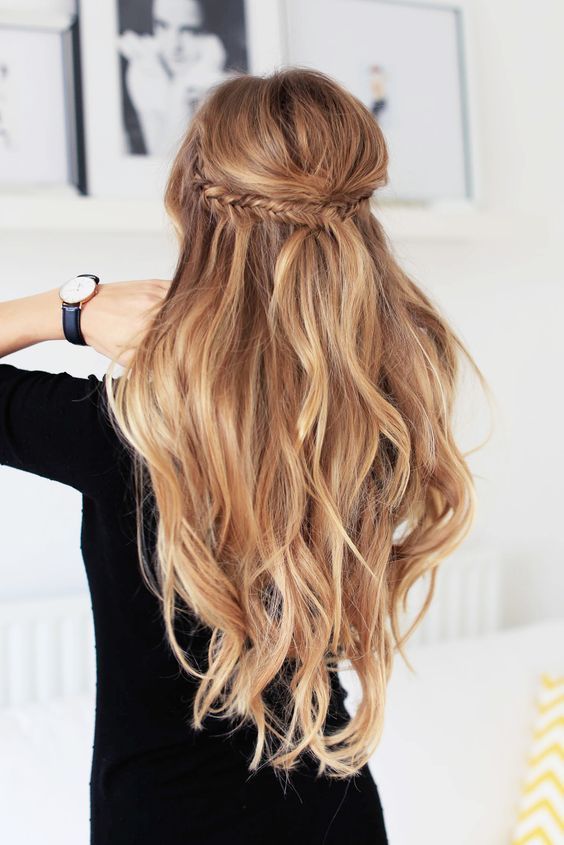 Lauren Conrad Long Ombre Hairstyle
Searching for the perfect is not an easy task. Here you can see that Lauren Conrad has totally glam her middle parted braided ombre hairstyle in such an elegant manner. You can go for this coolest hairdo and flaunt your ultimate look.
Layered Center Part Hairstyle for Long Hair
If you want to try something new and glamorous then this gorgeously done layered center parted long hairstyle will work for you. You can ombre it or make highlights too. Try it and get the totally fresh look for your long locks.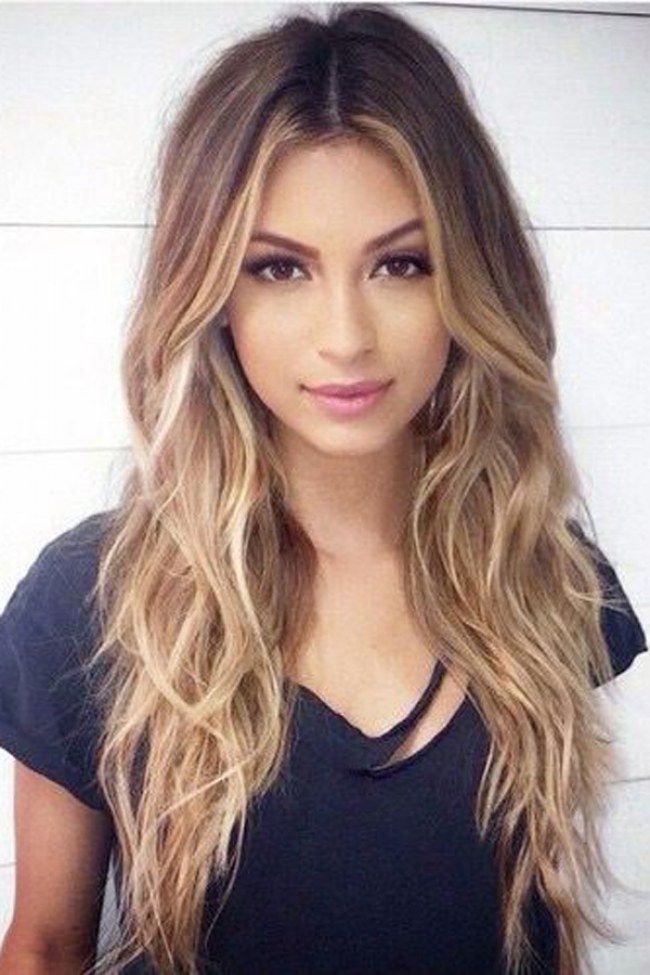 Layered Hairstyle for Long Hair
Many girls have layers and that frame their face. Layers can look great on any girl. This fantastically done layered long hairstyle will glam any women's look for sure.
Lily Aldridge's Long Beachy Ombre Hair
Lily Aldridge's middle parted long beachy ombre hair will be the amazing inspiration for every girl who want to look as beautiful as her.
Long Blonde Curly Hairstyle
This long hairstyle for women does not require massive work. It is as easy as having a medium to long length of sleek and straight hair which will bring you classy haircut. Layering your hair may also be helpful in keeping your hair from being too seriously dull and too stark. You can gain this perfect long blonde curly hairstyle and texture by minimal effort.
Long Hairstyle for Prom
If you have long flowing hair you have a number of choice to make it in gorgeous manner. This long hairstyle with twisted braid will be the great option for you to rock your prom night.
Long Hairstyle with Bangs
Ladies if you want to look chic and beautiful then this marvelous side parted  long hairstyle with bangs will truly work for you. Try this perfectly done long style to fancy up your look.
Long Layered Haircut with Bangs
Want to look as chic as her then you need to frame your face with those lovely layers starting at your cheekbones. The rest will be turn in to ultimate long layered haircut with bangs, which might work for you and glam your look.
Long Layered Hairstyle with High Pony
Try to put efforts on the layers and make it fabulous with a splendid high pony. If you are blessed with long locks then this cute hairstyle will make you eye candy for sure.
Long Layered Hairstyle
To achieve this gorgeous hairdo you need to make bronzed complimenting complexion with gold-toned highlights throughout your long layered hair. You can surely gain this ultimate look for yourself.
Long Layered Straight Hairstyle
To achieve this long breezy layered straight hair you need to iron it to the end of your roots and glam your look like the way she did.
Long Wavy Hairstyle with a Braided Headband
Long hair is versatile and looks stunning too. For this style you can make long waves with the cutest looking braided headband. This style will surely catch everyone's attention and make you the show stopper.
Poppy Delevingne's Long Beachy Waves
Girl who want to flaunt her long locks in most coolest and elegant way need nothing just to make long beachy waves with curl iron and get the ultimate look for themselves.
Side Swept Long Rope Braid Hairstyle
Rope braid is an amazing way to change things up from your usual three strands routine. You can add stunning hue to your rope braid for an outstanding appearance.
Side Swept Long Hairstyle
No need to afraid if you have long hair you can look chic and elegant with this awesome style. You need to side swept your long tresses in such manner that fancy up your look like her.
Top Knot Straight Hairstyles for Long Hair
Bored of normal routine long hairstyles, this dazzling top knot long straight hairstyle will give you choice to break it. Add some highlights or hue to your long locks to glam this ultimate look.
Trendy Long Layered Hairstyle
Wavy Half Ponytail for Long Hair
For this casual and beautiful look you need to give your long hair some voluminous, immense curls and do a half ponytail. This gorgeous long wavy hairstyle added with some hue will surely rock your look.
We hope you have enjoyed reading this article and get the amazing inspiration for your long locks. Just go for one these style and see the difference that make fantastic change in your look.
25 Most Beautiful Hairstyles for Long Hair
was last modified:
January 29th, 2018
by