Women love to look good, and it's no surprise that most women really take good care of themselves, especially when it concerns the hair. The most powerful and gorgeous part of a woman is her hair. A good hairstyle really transforms the outlook of a person and affects the overall appearance.
Short hairstyles are perfect for women who want a stylish, caress, bold outlook. There was a time when short haircuts were considered boyish, but today the page has totally flipped. A short hairstyle and a good short-defined haircut can look good on anyone.
Provided you know how you want it and what cut suits you the best. There are multiple factors to consider before getting a nice haircut, like hair length, hair texture, face shape, and hair thickness.
Having short hair has its own virtues, too, as it becomes easy to handle and maintain, and if you are considering a short hairstyle, here are a few of the latest top picks that will make it easy for you to choose the right one.
25 Most Ravishing Short Hairstyles 2021
Layers with Bangs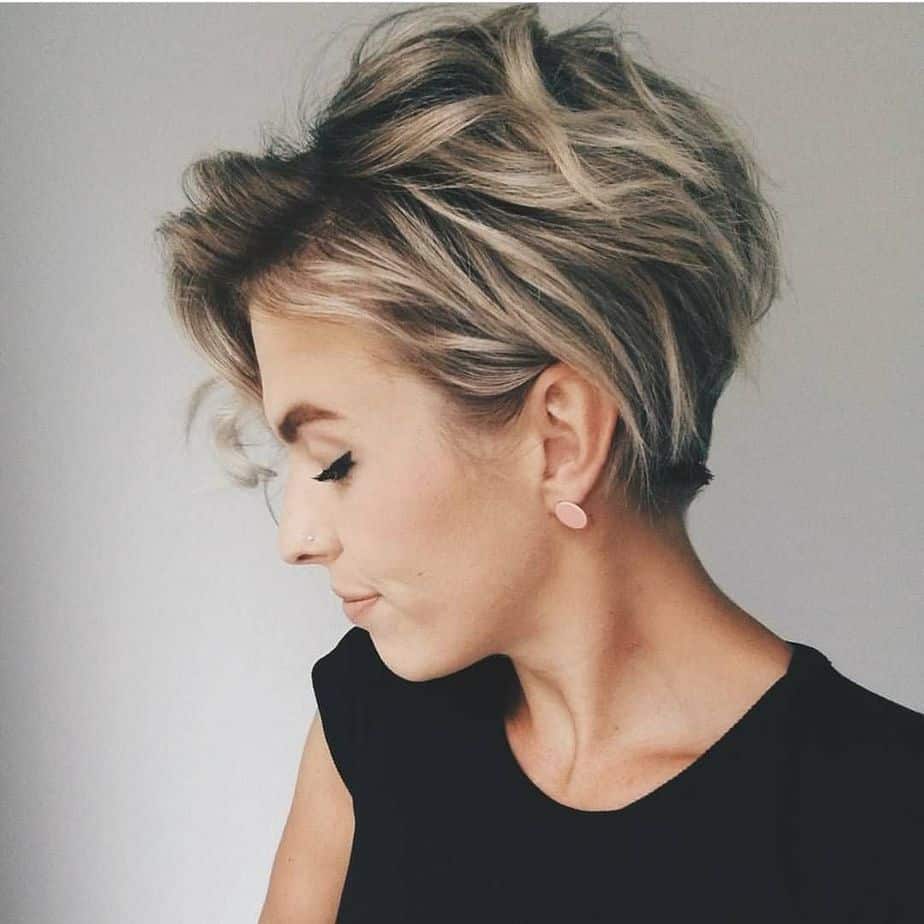 Hair with short layers helps frame the face and is a chic style to flaunt your style. The hair is styled evenly all over the place and hits your cheekbones perfectly. Layered style goes best with oval-shaped faces, and the bangs along with gives a total turn.
Bangs with short layers give that refreshed look that you might be craving for a long time, making you feel lightweight too. Short hair with an oval face has a lot of versatility, accentuating your beauty and can rock any of your outfits any day.
Plain Hair with Side Part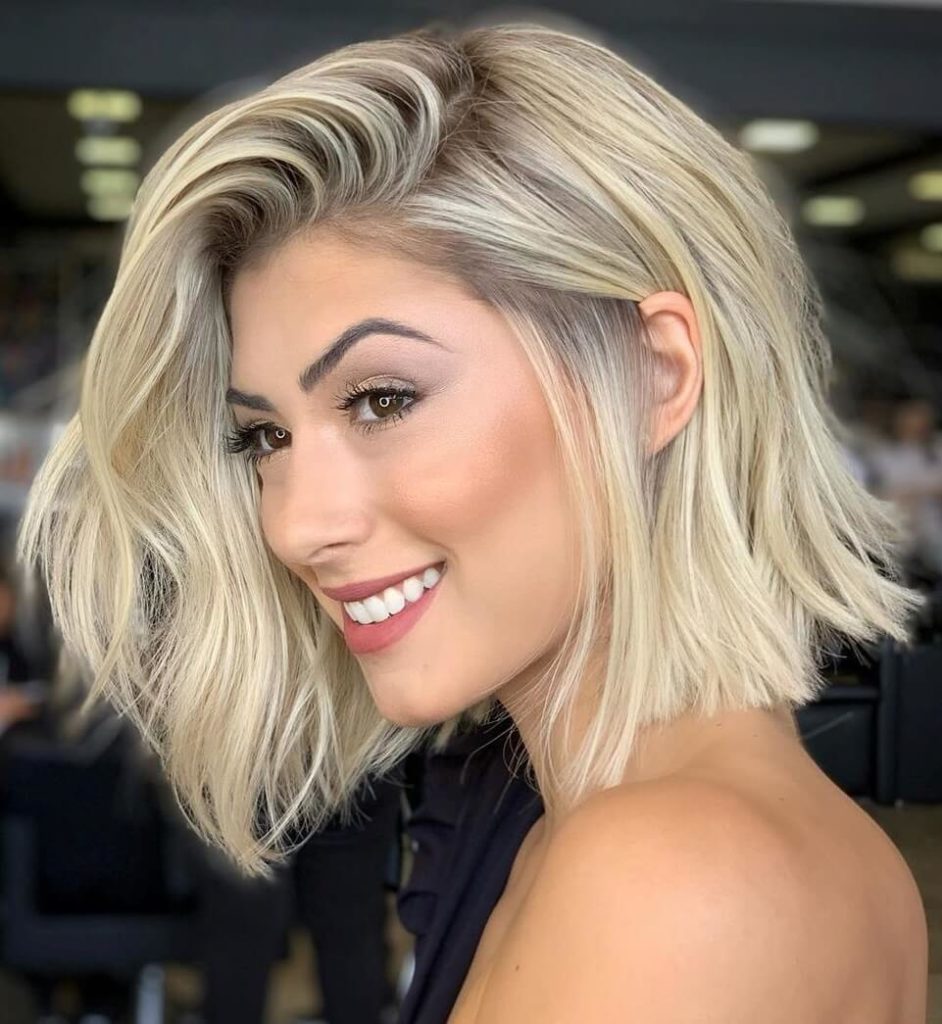 Plain hair is forever, and with the right cut, you can show off this look at any place. The side part gives a curvy texture to the hair, and with the right attitude, you can easily pull off the look.
The style looks stunning on oval faces with straight textured hair, and women with short hair can easily balance their hair with more focus displaying a soft look.
The side bangs add fullness to your face and cover the forehead well, elegantly displaying the facial features. This simple yet chic style blends perfectly with a casual to official look.
Short Messy Bob
Short Bobs are a smart way of chopping long hair, solving almost all your hair problems. From hair falls to maintaining hair, short hair is efficient and time-saving. Bob cuts may be old-fashioned but is still a fashion statement for many top celebrities like Hillary Duff, Nina Dobrev, Eva Mendes, etc.
Messy bobs give short hair an edge and a slender look, adding volume to your roots and lifts hair properly, giving that picture-perfect look to your face. If you have an elongated face, you can never go wrong with this cut.
Pixie Cut with Fringes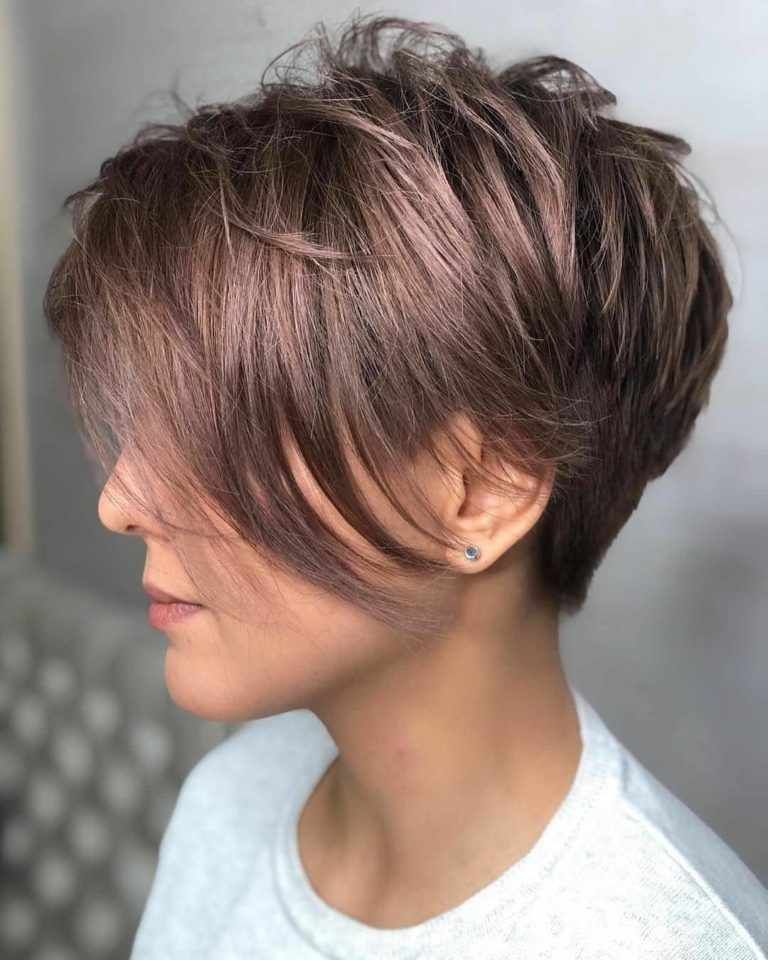 A pixie cut is a short trendy hairstyle commonly short on the head's back and sides and slightly longer on the top with very short bangs in the front. The cut looks stylish and is great if your hair ends are thin. You can use a flat iron to get this patterned cut as styling the cut is very easy.
Pixie cuts look elegant on square faces with sharp features. The front side part with bangs gives that charismatic attention to your face, and with this style taking the weight off your shoulders, the summers are bearable.
Chopped Bob with Bottom Fades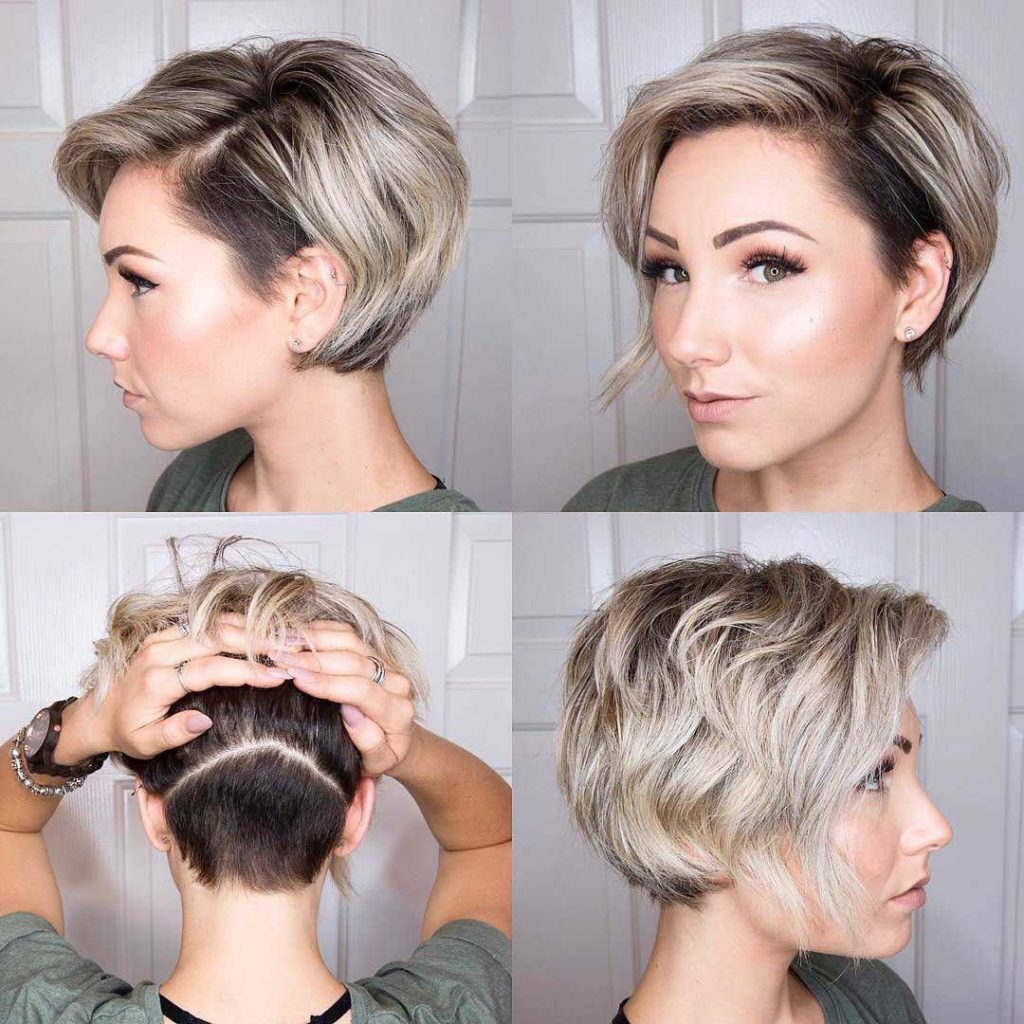 Chopped haircuts with lots of layers are perfect. In addition to volume, they also make your hair easy to manage, meaning they can save you tons of time in the morning. The haircut offers versatility and can be worn formally or casually.
With a slight touch of taper fades at the bottom of the back head, the style looks even more amazing as it clearly reflects your jawline, making you look glamorous than before. You have so many good reasons to chop your hair, and if you are a busy person, this hairstyle will save you, women, lots of time and money.
Short Hair with Undercut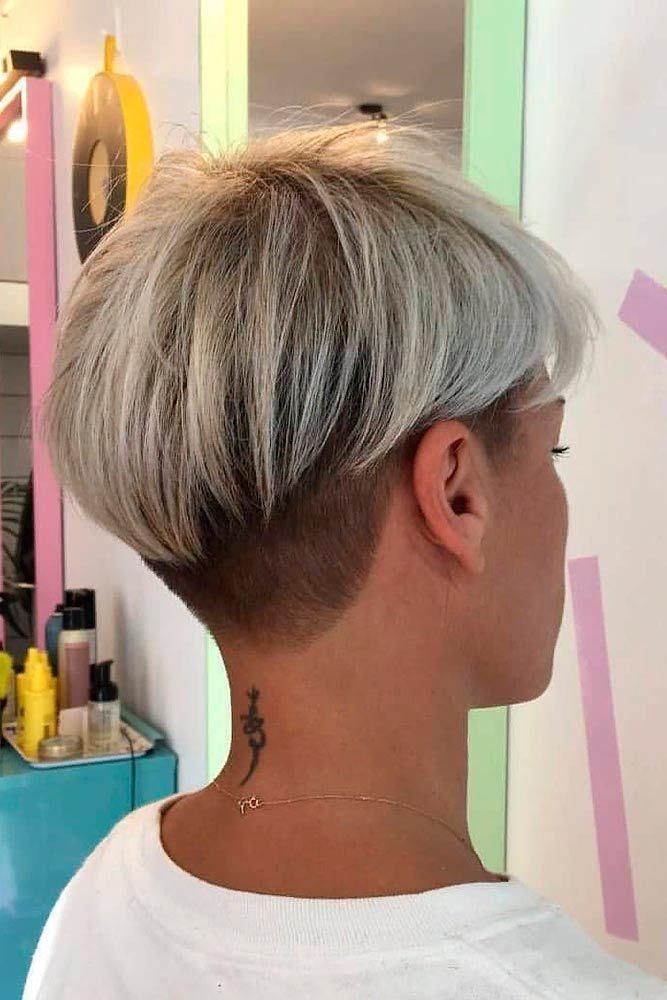 No matter what your hair type is, short hair can still be flattering. Also, it becomes easy to color and shampoo your hair, and to sum up – short hair is very much manageable than longer hair.
Undercut on short hair looks definitely elegant, and to make it a bit bold, you can color your hair to make it a bit vibrant or use loud makeup to balance the overall style. All you need is the right haircut at a professional salon, and you are ready to beat the heat with this powerful style.
Blunt Bob Cut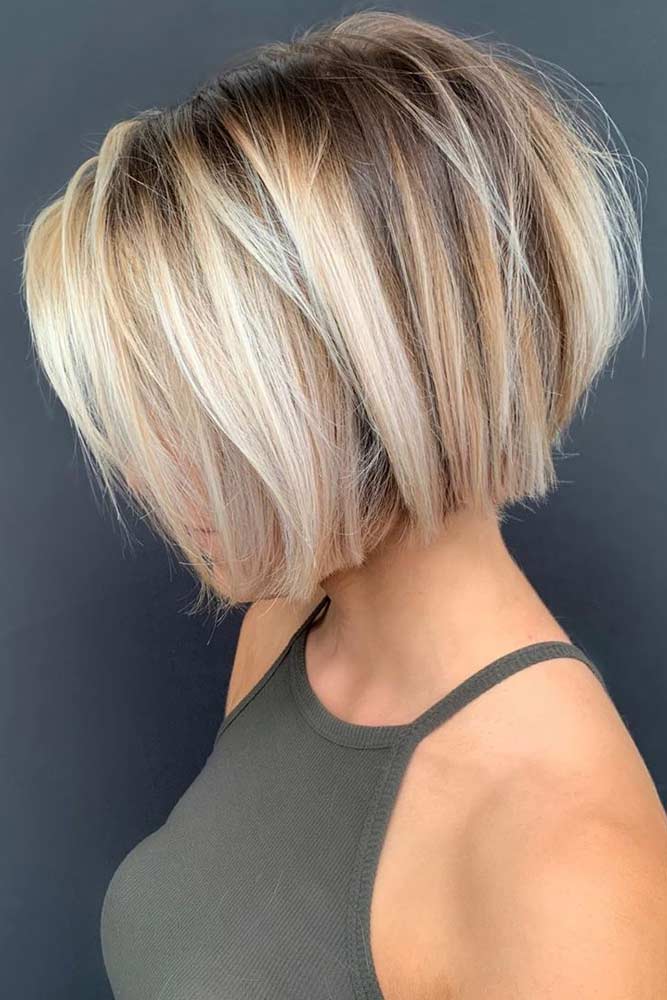 Blunt bob cuts have been the sportive look and are high on fashion these days. Celebrities like Cameron Diaz, Lucy Hale, and Katy Perry have been rocking this style effortlessly. Properly created blunt bobs are a saucy cut to slip through.
Also, if you have thick hair, you can easily preserve the same as it adds dimension to the hair and, at the same time, emphasizing your beautiful face features. Blunt bobs make your personality sharper, and if you have your hair already colored, this style is a must-try as it goes well with all the hair and face structures.
Beachy Waves
Beachy Waves lightens your head as it weighs down all the burden of long hair, making you feel content and refreshing. Beach waves soften the edges of your rectangular face, also balancing your jawline. The style is unique and sexy in its own way and is sure to draw all the attention and compliment your look.
Waves on short hair are a total head-turner as it suits all the outfit and face texture. Also, if you have a mix of beautiful blonde hair, these beachy waves are going to be your next favorite style.
Buffy Chin-Length Haircut
The style is pretty simple and easy to style. With straight hair and thin ends, this hairstyle can be achieved easily. The style suits better if you have an oval face shape, and you can add a bit of fringe on the side parts to make it look classier.
The style will help soften your face, and you can tolerate summers quite peacefully. The hairstyle does not consume much of your time, and with buffs (or you may say in a simple language those voluminous stuffed parts at the backside), your hair looks naturally thick. The cut is a must-try for women with thin short hair.
Short Surfer Waves
Short Curly Waves are extremely flattering if done with the right amount of perfection and professionalism. The curls, together with the waves themselves, sound so exciting, and you can even have variations with the right proportion of curls and waves.
The sides are slightly tapered while the center part is kept buzzed with all the styling techniques. The cut helps to balance all the angles of your face, and you have a great opportunity of showing off those high cheekbones. The style delivers a bold and sassy look meant for fierce women and has a unique sense of style.
Asymmetrical Haircut
Women today have the courage and the zeal to pull off short styles brilliantly. Short hair is really embraced by women from all walks of life irrespective of their ages and texture. The Asymmetrical cut defines your hair shape excellently with side slants falling from the top with thin ends.
Whereas the face shape can be elongated or oval, you need minimal makeup with this cut, and the right jewels will complete the overall look.
You can even color your hair to give that charming effect as short hair requires little maintenance and is time-saving. If you are a classy woman with an official purpose, this cut is meant just for you.
Icy Short Pixie Cut
Icy Pixie Cut is another way of modifying short hair in a pixie style. The style is generally for women willing to give a break too long hair and want to have fun with short hair with little or no maintenance.
Women usually spend a lot of time and money maintaining healthy hair, and with so many hair product usages, they still somehow are unable to solve hair problems. The cut looks very elegant, and without the need for much brushing your hair, you can easily step outside.
With this icy pixie cut, you just have to visit a salon expert and embrace the icy cut without the burden of maintaining hair like before.
Short Lob Cut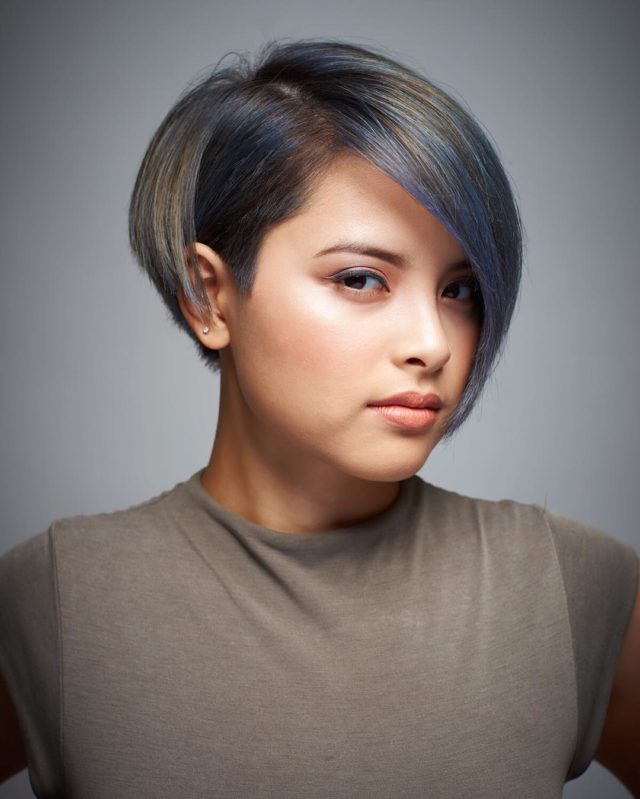 Lob cuts are probably longer than bobs and somewhere just above the shoulders. The front part of the lob cut is longer than the short bobs. The cut uniquely modifies your personality with one of the sides weighted less and kept short while the other side is kept with dense hair.
Adding colors like blue or violet to the lobs will make you absolutely gorgeous, and if you are blessed with a round face shape, this cut might just add up the spunk.
Shaggy Wavy Hair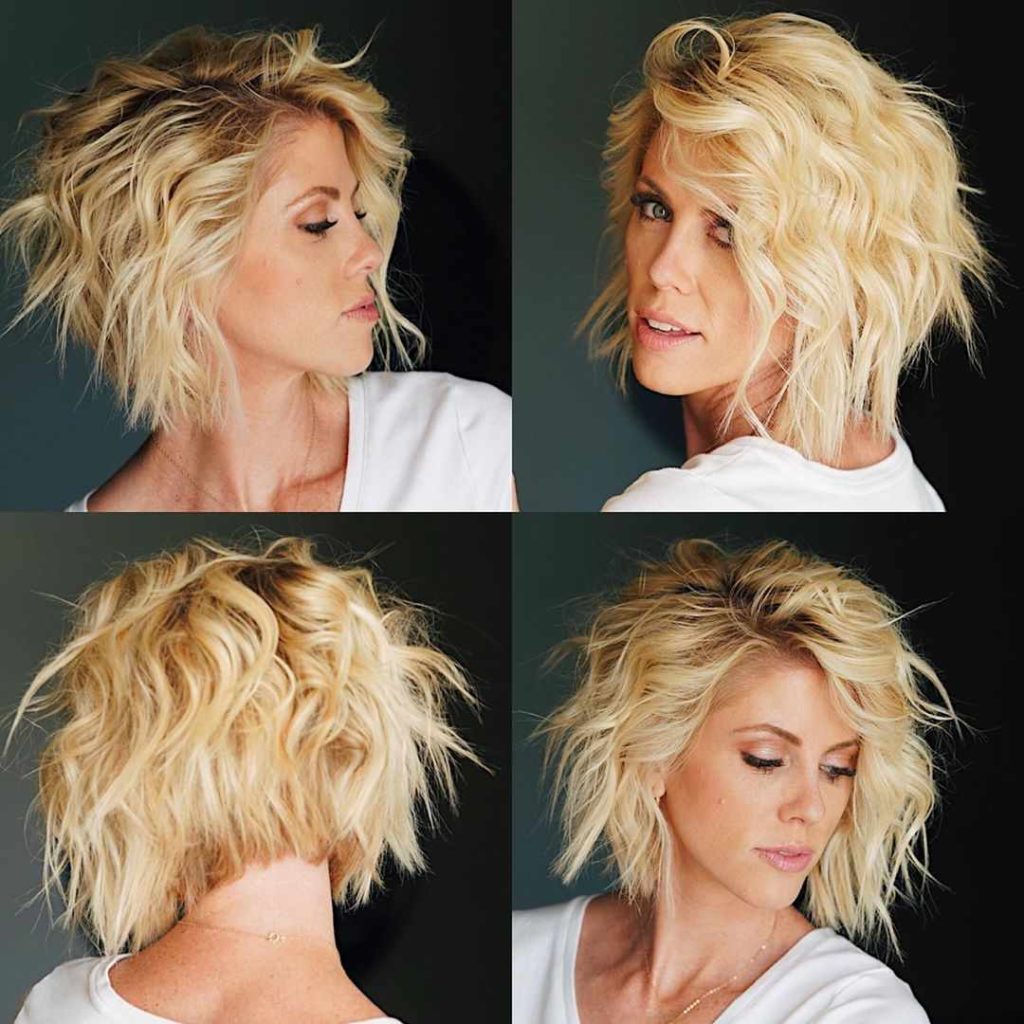 The shaggy style is one of the bravest styles and is a striking cut that looks wild with a shaggy wavy texture. The cut is a mixture of shaggy and wavy texture, giving your hair that extra oomph is complimenting every outfit you choose.
The shaggy cum messy style is for women with a diamond-shaped face because the cut defines the face features very closely. The style can be achieved with flat irons or curlers if you know exactly how to do it. The hair is to be kept at chin length and a bit messy, and you are ready to rock the style.
Slicked Back Short Hairstyle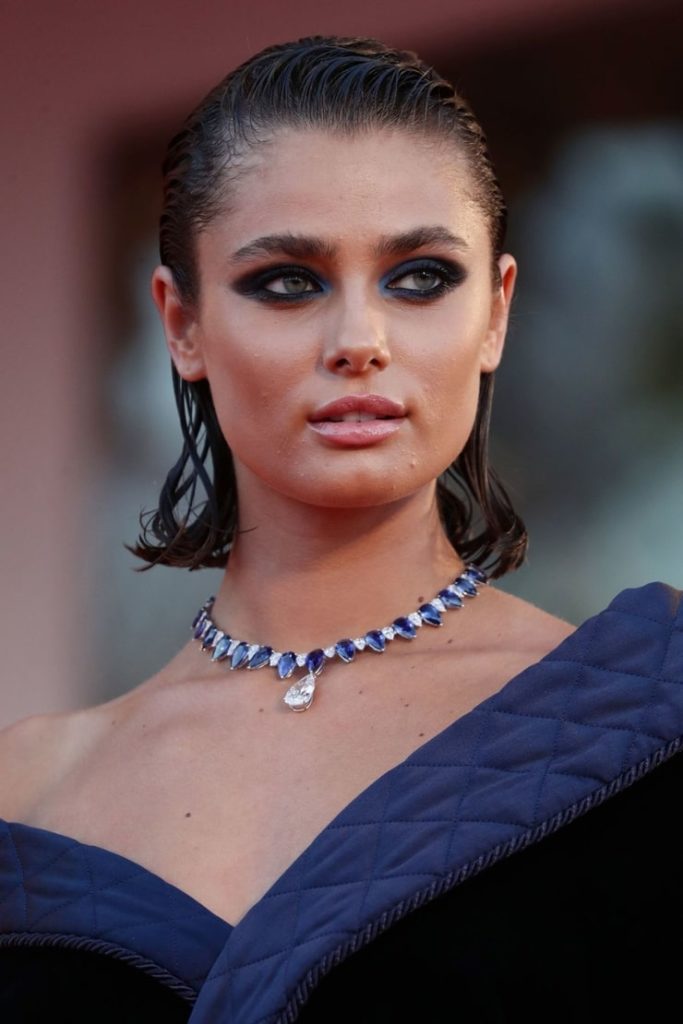 With a slicked-back hairstyle, Taylor Marie Hill is taking the fashion notch a bit higher. The short hair is kept slicked and brushed back to avoid any hair in the face and is set thoroughly, so the hair does not pop out.
The length of the hair is kept short while the sides are also brushed to the back. You can wear classy makeup with the hairstyle and rock the carpet.
You just have to call a specialist barber and design a royal outfit that enhances the appearance. The style is eye-catching and exclusively superior if you know well how to pull it.
Baby Barbie Cut
The first thought that comes to everyone's mind seeing this hairstyle is Barbie's. Barbie cut was once very hyped among little girls, and they just loved having this short Barbie cut hair. Even today, women and girls are fond of this style as the style makes them look cute and sassy at the same time.
The fringes in the front part touching the forehead and brows are a total game-changer. Girls or women with broad foreheads can have this cut as it just covers the forehead area. The hair texture should be straight, and if you have curly hair, you can straighten it using flat irons and get the fringes done correctly.
Close Shaved Haircut
When you close shave your hair, you lop off the hair at the skin surface, leaving several millimeters of hair growing through the scalp. Before going for a close shave, you first need to understand hair growth direction and avoid using a razor. You can anytime visit a salon where you can easily get this done.
With this style, you don't have to worry about shampooing and conditioning, oiling, hair breakage, or any other hair issues and you can simply go back to strengthening your hair's roots. Close shaving gets you rid of all the long hair, but it can be very challenging to pull the style.
Messy Short Hairstyle
The messy style keeps your hair balanced and gives fullness to the look of your hair. You can have a huge volume of hair from roots to ends. Women can make this style more appealing by adding layers, waves, light hues, or even color hair.
You can let all your hair up while still looking gorgeous regardless of your outfit and hair texture. You can use heating tools to shape the look with thick short hair to give a total touch to messy hair. Women of all ages can embrace this style.
Maggi Like Curls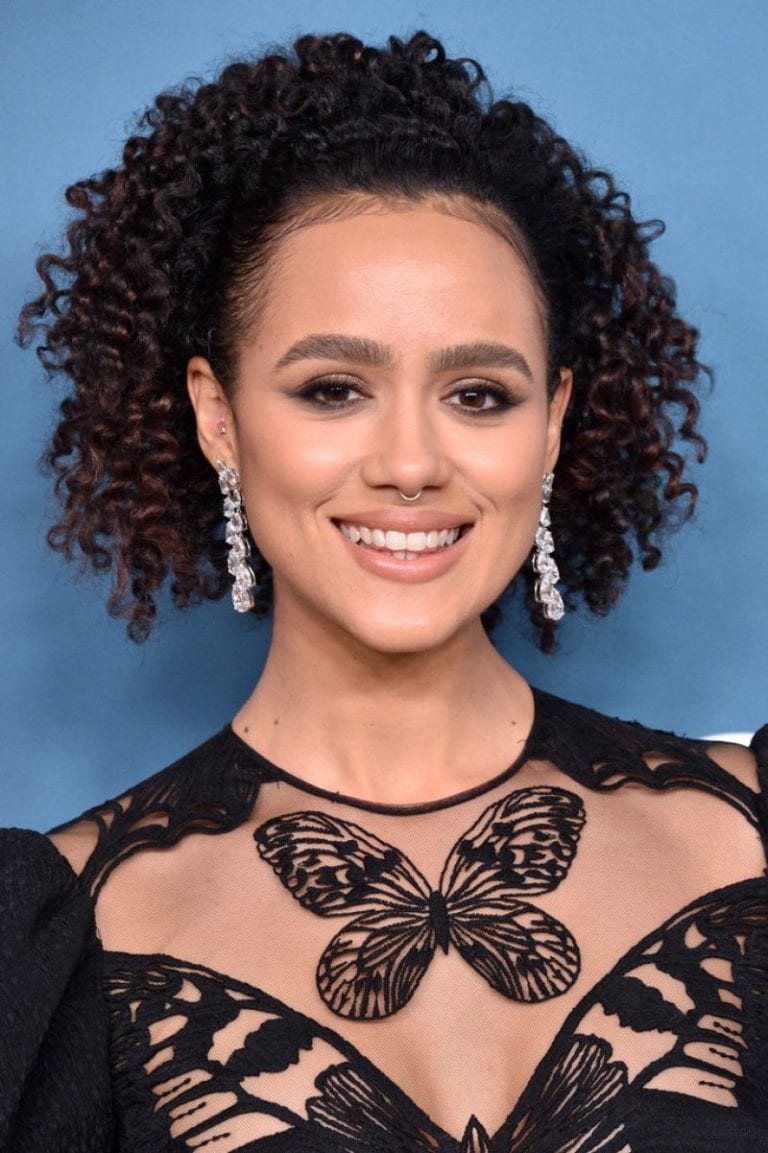 Curly hair looks beautiful when kept short. The key is to find a hairstylist who knows exactly how to rock your regular hair with Maggie curls. Short curly hair looks even shorter because the hair coils up and shrinks in length.
Short curls can only compliment hair that is voluminous as women with thin hair will not be able to ace the look and will end up showing their scalp.
The curls are recommended only if you have naturally thick hair. The name Maggi will easily make you visualize the curls as the curls look very relatable.
Slashed Pixie
The slashed pixie cut is very much trending nowadays and is one of a kind. If you are looking for giving a newer appearance to your hair, this can be the best choice for you.
The slashed pixie cut looks neat, and with this cut, you have many styling possibilities. If you are prepared to reduce your fine hair type for an ultra-edgy look, then a slashed pixie haircut style is a great choice.
Short Wavy Hairstyle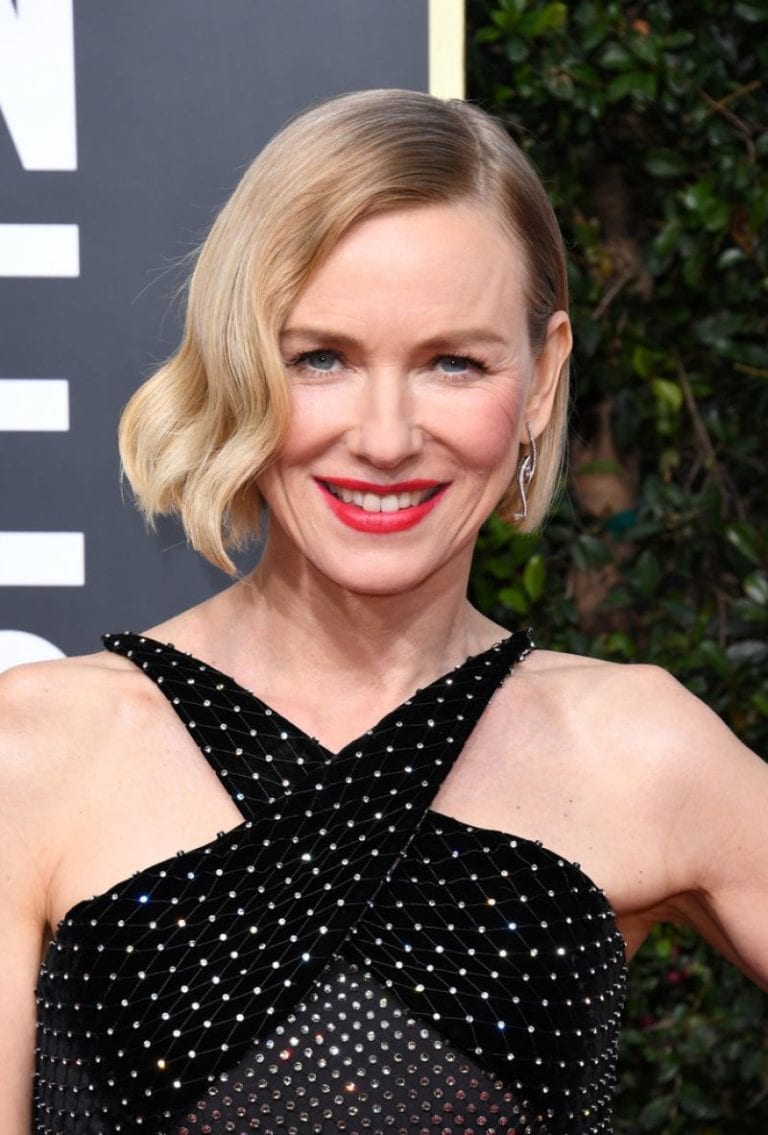 Short wavy hair offers that elegant classic look to your hair with the side part and wavy texture towards the hair's length. The hair remains at chin length, and women with full cheekbones and chubby faces can easily carry themselves with this look.
The hair texture at the sides and front remains flat while the ends of the hair length are a bit wavy, leaving you chic and cool, and the style blends amazingly with all the outfits.
Crossovers with Taper Fades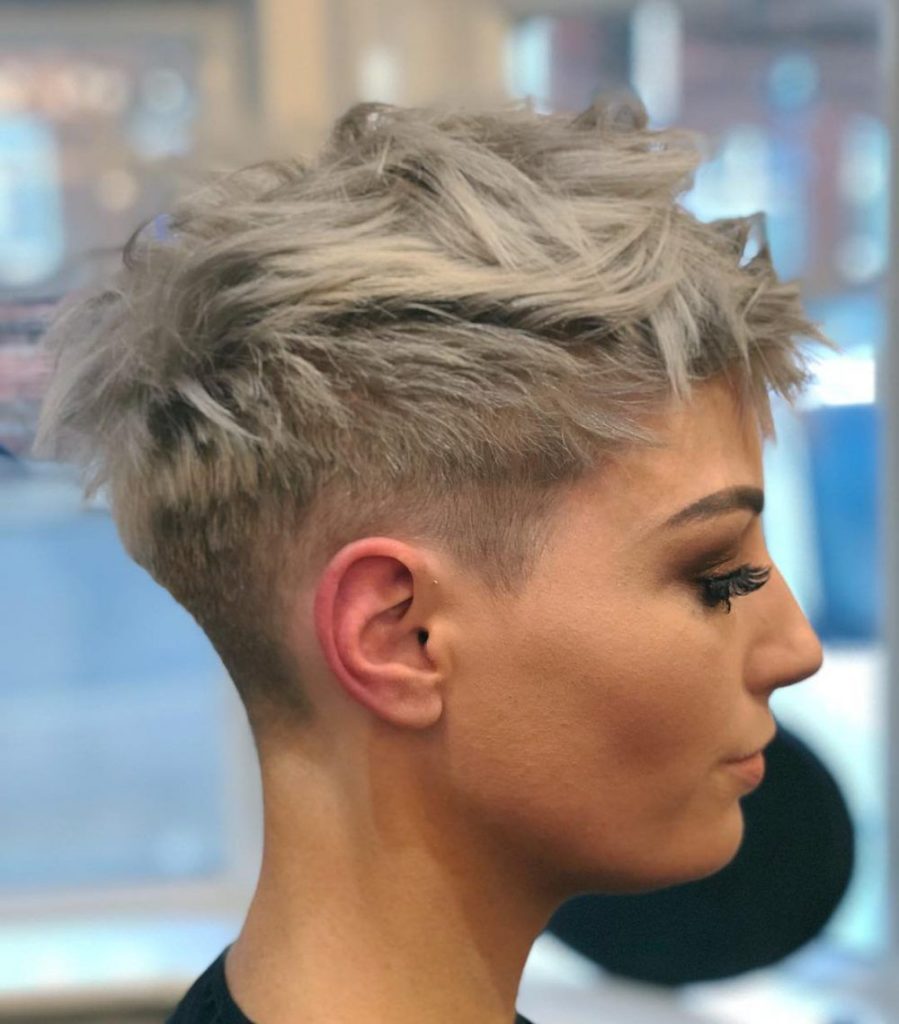 The cross overs with a taper fade is a sensitive style to pick up and go for. Not everyone can pull off this style confidently. One needs to be courageous and bold to rock this entire look. The hair is designed patterned with cross-overs over the top, making it a bit messy and curly with a slight touch of waves.
The sides are kept closely bald with slight taper fades, so the head does not show up. One needs to accept and be fierce to rock the look, and women these days have always been so much empowering.
Side Part with Flat Ends
Parting your hair sideways has always been a plain choice, and women can pick this style any day at their own comfort. The side parting comes with variations like you can part it to the left or the right, or you can part your hair from the middle.
Whereas, to keep a stronghold on the hair with a side part, you must use a setting spray or a gel or some lotion to make it last for longer hours if you are at a certain place for consecutive hours. Straight hair with side parts and flat ends depicts women royalty and signifies smartness.
Pixie Cut with Bangs
As already clarified, the pixie cut has a lot of variations too. Like you can have short to long pixie length, or pixie cut with bangs, or pixies with side part and taper fade, there are so many to choose from. Pixies are a very stylish cut, and it delivers that exotic fun to your hair, leaving your personality with a wild and crazy look.
Women should definitely take a plunge to cut their hair short and slay it with the pixie cut. Pixie with bangs is a high style statement like the bangs are usually on the front side touching your eyes, or you can also keep it short and colored according to your personal preferences.
Side Swept Curls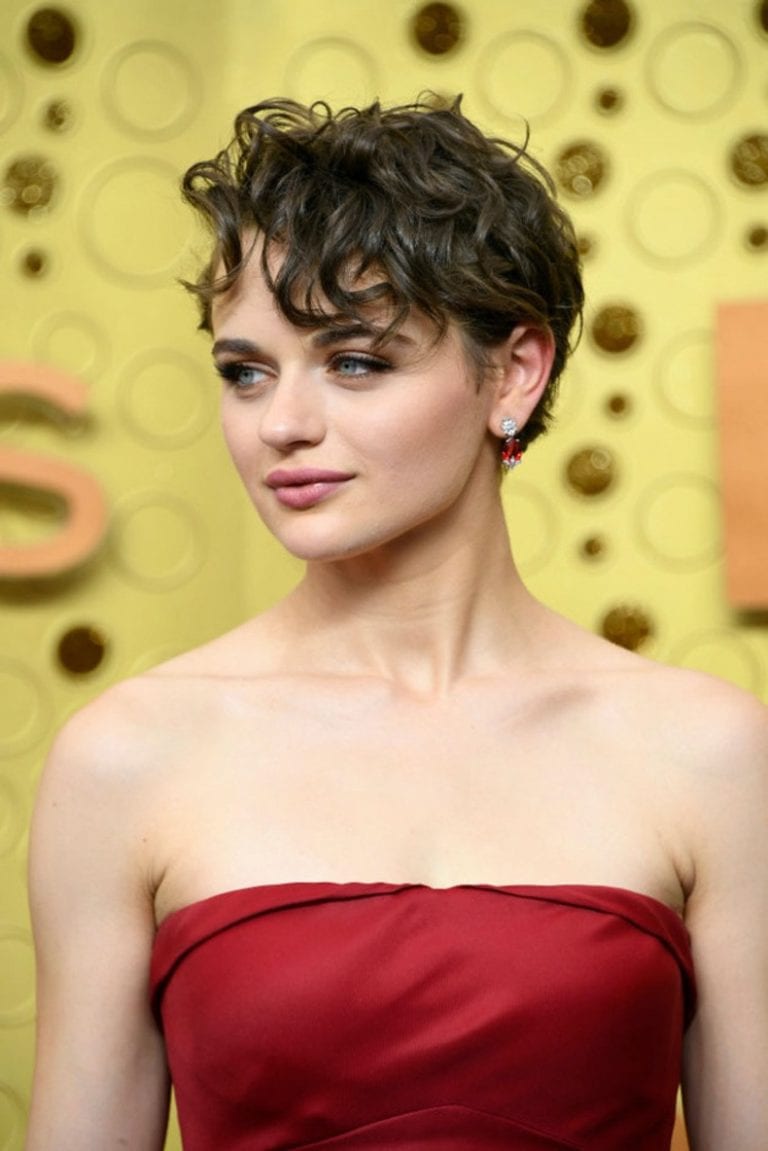 You have to keep your curl game strong to flaunt it perfectly. Joey King looks fascinating with this style and has inspired millions of people with the same. The curls are very finely swept to the sides with a flowy texture in the front.
Whereas the sides are kept simple, the focus remains mainly on the top and sides with thick curls. The hairstyle itself draws attention, and to make it more appealing, you need to choose an outfit that compliments the style and face. You can never go wrong with the side-swept thick curls.
Short hair is a generous way of explaining who you are. Hairstyle speaks a lot about one's personality and appearance.
Women always have been very affectionate towards styling their hair, and with short hair, the maintenance is also very low. You save money, time, and multiple hair care products, which were once was a huge part of your hair. Short hair is unconventional but looks fantastic on everyone.
Even your roots get upliftment when you chop your hair and cut it short. Celebrities like Emma Watson, Taylor Swift, Anne Hathaway, and Lily Collins have been inspiring and ruling the world with short hairstyles because short hair has patterns and variations. You just need to be confident in your own skin and hair to achieve anything you desire.