Braided hairstyles are always in trend. They come in all shapes and sizes, in all patterns and textures and all colors and shades. Even with a very edgy or sleek hairstyle, adding a tiny little braid is just enough to add a touch of class and grace to your overall look. In this article, we have listed different braids hairstyles that are suitable for those people who have short hair and intent on keeping it short itself. Because ad the saying goes, less is more these days, and short hair might be the biggest trendsetter when it comes to hairstyles in today's times.
Well, speaking of short hair, it is a beauty in itself. Taking away the beauty and the style part, it is also one of the most convenient hairstyles out there and they prove to be a gift for those women who lead very busy lives and have the least time to spare on extravagant hairstyles. Short hairstyles are minimal and classy and will always have your back. They are quite effortless in styling too, and even if you are simply straightening it or curling it, it will take much less time than it would for longer hairstyles. Apart from all of these factors, short hairstyles are very much low maintenance too. Hence it is a favorite hairstyle of modern-day women.
So browse through this not so long but significant list of braided hairstyles for short hair. We have listed a braided style for almost every type of hair possible, ranging from straight hair to curly hair and thick hair to thin hair. No matter what type and texture of hair you have, you will surely find a look that suits you below.
25 Short Braided Hairstyles for an Elegant Look
Short Wavy Hair
Perfect for that summer outfit, this is a cool and breezy hairstyle with short layered and wavy hair to make you look very chic. The length of the hair is kept a little below the chin, and the tresses have been highlighted in golden brown at various places. You can also notice a side partition that has been done, which is then further styled in a simple and loose braid. This is a great hairstyle for when you need to go out for casual events and such. Short and cute, it's very comfortable and doesn't leave you in trouble about the maintenance of the hair.
Braided Bun Hairstyle
The highlights that have been done on just the lower part of the hair is what makes this hairstyle look really beautiful. It really does stand out gorgeously, especially with the added beauty of the braids that make it look stunning. The hair has been done in a side braided style till the bottom, and then it has been tucked in with the rest of the hair very neatly, resembling a tucked in bun hairstyle. If you have thick long hair, then you should definitely check out this cool hairstyle.
Triangular Box Braids
Well, that is quite a ravishing look. A unique one too that simply looks gorgeous. The short hair which has been maintained at the length of the shoulder has been styled as a braided bob hairstyle. The hair is visibly divided into various triangular partitions and thick box braids have been created out of each of these partitions. If you observe carefully, you will see that the triangular partition also makes a beautiful star pattern on the scalp, making it a truly gorgeous hairstyle. The hair has been painted all over in a beautiful shade of red.
A Short and Simple Braid
This braids hairstyle is a gorgeous one yet looking very naturally beautiful. As you can see in the picture, it is best suited for those people who have thin or fine hair. The hair has been parted into two sections and done in the style of French side braids. This is also a perfect beach hairstyle that you can wear with your beach outfits. With a simple hairstyle like this one, make sure you accessorize properly for your outfit and overall appearance to stand out.
Pixie Bob Hairstyle
A hairstyle that features a bob, a pixie cut, and a braided hairstyle, this one is surely a style that should be in your look book. How dope and chic does it look? We're sure that you are probably drooling at this hairstyle after seeing this picture. The hair has been styled as a very short pixie cut, which also features a minimal undercut along the sides. While the front portion of the hair has been braided till the ears, the rest of the hair at the back is left just as it is.
Shaggy Braid
While most conventional hairstyles feature braids and designs on the top and leaving the rest of the hair in a bun or ponytail at the bottom, this one is quite a norm breaker. While it may be an unusual hairstyle, it definitely is a very cool one, so you do not need to hesitate about trying out this hairstyle. It's just an inverted version of your normal hairstyle where the upper part of the hair has been maintained like that in a shaggy manner, and the bottom part has been styled as cornrow braids. Just consider it as in inverted hairstyle, and you are good to go.
Multicolored Side Parted Braids
Yes, braids are a common hairstyle, and yes, Multicolored braided hairstyles like this one too are also quite common. But what is not common is this multi color braids hairstyle, where a different color is seen in every 2-3 alternate sections of the braid. And speaking of the colors, the color combination is just brilliant and suits the skin tone of the model very well. A mixture of blue and brown hues on the hair, it is truly a sight you can keep looking at. The little details also matter and the way the braids have been tied in cute little knots at the end is simply looking amazing.
Simple and Wavy Braids Hairstyle
An adorable hairdo hat is sure to give you a fresh and young look. The perfect wavy hair has been maintained in amazing waves where the tresses are simply flowing. The bottom part of the hair has been highlighted in a beautiful golden blonde shade while the upper section of the hair is in a natural black color itself. The hair has also been parted into two sections, and thin braids have been tied up in either of these sections making the whole look very effortless and classy.
Colorful Braided Style
Oh, what a beautiful hairstyle. And the fact that it looks perfectly good on even fine hair is such a relief. A hairstyle that can be tried out on any type of hair, it surely is a look that everyone must try out. The hair has been chopped really short into a bob, and a slick middle part leaves the hair on both sides flowing perfectly. Some of the hair strands have also been thinly braided to add in with the rest of the hair. And finally, to add a pop of color which will contrast against this stark white hairstyle, the braids have been tied up in rubber bands of various colors making it a rainbow-inspired look.
Shaggy Braided Hair
This hairstyle is for those women who seem to struggle with their thick and curly hair. Well, worry not because this hairdo may just be the solution to your hair problems. A perfectly suited style for shaggy and unruly hair, it ensures that your hair doesn't look unkempt or dirty. The hair has been styled in a shaggy manner to make the messiness of the unruly hair look a little more natural and better. Above the forehead, the hair has also been braided in the style of a braided headband from one ear to the other.
Large Braids on Short Hair
If you are someone who chopped off all of your hair solely due to its thick and heavy texture and is still struggling with the thickness, then this hairstyle is for you. Part the hair to both sides and braid up the hair is thick and large braids till the very end. The braids have been tied up into a knot at the end making it look a very cute hairstyle. The blonde color of the hair is also quite visible on the braids which makes it really stand out.
Short Angled Bob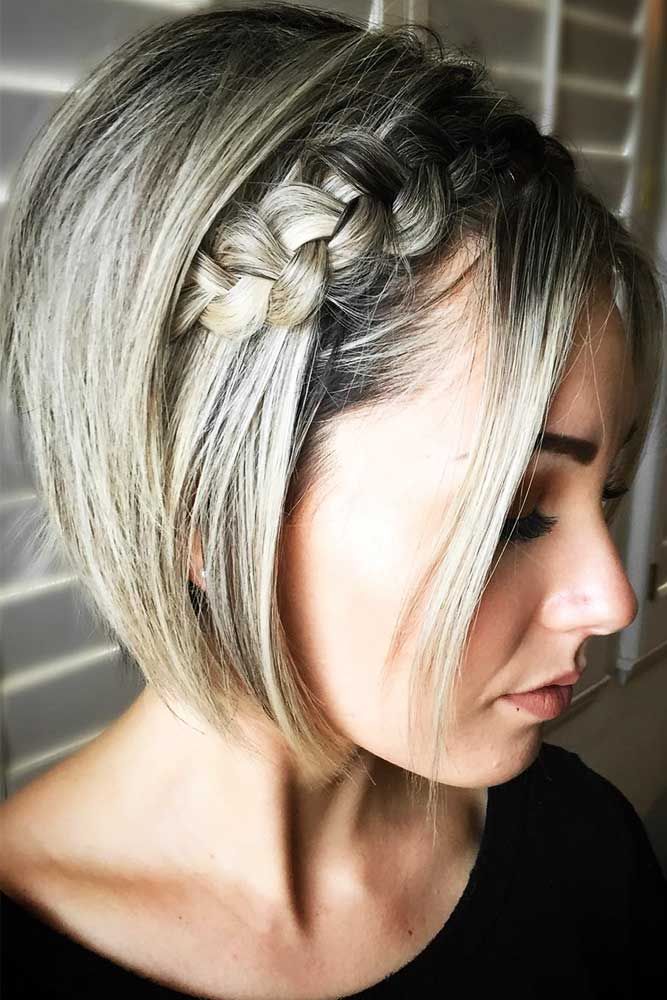 An angled bob like this one, which has significant thickness and volume at the back and enough texture at the front, is a good hairstyle for when you need to tone down the thickness of your hair in a cool and retro style. A few face-framing layers have also been pulled out to the front of the face and a short and cute braid has been tucked in with the rest of the hair. This is a very convenient hairstyle for anyone who likes to keep it minimal and without much maintenance.
Curly Hair and Braids
Here is another hairstyle that you can try out if you have medium curly hair that seems to be flowing and flowing. In the front itself, the hair has been side-parted, and while the longer side has been maintained just like that, the hair on the shorter side has been braided all the way down. The rest of the hair on the back has been lifted a little to add in some volume and let flowing naturally. A good root lifting spray or volumizing spray is good enough to lift your hair.
Fishtail Braid and Bun
A good combination of both braids and buns, this hairstyle is surely going to take you places. The hair has been side braided in the style of a fishtail braid. The braids are kind of loose but firm enough, so they create the illusion of a perfect hairstyle with just a little bit of mess. Many face-framing layers can be seen pulled out on the front and this truly enhances the overall look of this gorgeous blonde hairstyle. At the back, the fishtail braids along with the rest of the hair have been tied up into a neat little bun and your look is ready.
Sectioned Braids and Wavy Hair
Well, this list is all about exploring a variety of short braided hairstyles, and we have surely added many unique looks here. This is also a unique hairstyle where on the front, the hair has been parted into three sections and braided very thinly while the hair on the sides has been simply left flowing. The overall haircut has been styled in a mid-length wavy cut and you can achieve it easily at home with the help of a proper curling tool. The black hair making a sharp contrast against the warm copper toned highlights makes this hairstyle look quite beautiful.
A Braided Crown Updo
What an amazing hairstyle is this one. Just take a look at it, and it surely makes all of being in total awe about it. The middle section of the hair has been lifted with significant height, but this has been maintained in the curly long layers itself. While the hair on the sides has been done in style similar to a braided undercut. Quite a majestic hairstyle if we must say. If you are a bold personality with love for drama and spicing things up, then this hairstyle is surely tailored for you.
Braids with Undercut
Similar to the above hairstyle, this one also features sectioned braids, but the twist here is that unlike normal hairstyles on the sides and back, where the hair has been neatly tapered into an undercut. The sections of the braided hair have then been beautified by placing a floral accessory at the end of the braid, making this a very cool and retro hairstyle.
Intricate Braids Style
This is quite a complex hairstyle at first sight, but all it requires actually is the hair to be braided along the sides. The braids have been done in style similar to an undercut because they have a deep impact and look quite embedded with the scalp. While the hair on the other side has been maintained as very long layers that have been casually side-swept making it a casual hairstyle too that you can wear to almost all kinds of events.
Braids and Layers
A layered haircut that is paired with beautiful braids like this is always a good option when you are simply tired of a new hairstyle and would like to try out something new instead. This will be quite a refreshing look from your everyday basic hairstyle, and you can switch up from it in a very fashionable manner too. On the front, the middle section of the hair has been lifted and tied up like a bump and along one of the sides, some strands of hair have been styled in braids and tucked back in. The layering that has been done on the hair helps to add in some significant volume and dimension to the hair.
Angled Bob with Thick Braids
If you have a round chubby face and are looking for a way to style it so that your face looks much more defined, then surely give this hairstyle a try. The angled bob ensures that on the front, the hair falls at the length of the jawline itself, therefore, making it more accentuated in the area around the cheeks and the jaws. This helps to tone down the chubbiness of the face. The side braids have been styled very thickly, making it a beautiful hairstyle that you can easily do at home.
Short Triangular Braids
Shailene Woodley looks absolutely stunning in this short bob hairstyle. With the hair cropped so short, many people may wonder if the hairstyle is something that you can actually try out different styles on. But that's okay, and it's only common to wonder. The thing is that you can create just as many hairstyles as you want, no matter what type of hair or length or structure you may have. All it takes is a little creativity with which you can even try out a new hairstyle that is completely created by you. In this style, the width of the braids keeps increasing as it goes towards the back making it a triangular-shaped braid.
Straight and Sleek Hair with Braids
Want to create a professional look with your hair but don't want to look too formal? Then give this hairstyle a try. Just straighten your hair very sleekly to get that professional touch to your look. It surely makes you look very dapper and classy and will make you look like a diva even when you are at work. To add a little bit of fun element to this style, it has been paired with braids on only one side. They have been thinly braided all the way back and gently tucked in with the rest of the hair.
Cornrow Braids with Beads
Of course, any list of braided hairstyles would be incomplete without featuring a cornrow braids style, one of the classiest and trendiest looks that you can create with a braided hairdo. The braids have been done in thin sections, but overall, they appear full of volume and project enough thickness. The highlight of this look, apart from the cornrow braids, of course, is the multi-colored beads that have been placed at the end of every braided section. A hairstyle for you to go dangling about in style and grace.
Braided Headband
Searching for that perfect braided hairstyle that would also be great ad a wedding look? Well, your search should end here because this hairstyle is an ideal wedding look. It doesn't matter if you are the bride or the bridesmaid or even just a guest attending the wedding; this hairstyle is perfect enough. The golden blonde locks of hair have been braided from the top towards the bottom in the shape of a headband. If you think this look is too simple, then you can always add some statement hairpieces or any floral accessories to complete your look.
Braids for Curly Hair
And to end this list of short and braided hairstyles, we present a very simple and adorable look that you can try out if you have coil-like hair that is really curly. It is simply a ball of cuteness. Just part your hair neatly onto both sides and braid only a few strands of hair on the top by bringing it to the back. You can also tuck in these braids with a hairpin, and then the hair on each of the sections can be tied up into a low ponytail. And there you go, a stylish hairstyle even with curly hair that simply looks extremely gorgeous and adorable.
And with that, this list has come to an end. There are still many more braided hairstyles that you can try out if you're just willing to experiment a little with your own hair. While you have some free time, draw inspiration from any hairstyle you like and start styling your hair differently or uniquely according to your wish. You never know what killer hairstyle that you are likely to end up with. So go for it and flaunt yourself in your newly created custom hairstyle or just try out any hairstyle from the above list and we are sure that no matter which style you try, you will look absolutely amazing.