Unlike women hairstyles, men have always had the difficulties in getting the ideal hairstyle that not only uplifts their look but also, suits them. And yes, short hairstyle is the big trend.
It gives you a perfect look. In this article, we'll discuss classic to modern styles for men of all ages.
If you are looking for the latest hairstyles in 2023, you should go through these top styles, especially loved by stylist worldwide. We have everything you or your boyfriend, husband, and may need starting from the short undercut, fade cuts to pomps and quiffs.
Try any of these hairstyles and look flawless as ever. These are top trends that are worth trying out this year!
25 Stylish High and Tight Haircuts for Men
High and Tight Fade
Nowadays, this is the top hairstyle. Even the kids love it. It is simple, easy, and super clean. Perfect for anyone who loves looking neat yet classy.
In this hairstyle, usually, one or either side is cleanly shaved above the ear tips. The hair in the middle is left and is given a little touch to make it look sharp and neat. Right hair wax is applied and styled upwards.
Anyone can enjoy this hairstyle and especially would look lovely on a groom! All he needs is a perfect tuxedo and voila! He is good to go.
Buzz Cut
Buzz cut is also known as the modern-day military cut. This haircut looks great with a sharp line over the high fade. The style looks complete with a blunt fringe at the forehead with ultra-short length. To make this better, you can just shave the side or sides.
This hairstyle is almost every barber's favorite as it is effortless to create. It looks neat and sleek. It may be a military hairstyle but suits nearly anyone, especially suitable for people who want to beat the heat.
High and Tight with Flat Top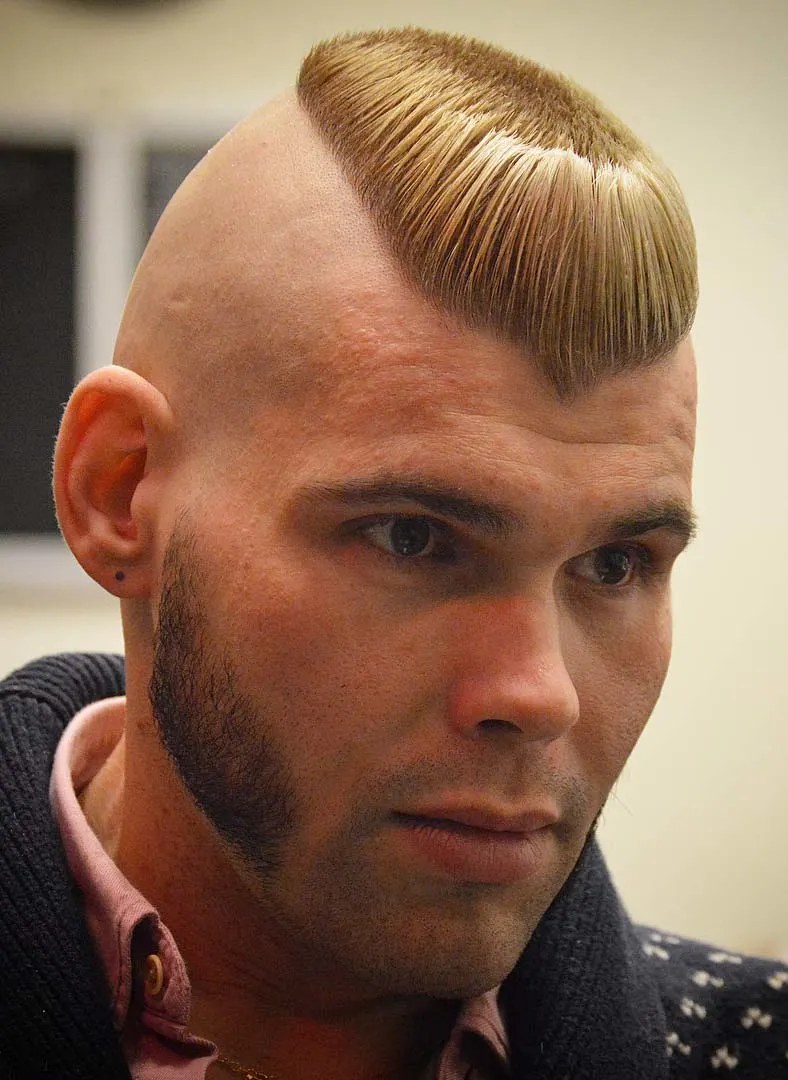 A perfectly military look. It may be extreme, but it is quite cool suitable for all the military men and women out there. It is a bold look for anyone who wants to have a sturdy rough appearance. Indeed, it will make you stand out in the crowd.
Your head will be clean shaved from both sides, including the back of your head. Only a large patch of hair will be left in the middle of your head. It will be trimmed to make it even from top to bottom. An even layer of hair is not only perfect but looks great and can be styled with any hair wax.
High and Tight Marine Haircut
Here we have a popular haircut trendy in the US marines and army rangers. This is masculine, and a low-maintenance haircut often referred to as jarheads. It is an extremely comfortable hairstyle and works for military guys who must frequently wear helmets.
Your sides and back are wet shaved with a razor all the way the top. Only a part of the top head is left in a round shape. You will get a slightly flat shape on the top. It is perfect for men who want to be comfortable with their life being up and running.
Balding Crown Haircut
If you are experiencing blading and want to make sure you have the perfect haircut to cover it up. You can depend on this hairstyle. It is a crown on the top of your head. You can slowly grow them and lightly brush it forwards.
In this hairstyle, it just adds a good texture and makes it a good hairstyle. Balding can hide in this hairstyle. And yes, at the same time give a macho look. A perfect hairstyle for a date and professionally looks good too. Just try trimming it regularly to maintain the ideal look.
Military High and Tight
For decades, men had this hairstyle. It is a classic and elegant style that ought to be in your list. It is a beautiful look where the side parts are partially shaved. One inch or more hair is left in the middle and given a clean trim to even it out.
You can use hair wax to style them however you want. It is a great look for men you want to look sexy and elegant. A perfect gentleman look, I say. All you need is a perfect tux, and you are ready to rock this look.
High Fade Military Haircut
A military man does need a crisp hairstyle to took neat and sharp. If you are someone who is looking for a perfectly sleek look, this is the perfect hairstyle for you.
In this hairstyle, your sides will have a faded or will be partially shaved with an added crisp detail. It is an easy to maintain hairstyle, that just needs regular trims, and you are good to go. A structured style which suits anyone coming from different profession, whether military or white collar. Neat, clean, and sleek; every man's dream.
Beard with High and Tight Haircut
A perfect hairstyle with a sleek beard is not just every man's dream women too. Who wouldn't want to look perfectly sexy?
This is a hairstyle that suits men of all ages along with a perfectly neat beard. The barber will make a clean cut above the ear tip and slightly or partially shave on the above layer leaving a good course of hair on the top. You get a suitable length trimmed on the top. With this, you can get a short-boxed beard. And voila, a perfect recipe to for a perfect date!
Ryan Reynolds High and Tight Haircut
Who wouldn't want to look like a celebrity? I know, I do. This is a perfect hairstyle that would definitely suit all men especially someone in their 30's and 40's. In this hairstyle, your sides are partially shaved. Your barber will slightly trim your beard. You can get a Hollywoodian to make this look the ideal look.
Your hair on the forehead is cleverly trimmed to give it a style that most guys love these days. With a perfect hair wax and just combing it from both sides to top, you'll get an ideal look.
Thick Hair High and Tight
You can always go for the classic look; high and tight style. A perfectly clean shaved on sides above the ear tips and also, behind. You can definitely leave the middle part with a simple trim.
If you have thick hair, you can just trim it and give it a fuller look. And yes, if you love your beard, you can simply get a Klingon, or Ducktail styled beard. Your hairstyle and beard are perfect, and you are good to go with an ideal outfit. If you have great fashion sense, you can definitely rock this look. And yes, it great for your date!
Burst Fade Style
Young boys are enjoying this bad boy look. It is perfect for teenagers, and yes, if you are a grown man, there is no harm in trying. It is a cool hairstyle that has a low taper fade with wavy fringe on the top. The sides are partially shaved.
The best part about this look is that you can use hair wax and hair gel to style whatever you want. You can slide them to one side, use the hair product to get a rocky look and of course, the old style, and comb in backward to get a sleek look.
Faux Hawk
Almost all the top male celebrity has or had them. It resembles a Mohican haircut where the two sides are shaved, leaving an ample of hair in the middle of the scalp region. It is youthful and quite eye-catching.
A flat iron is used to make a stand-up. You can also use a curler to curl it backward to create a different yet appealing look. A hair spray is all you need to maintain the look throughout the day. Remember to regularly trim the hair to get the desired look for months.
Jake Gyllenhaal Buzz Cut
A perfect look to appear as a young, energetic young man. It is an undercut that every man would definitely enjoy. It is like a high and tight haircut, but the sides are partially shaved with most among of hair kept in the middle.
In this hairstyle, you can style and comb the hair however you want. Remember a perfect hair wax is the ultimate key to maintaining the ideal look. And yes, a full-grown beard will uplift this look even better than before.
This is a perfect hairstyle for anyone who wants to look different yet comfortable in the hot weather. Regular trimming is all you need to keep this look for a longer period.
Short Fade Haircut with Line
To make it more appealing, you must try this haircut. This is just like other high and tight haircut, but it stands out from all the others. After your barber has given you the ideal look, he then cleanly shaves a 1 cm line from the forehead to the mid-head.
You can either get this on either or just one side. In this look, you can slowly grow hair in the middle and after a year or so, tie a bun. This look is also sexy. Make sure, to maintain the shaved line.
Buzz Cut with Clean Shave
The ideal high and tight hairstyle is almost the same in all styles except for a little difference here and there. However, in this hairstyle, the barber will leave a good among of hair in the middle. Both sides, including the back, is given a clean shave.
The hair is simply trimmed styled. You can definitely use a straightener or a curler to experiment with your looks as you please. Remember, you need to look out for split ends and make sure to give a simple trim regularly. And yes, also, to shave the sides or the head as given in the picture.
High and Tight Afro
Wondering if this high and tight fade suits a man with curly hair? Well, yes, it gorgeous than ever. Trust me!
Well, as usual, you will get a high and tight hairstyle by your barber. You can, however, ask for a suitable length of hair in the middle. If you have thick and curly hair, you can definitely keep them a little longer. Thin curly hair, then yes, you can shorten them or even keep them long.
Do not forget to maintain them with your personalized products to keep those perfect curvy curls. After all, those curls are your identity. It is macho and very youthful. If you have a great jawline, you'll grab tons of attention out there!
High and Tight Buzz Cut
A high and tight buzz cut isn't just simple, but elegant and masculine. Yes, they do make a man look macho and well-built. Seriously, as easiest one of them all, yet has the classic gentlemen taste.
A neat look is all a man needs to stand out in the crowd. In this particular haircut, most the head is partially trimmed with an even layer of very short hair except for the middle part. The middle part is like a path of hair that is neatly trimmed and styled as a thick straight row.
This hairstyle suits military men and also, sportsmen. Neat, clean, perfect for professional men out there!
Short Pompadour
Slightly shaved? Looking for an ideal hairstyle? Try this one! In this hairstyle, you can ask your barber to get you the famous pompadour, but short. Do ask him to maintain the course of hair the same as your beard. The hair in the middle, however, should be left 2-3 inch longer. You can style with a straightener or even a curler to stand out in the crowd.
And yes, if you are someone who has thick eyebrows, you can definitely shape them to get the sleek look! Remember to apply the best hair wax to look fabulous.
Cool High and Tight Haircuts
One of the common yet a hairstyle that suits all, even the kids is this one. Young kids in elementary school, high school, or even college students would love this. Yes, even the grown men!
You can have skin shaved sides and even at the back of your head. You can either keep the beard or just slightly or completely shave them. The hair is the middle; however, will remain a little longer will an even cut. These standing hair in a perfect level is definitely cool for men out there.
And yes, if you want to maintain this look, remember to maintain the layer of the hair by getting a trim from your favorite barber.
High Fade Haircut
Gotta date tonight? Don't know what haircut to go for? Well, this may help you! This is the perfect, sexy, and quite an eye-catching hairstyle for men. You can look youthful and someone energetic and outgoing. And yes, a perfectly trimmed beard is ideal for this look.
In this look, you can get a clean shaved side plus back of your head. Just ask your barber to leave 5-7-inch hair to style with a straightener or a curler. You can further experiment with look with getting a low shade like perhaps golden or light brown. A perfect haircut, beard, and hair colors are all you need to have a great time!
High and Fade Haircut with Hair Pattern
Trying to be cool, funky and sexy at the same time. Why not try this hairstyle? This hairstyle is quite trendy since 2018. It has its uniqueness with styling and shaved crafting. You can definitely get the usual high and tight hairstyle with this one. But in this case, you can just ask your barber to get a hair pattern on one or either side. It can run starting from the ear tip to the bottom, i.e., near the neck.
Make sure to get a little hood or bulge on your hair, i.e., in the middle. Regular trimming is essential to maintain this ideal look. And yes, you can always get different kinds of hair pattern on your sides to stand out in the crowd.
Crew Cut with Mid Skin Fade
Looking for a bold haircut that only looks great but catches attention? Try this haircut! In this haircut, you will have a crew cut where the top of your hair is cut a little shorter forming pomp. It makes a crown that is perfect with side shaved in the midway. And yes, to make this look even better, it is good to have a slight shave. Maintain an even hair level of your beard and the side hair. It looks great, neat, and perfect for men, whether from a military profession or another. All you need is an ideal suit, and you are good to go.
Short Sides Long Top
You can go for the usual high and tight haircut. But for this particular one, make sure to have trim on wider side and keep your hair long in the middle. It is an office-appropriate and comb-over version.
Hair wax, hair gel, or any other hair product have wondered on your look. You can seriously, play with your look and have a different appearance on various occasions. Remember a perfect outfit is all you need!
Layer Cut for Men
If you are looking for something unique yet quite attractive, you can try this hairstyle. It is like an average high and tight hairstyle. But in this case, you can have a layer cut. It looks great if they are well maintained.
You can take it up a notch by adding 2 shaded colors. It looks great, neat, and perfect for anyone who wants to look sexy and at the same time stylish.
This hairstyle perfectly suits anyone with neck tattoos. If you are planning to get tattoos partially above the neck region and sides, this hairstyle will suit you perfectly.
High Fade Haircut
A perfect haircut that is short and perfectly suitable for any profession would be this. It is similar to all other hairstyles discussed in this article. But it gets a unique style once it is combed backward.
You can slightly trim on the sides as usual or just clean shave to make it more appealing. And yes, you can uplift look further with a neatly short boxed beard.
Love what you read? Subscribe to our emails and get the latest trendy styles. Don't forget to share with your loved ones!