We have brought to you some of the latest bob haircuts of 2019. It brings a whole new level of styling and an absolutely new bunch of favorites this summer. As summers are getting g warmer as years go by, managing long hair is becoming more tedious and a gruesome task. People are moving towards the bobbed trend and hence we have a whole new bunch of shorter hairstyles trending this summer. Be it wavy hair or fine hair, bob just seems to suit every to the same level. Low maintenance and easy to handle are some of the features that is making bobbed hair such a preferred choice among men and women alike.
30 Bob Haircuts 2019 for an Outstanding Appearance
Jaw Length Messy Bob
This is a not so perfect looking interim of the cut. There will be several unevenly cut strands of hair, which gives a totally casual look. It is a totally cool look to don along with a summer dress. Add a blonde shade of highlights to the tip of your tresses to give yourself a totally new summer look. Young and old can carry this look out with total elegance. The length of your shaggy hairdo can be decided by you, whether you like it totally short or you would like to have it at jaw length.
Jaw Length Chopped Bob
If shaggy isn't your style, then we have the perfect bob for you, which is the chopped bob. It has been around in fashion for a long time. It's easy to maintain and throws volume to your hair in a natural way thereby making it look thicker and voluminous. This style allows the hair to perfectly chop at your desired length. You can add highlights or even dye your hair a bright shade and make it look lit.
Shoulder Length Shaggy Bob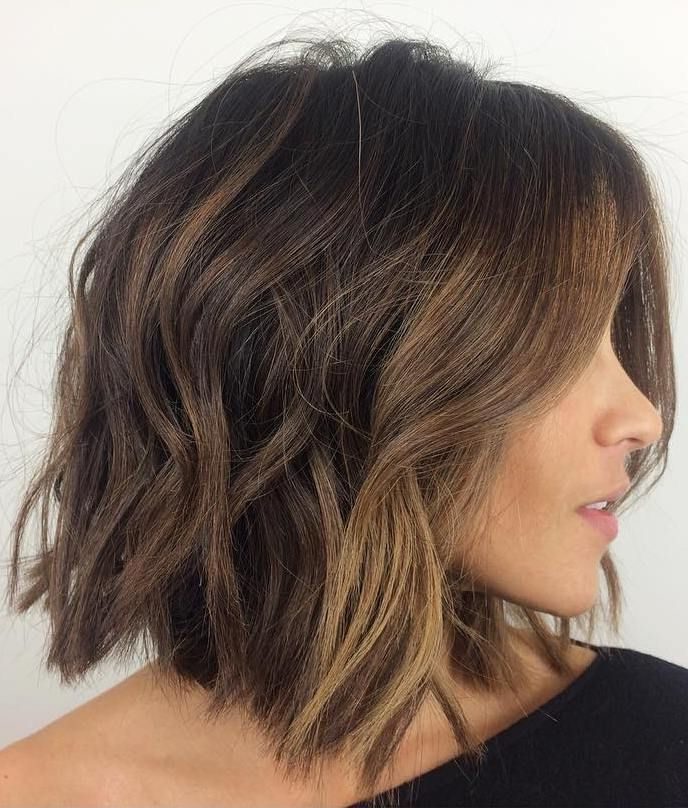 If shoulder length shags are what you are looking for then this is the perfect look for you. A messy hairdo makes it a lot easier to manage to manage the hair especially if you have toddlers at home. You can blame them for the easy look, and nobody will complain about how you look. This look will go better with a backless dress as it falls up to the shoulders. It is a perfect haircut for the summers at the beach to let the hair play with the winds.
Perfect Yet Not So Perfect Tapering Bob
This bob is the perfect one for a woman who plays multiple roles in her lifetime. A busy business tycoon can go for the perfect straightened bob with the tapering ends. As she enters into a conference room, her oozed out confidence is collected by others. The night owl who chose to party with her girls will be the second look. Imperfectly arranged tapering bob is what she will wear. This look is easy to manage and maintain. Any woman short of time can try to make these two looks work.
Perfectly Ombre Blonde Choppy Bob
A blonde haired woman isn't considered dumb anymore. She is the epitome of success and skill walking with blonde hair. So if blonde is your color this summer, go for the perfectly chopped bob. It will make you look all the more successful and make you stand out in the crowd from the rest of the world. It is suitable to make your hair all the more voluminous and lush.
Short Messy Upside Down Bob
This is a short haircut, comprising of an upside down bob. Upside down just means that it is shorter at the back side and gets longer towards the sides. This is not a perfect cut but more like the chopped version giving it an all the more classy look. You can carry this look casually or in a semi formal outfit. Be it jeans or a suit you will look smoldering hot in this hairdo.
Medium Length Bob with a Bangs
Bangs are totally the look one must always be aiming for. It makes you look cute at the same time sassy. Bangs are in fashion almost every season as you can't find a reason to abandon it. Bangs help in making the forehead look smaller and cover a lot of area if there is too much exposure. Keeping the bob at shoulder length is a great way to beat the heat. Also maintenance gets easier, along with trending in style this summer.
One Sided Asymmetrical Long Bob
Asymmetrical is the new trend in town. Be it in dresses or in hairdos it has gotten the attention of all the people. This is special because no two ends will be in symmetry using this style. One side will be longer than the other side. This haircut calls for the hair to part sideways, then at one side of the head the hair is at jaw level. From this end to the other end of the head, the hair will gradually increase in length until the other side is almost halfway down to the back. The transition is a smooth one and the look is a classy masterpiece for the hairstylist to create.
Super Messy Upside Down Bob
This is an upside down bob, where the hair is shorter at the nape of the neck while it gradually increases in length towards the sides. This is suitable for wavy hair texture which along with a few blonde highlights can make your hair look like a masterpiece. It will be a super classy look to don and can be carried out with jeans or a summer dress.
Short Crop with a Bangs
This is a super short bob, with the length coming up to only the ears. Add a bang of a medium length to this and see yourself in a super hot hairdo. Short is everything in summers so why not go with this short style for this season. Smoky eyes make up with this hairdo will make you look super hot and sassy at the same time. It's a great combination to get the others worked up.
Center Parted Upside-Down Bob
A central division of hair is one way to balance out the volume of hair and keep an even head at all times. In summers the heat and the sweat can make your hair look like it has an uneven volume. Go for this look to get a perfectly balanced hairdo that makes you look stylish and trendy at the same time. These chopped up layers are balanced and arranges in a wavy manner creating the perfect balance between a messy look and a perfect look.
Smooth Straight Bob
Are you a simple perfectionist with your prim and proper hair? If this describes you well enough then this is the hairstyle for you. A simple bob smoothly cut and falls equally with perfection. This hairstyles itself will show who is the boss in town. For the prim and proper you, nothing can be better suited that this perfect hairdo. Whether you are a CEO or a simple personal assistant you can don this look and make heads turn in your direction.
Middle Partitioned Layered Bob
A layered bob is all about giving volume to hair. It makes your hairdo fall rounded instead of lying flat on the back of the head. This is the sort of look that is suitable of you are slightly on the plumper side. It will complement a round face beautifully and it gives you a more homely look. It shows the world that you are an angel with a pretty little face and a beautiful smile to go with your looks.
Long Upside-Down Bob
If long is your favorite and you still wanted to have a bob, then this is the look that you should don this summer. It will complement the fierce woman in you and make your bold self all the more beautiful. This look is created for every woman who seems vulnerable from the outside, but is actually a strong willed and amazingly beautiful person on the outside. Let your looks do you justice from now on.
One Sided Edgy Bob
A perfectly sided bob is smoldering hot this season. But to do it right you definitely have to be a fashionista and with a lot of attitude to carry out this look. One side is perfectly trimmed to the jaw level and a bob is in place. On the other side, the hair is cropped short and shaped into a parallel strip. Keeping this look alive is the work of an absolute diva. Nobody could walk past you without a sideways second glance.
Layered Bob with a Side Bangs
A super upside-down bob is cut along with a large bang covering almost half the face is what's currently trending this summer. The bank is also a tapering one and ends where the side of the bob ends at. This look is amazing if you are someone who is shy about showing your face to the world all so often. This will keep completely hidden while you get to look at the world from behind your partitions. Add highlights to hairdo to make it just the right look for this summer.
Layered Shoulder Bob with Extra Long Bangs
Perfect again if you want to hide those pretty eyes of yours. The extra long bangs cover almost half of your eyes. The less people looking into your eyes, the better, right? The hairdo makes your hair more voluminous and it is perfectly suited for wavy and curly hair textures too. Wear this look with dark hair this summer and catch a few eyes glimpsing your way. All the way this look is all about making you feel like an enigma.
Badass Bob
This look is all about being badass. This look completes your badass profile with even better results. Let the evil boss in you on the loose and kick some ass with this look. The hair is chopped super short and keeps your face in the proper limelight giving it all due credits that it has been looking for all this while. A clear view to your face is like a clear view to your soul and this means half the people will run at the sight of that face with an attitude fearing what you might do to them.
Side Parted Bob
This is a party girl look. One of classy and quirky combined together to make the perfect medley of a beautiful party person. If your simmers are filled with parties and you want to be the center of those parties, then this is the look for you. Lower central hair with tapering ends making waves along the contours of your face. It is absolutely perfect for the beach day or a picnic. Pair it with a bright colored tassel or tunics to get the perfect look.
Short Bob with a Bangs
The shorter the better is exactly what one feels in the summer. Be it bum shorts or a crop top, the shorter the more air flows. Same goes with this hairstyle where you have a cropped bob, leaving you free and windy. The bang on the other hand keeps you protected from the days of the sun and gives you a sassy look on the go. Messy or perfect, it doesn't really matter as long as you are in your comfort zone.
Sexy Shoulder Length Bob
This look is bound to make heads turn in your direction. A simple look which can complete any look you choose to wear. It brings out the sexy you from within. It represents a free soul, waiting to find its kindred spirits in this world. Pair it with a LBD and see how many drinks you get for free at a party.
Mushroomed Bob
Who doesn't like a cute mushroom in a garden of roses? Choose to stay unique and look unique this summer with the cutest look in town. Your bang and your bob are in a perfectly shaped mushroom with your head making up for the stalk. It's a perfect look for a CEO this summer. It's perfect for the beach side Barbie too.
Just make sure you don't pair it with a white or off-white dresses else people might mistake you for an actual mushroom and end up eating you.
Messy Mushroom Bob with Bangs
Nobody ever said that a person with curls can't do mushroom. If that's your hair texture, then do something different this summer. Go for a mushroom with your curls and end up with an absolutely stunning bob to suit your needs. A messy bob is what's in style this summer. Add bangs to your mushroom bob and get a whole new look made to suit you. Be it a party or an official meeting, this is the look for you.
Smooth Layered Bob
A layered bob makes your hair look more voluminous. It kind of gives the edges a curvy look. This is a perfect t look to attend all your meetings in. The coast look paired with a suit will go a long way in making new business deals. It can also be used on a date night when you really want the person to be impressed by your personality.
Shoulder Length Grey Bob
As you grow in age, so does your level of sophistication and wisdom that needs to grow with you. A triple layer will help to set a more manageable level of hair. It gets easier as the levels help in smoothing out the hair easily. Also with summers in the peak, a shoulder length hair is the most suitable option if manageability is what you are looking for. This is more suitable for a very serious generation of at least to the people of our generation who wants to be taken seriously. A very serious look for a very serious summer season is here for you.
Highlighted Bob
A plain upside down bob is so mainstream this summer. With people looking to flaunt in bright colors and bikinis this summer, why don't you flaunt a shade for your hair. Violet is the perfect shade for summer. Mix it and match it with shades of your choice and come ready to call in love with your new hair. This is an absolute work of beauty as it is so sensual and yet so sassy to be donned this season. You can also choose to go with unicorn t-shirts and shorts to complete this look. Get gorgeously colored flip-flops to match your hair color. The funkier the color the more in trend you are this summer.
Quarter Bob of Gothic Queen
A regular sharp bob with a twist sounds fun right. Adding a patch of short trim to any hairstyles just gives it a Gothic look. This hairstyle has a tapering bob and one quarter of the head is shaved or trimmed close to the scalp. The look supposedly never goes of fashion too. Pair it with dark clothes and a smoky eyed makeup to end up looking like you just reincarnated from the Gothic era. On the whole this look is a cold one which just the right thing to beat the scorching heat this summer.
School Girl Bob
Every school going kid has donned this look at some point of time in their childhood. It's the cutest on 5 years old and is just as cute on a 25 year old too. This is one hairstyle that suits the young and the adult alike. Because of its simplicity and easy maintenance it has come back to fashion in adults this summer. For those of you who want to relive your childhood and for the rest of you want to have a fuzz free hairstyle then this one is for you. From a frock to a suit, you can basically style anything with this look. And the end result will be just as stunning. In case you want to look older with this hairstyle then all you have to do is just add a highlight to your hair. That will probably save the day for you.
Bouquet of Curls with a Side Bangs
Curly haired ladies out there, this one is for you. Usually curly haired women don't have much hairstyle to don. It's usually the regular ones or the reply drab ones. This one is perfect for you this summer to allow you some stress free time regarding your hair. Since it is shoulder length, the maintenance is less. Also the curls fall perfectly to create and effect similar to that of a bouquet. This is a multiple layered haircut, again which helps add volume to your hair. It makes managing hair easier as they would be at different levels. Who can ever say no to a beautiful bouquet, and that's exactly how your will look.
Messily Chopped Side Swept Bob
A side bob is so in trend this season. Wear a messy version of it and you are ahead of the trend by an inch. This hairstyle is an absolute hit with the teenagers and the adults alike. It makes you look like a free spirit and is an ever been style that doesn't usually loose it's sheen over time. It's a great look to a party. Wear a sequined dress or a jean and still look absolutely gorgeous with this look.
These are some of the most happening looks this season. Summers are the time for various activities and parties happening all the time? Choose your look for the party night while you can casually upgrade it to another look by the day depending on the activities you have planned out for yourselves. Confidence to carry yourself comes from within and so a good hairstyle will go miles to helping you with just that. Choose your favourite look this season and put it will that floral dress of yours and win the hearts of everyone around you. Have an amazing summer ahead, full of gorgeous memories and pretty photos to capture all those memories.
30 Bob Haircuts 2019 for an Outstanding Appearance
was last modified:
June 21st, 2019
by