You will hardly find a person who does not want to get a presentable appearance. You do not require complements from others. If you feel good about your appearance when you look into the mirror, then you will get the much-needed boost to your confidence.
Hair plays a crucial part in enhancing the beauty of any person, male or female. A well-maintained hairstyle will take several months off your age while a wrong haircut will ruin the whole look. Thus, it is necessary that you pay attention while making the right selection. If you are not sure, then ask your hair stylist to pick the cut that will complement your looks to the "T."
Not all have the same hair color, texture, pattern, or length. The selection of a cut also depends on the facial structure of that particular individual. So, the cut that is right for you may not be appropriate for someone else. In this article, you will get details about medium hairstyles for thick hair. These styles have been introduced by experts in the fashion industry to match individual requirements. This does not mean that you cannot make changes in these styles. Following fashion trends blindly will not do you any good. Make sure you are opting for something that fits your personality and the occasion perfectly. Given is a list of hairstyles which might suit your style.
30 Medium Hairstyles for Thick Hair To Complement Your Look
Blonde Layered Haircut
No matter whether you have a long face or an oval facial structure, the blond layered haircut will complement your appearance perfectly. If you have a thick volume of hair, then you may opt for frontal bangs to hide part of your forehead and enhance the mystery. The layers will make your face look linear. If you are having a bad hair day, just use a clutch clip to tie your layers.
Mid Length Bob with Layers
Celebs like Sandra Bullock and Oprah Winfrey have sported mid-length bob with layers hairstyle many times. This style is characterized by layering on one side. It looks better if you part your locks on one side. The shortest layer must never be above your cheekbone and the longest layer will depend on the overall length of your hair.
Blonde Hair with Wavy Layers
If you desire to turn all heads, then blonde hair with wavy layers is the perfect style for you. It is a popular hairstyle and is often depicted in fantasy movies. It looks better if you have medium to long length. Unlike most other layered hairstyles, it looks good on women who have thin hair volume. You can also try several other looks on this style.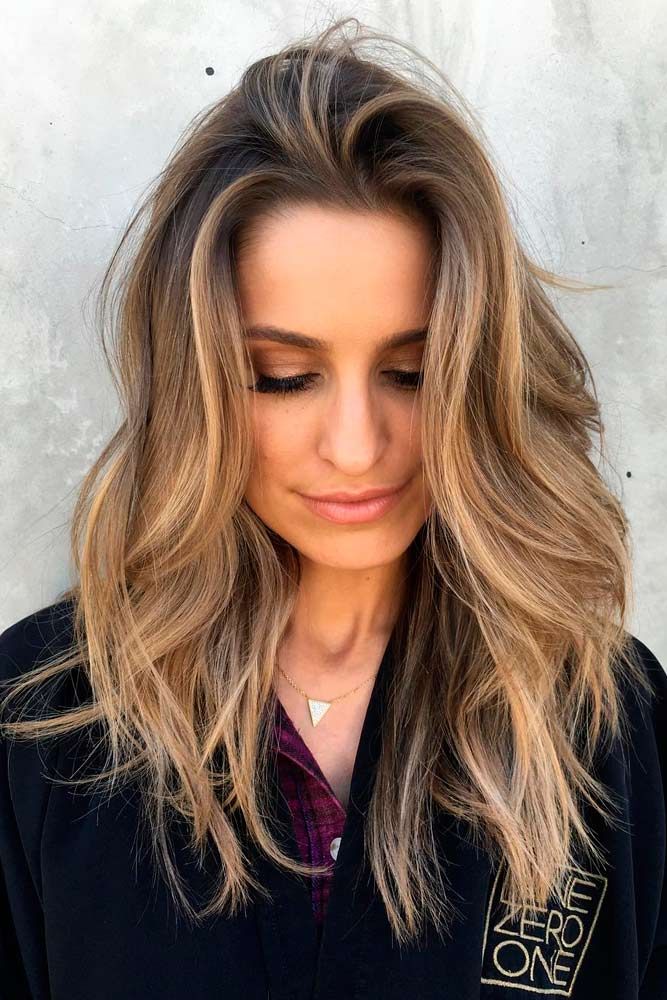 Wavy Lob
Wavy lob is again on trend and you can see many celebs sport this style. If you have short hair you can revamp your appearance by trimming the end of your locks in this manner. In case you have a high forehead, you can make frontal bangs, which will not only hide it but will also reshape your face.
Asymmetrical Bob
The asymmetrical bob is another style that never goes out of fashion. It looks best on people who have an oval or long face. Its sides have a sharp cut and these layers will fall gently on your cheeks. They will not hide your face but will create an illusion of perfectly chiseled jawline. Hiding the forehead becomes easy if you side part your hair and let the frontal layers fall across your temple.
Medium Shag Haircut
Shaggy from Scooby-Doo has a unique hairstyle that looks messy but also sets him apart from others in the group. If you want to acquire the same look then opt for the medium shag haircut. As the name suggests, it is best if you have medium length. You can ask the hairstylist to use a razor and trim the ends of your locks for that natural look.
Blonde Wavy Hair
If you have wavy tresses like Jessica Alba, then the blonde wavy hairstyle is perfect for you. It will particularly accentuate your face if the locks are long. Thanks to this unique style, you can leave your hair open or tie it up in a high pony-tail. Thus, one can sport a new look daily. It is easy to maintain this style as well.
Shaggy Bob with Waves
Are you worried about your unruly locks? If maintaining your hair is too much of a hassle then sporting the shaggy bob with waves is the best way out. Though it looks messy, it will give a particular appearance to your hair. Just brush your hair with a comb and you are good to go.
Medium Length Ombre Bob
Taking care of thick hair is not an easy task. But with medium length Omber bob haircut, you will not have to worry about it anymore. This is a mixture of layers of various lengths, which fall one on top of another and give a perfect shape to your face. It will look good on straight as well as wavy locks.
Medium Layered Hair with Highlights
Enhancing your beauty with medium layered hair with highlights is the present trend. In case your hair reaches the shoulders, then it is the right cut for you. No matter whether you have straight, wavy or curly locks, it will accentuate your face perfectly. The frontal layers are shorter than the layers at the back.
Shoulder Length Bob
Shoulder length bob is the perfect haircut for women with oval to long faces. The frontal bangs will mask a part of your brow and the side layers will encompass your cheeks. Both side parting and middle parting will look good with this cut. The successive layers will give an illusion that you have a thick hair volume.
Messy Wavy Haircut
Whoever said that short hair cannot give you a glamorous look, did not know about the messy wavy haircut! As the name suggests, this cut sports layers that do not have a set pattern. It looks best to people with curly or wavy and short hair. Due to messy layers, the hair stylist will be able to create an illusion of thick hair volume.
Messy Shoulder Length Hair
In case you have medium hair length and you are in no mood to compromise with it, and then ask your hair stylist to give you the messy shoulder length hairstyle. The wavy nature of your hair will complement your looks and facial structure. Due to the non-symmetrical layer pattern, you need not brush the locks constantly. Just run your fingers through them one a while and you are all set.
Medium Haircut with Layers and Shaggy Waves
Another haircut that works wonders for women with shoulder level hair is the medium haircut with layers and shaggy waves. As the name suggests it is a combination of two separate styles. The sharp layers will add shape whereas your wavy locks will add volume. With this style, you will not have to worry about a bad hair day. The front layers in front of the brow can be as small o as big as you want.
Angled Bob with Bangs
If wavy hair is not your cup of tea, and you need something to match your perky and edgy personality, then sporting the angled bob with bangs is your best option. Here, you will get layers that have sharp cuts. A certain portion of hair in front is shaped in the form of bangs. Depending on the hair parting, you can let it fall from the right or left a side. The front side layers are the longest with short layers at back.
Medium Blonde Straight Hair
Not all are blessed with long straight hair like Jennifer Aniston, but if you fall in that lucky category then medium blonde straight hair with gentle layers is the cut for you. Thanks to the straight nature of your hair, you will not have to put in too much time in maintaining it. The obedient layers will give a shape to your face. You can either tie your hair or may keep it loose.
Blonde Bob with Layers
Bobs are the flavor of this season and you can earn some serious fashion points with blonde bob with layers. It is the perfect haircut for all seasons. Maintaining the short layers is easy and you can get ready in a matter of minutes. If you have straight locks, then these layers will look more pronounced. The front layers will also partially cover your face.
Stacked Bob with Highlights
Stacked bob with highlights is the perfect hairstyle for fashion-conscious individuals who dare to tread on the path less traveled. It has the unique characteristic of layers, which are longer in front and short at the back. When seen from the side, it draws a diagonal line from back to front. One can use blond hair color to highlight the crown. Proper highlights will enhance the looks of this cut and you will be able to turn many heads.
Sleek Straight Medium Hair
Rose Byrne was able to make headlines, not only for her amazing performance in the movies but also for her beauty. A major credit should be given to her hairstylist who dresses her in a sleek straight medium hair during her last red carpet appearance. The layers look graceful and fall in a neat fashion. You can get a certain portion of layers to cover any side of your face. When you are not in a mood to flaunt your straight locks, tie it up in a neat horsetail and you are sorted for the day.
Medium Undercut Hair with Curls
People with curly hair often complain about facing problems while dressing or maintaining their locks. But if you opt for the medium undercut hair with curls, then your hair related issued will vanish into thin air. This unique haircut will trim your locks in specific places so that you have very short hair in front, while graceful curly tresses adorn the rest of your head. The presence of curls will accentuate the volume of your hair.
Lob with Face Framing Layers
This hairstyle is best suited for you if you have an oval or long face. The hair is straight and middle parting has been done in the hair. The hair in the front has been cut into layers which fall around the face. Rest of the hair is of shoulder length. The front layers around the face clearly define the face cut. This look is very soft on the face and you can use this hairstyle with any casual-elegant dress.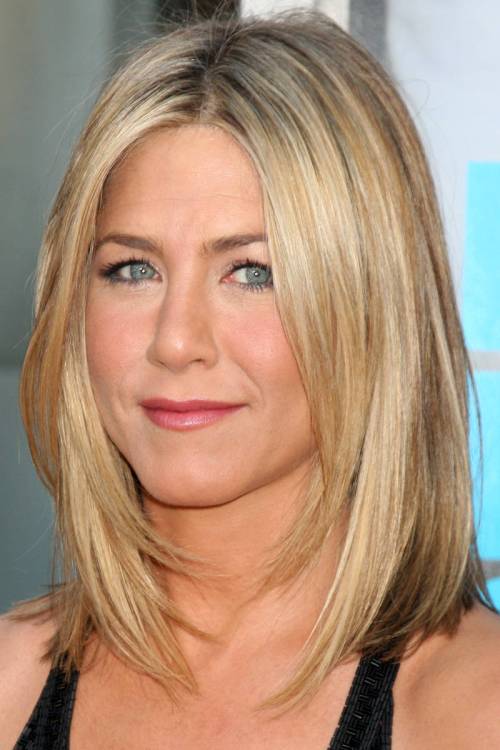 Medium Length Hair with Bangs
In this hairstyle, the hair length is of medium-long length. Layer cut has been used in the hair. The front portion and the bangs have been left loose over the forehead. In the rest of the hair, waves have been created especially towards the end of hair strands to create a casual yet classy look. The carefully created waves render a voluminous look to the entire hairstyle.
Textured Lob with Layers
Here the hair length is the medium-long length. The hair has been cut in layers and the front hair is kept a bit longer than the hair in the back. The layered cut has been made to look prominent. The entire hair is made to look messy and the layered strands are made wavy. This look is very casual and can be worn with a casual outfit.
Medium Blonde Hair with Wispy Bangs
In this style, the hair is medium short and is a little below the shoulders. The front layered hair has been kept straight brushing the face. Rest of the hair is also kept straight. The entire hair on the head is carefully arranged to stay in place. If you have blonde hair and straight tresses, you can easily wear this look with a formal dress. There are front bangs in the hair which are made to look wispy.
Medium Layered Blonde Bob
The hair in this style is medium long. Layer cut has been applied to bob cut hair. The front sections of the hair have been kept a little long. The layered hair has been carefully gelled to be arranged in a casual style. Rest of the hair strands are kept as it is. The entire style has been kept casual with straight blonde hair. You can wear this look for an evening party.
Medium Ombre Hair with Curls
If you have medium to soft curls and thick hair, you can carry off this look with ease. The hair has been side-parted in the look. Except for first few strands on the face, the hair has been curled at the ends to give a fuller and voluminous look. The look is so gorgeous in itself that there is no need for heavy jewelry or makeup.
Medium Hair with Loose Waves and Bangs
In this style, the haircut is till the shoulder length. Soft waves have been created to the hair strands. Front bangs in the hairstyle add a classy look to the style. A little bit of messy look also adds elegance to the hairstyle. This hairstyle is perfect with a pair of gorgeous earrings for an evening party or a night out.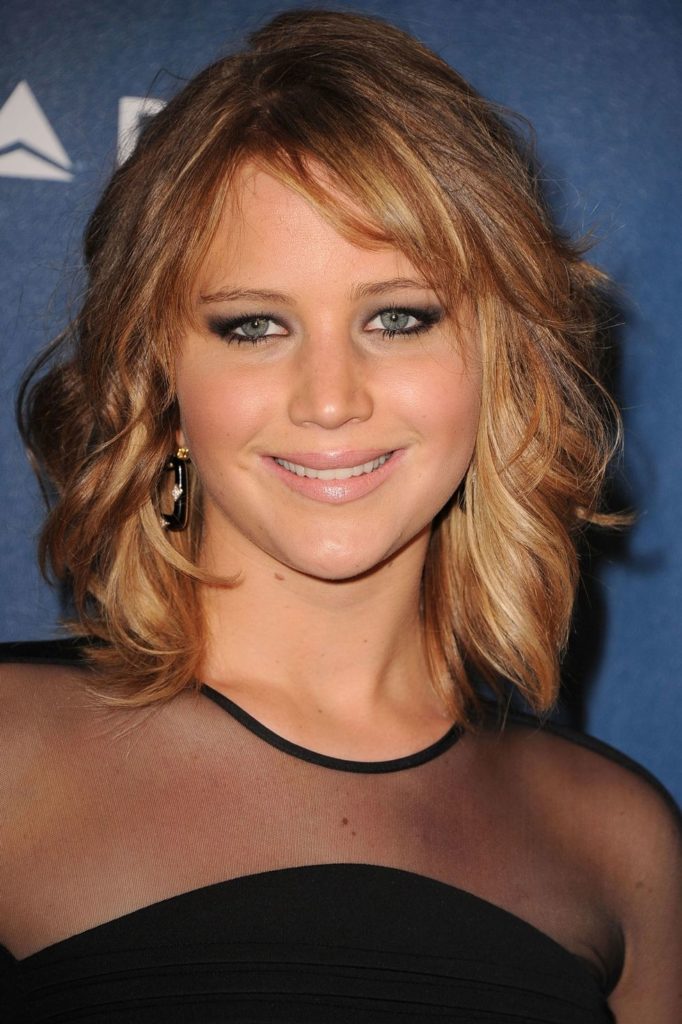 Layered Medium Wavy Hairstyle with Bangs
In this look, the bangs in the hairstyle steal the attention. Layer cut hair strands have been made wavy. The layered ends have been made to look prominent. Waves have been made to the rest of the hair except for the top of the head. The bangs, however, have been kept straight and arranged neatly on the forehead. You can wear the look with a formal dress.
Center Parted Medium Wavy Hair
This look is cool and chic if you have medium length hair. The hair is parted in the middle. The hair strands have been casually made wavy. The wavy strands falling over the shoulders create a chic look. Apart from the wavy strands of hair, rest of the hair is made to fall casually over the shoulders. This look is perfect for a day out along with a casual outfit. A minimal makeup is required for this look.
Shoulder Length Thick Hairstyle
For people having shoulder length hair which has a thick texture, this hairstyle is perfect for the casual yet classy look. Front bangs have been left open over the forehead which creates the casual look. Rest of the hair has been left open on the shoulders with soft waves. The hair is a bit disheveled at the hair strands to complete the look. This style can be worn with minimal jewelry and a bold dress.