Long beards are 'so attractive' and we are sure that there's none of you who doesn't like a long, well kept, sexy beard. Only recently did men worldwide make the switch from clean-shaven looks to sporting casual beards, which keep increasing in size and length each day. Nowadays, you can try hundreds of styles with long beards, and the list just seems to keep increasing. But as much time and effort you invest in getting this look, the same amount goes into its maintenance. Long beards can be especially hard to maintain, but with the right trimmer, that shouldn't be a thing to worry about. Well, here we have listed the best trimmers, especially suitable for long beards. Check out the buying guide before you move to the best trimmers' list.
Factors to Consider before Buying a Beard Trimmers for Long Beards:
Here are the things you need to look out for:
Blade – the blade is the most important thing that you should check out. Many products have self-sharpening precision blades, which are a great feature.
Dry shave or wet shave – this depends on each user's preference for shaving before a shower or after. Some products offer both dry shaving and wet shaving.
Length and attachments – this needs to be considered seriously if you want a trimmer which has different adjustments for different lengths
Budget – looking for a trimmer with great features and fits within your budget will save you lots of money.
Power – check for how long your trimmer can last or how much runtime you can expect in a single recharge.
Corded or cordless – trimmers are available in both these options nowadays.
7 Best Beard Trimmers for Long Beards
1. Wahl Lithium Ion+ Trimmer
Perfect for cutting through really thick hair, this trimmer by the trusted brand Wahl is a classic product which you can find is a favorite of many customers across the world. It is one of the most convenient and easy to use trimmers out there, which also has a powerful performance. The trimmer is a cordless one and just the right size for you to carry it around wherever you go and use it whenever you want. The trimmer features precision blades, which are quite suitable for cutting hair no matter what the size or length it is.
It is also the only product you'll need to meet all your grooming and shaving requirements since the trimmer is an entire set that comes included with 4 multipurpose facial attachments. Be it sideburns, mustache, a stubble, or even just hair on your nose and neck; this trimmer can do everything. Another important feature is the extended run time of this trimmer. For every one minute of charge, the trimmer can run for 3 minutes. It can also stay powered for about 6 hours in just a single charge thanks to its lithium-ion battery.
Pros:
Stainless steel finish
Cordless trimmer
Self-sharpening precision blades
Cons:
Warranty is difficult to claim
The product stops working abruptly
2. Philips Norelco Series 7000
Hailed as one of the best trimmers to ever exist, this Philips Norelco Series 7000 trimmer is truly a genius product. It is multi groomer set which comes with 23 attachments, and you can use this one your entire body. Yes, you heard it right, this trimmer's functionality isn't just limited to your beard or facial hair, and you can use it from head to toe. The blades are so smooth that it won't leave any cuts and nicks on your skin, making it look as flawless as possible.
The 23 piece set contains the following items: metal trimmer and detail metal trimmer, foil shaver, nose, and ear trimmer, extra-wide hair trimmer, 6 trimming guards for hair, 3 trimming guards for the beard, 2 trimming guards suitable for stubble, 2 other trimming guards for the rest of the body parts, 1 trimming guard for the eyebrows, and a cleaning brush along with a storage bag to store all of this easily. The trimmer also features a dual cut technology where there are 2 times more blades to ensure maximum precision and that you shaving or trimming job is done as perfectly as possible. The battery also is quite powerful being made of lithium-ion material and boasts of a runtime of about 5 hours in a single charge.
Pros:
All in one trimmer
Great battery runtime
Dual Cut blades
Cons:
3. Andis Professional T- Outliner
Just like Wahl, which has been a trusted product in the market for many years now, Andis is a similarly popular brand which enjoys popularity and customer satisfaction all around the world. Barbers, stylists as well as the customer in every corner of the globe recommend that this trimmer is indeed the best for all-around outlining, fading as well as dry shaving.
A key highlight of this trimmer is that it has a T-blade with a carbon steel finish and close cutting feature that allows as much precision as possible with significant attention and focuses on details. The trimmer has a magnetic type motor and delivers superior performance. The motor is also capable of running quite fast and making only the faintest noise while the device is on and working. It also has a brilliant ergonomic design which fits into the hands of people just perfectly and reduces any fatigue that comes from longer durations of using this trimmer.
Pros:
Tested for cutting with string
High-speed motor
Best for dry shaving
Cons:
Blade stops moving after a while
Causes cuts on the skin
4. Philips Norelco Series 5000
After the series 7000 trimmer, the series 5000 trimmer from Philips is the best in the market. The shaver heads are flexible and developed to give the user maximum comfort and convenience while using the trimmer. What makes this trimmer special is that, just like its ability to cut through even thick hair without much effort, it can also trim and cut even the smallest of stubbles, from hard to reach places on the face or neck. The product is 100% waterproof and suitable for both dry shavings as well as wet shaving. The blades are made of double sharpened stainless steel to deliver the smoothest cut.
The trimmer has a battery life of about 60 minutes and also includes a battery indicator in the device that alerts users of how much the battery has depleted and when it should be charged next. People who are making the switch from normal blades to electric razors for the first time will love this product, given how smooth it is and fitting to use. The lift and the trim feature is one unique feature to look out for. You can also select any length you want for cutting (ranging from 1/64 inches to ½ inches) since the trimmer has 0.2 mm precision settings.
Pros:
Electric and cordless
Washable
Easy to clean
Cons:
Trimmer not suitable for beards that are lesser than 3 mm
5. Panasonic Er-Gb40-S451 Men's Trimmer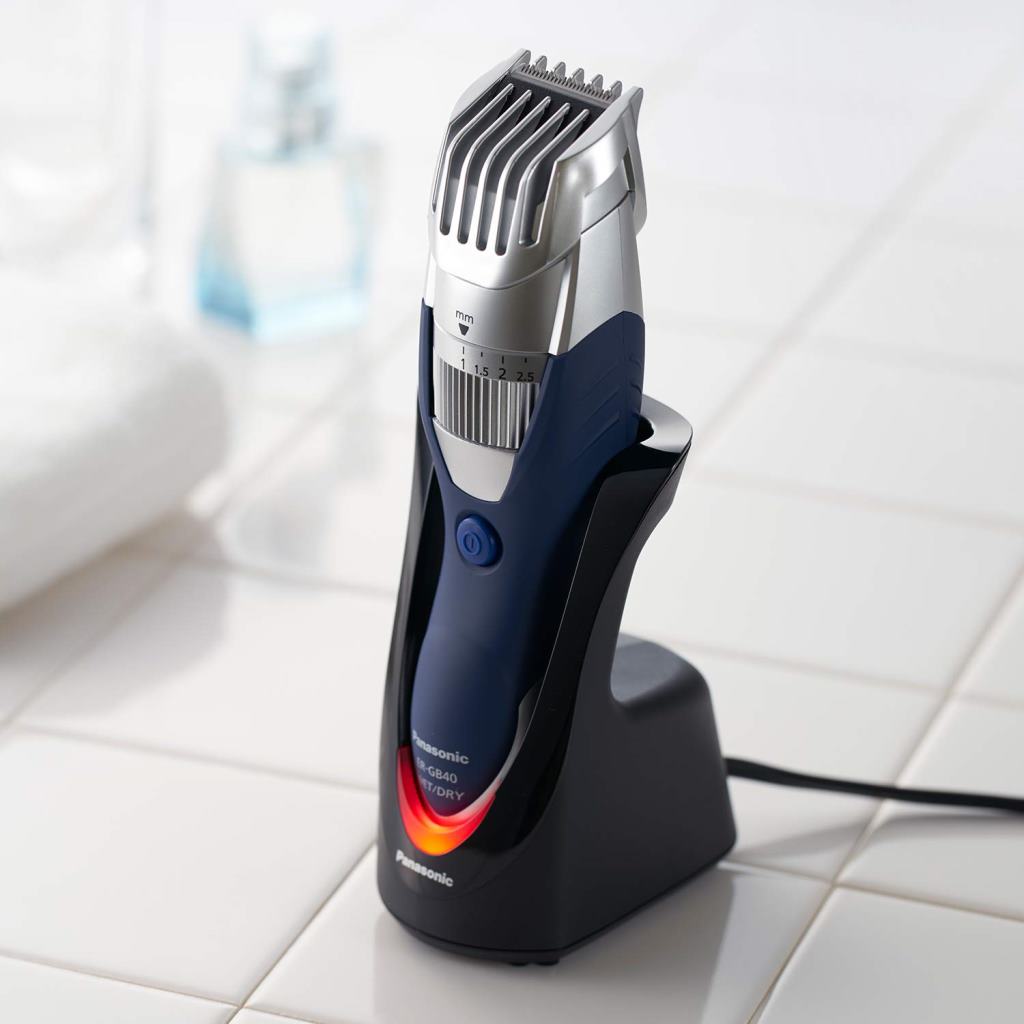 Panasonic is a trusted brand by many people, and it has its own set of unique features and capabilities, which makes it stand out from the rest. This series of men's trimmer is developed with the Japanese blade technology and is specifically made for personal use at home. Both beard and mustache grooming becomes an easy and effortless process when you use this trimmer. It has adjustable settings ranging from 1- 10 millimeters, which can be chosen according to the length of the user's beard.
This trimmer also allows you to use it whenever you want and wherever you want since it is battery powered and rechargeable. It is also suitable for wet shaving and dry shaving, or what we commonly know as pre-shower shaving and post-shower shaving. The charging stand for the trimmer comes included along with the product. It is 100% waterproof, therefore easy to clean.
Pros:
45-degree precision blades
Quick-adjust dial
Water drain facility
A/C Rechargeable battery
Cons:
Attachment is faulty and loose
Power button stops working or stuck
Makes noise
6. Braun Grooming Kit Mgk3980
This entire grooming set by Braun is just amazing. Although there are several models in the same line of products, the best one is the model MGK3980, perfect for cutting through even the thickest of beards. The kit is a 9-in-1 trimmer that can be used for both beards trimming and hairstyling. The 9 functions of this set can be used for styling as follows: stubble, short beard, medium beard, long beard, whole body grooming, ear trimming, and nose trimming.
Coming in a super cute and compact storage bag, you can easily carry it around when you are going places. It can fit easily into any medium-sized bags and pouches. There are 13 different precision length settings available, which range from 0.5 mm- 21 mm, and you also get 4 combs for each of these precision lengths. The blades are said to last for a lifetime and are the sharpest and strongest for lifetime usage. With a quick charge facility, you can have up to 60 minutes of uninterrupted trimming, that too, in a cordless device.
Pros:
9 in 1 trimmer
4 combs included
Fully waterproof
Cons:
Poor battery life
Device stops working
7. Philips Norelco Trimmer Bt5215/41
Another one from the wide range of models available in the Philips Norelco product range, this trimmer, also popularly known as the series 5100 model, is quite a favorite among the gentlemen. The trimmer can be used both for the head and the beard. Known for its quality of giving you that 3-day stubble look, which makes you undeniably attractive, the trimmer has various amazing features too. The blades have been developed to provide you with the most efficient trims and assure that the hair stays at an even length, no matter what the angle is. Thus you can go ahead and cut through all the contours of your neck and face and not worry about the beard and hair looking disproportionate.
The blades have precision settings of about 0.2 mm. Also, they are coated with a stainless steel finish to ensure maximum durability of the product, as well as comfort on the skin. 4 different combs can be used on the beard, hair, and the body. With just one hour of recharge, you can get a runtime of up to 70 minutes.
Pros:
Lift and trim technology
17 built-in precision lengths
Self-sharpening precision blades
Cons:
Battery stops working after a while
Blades are not sharp enough
How to Choose a Trimmer from so many Options?
Always go for a trimmer that best suits your needs rather than going for one with the best features. Check out the length, adjustment features, and blade quality of the trimmer before selecting one.
Does Trimming make my Beard Thicker?
No. It doesn't. Maintaining the beard well and trimming it at regular intervals, however, enables the healthy growth of the beard.
Should I Shave my Neck when I am Trying to Grow a Beard?
Your beard will grow regardless of whether you shave your neck or not. However, shaving it does help to look good and well-groomed.
How to Maintain a Long Beard?
The most most important tip in maintaining a long beard is keeping it clean and washing it regularly. There is nothing worse than an unkempt beard, which may also cause itching. Using conditioner on the beard and aftershave leave-in treatments are also good. Beard oils also help you to tame your beard if they grow wild or even just to keep it groomed and help the beard to grow.
How can I make my Beard Grow Longer?
While beard oils are recommended to grow beards, not everyone might prefer them. Making small changes in your diet will also help the beard to grow. Fruits and vegetables, combined with a balanced diet, is essential. Some foods you can consume are spinach, kale, oranges, potatoes, raisins, and even Brazilian nuts.
What Products do I need to Maintain my Beard once It's Grown?
Scruff creams, beard balms, beard oil, and beard brushes are just some of the things that will help you in maintaining as well as grooming your beard in the way you want.