In this world where personal grooming is given a lot of conscious thought, gone are the days when only women decked up to look pretty. With the change in the way we see society, a lot of evolutionary changes are happening as far as grooming of men is concerned. One of the most striking changes in this aspect is the development of funky, cool and interesting hairstyles for men. They have got a lot of variety to choose one and can definitely turn out to be stunning head-turners with the perfect kind of hairdo.
It isn't only women who flip hair to win hearts because now, even men do. With the catchy pop culture taking its rounds, we undoubtedly have a lot of experimentation going around which makes men also curious to try out different stuff. Keeping in pace with their curiosity, here's a list of the amazing and trending hairstyles that men can try to keep their charm and charisma going.
Let's take a look at the trendy Boy's haircuts 2021.
Coolest and Trendy Boy's Haircuts 2021
Comb Over Hair with Hard Part and Skin Fade
This particular hairstyle is more on the subtle and simple look. If you like you be trendy and yet keep it simple with not a lot of wild experimentation, this is one slight change that you can try. With hair combed to one side, this look gives a clean look to the face and in turn to the outfit that would be worn along with it. It provides a very tidy, fresh and set look to the personality.
Textured Spiky Hair with Undercut
As soon as we read the word spikes, it gets us back to the thought of a funky, chilled outlook and that is what this look is precisely all about. This is a casual look, good to be carried out with a casual outfit, baggy jeans, a tee-shirt and is something that the present generation attaches and relates a lot too. Spiked hair with an undercut along with texture gives a very appealing and chilled-out-look.
Classic Teen Boy Haircut
As the name suggests, this is the classic and apt haircut for a teen boy. It isn't very funky or experimental but isn't very simple either. This is an excellent classic blend of a clean hairstyle which looks attractive and is generally liked by the teenagers as it goes with both casual and formal looks, well. It can suit any personality, in general, to blend in well with the clothes worn.
Curly Fringe Hair
Fringes are generally loose tangles to give a different kind of appearance to the face. As the name reads, this particular hairstyle is a novel blend of curls and fringes which makes it all the more interesting to carry and sport. This gives an excellent messy look but not a shabby one. Hence, looks really appealing with casual outfits. This is one look men can experiment with to try something new out.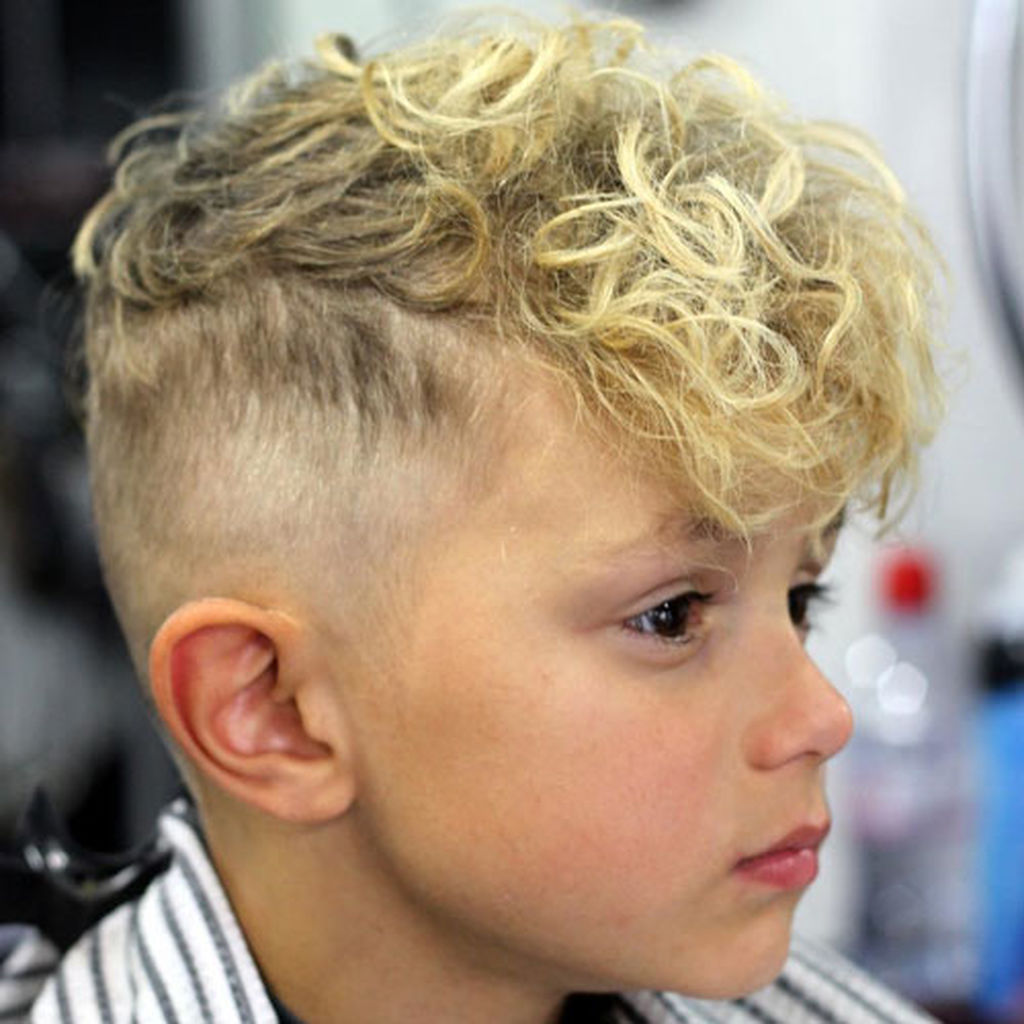 Side Swept Toddler Boy Haircut
This is the most common, casual yet the most appealing haircut for a toddler, little boy. It perfectly suits the face and doesn't make the baby look like a grown up. It, in fact, makes a toddler look adorable. With hair swept to a side, they don't come on the forehead to bother the baby boy. This is a decent haircut which doesn't require any significant upkeep, suitable for a toddler.
Black Boy Haircut with Zigzag Design
This is an experimental haircut which can look super smart and sporty if sported well. With hair in the middle of the head and a zigzag design towards the sides, this haircut seems trendy, new and not weird. It can be easily spotted and gives an edgy look to whosoever who sports it, from a teen to an adult. It is suitable for an experiment.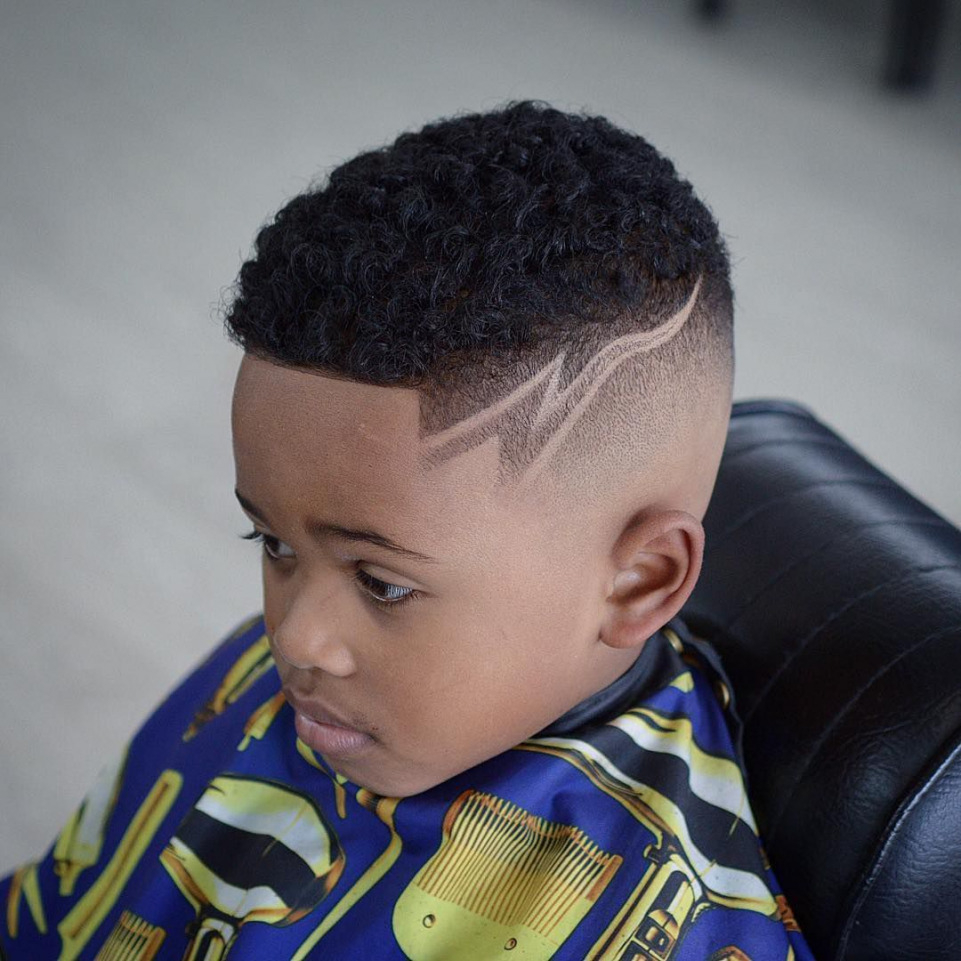 Funky Haircut for Boy
This, as a name suggests is a more fashionable version of the above hairstyle. With hair in the middle a little and design towards the sides, this funky look suits really well and looks totally funky. The best part is that though it seems funky, it doesn't look weird or out of place. It has its own different kind of charm and is suitable for an experiment.
Side Hard Part Haircut
This haircut gives a clean and dapper look to the person sporting it. It has hair set to one side with a clean and precise line keeping them to one side and separating from the other. It places the hair in the same position and is one carried well with a formal look. It gives a neat and appealing look to the person carrying it. It is easy on upkeep and provides a smart appearance and can be supported by anyone, in general.
Bun Hairstyle for Little Boys
Buns are trending these days, not only among girls but also boys. They look brilliant and attractive but is a style that cannot be pulled off equally well by all. It involves tying a bun of all the hair or sometimes of some hair and leaving some untied. It looks really attractive with a casual or semi-formal outfit and gives a very smart look. It can also provide a very funky look depending on the way the bun is made and the kind of outfit worn along with it.
Undercut Textured Short Hair
This haircut involves a textured look with an undercut and short hair. It is an experimental look and highly varies on how it will look like on a face-cut. However, this hairstyle looks clean and neat in its appearance. It is not very high on upkeep and gives a good outlook, overall.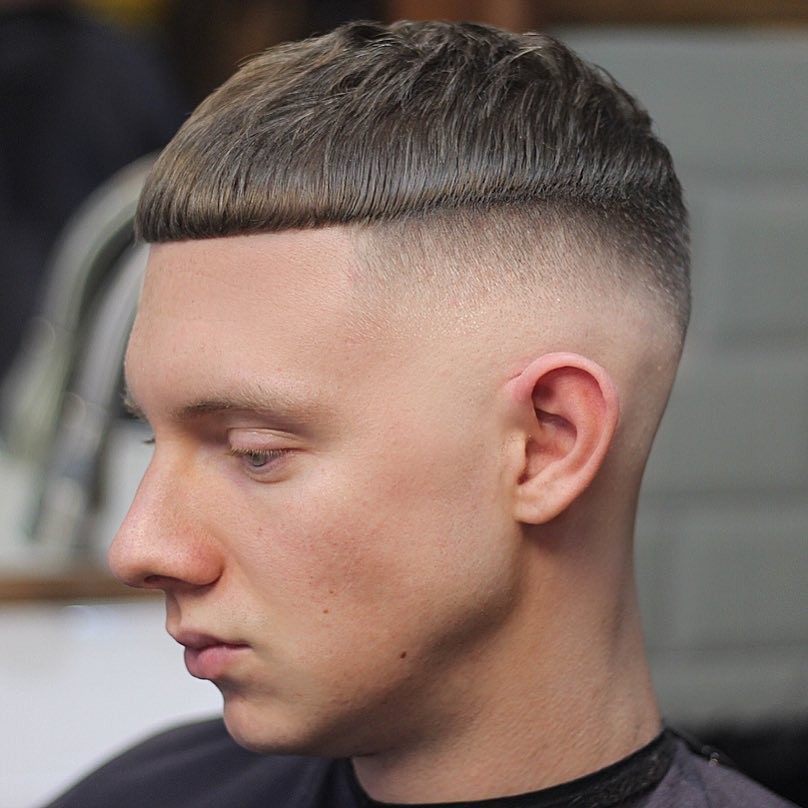 Slick Back Hair
This is a glossy look and looks very stylish and smart in appearance. It involves pulling the hair back and giving them a lustrous and shiny look. With hair trimmed at the sides and pulled back from the middle, this look gives a voluminous and handsome look to the man. The slickness looks very appealing and can be pulled off easily with a little upkeep.
Little Boy Haircut
This look is the best for little boys as it requires the least upkeep. It has trimmed hair from the sides and short but pulled back the hair from the center. This gives a basic look to young boys, but looks appealing and smart. It suits them because it doesn't require maintenance and looks smart too. The short hair gives a clean outlook to the face.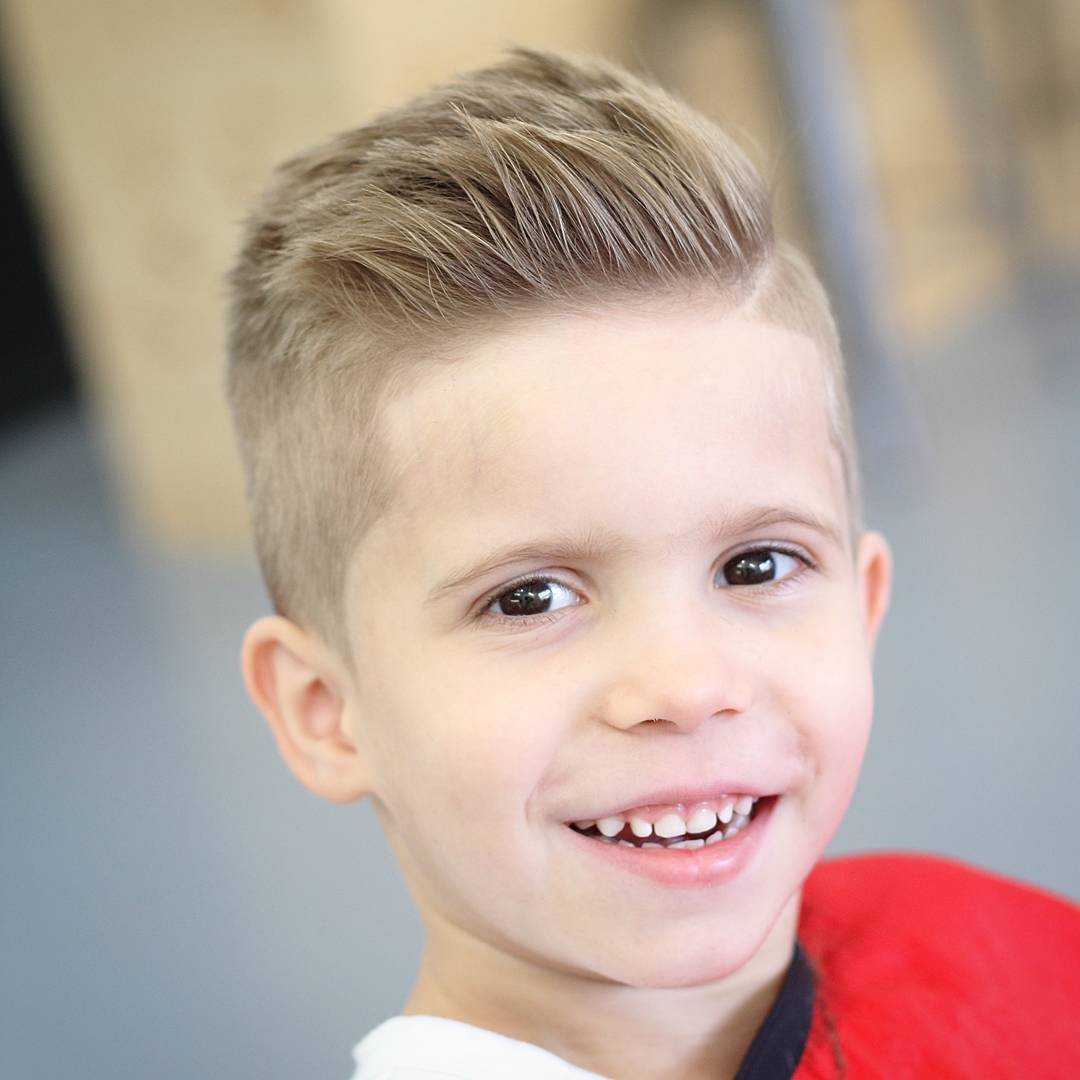 Short High Ponytail
This is another style that was thought to be for women only, but men have started sporting a ponytail too. A short ponytail can be made at two levels, either high or low. Among toddlers, a high ponytail is generally sported, and among the adults, a low ponytail gives a very stylish and aptly formal look when carried and made well. A ponytail is carried with both a formal as well as informal look as it suits both, equally well.
Feathered Hair
This look might not give you a lot of hints from its name, but it is a perfect combination- a feathery, loose hair kind look but one that is clean and has a smart finish. It is one that is generally sported with a casual outfit and gives a charming look to the person. It is the cute-adorable looking look which suits everybody in general. Low on upkeep hence, it can be sported by nearly all men.
Long Hairstyle with Fringe
This involves fringes coupled with comparatively longer hair. This look requires hair cut into various lengths with them being shorter in the middle to longer at the sides. It is a casual look which has neck-length hair and thus, looks cute and different. This is one choice that you can pick for experimentation.
Spiky Blonde Hair
This haircut sports proper spikes in the middle in a blonde shade of hair. Like the usual spikes, it requires basic upkeep and gives a very funky and cool look. It is generally carried for casual hangouts or meetings because the look favors casual wear. The hair color and the style look very lovely when coupled together and thus, is a usual style carried by men.
Deep Side Part Hairstyle
This hairstyle is one that involves a side-partition but at a deep end. This gives a neat and clean look to the face as the hair is appropriately set towards one side and pulled towards the other side. The partition is clean and hence, is suitable for both formal and semi-formal outfits. It has hair trimmed towards the narrower side of the partition, and the rest pulled to set towards the other side.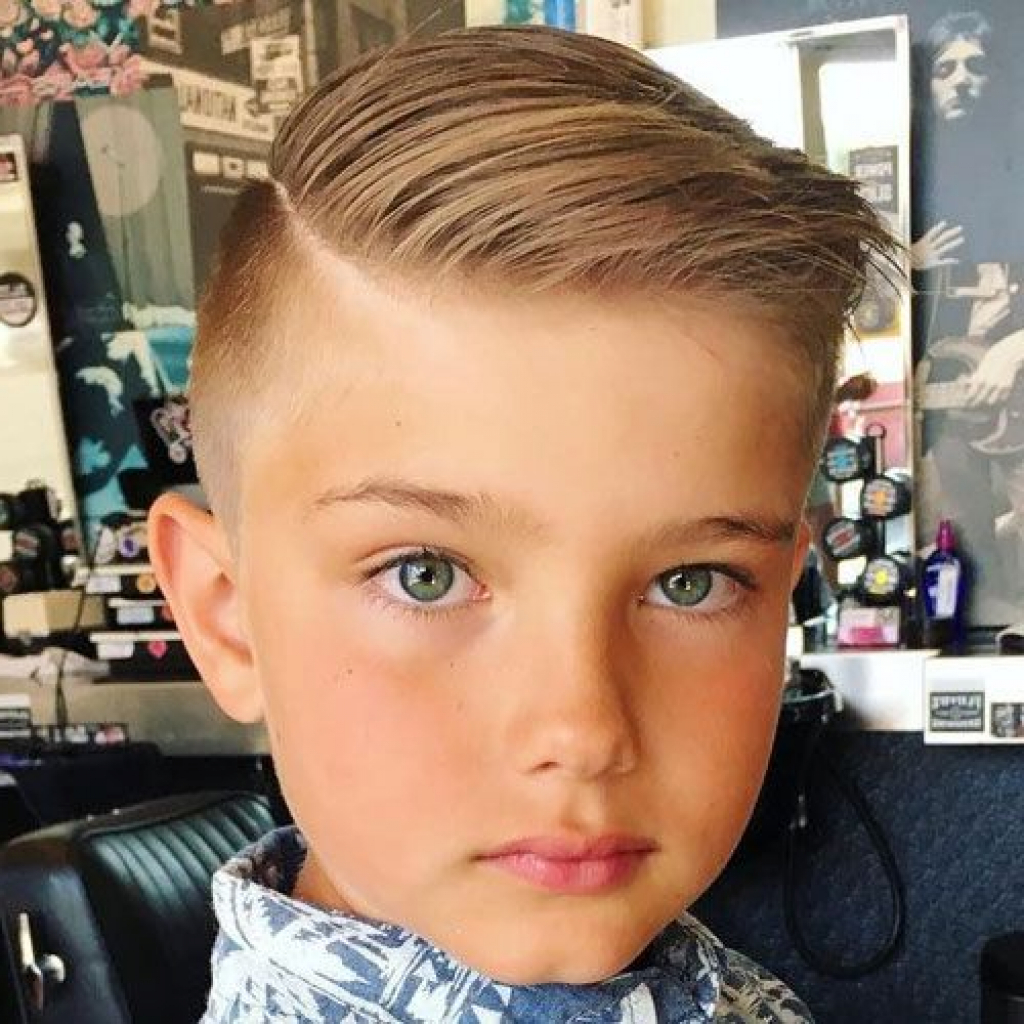 Cool Boys Haircut
As the name suggests, this is a refreshing look which is generally sported when one wears a super funky outfit. This hairstyle has hair trimmed from the edges. In the middle, it has long hair pulled up into spikes. This gives a very fashionable yet trendy look to an equally funky outfit. Since it has longer spikes, it involves more upkeep and maintenance, yet offers a different look.
Cute Boy Haircut
As the name suggests, this haircut gives an attractive appearance to the face if a boy. It involves a regular side partition with hair not set and let loose to provide a casual and yet cute look. It is good with a casual outfit as well as a formal outfit. This haircut looks good either way. It makes boys look cute and thus, appealing and is easy on upkeep.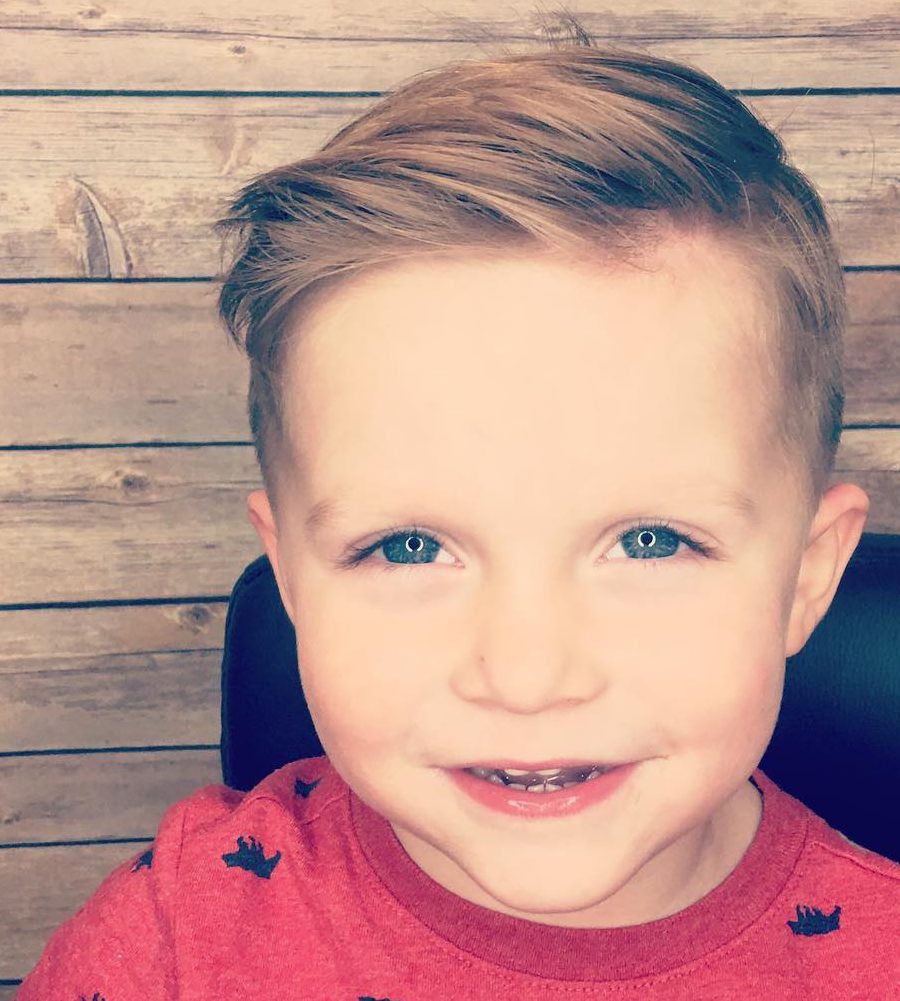 Hard Part Spiky Hair
As the name suggests, this haircut involves hard spikes. It has trimmed hair at the edges and hard, spiked, gelled hair at the middle portion. The hair is trimmed at the edges to draw a clean partition between the middle and the edges. The spikes are well set and thus, require basic upkeep. This hairstyle is good for a casual outfit and gives a smart, dashing and cool look to the person.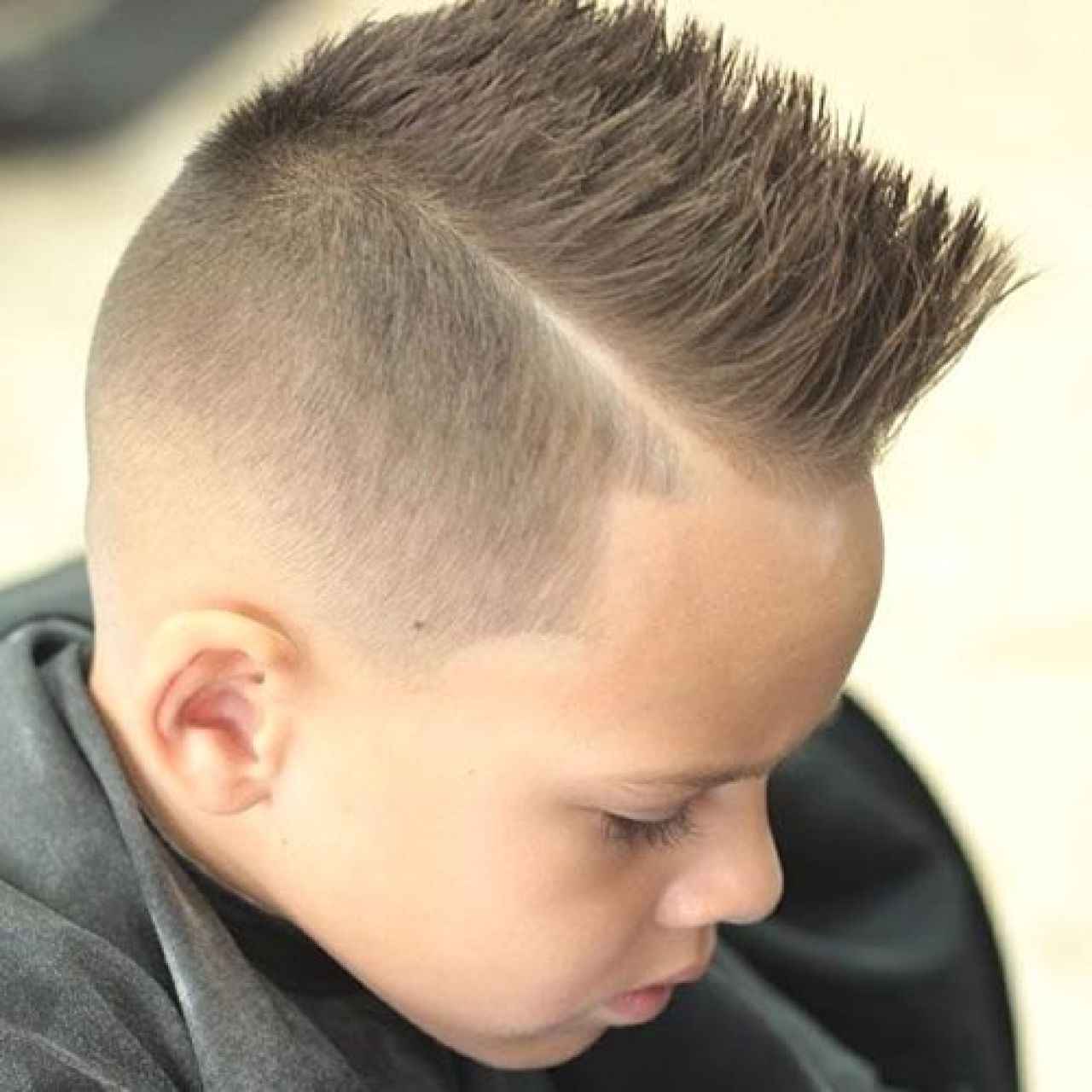 Spiky Hair with Beard
This hairstyle is one of the coolest ones around. It is generally and casually sported by men because of the rough and smart look that it gives. A beard coupled with not heavily but slightly spiky hair provide a very dynamic and stylish look to a man. With an aptly trimmed beard and hair, this look is perfect catch for a dashing man. It looks clean, sharp and attractive. This one is undoubtedly a right hairstyle with a semi-formal outfit.
African American Hairstyle
This hairstyle is a super experimental one and suits not everybody. It involves a clean line drawn at the forehead with slightly heavy waves of the hair, in general. It also a small design carved out of the hair, somewhat towards the edges. It has trimmed hair at the edges and slightly heavy waves in the middle to complete the look. This one is very experimental and can go well with a sporty outfit.
Curly Hairstyle with Undercut
This hairstyle as the name suggests is a blend of curls along with an undercut. It draws a clean line on the forehead with properly trimmed hair at the edges. In the middle, this haircut has heavy curls of comparatively longer hair. This haircut is a good one to carry with a casual or a funky outfit. It gives a messy yet good look because it doesn't look shabby. This is an interesting experiment to do.
Top Knot Hairstyle
Another hairstyle that experiments with a knot which was earlier presumed to be an only-girls' zone, this one is a casual knot tied slightly towards the top of the head and is good to sport with a casual or a semi-formal outfit. It gives a clean yet cool look when sported with the right kind of outfit. It generally involves all the hair tied up into a knot but can be personally customized according to self. This is a smart and dashing look to carry.
Comb Over with Fade
This hairstyle is one that requires upkeep but gives an immaculate, neat and sharp appearance. It has side partitions towards both the sides and hair pulled back off the forehead and also the sides. It draws a clean separation between the sides and the middle. It has hair trimmed from the edges and comparatively longer ones in the middle. Going with a semi-formal outfit is good.
Textured Crop Hairstyle
This hairstyle has narrower sides and has trimmed edges with hair let loose in general. They are textured in a way that though they are let loose, yet they don't make the person look shabby. This hairstyle doesn't have a lot of upkeep and is a good one to be carried in a casual outfit. It has hair falling a little on the forehead and some of it but a good look on the whole.
Strip Up Spiky Hair
As the name suggests, this hairstyle has spikes with specifically one strip raised sharp and high right on the edge of the forehead. It has trimmed hair at the edges and has a clean partition drawn between the middle and edges. It has a strip of spikes raised high and sharp with others shaped up well. Sported with a stubble, it gives a sharp and attractive look.
Messy Hairstyle for Boys
As the name reads, this hairstyle is a messy one for boys to give them a stylish, funky and yet cool look. This hairstyle looks messy but definitely not shabby. It is good to go for a casual hangout or meeting and a good one to go with a funky outfit. This hairstyle looks cool and gives a good look.
Undercut Pompadour
This haircut sports a pompadour, a hairstyle in which the hair is turned back off the forehead in a roll. Generally considered to be a women's hairstyle, this one is being sported equally well by men too. This involves trimmed edges and hair pulled back in a roll which gives a dynamic look to the personality. It is a perfect pick with a semi-formal outfit and needs basic upkeep. With a well-maintained beard, it gives a good appearance.
Hard Part Hairstyle
This hairstyle has hair set adequately well and hair trimmed at the edges but in a reducing pattern of hair. Not all hair is closely and short trimmed. In the middle, the hair is pulled correctly and set towards the inside. This hairstyle gives a neat and sharp look both at the middle and the edges which is the most attractive feature of this look.
Buzz Cut with Lines
This haircut resembles the crew cut style which is generally preferred by men working in the armed forces. A buzz is any of a variety of short hairstyles usually designed with electric clippers. It has a proper partition line which is broad and hair clipped in the middle too along with the edges. While the edges have closely trimmed hair, the center has comparatively lesser trimmed hair. This haircut gives a proper and smart formal look and is good to go with a formal or a semi-formal outfit. It looks smart, sharp and appealing.
Messy Spiky Hairstyle
As the name suggests, this hairstyle involves spikes which are messy. The hair is let loose into spikes and is short so that they don't look bizarre or shabby. This is a quick funky look yet cool which can go well with both a casual and a fashionable outfit. This gives a charming look to the person according to the outfit worn along with it. It is a good one to carry with medium upkeep.
Comb Over with Hard Part
This hairstyle gives a spotless and sharp look at the partition, the edges, and the middle. It has carefully trimmed hair at the edges with a comparatively broad partition line and short hair perfectly set in the middle. It has hair pulled back from the forehead and a little from the edges to give them the perfect look. It forms a proper curvature in the middle of the head and hence, is a smart look to sport. It shall go well with a semi-formal outfit and give a handsome appearance.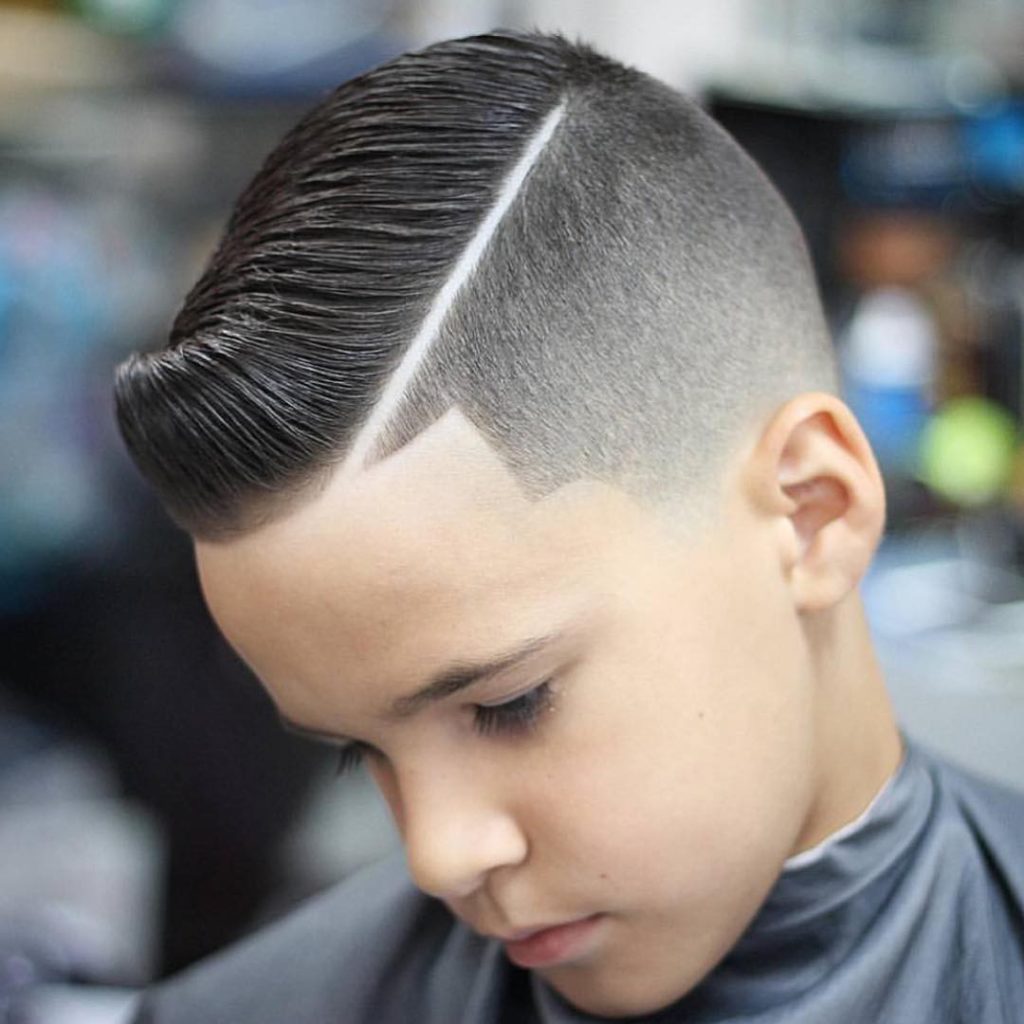 So, these were all the hairstyles that are trending in the market. You can pick, choose and experiment according to the occasion, your face cut and the outfit you are carrying it along with. Hairstyles can be interchanged from one into the other depending upon the formation and texture of the hair. Hope this information helps to make a smart and dapper choice for you. Happy experimentation!