Hairstyles are one important part for an individual's look. It is crucial in knowing the value of having a great haircut. However, it is equally essential to recognize the need for begetting haircuts that befit a particular person.
The appearance of one's hair does a remarkable variation in their charm. As the form of the face is one determinant to consider, for the hairstyle, it would be desirable to make a choice of the hair in regard to the face shape like if it is slim or chubby or round or squares.
Women whose faces are chubby are always thinking to have greater looks and here are some helpful suggestions. Bob hairstyles are a great choice for plump faces. A round face does not indicate that a woman is always fat, as any face which doesn't have proper clarity of the facial bones is deemed to be a plump face.
A bob haircut creates a border around the face and continues exceeding the neck so that the face seems impeccable. This bob haircut that can be formed into various styles for greater looks. Bob hairstyles can be completely suitable for a chubby face and would surely give a thinner appearance to the face.
One of the best hairstyles for fat faces is bob. Bob is truly very much in style now and it can be clearly formed about any face kind. It has the trend of creating a kind of border around it that gives it actually a comprehensive and perfect look. Also, it normally provides women a slenderer appearance, which is what many women desire.
30 Glorious Short Hairstyles for Chubby Faces
Pixie With Long Back
When choosing a short hairstyle for chubby faces, a pixie is always a great way to go. The hair is pushed away from the face, so it doesn't make your face look too closed in. Here the pixie cut has some bangs on the forehead, but the back is longer and thicker than a typical pixie, and it reaches the nape of the neck.
Bob With Back Volume
Adding some volume to your hair is a great way to make it look better on a chubby face. You risk the hair and face looking squished together otherwise. Here there's a gentle bob with a center parting, and there's the volume at the back.
Sideways Pompadour
The pompadour is wonderfully popular, even with women. It's a great short hairstyle for chubby faces, as it adds a lot of volume and draws your attention. Here it's slightly to the side, but still classic.
Curly Ear Length Hair
This hair has some gentle texture to it in the form of curls. The hair is very short and only comes down to the ears, but it still looks wonderful and stands out. It's parted at the side, looking very neat and tidy.
Short Tight Curls
This is perfect for someone with very tight, stiff curls. Have the hair standing tall in a slightly squared look with the sides much shorter than the top. It's a common hairstyle for black men. However, it's been feminized with the rounded hairline and slightly rounded top part of the curly hair.
Simple Middle Parted Bob
This isn't your classic bob, as it's slightly longer than chin-length. It's parted right down the middle, and some hair is pushed behind the ears to stop it from obscuring the face too much. It's a soft, delicate look that pairs well with all face types.
Side Parted Pixie With Messy Bangs
As stated earlier, the pixie is perfect. Here the pixie cut is classic, short, and parted slightly to the side. Some bangs brush the forehead in messy strands and curls, adding liveliness to the hair so it doesn't look too flat or boring.
Asymmetrical Afro Style
This hairstyle isn't an afro, but it very much has an afro style to it. The curls are a little looser than those in an afro. They're concentrated very to the front and one side of the head, leaving the other side a little thinner to add some interest.
Simple Black Grown Out Pixie
This hairstyle looks like a pixie cut that's been grown out. The hair is slightly longer than the ears, and the bangs fall gently into the eyes. The hair on top is teased to add some volume, so the hair has some life to it.
Curling Black Updo
An updo works on everyone. This updo has one long strand of hair at the front, but the rest is relatively short and curls upwards and back into a series of perfectly placed, smooth clumps of hair, creating an intricate and elegant style.
Classic Blonde Pixie
This classic blonde pixie cut is made slightly more interesting by the teasing of the bangs. They stand taller than the forehead and gently curl onto it, creating a short look that's casual but neat, and it can work for formal occasions, too.
Asymmetrical Curly Do
This haircut is asymmetrical, as there's a portion of slightly longer curls on one side. The hair is curly all over and is ear-length, getting longer towards the back. The hair has a side parting, and there's a lot of movement on top of the style.
Angular Short Pixie Hairstyle
This hairstyle is great for women with chubby face. The problem with women who have chubby face is that the cheek area is a little more so when one goes for an extremely sleek hairstyle their face look all the more bloated so in such case a hairstyle that hides the cheeks to a certain degree is good as it creates an aura of a slimmed face.
In this style the hair length is kept short but the angular locks on the front cups the face and hence the actual chubby face doesn't look that chubby.
The Dome Cap Short Hairstyle
This hairstyle is very trendy. There are highlights that improve the style quotient of this hairstyle also this cut is very pretty. The crown area has a dome shaped look.
The sides do not have much length to it yet has a certain amount of length which can frame through the jaw line. This can be a perfect office look hairstyle that is fashionable yet subtle. You can pair it up with formals or peplum dress to look the diva you are.
Short Feather Cut Hairstyle
This hairstyle is really short and bold. The hairstyle is kept minimum and it looks more like a boys cut. There are front feather cut fringes that hide the broad forehead and is almost skin shaved at the back.
During the summer heat this is one hairstyle that id=s going to give you fashion packed in ease and comfort. Pair up this hairstyle with small stud earring and a beautiful solid color short dress and portray what is known as sheer elegance.
Straight Bob Cut
This is one quintessential hairstyle for women who have chubby faces. In this hairstyle the cut is kept till the chin or can be done slightly longer than that.
Because it is one straight hair the long bangs on the side tends to slim down the face and cuts the excess fat on the cheek region making the face looks slender.
This hairstyle is indeed a versatile one and can be paired up with both formal and informal events.
Spiky Short Hairstyle for Chubby Face
This hairstyle is really adorable with a spunk feel to it. The spikes add the extra edge to the look that makes thee entire appeal very informal and playfully bold.
This hairstyle is fit for road trips or women who like it smart and carefree. This hairstyle definitely takes away the limelight from the chubby face. The focus and volume is on the crown region hence the face looks slimmer.
Classic Middle Parted Bob Hairstyle for Chubby Face
In this hairstyle the classic bob hair is depicted. The hairstyle has a proper length and the partition is from the middle that allows the hair tow spoon the cheeks from the two sides thus cutting out the chubby face. This hair cut is a real charming one. It is easy to manage.
Wavy Short Hairstyle for Chubby Face
This hairstyle has a very carefree vibe to it. The appearance has a flamboyance in it more so due to the wavy texture of the hair cut.
The hairstyle is kept short which makes it great for chubby faces as it gives volume and cuts down fat concentration on the face. Also the waves are indeed very pretty. This hairstyle looks good with spaghetti tops. The side partition adds to the charm.
Layered Short Hairstyle for Chubby Face
Layer haircut is like a pretty dream that often women with short hair things to be unattainable. However this is so not true. These day even layers can be one in short hair and that to making the entire appearance look very beautiful.
The layers look cute from the back and the hair as fringes. This hairstyle is everything feminine yet very easy on maintenance. The side curls add a lot of volume to the side which eventually works as a smart trick to cut down face fat. A nice red dress with this hairstyle will look appropriate and all set to steal hearts.
Extra Short Hairstyle for Chubby Face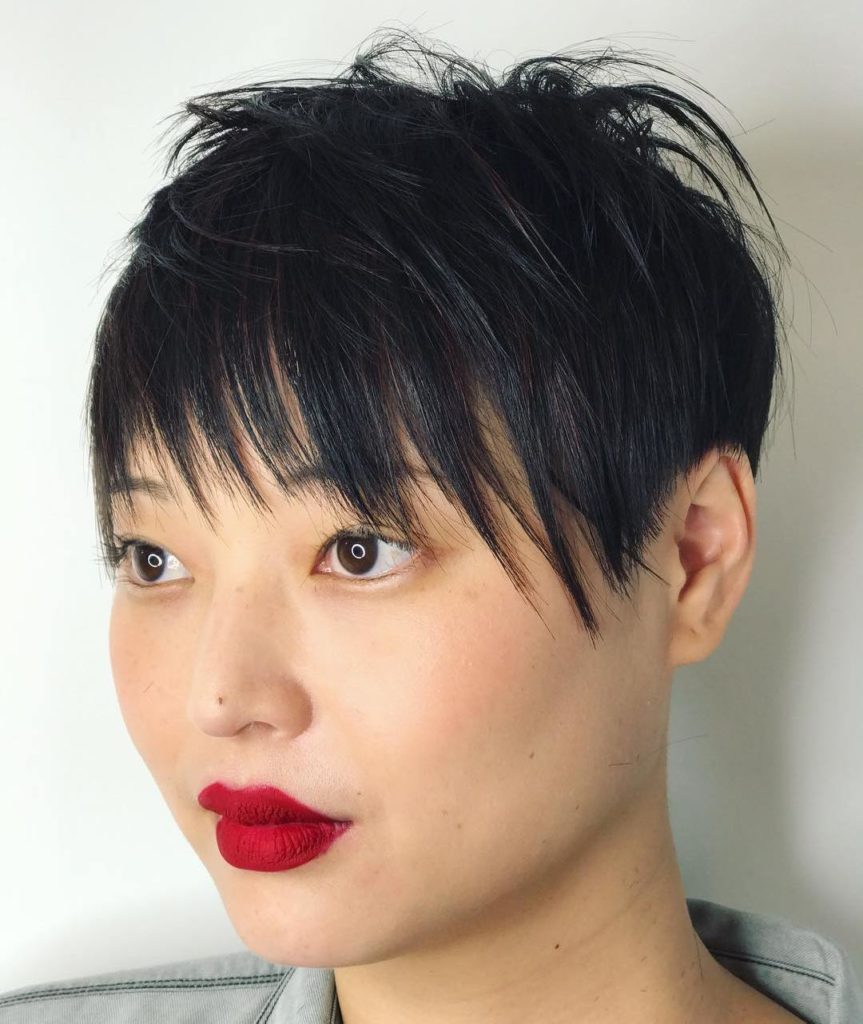 Are those women who never like it long nether short? For you exploring the extremes are always a preferred and a bold choice? If that is so then this hairstyle is definitely your best pick.
This hair style because of its super short length is extremely easy on maintenance and if you are always running for time then this too makes this hairstyle ideal bid.
Boy Cut Hairstyle for Chubby Face
There are many women who face a lot of problem having round and chubby face and hence choosing the appropriate hairstyle becomes a really tough task as not all hairstyles are fit for the face.
This hairstyle is the classic boys cut hair where there is no length just a slight volume added to the crown area of the head.
This hairstyle can make a person look pretty and tidy and has a very chic appeal. The hairstyle has a very balancing effect on a chubby face and tones down to make it look slimmer.
Short Curly Hairstyle for Chubby Face
The hair is said to be the ultimate beauty of an individual being. Short curly hairstyles make you view as amazing and wondrous correlated to muffled short curly hairstyles.
Short curly hairstyles are the solution to every chubby face issues as this hairstyle adds a lot of volume and balances the face. This hairstyle is trendy and has a very pretty charm to it. Also adding a bit of color to this haircut is a great idea.
Modern Crew Cut
This is a very modern upscale hairstyle. The front has narrowed fringes and the haircut is that of a classic crew cut hairstyle. The sides or back are kept almost shaved. The focus are here is the front hair as well as the crown area.
This hairstyle has a very smart appeal to it. This hairstyle is shot however with a long flared dress it will have great feminine charm. This hairstyle is also great for women who do not have much hair volume and is somewhat thin.
Mohawk with Wavy Cut Hairstyle for Chubby Face
This hairstyle is absolutely gorgeous. Yes it is short yet gives such an amazing look. In this style the upper part that is the hair in the crown area is kept slightly longer and the back and side portions are shaved to give a very raw effect. This entire hairstyle has a stud appeal yet doesn't snatch away the feminity of the look.
Front Fringe Short Cut Hairstyle for Chubby Face
This hairstyle works smart for women who has a bit of a chubby face. In this hairstyle the volume doesn't matter as no matter how thin your hair is it can well be styles.
The front hair cut has soft fringes to cover up the forehead area and the sides' balances the excess cheek fat as the locks fall over. Thus this haircut is ideal for women who are a bit aged as they have both thin hair as well as their forehead is very broad.
Shoulder Length Short Haircut for Chubby Face
This hairstyle is ideal for any age group. Be it a schools girl, a college lady or a women of mid-thirties this versatile haircut suits all. Also this hairstyle is till the shoulders and hence does not require much to do in the maintenance part.
This hairstyle has the perfect balance of charm and elegance yet going through a slight formal edge. This hairstyle is great for office going. Also the blonde color of the hair adds to the brightness of the appeal.
Messy Uneven Haircut for Chubby Face
This hairstyle is a bit messy and has pointed ends. This hairstyle is simple has straight hair and due to the side locks the face looks thin.
However irrespective of its length this hairstyle imparts quite a bit of edginess to the entire look that can never steel the sense of fashion you exuberate with this style.
The Mauve Mauve Short Haircut for Chubby Face
Single side angular haircut- When exploration is your cup of tea in fashion then you as an individual should be prepared to rock the liberated look. In this style the hair color as well as the cut both are the features that attract the limelight towards you.
In this haircut the USP is the other side that is kept almost razored and is bald and the opposite side has long angular hair that is tied in a bun at the top of the head.
There is something very Gothic and exhilarating about the look. Your charismatic and trendy persona will surely come out of it. The side angle of the locks covers the chubbiness of the face.
Wavy Curly Short Haircut for Chubby Face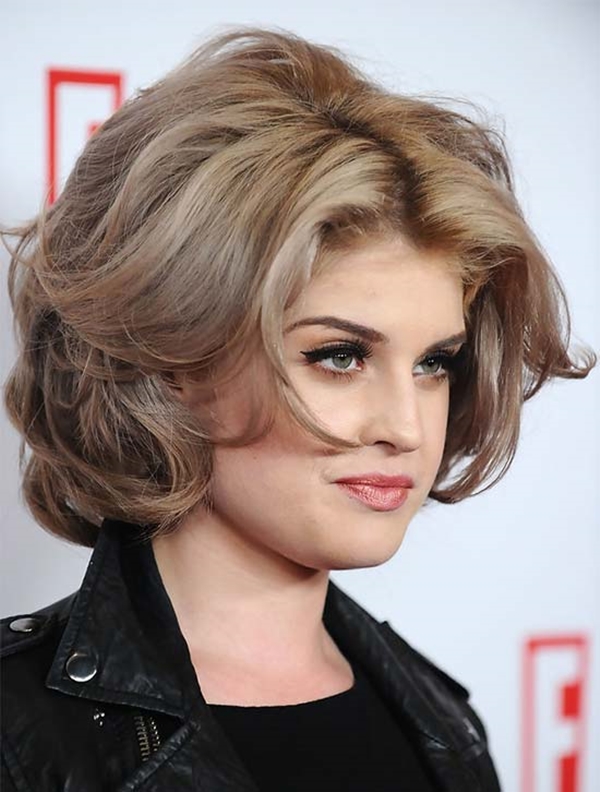 This hairstyle is indeed great in hiding facial fat as the volume on the head has a lot to balance on the face. This hairstyle looks cute and pretty.
This hairstyle gives a super stylish, edgy rough look that brings out a strong and bold persona of yours. Pair up with western attire like jeans shorts or denims and rock the look.
So if you have a chubby face you need not worry anymore. As cutting fat is not as easy as cutting hairs why not choose the easier way? With your chubby face you can easily look fashionable, trendy and adorably cute in the above mentioned style.
Also do note that whatever fashionable haircut you choose maintain proper hair health is never choice but a very significant part of daily routine. Do not go harsh with colours, heats and blow drying your hair as it tends to damage the cuticles.
Also the hair becomes extremely rough and the volume reduces. Oiling at least twice a month is advised. Healthy hair is the best hair ever. With these variety of style tips flaunt your real self but with beauty and grace!