As you grow up, you develop your unique personality. You start realizing the best styles, which will enhance your beauty, and help you to stand out in the crowd. But younger men and women find it difficult to make the selection wisely. Thus, you need to pay attention to your hairstyle, during the teen years.
Teenage is a critical phase in the lives of all boys and girls. Their body and mind goes through several changes. They start developing their identity. But most importantly, they want to create a positive impression on the minds of the other sex.
So, they are ready to do anything to look their best at all times. The pressure is more for teenage girls, as they face the dilemma of choosing between long and short tresses. If you have the same doubts, a quick look at some Hairstyles for Teenage Girls will offer you an easy way out.
18 Hairstyles For Teenage Girls To Look Charming
Braided Wavy Hairstyle
If you have long and wavy locks, then you can become a fashion icon in your school with the Braided Wavy Hairstyle. The wavy locks look beautiful naturally.
But the presence of the braiding on the top middle part of your head will take your beauty to the next level. But it is better to keep it for special occasions only.
Sleek High Ponytail
If you want to achieve the high fashion look, straight out of a magazine, then the Sleek High Ponytail look will come in handy. The application of hair gel is a must to keep every strand in place.
If you want to sport an edgy look on your birthday or the prom night, the team this hairdo with an unconventional A-line gown.
Side Part Medium Hairstyle
Teenagers with medium hair length try to get a haircut that gives them a fashionable look, without much fuss. Among several such hairdos, the Side Part Medium Hairstyle is most popular among the young women.
As they desire to look beautiful and attractive, the side parting promises satisfactory results.
Long Hairstyle for Teenage Girl
If there is one hairdo that you will never see gong out of fashion, it has to be the Long Hairstyle for Teenage Girl. Girls of this age think that they will look good only if they have long locks.
It is easy to create several styles with long tresses. In case you possess wavy locks, you can keep it open as well.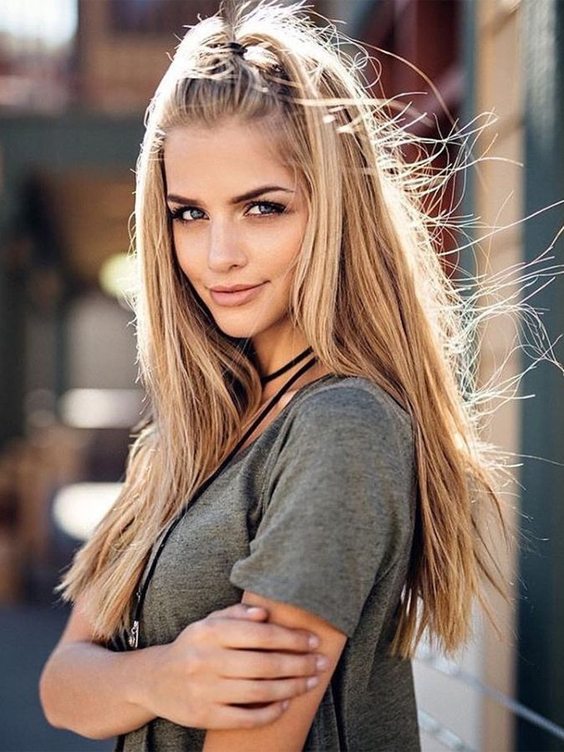 School Girl Hairstyle
Not much explaining is needed when you hear the name "School Girl Hairstyle." It is very common among all teenage girls. The first reason is it is really easy to maintain.
The second reason behind its popularity is you need not waste too much time to acquire the look. The presence of frontal fringes gives a dash of edginess of the look.
Ponytail with Bangs
If you are low on time, or do not desire to spend several hours in front of the mirror, then the Ponytail with Bangs is what you need.
The ponytail will give you a neat and maintained look, while the bangs will cover the forehead, thereby adding an edge to the look. It is a perfect hairdo for daily needs, and can be combined with other styles as well.
Funky Messy Hairstyle
As the name suggests, if you want to highlight your fun and fearless side, then the Funky Messy Hairstyle will come in handy. Not all will be able to carry this look.
It will look good on girls with long and thick locks. In case you pull of this hairdo, you will become the talk of the school for many days to come. It is a complex hairstyle, and will require adult assistance to acquire the satisfactory look.
Blonde Pixie
Many teenagers want to opt for something that is unconventional. But they do not want to compromise on fashion quotient. If you have the same requirements, then opting for the Blonde Pixie will meet your needs.
It is one hairdo that will look good on women of all ages. Teenagers will be able to flaunt their fun side with this haircut, without the use of many accessories. The stile will complement any dress you wear.
Top Knot with Bangs
The Top Knot with Bangs is another style that is rather popular in the middle school and college circuits. The bangs will frame your face, and add to its innocence.
The top knot will assist you to make your distinct style statement. It also adds an illusion of height. So, it is perfect for those girls who desire to look taller. Anyone can do the hairstyle on her own.
Braided Crown Hairstyle
The 16th birthday is special for any boy or girl. It is their transition from childhood to young adulthood. So, they try to make the memorable in every possible way. They leave no stone unturned to ensure that no one looks better than her.
If you have already picked your birth date dress, then team it up with the Braided Crown Hairstyle. Add a tiara on your head, and you will look like a pretty princess.
Tousled Wavy Hair
Women of all ages look good, if they have wavy locks. The waves prevent the boredom of straight tresses, and are not difficult to maintain, as the curly locks. The Tousled Wavy Hair will highlight the features of your face.
It is a fun hairstyle for all teenagers. The cut will suit all kinds of dresses as well. Whether it is a birthday party or class graduation, you will be able to create a statement.
Side Swept Mid Length Hair
Most teenage girls do not want to cut their hair too short. But it is not easy to maintain long locks. Thus, the best solution is to mid length tresses. If you have similar hair length then opting for the Side Swept Mid Length Hair is ideal.
The hairdo is very glamorous, and you can be rest assured that not many will show up in the prom with this hairstyle, making you special among the rest.
Blonde Bob Haircut
Most teenage girls with blond hair, have the secret desire to look like a princess. If you want to attain this on your 16th birthday, then the Blonde Bob Haircut will come in handy. It is perfect for young lasses with straight hair.
Middle parting will allow hair to fall on both sides of your face. You can also take two segments and pin it up at the back. It will give you the princess like look that you see in story books.
Messy Curly Hairstyle
Gone are the days, when teen girls, with curly tresses, used to shut themselves in their rooms on bad hair days. Curly locks look good, but they are hard to maintain. If you too have the same issue, then opt for the Messy Curly Hairstyle.
It will work with the natural twists in the locks, and allow you to look perfect with all outfits. The messy look will highlight your natural hair texture, and also set you apart from others.
Sleek Blunt Bob
The popularity of the Sleek Blunt Bob has always been high among teen girls. The simplicity of the hairdo will accentuate the beauty of your face. You can opt for side or middle parting with this style.
Either way, your locks will fall on both sides of the face, adding elegance and drama to your look. One can also try several other styles with this haircut. It will offer opportunity to change your look often.
Side Fishtail
The fishtail is a common hairdo for the wedding ceremonies. A messy fishtail also guarantees that other girls in your class will appreciate your skills. In case you have long locks, then the Side Fishtail is an excellent option.
If you are going to a traditional occasion, then you can use beautiful and sparkly hair accessories to add an extra elegance to the entire look. The hairdo is perfect for traditional as well as modern gowns.
High Top Bun
Another hairdo that is common in proms is the High Top Bun. It is a classic hairstyle that will never fail to fetch complements. As the hairstyle is simple, you can complete the look with dazzling accessories.
Hair accessories in particular will accentuate the beauty of the bun. The look is easy to acquire, and your mother will be able to help you, in case you are not confident about your skills.
Updo Hairstyle for Teenage Girl
Are you looking for a right hairdo for the prom night? If the answer is yes, then the Updo Hairstyle for Teenage Girl is perfect for the occasion.
The night is all about celebrating your style, and freedom. Whether you have a date for prom or not, with this hairdo and a matching gown, you will be able to attract the attention of all girls as well as boys.
Apart from these Hairstyles for Teenage Girls, there are several other styles, which will highlight your natural beauty. But it is better no stay away from harmful chemical hair products.
If the teenagers take proper care of their locks, then they will not have to suffer from hair-related issues in future. Healthy hair looks most beautiful. If you ensure this, then you will look good in all styles and haircuts.
It is better to remember that staying natural is the best style statement. It is better to take inspiration from others, rather than copying something blindly that does not do anything positive for your looks.