Pixie cut are back and here to stay. With lot of celebrities going back to pixies, they have come back in trend and how!?
The perfect juxtapose of edgy chop with romantic wisps is the latest trend. The above the nape hair cut scores 10/10 on our style quotient meter.
20 Hottest Curly Pixie Cut for Beautiful Women
Red Head Rolled Bangs Pixie
The highlight of this hair cut is the ginger blonde color. Perfectly rolled bangs over the forehead give it edgy texture. The red crown is teased and stands out in the whole cut.
Jet Black Soft Waves Pixie
The soft waves in this hairdo give it ruffled look. Soft waves give an impression of volume and luscious glossy hair.
Jet black keeps it simplistic. Also the short bangs are lovely to cover a broad forehead effortlessly.
Black Windswept Pixie
Yes, I woke up like this look is the coolest part about this look. The messy windswept hair doesn't make you look like you are trying too hard but casual.
Blow dry your hair to achieve desired volume in your hair.
Classic Curly Pixie
Pay homage to 50's and 60's with is classic retro pixie. Perfect for curly hair, the rugged look can be balanced with bold make up and statement earrings.
Diva is the only adjective we can think off who can sport this contrasting look.
Curly Hair Pixie
Shed the Earline hair and let the curls on the crown go askew. This look is for women who are young at heart.
Low maintenance and fuss free this curly pixie is sassiest way women with wavy hair can do their mane.
Mid Length Pixie
Not to short not too long, this mid length pixie is ideal casual haircut. The curly texture of hair gives it volume while keeps it natural and not methodically styled.
Unforced and effortless this style doesn't require too much attention on daily basis.
Baylange Curly Pixie
The classic pixie with natural looking highlight is a highlight of this updo. The girlish feels of otherwise edgy pixie is deserves lot of lady love!
The curly hair gives an impression of lot of hair. Slight teasing of crown can work wonders.
Textured Bouncy Curls Pixie
Women with curly hair often stick to their age old hair cut due to lack of options. This exotic long tapered version of pixie cut will.
Let the bangs fall on forehead. The chilled out version of you sure to come out with this hair cut.
Wavy Pixie
Regular Pixie with soft curly bangs gives out a girly aura to the whole look. Keep it messy and sassy! Team them with bold lipstick and over sized shades to ace the hotness meter.
Golden Bangs and Tapered Sides
Cut the sides short and give the bangs the golden blonde twist. The curly hair perfectly complements the golden color and accentuated the haircut.
The juxtaposition of short and longer mane in same haircut is the underscore of this haircut.
Jet Black Ringlet-ed Haircut
Who said he can only lose himself to long tresses? The nape length trademark of a pixie against the jet black chin long ringlets is coolest haircut you will see on internet today!
The face hugging curls make it difficult to take the eyes away at once!
The Fiery Pixie
The red color of the manes make the pixie look fiery and daring. Brush the hair back too look audaciously sexy.
Put the side hair behind the ear for neater look. Team it with sultry eyes and glossy lips to balance the look.
Front Bangs Voluminous Pixie
Use your basic black hair and thick hair for your advantage by this look. Keep your curls in place by some styling product.
Added bonus of this hairdo is that it can be easily grown into longer hairstyles.
Side Swept Shaved Undercut
The younger women haircut! The sheared undercut above the ear line and wild and side swept messy curls this pixie is a perfect paradox!
For low maintenance but girly girl this haircut will express your attitude and youthfulness loud and clear.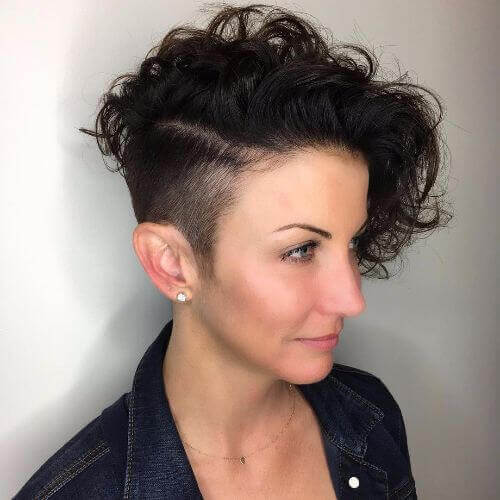 Dual Shade Wavy Pixie
Blonde and brunette windswept pixie is playful upgrade to usual cut. This can be a no heat hair do as it would not require superhuman effort or complex styling tools to maintain this look.
Multi Length Pixie
Long banks and shorter crown hair describes this pixie ideally! Cut the hair along the ear line boy-cut short to achieve this look.
Taper the bangs and let the curls hug your forehead and graze your eyes. To get the equilibrium in the look wear conspicuous earrings and keep the make-up subtle.
Round Face Pixie
Long bangs stylishly swept to the side are the kind of hair every girl with round face should get into.
Unlike others, it does not fall all over the face perfectly accentuating other facial features. It makes the forehead look fuller making you a full blown style diva!
Scarlet Inspired Pixie
Scarlet pulled off this nonchalant look. Short, stylish and sharp this seriously blonde hairstyle is a sheer beauty.
Keep the front long to frame the face because when you do it Johnson way, you can never make a mistake.
Afro Pixie
Unravel your corkscrew hair and let them be in their fundamental form.
The Afro styled short and chic haircut is perfect for women who like it hassle free and non-time consuming. Let there be dynamism and bounce in your hair.
Long and Dense Pixie
Not bold enough to chop your mane but in love with pixie? Keep it long and cool. Allow the density of your hair to make it look like a semi-bob semi-pixie hair cut.
Give a elegant side sweep to bangs keeping it feminine. Let the ear line hair cover your ears for more bob-ish look.