Being a perfect bride has always been the best fascination of all times.
Whether it's about the dreamy attire or a magical decoration or the delicacies or make up on point, you see compromise nowhere and why not!
The research game and the stalking business of our bride-to be gets stronger and better as the D-day comes nearer and then it is realized how important it is to pre-decide the look you would want to acquire. Is it swirling curls you are thinking about and a neatly made bun, sprinkled with pretty orchids in layers? Maybe, you want to allow it to twirl in the winds?
We, therefore, have a cornucopia of hairdos for you below, go check it out and complete your dream look!
20 Most Beautiful Bridal Updos for Elegant Brides
Braided Updo
If you swoon over side braids made into a bun, this one is for you. Accessorize it with pretty lilies in your hair, and literally make the wedding all yours!
Bridal Updos for Long Hair
So if you've got long fringes, just layer them up in the middle, swirl your dreadlocks, pin them up altogether neatly and accessories it with your favorite headband. Do not forget to use the hair spray so that it looks afresh throughout. Literally, own your wedding with that look!
Bridal Updos for Medium Hair with Shinny Headband
Are you a bouffant fan? Then, this hairdo should top your list! Curled up and elegantly make it into a bun – hassle free and poised.
Elegant Updos
If you are a non-accessory person and love the Mohawk look, stay freebie and keep it simple in your wedding. Steal the red carpet look and enhance your glow!
High Bun
Your wedding hairstyle shouldn't upstage the rest of your look. High rise bun would be an apt option for you to choose. A simple and a classic updo would go perfectly with your wedding style!
Loose Updo with Accessories
A loose chignon wedding hairstyle with allowing your soft curls to fall is a trendy choice. Quirk it up with a fancy hairpin and add a touch of modern elegance.
Low Bridal Updo with Accessories
If you love detailing every bit of your style, a braided low bun pinned up in a fashionable accessory is the kind of motivation you need in your life.
Low Updo Shinny Leaf Hairpiece
Highlight your playful side with a whimsical hairstyle with tendrils and flowers in your head. Let this not be another messy bun for you to carry on your wedding day!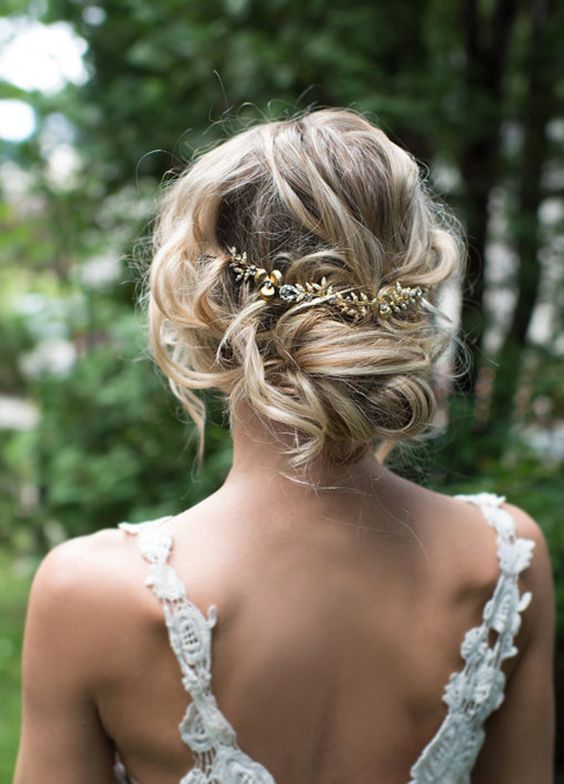 Lower Updo for Wedding with Accessories
Keep it low-key by blending in some glamour and simplicity in your wedding. A lower updo, accessorized with a chic band.
Messy Updo
Donning a messy look in your own wedding affair is unusual and stylish. Natural waves or heated ones, its gives an extremely cozy look and if you have the confidence to carry it with grace, you've climbed up a ladder in the glamorous world.
Retro Inspired Updo
Re-build the vintage feels in your wedding reflecting through your updos. Bring back those softy curls and shiny texture back into the modern elegance and make it look refreshing.
Sculpted Twists
Add a sparkling headband to your mid bun —it's a simple addition that's sure to dazzle your guests.
Side Swept Updo with Curls
The twisted strands semi-messy hairdo adds texture and layers to this understated bun.
Simple Updo
If you are the one who cannot invest a lot of time getting all dressed up and groomed, this suits your style! Curl up your hair into a skilfully made bun.
Twisted Bridal Updo with Hair Pieces
A twisted bun of silky and straight hair, embellished with a gorgeous adornment, can be one of the finest preferences.
Twisted High Bun
Bun is one of the most popular hairstyles that never go out of style. it is extraordinarily versatile and can be perked up in a number of methods. Here you can see one of the high bun style and that is messy bun. So make this on your wedding and own the guest's attention.
Updo with a Headband
The combination of braids and a bun is never a bad idea! Side Goldilocks and a braided bun, enhanced with a headband complete your outfit totally keeping it neat, sober and pretty.
Updo with Flowers
Embrace your love for flowers and their fragrance on your wedding day by placing some gorgeous lilies, orchids, roses in your mane, feeling revitalized and afresh as ever!
Voluminous Updo
This voluminous style results in sophistication and glory! Irrespective of your hair's texture, color, type, blow dry and see the magic of your hair.
Wedding Updos for Long Thick Hair
Gorgeous finger waves are the perfect
update
manner of lengths twisted
into a
low bun and a closely
classic
inspired
crystal clip. It will totally suits your thick hair, try it to get this ultimate look.