When you've got formal events to attend – whether its a prom night or a wedding to look forward to or an official meeting, you need to figure out a lot of variables to fit in.
To keep it somewhere nearer to perfection, your updo's shouldn't be extremely bold or bossy. End your search on some cute, easy to – do hairstyles for a special or a formal occasion NOW!
20 Most Gorgeous Formal Hairstyles for Any Occasion
Bouffant for Long Hair
Keep it chic and simple with a bouffant on your long hair and accessorize it with headbands or pretty hair pins. Its a versatile hairdo to carry at any formal occasion lined up for you.
Bridesmaid Hairstyles
Are you supposed to match with the sass of the guest of honor? Don't think much and go for this adorable hairdo with a side parting and pinned up on both the sides. Keep your strands bouncy and wavy at the ends to add the frill.
Bun Hairstyle
Its a perfect updo for a hassle-free woman. Go with this look give a decent structure to your wavy dreadlocks, pinning them up into a bun. Get a classy look in less than minute!
Cinnamon Bun
The Cinnamon bun gives volume and sparkles to your hair. Without using any accessory on your Goldilocks, keep it plan and style with gowns and dresses for any upcoming formal event.
Classy Ponytail
If you have natural sleek & straight hair and don't know much to do with it, tie a sleek ponytail and own the look! Make sure to use the best suitable for serum for the ponytail to stay.
Curly Hairstyles for Women
The layers rolling down your shoulders makes up for a curly hairstyle, left loose and stylish for you to steal the show. Make sure you swept the side fringes away.
Cute Half Up Half Down Curly Hair
Get this Cinderella look with a protruding bouffant, curly hair pinned up from both the sides in the middle (using the bob pins) and other strands are allowed to fall free. Its looks glamorous for any kind of formal evening for you to attend.
Dark Caramel Blonde Hair
This style brings back the vintage feels and flatters your make up to bits. Softly twirl your fringe swept at the sides and do the same at the ends. Isn't this a look worth grabbing eye balls?
Formal Hairstyles for Long Straight Hair
If you like it plain yet in vogue, this updo will be the best choice for you. Take an extremely side parting and style your long, straight and shiny hair perfectly.
Hairstyle for Wedding Party
This bun is not very tight or not very lose for you to carry it well with a heavy outfit for formal parties or weddings.
Half Up Balayage Hair
An extremely pretty half up balayage hair with panache. It gives a gorgeous texture to your Goldilocks and completes your look.
Loose Feminine Updo for Long Hair
A messy look for a formal event? It's surely a bang on for few who just cannot play around with hair pins and sprays. But if you want to look presentable and chic to the places you go, choose this!
Mid Length Blonde Hairstyles
The layers rolled in with the bangs impart freshness and good looks, good looks and good looks! This mid length Blonde hairstyle compliments your hair type and face.
Ombre Highlights for Dark Hair
Nothing better and quicker than curling your coiffure softly using the rollers or a curler machine. Make sure it stays for enough time at the ends so that you get a proper twirl falling down right.
Over-sized Bun for Long Hair
An airtight over-sized bun, neatly put in place and pinned up is all that the kind of motivation you need in life, sometimes! wink wink
Attractive Ivanka Trump Hairstyles
Ponytail Hairstyle
How can you style a simple ponytail differently? Well this one requires skills and patience. Fancied a Mohawk but didn't want to part with your hard/earned, long hair? Enjoy the best of both the worlds with this style. It works as a Mohawk and a ponytail both! Bonus points for upping the ante (fun intended!)
Prom Hairstyles for Long Hair
Braids give princess-y vibes, don't they? The fun part is that you can style it in any manner possible. It looks romantic when toned in an open hairstyle and looks classic when affixed in a lose bun.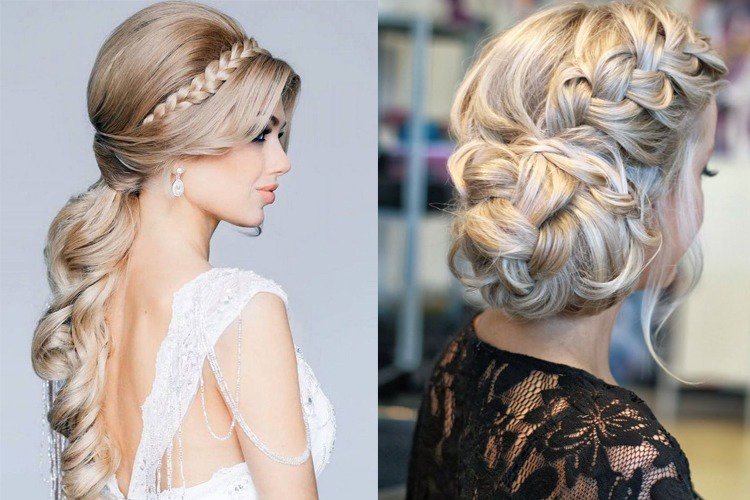 Romantic Waves
How about throwing some glitters wherever you go? And how about doing that with the falling off your dreadlocks at the right places? Try this look out for an extravagant features.
Tussled Updo
Spice up a simple Mohawk updo , tussled with a loosely pinned up bun. You can experiment with this look anywhere – from shopping sprees to brunches to office and formal events.
Updo for Long Hair
Be date ready for this utmost fabulous looking braid ever! It's beautiful with its waves and patterns all over. Its takes you back to the fairy-tales and the palaces you must have fantasized about. So, here it is, grab the chance!