Gone are the days when grey hair was accredited to old age and senility.
The Salt and Pepper look is now is more of a sultry and alluring style statement to men and women of all age groups. You can pull off these hairstyles with bold color change which will definitely make you stand out in the herd. Iced blond highlights or plunge in full fledged grey, you cannot go wrong with any of these!
20 Most Hottest Grey Hairstyles for Coolest Women
Ombre Bob Cut
Short straight hair? Round Face? This one's for you. Leave the boring short hair and try this new Ombre hair color which will leave you looking oozing with confidence and style. You will look like you are just out of a runway!
Pixie cut with Bangs
This one is perfect for the lazy diva in you for summers! Short hair at the nape and tapered bangs on the forehead. The silver color will give that extra oomph to your overall personality.
Wavy Ponytail
Beach waves and High ponytail is perfect for a brunch or dinner date night. Conceal that hair tie with your locks giving an impression of absolutely tamed mane. The brunette balayage subtly mixing in the long silver locks will make you feel like a Rock Star and certainly make his head turn.
Side Parting Straight Hair
Running out of time? This no heat hairstyle is for the carefree girl in you. Let go of your blond and grey tresses to make the best of little time you have in hand. Compliments best with straight hair as they are easy to manage, sleek and chic
Fishtail Braid
Best for thick hair, this French tail braid is best way to show off your grey-brunette balayage. Keep it sleek for a neat look and askew for the messy and thick looking braid. Feminine, vogue and elegant hair do. Accessorize it with beads, tiara and flowers for different occasions.
Beach Curls
Wild and messy would define this up do. The grey color would amplify the curls giving you an aura of mystery and enigma. This hairstyle is perfect for short to medium length hair. Let the air play with your hair without worrying about the mess.
Pixie cut with Spike
The edgy yet glossy, give your pixie extra gradient texture with spiky up do and silvery mane. This unruly hair will make you look like a boss in the crowd. Perfect for a brunch or a girls day out, red or dark lips would compliment it the best
Half-side Fishtail Braid
Unleash the woman in you with this hairstyle. Nothing can be more feminine with this "Khaleesi- like" hair. Tie a loose fish tail to give it extra volume and bounce. You can pull it off at your friend's wedding or that on a date with your man.
Short Hair with Bangs
Soft fringes & eye grazing this short hair do is one of the most low maintenance haircuts. This is a perfect mix of feminine yet boisterous hair for women who like it easy and effortless. It will go best with formal attire where you have no time to keep your locks in check every now and then.
Long Layer Cut
One can never go wrong with this one. The most fuss free and versatile haircut of all times. The Grey and blond mix of color will take it to next level altogether. Let your unruly tresses rule his heart.
Long Straight Cut
Don't like experimenting with haircuts? This one's for you. Keep it straight just color them for bold look. Women with straight hair will love this one for its simplicity and cool form. The best part about this hair cut is, it will give you a different look with every different parting you try.
Ri-Ri's Messy Pony-tail
When bad girl riri does it, she always does it right. This bold messy pony tail is for the girls who have" I-rule- the- world" attitude. This is no heat up do for effortless and carefree pony tail. What's the best part? Your hair color stands out the most with your messy hair.
Edgy Boy Cut
This haircut is perfect for "I-hate- drama" women. Simple yet charismatic this one is definitely eye catching and grungy. The tom-boyish look of this haircut will make you look bold and daring.
Black and Grey Bob
Black and the root gradually changing into grey at the tips is the highlight of this poky, fringy hair-do. This one is celebrity favorite for short hair and yes, you too can look like one.
Pixie with a Twist
This one is again a pixie but the twist is long tresses in the crown. The hair stays above the nape but falls freely on one side and grazes the eyes and the forehead. If you are tired of your boy cut and looking to grow your hair which is somewhere in between this one's for you.
Two Toned Bob Cut
The salt on the top and pepper in the mane define the look perfectly. This one is for the women who like no heat hairstyles. With soft waves this gives you a feminine look. Also, the dual tone perfect adjunct to the bob.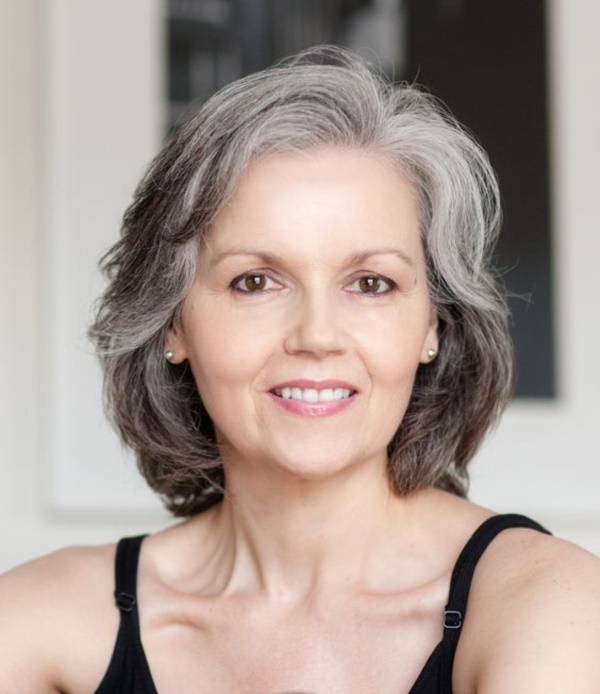 Dual Tone Side Parting Straight Hair
Blond blending into grey is a beautiful hair highlight women who like it womanly and loud. The ombre makes it unique yet classy. Side parting gives the extra vigor to hair and makes it look more voluminous and dense. This is a Ten on Ten hair color and style.
Grey and Black Manes
The gradient black hair color perfectly and progressively unifying into grey will definitely make the heads turn. This hair color will bamboozle a lot of people due to its enticing outcome of the dye.
Small Bob Cut
This can be carried by different aged women with small hair. This hair cut would look simply modish and glamorous if handled with care. Go for this hair cut for posing a high class look. You can pull it off for a party or a corporate dinner; this makes this look unforced and adaptable for different occasions.
One-sided Silver Bob
No one likes thinning of hair. But what if you know to make best of them. The elegant haircut is best for thin and short hair. The silver hair will make you look glam and confident at any time of the day. Little blow dry will bring up desired volume in your otherwise scanty hair.