Getting your hair colored red is truly a great option for women out there who are looking to get a hair make-over. And for those of you who already have natural red hair, it's time to flaunt your beautiful red locks in the best way possible. There is something about the redhead that speaks of their personality, even without saying a word. It symbolizes a great and bold attitude, both of which are necessary to survive this roller coaster called life. Here we have listed some of the best and fun redhead hairstyles that you should definitely check out.
20 Redhead Hairstyles for Sultry and Sassy Look
Long Layered Hair
The hair has been maintained at a very long length and cut in many different layers throughout its entire length. On the front, the hair has been cut in long layers; thus, you can style them as deep side bangs or long side-swept fringes. Best suited hairstyle for those who have both thin and thick hair as for thick hair, the layering helps to reduce too much volume while in the case of thin hair, the layers significantly help to create a little volume and dimension to the hair.
Curly Long Hairstyle
This redhead hairstyle is as natural as it gets, and the beautiful curly locks have been maintained in just the way it actually is. The long locks of hair have been styled by parting it into the middle and leaving it loosely flowing on both sides. The hair has a very significant volume, and that is clearly seen also. A beautiful shade of dark red can be found on the entire length of the hair. The thick loose curls also fall in perfect waves, thus creating a very stunning look.
Medium Length Wavy Hair
The redhead hairstyle is one of the most stunning hairstyles ever as the beauty of it is quite unmatched. To really show off those beautiful strands, having thick and long hair is a plus. The hair has been subtly middle-parted to both the sides as shown here and then left flowing on both sides falling in perfect waves. This style looks very relaxed and effortless, and you can achieve this look without much of a task. A good blow-dry or any hair product such as setting spray will help to keep the hair in place without making a mess.
Long Wavy Hair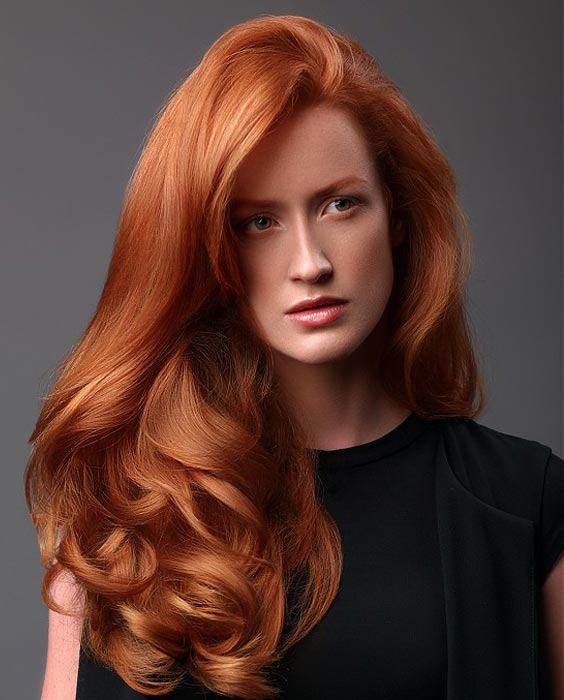 This is one of those looks that we see on models in hair product advertisements, especially in those ads that are selling off shampoos. You can always see models flaunting their thick straight hair and with enough volume too. Well, this look here isn't precisely unachievable, and if you have very thick and long hair, you can achieve it too. The hair has just been let down naturally, and towards the tips of the hair, it has been styled into a brilliant, voluminous curl, which simply looks amazing.
Long Straight Hairstyle
Well, another look you can try on your redhead hairstyle is this one. For this style to look really great, it would be good if you have very long hair. The highlights are a brilliant shade of red, and they make quite a dramatic transition from a dark shade of red on the top to a lighter orange-ish shade as it comes down towards the bottom. It's a simple and natural hairstyle, and not much has been done in terms of styling. The one thing that really stands out though, is the beautiful shades you can see on the hair; a sunset palette combo inspired the colors.
Short to Medium Red Hair
When you really want to put the focus on that redhead of yours, you can do it by simply chopping your hair to a shorter length where much focus wouldn't be only on the hair then. This is a very relaxed hairstyle, and the hair has been middle-parted to both sides. The length has been maintained just at the shoulders itself. A few strands of the hair have been pulled to the front of the face while the remaining of the hair has been carefully tucked in behind the ears.
Side Braided Long Hair
What better way to take your look to the next level than by adding in some beautiful braids? The hair here has been maintained at a long length, and towards the ends, it has been styled in perfectly falling waves. On the front, though, the hair has been side parted. The hair on the shorter part has been pulled back, or you can even simply tuck it behind your ears. The hair on the longer side has also been pulled back similarly, but a few strands of hair have been neatly tied up into braids till the back. One section of the braid is thick while the other one is thinner, and both have been styled in a lace braid hairstyle.
Red Bob Haircut
The hair has been maintained in a short and classic bob hairstyle. Best suited hairstyle for those who have thick and straight locks of hair. A very natural look and the length of the hair is just above the shoulders. You can either middle part it or side part it according to what suits you best. The best thing about this look, though, is the beautiful highlighting that has been done on the hair. While the hair on the top remains in much darker colors, it makes a gentle transition from darker to lighter shades towards the bottom.
Long Wavy Ponytail Style
This look is giving off major princess vibes, and it has been styled in a big hairdo. The long locks of hair and the volume they project onto the look simply looks surreal. A dream look, in fact. The hair on the front has been neatly pulled back and tied up into a very high ponytail. The high ponytail totally is the best part about this look, and you can be assured that no matter where you, all eyes will definitely be on you, especially with a style like this.
Bright Red Hair with Bangs
Redhead hairstyles never fail to look amazing regardless of what type of hair or whatever length or style it has been made in. The best part about this look would be the long front bangs and the bright red and orange-ish color that simply looks stunning. When you're cutting long bangs like these, the length of the hair doesn't really matter, and as seen here, you can tie up your hair into a bun or even a ponytail if you want to shift the entire focus to your bangs.
Messy Hair with Fishtail Braids
A gorgeous look that you can try out on long hair. The hair on the top and front has been maintained in quite a messy way with a few strands of hair carefully pulled out so that it looks like a careless hairdo. The strands have that have pulled out are also great at framing the facial features. All of the remaining hair has then been loosely pulled back and tied up into a fishtail braids hairstyle that goes all the way down till the end of the hair.
Messy Updo
The hair here has been styled in such a way that it resembles a bit crown-like up-do. Many strands of the hair have been pulled to the front of the face, and other strands have also been placed in various positions across the entire hair quite about messily. There are long face-framing layers on the front as well as short bangs too. The big up-do projects some serious volume, and it's just one of those fancy hairstyles that you can try out when you're bored with your normal hair.
Sleek Side Parted Hair
This is another great hairstyle that will look great on those who have really long hair. It's a very simple and natural hairstyle, and not much is required in terms of styling. But make sure that when you have such long hair like this, you take care of it enough so that it will not look damaged and has a soft glow to it, which is sure to look great when styling. The hair has been sleekly side-parted on the top, and instead of simply letting it down, it has been pulled back and tucked in, and the rest of the hair has then been let down freely.
Side Swept Wavy Bangs
This is one of those short bobbed hairstyles that are perfect for those who are looking to keep their hair very short. The bob is very simple also, and the hair on the ends has been maintained and styled in beautifully falling waves. While it's a very simple hairstyle, it still looks great because of the short bob that really highlights the redhead hairstyle. It really brings out the red color on the hair, and thus, the face and eyes are truly shining.
Messy Shaggy Hairstyle
Well, quite a messy hairstyle this one is. But even through all that messiness and carelessly falling strands, there is something wonderful about this look which has been enhanced all the more by the beautiful red color of the hair. The hair has been maintained at a short length itself and cut in many deep layers. The layers on the front are short, and face-framing and the layers on the sides and the back are quite long enough. Not exactly a bobbed hairstyle or one with fringes, but this haircut is a mixture of both of these styles, one which has been blended amazingly.
Long Curly Hair
This hairstyle here will look good not only on very curly hair, but it'll look great even if you have wavy hair at the least. But all you need to take care of is the fact that you have long hair. This look majorly reminds of Princess Merida from the movie 'Brave.' Beautiful long locks of red hair are totally stealing the show. You can sport this hair at parties, and this is also one of those ideal wedding looks, it doesn't matter if you are the bride or the bridesmaid.
Red Hairstyle with Blonde Highlights
A great look and a great take on normal bobbed hairstyles. The hair has been maintained at short length and falls perfectly around the shoulders. Best suited for those who have wavy or curly hair, and in case you have very straight hair, then you can always style it up in curls. The best part about this look, obviously, is the blonde highlights. Blonde is still a great color when you are choosing to highlight your hair and when done on this fantastic shade of red, it looks even more brilliant.
Long and Curly Ginger Red Hair
Long hair like this which falls almost till the knees or even below the knees is such a rare sight these days as most people are looking to try out shorter hairstyles which now have many trending options too. This may be the reason why long beautiful hair such as this one is truly a great sight to the sore eye. The hair is natural as it can get, and it also looks quite strong and healthy. The hair coloring has also been done in a brilliant shade of ginger highlights, and they are literally glowing, especially with the hint of sunlight kissing the hair.
Fishtail Braided Hairstyle
Braids are always a classy and vintage style. But they also go along with most hairstyles that you find these days such as the short bob, pixie cut, etc. There is something about the design of them that can transform an entire look with simply a thin braid even. As seen in this hairstyle here, all of the hair has been taken to one side, and then all of these have been loosely but firmly braided in the style of a classic fishtail braid. A few face-framing layers have also been neatly pulled out on the front. A perfect look for weddings and other events too.
Long Shag Haircut with Bangs
This hairstyle here is a mixture of many different styles, and we have to say that all of these hairstyles have been beautifully and gracefully incorporated into a single hairstyle. The hair has been maintained at a very long length and has been cut in a gentle, layering way. You can also find long bangs on the front of the face, which help to add some serious definition to the face. The entire hair has been cut in a shag style with a tiny strand of hair messily popping out of the hairdo.
If we go by the saying that all of us should go red at least one time in our life, then we must do it with style itself. Surely going red is going to be a huge change, and it's unlike getting simple highlights on hair. But we promise you; it'll totally worth the effort. Ginger, auburn, copper-gold. The options are endless for you. All you need to do is pick one of your choices and show it to your stylist.