When life starts getting dull, most women turn to get a makeover to feel a little excitement. And more often than not, most women love experimenting on their current hairstyle or hair color to get a makeover. But as the saying goes, when you do something, do it with all your heart or don't do it all. So here's asking the women who are desperately looking to get a makeover, but aren't ready to take too much risks, what are you afraid of? Each one of use is different yet beautiful in our own way, and we should never let the opinion of someone else to dictate our lives.
Don't think so much, just go ahead, chop your hair how much you want, color it whatever crazy color you want, and most importantly, do whatever you want. Don't ever be held back by the thought of what people or society might think. And if you're looking to get a makeover, what better way to spice up your life with an excellent bob haircut? If you've always admired bob haircuts but was too scared to try it on your hair, then this is the time to let that fear go. Here we have listed the top 21 fantastic bob haircuts for all types and lengths of hair. They are also the most trending hairstyles of this year. Go on, browse through the list, get yourself a makeover however you want, and live your life.
21 Most Coolest Variation of Bob Haircuts to Try Now
Short Bob
Just look at how beautifully the colors have been blended to give your hair a soft and natural glow. This look is extremely subtle yet so attractive and is sure to turn many heads no matter where you go. Best suited for short hair and especially for the ones who have hair above their shoulders, this short bob looks extremely sporty and is sure to give you an edge. If you look closer, you can also notice how subtly yet beautifully the stylist has blended the colors light copper and ash blonde to the already present ash and coral-red balayage blend. The bob has been cut asymmetrically with a fringe that can be swept over easily to style it however you want.
Medium Bob
This look is so surreal it might as well have been a painting. The hair has been styled in long layers to frame the face of this model perfectly. The layers are very defining and make the hair look voluminous. A blonde balayage has been painted all over the hair in a 3-D effect look which is what is making the look so surreal. The warm copper undertones also look lovely on the textured waves. This style is suitable for anyone with medium hair or even fine hair. Don't fret because you don't need thick hair to rock this look.
Long Bob
When getting a bob, not everyone might prefer chopping down their entire length of hair and choose to retain the length of the hair. This is the perfect bob haircut for women who are looking for such a style. It maintains the length of your hair while also making it look like a bob. The hair has been cut asymmetrically and looks beautiful on straight sleek hair. If you want you can also opt to get swipe over fringes on the front of your hair. The hair remains brunette with subtle highlights, making it stand out.
Layered Bob
A rounded bob accentuates your features and defines your face beautifully sans effort. This bob haircut looks incredibly chic and stylish. You can glamorously sport this look at your office, college, for a fun day out or even at a party. Adding a few gentle highlights can make the look pop out. This style is very classy and gives you a touch of sophistication no matter what outfit you're wearing. The layers are also pretty great at accentuating the symmetry of your face. The best thing about this bob cut is that it looks terrific both when you have blow-dried it or if you wish just to let it be without any styling.
Bob Haircut with Thick Hair
Simply gorgeous. That's all one can say after a look at this beautiful bob haircut. This style looks like a breath of fresh air to our eyes. An angled bob with hair that falls up to to your chins on the front, this style is amazing. In case you have thick hair, you can sport this look effortlessly. The highlights have been painted beautifully and gently with so much precision that it stands out beautifully. The copper blend of shades especially suits this brunette as the black roots are properly maintained. The extreme angle of the bob does not make the style any boring, but only all the more attractive.
Wavy Bob
This wavy textured bob cut at a nape length is perfect for anyone who wishes to accentuate the features of their face. Some women are not always invested in their hair as much as others are. And while they may want to look stylish, they simply do not have the interest in maintaining their hair too much. If you are one such person, this is just the right haircut for you. With such a short length, the hair falls behind your ears, and you do not have to worry about taking care of your hair. At the same time, this style also looks very classy.
Stacked Bob
A V-cut hairstyle with an angled bob, the hair falls perfectly on the face in a beautiful pattern. The extreme angle of the bob along with the side-swept bangs make it look all the more ravishing. There isn't any tinge or pop of any color or shade, thus retaining the beauty of the dark black locks of hair. This is best suited for those people with thin or fine hair as the texture of the cut is not completely suited for thick and wavy hair. The bangs also help to make sure that you can hide any features that you do not like or do not want to show off.
Bob Haircut with Fine Hair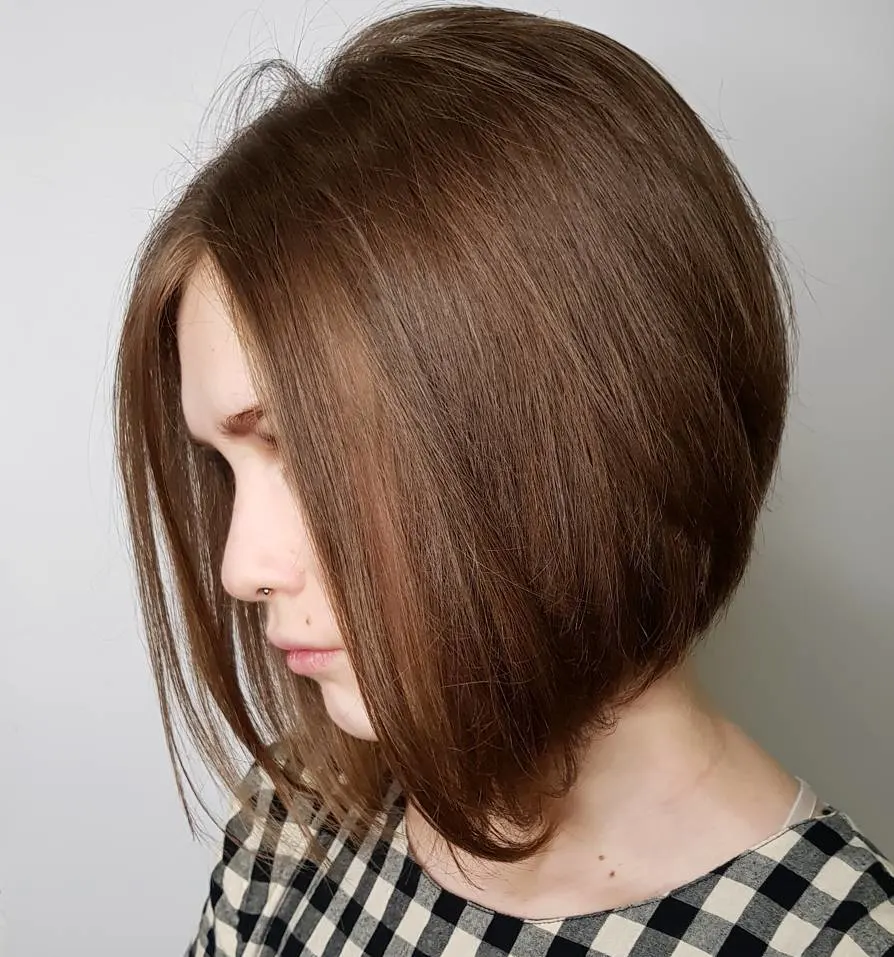 This angled bob is perfectly suitable for fine and straight hair. The entire hairstyle looks very sleek especially because of the precision that has gone into lifting the nape section of the hair. Additional highlights or streaks are not painted on the hair, thus making the beautiful shade of brown look very classy. This style is suitable for almost all occasions, and the sheer sleekness of the look is sure to turn so many heads in awe. A light tousling will help to add a touch of sophistication to the look if needed.
Curly Bob
Not all women are born with naturally straight hair. But instead, they are blessed with amazingly beautiful curls. The trend of curls is so in these days. Earlier, the beauty industry only promoted straight hair on their models. But now with the rise of social media and budding real-life influencers from all across the globe, the trend of curls has finally made its mark. And the best thing? This trend will be staying for a pretty long time. Stop being insecure about your curls, instead show its raw beauty to the world. Depending on your choice, you can either opt for a layered bob or if you like to keep it natural, go for a simple plain bob.
Angled Bob
This haircut is so deeply angled yet managed to look so damn beautiful. Oh my god. Now, this is what you call a piece of art. The hairstylist has truly weaved his magic wand because everything about this look is perfect. The color of the roots has been maintained naturally while the not too subtle highlights look amazing. The dark chocolate shade suits the skin tone of this model perfectly. And the bangs in the front which have been parted from the center do a good job at making a face look big and bright. This is hands down the trend you need to try out like yesterday.
Bob Haircut with Undercut
This hairstyle is so cool and not only that; it has so many features in a single haircut itself. It is shaved on the side and has been painted a light blonde. The hair has been patterned asymmetrically, and it also sports a sporty pixie cut. The shaved hair stands out and only adds more sophistication and beauty to this haircut which is a brilliant blend of different styles. The pale blonde color also enhances the skin tone and the features on the face.
Chin Length Bob
This chin-length bob is short yet styled very dimensionally. The waves fall loosely but perfectly on the face, thus framing it beautifully. The dimensions have been created simply by making the hair textured and wavy. The strands have also been gently layered, making it look more natural. This style is made for those who love to sport a messy or shaggy hair look without actually putting effort into styling it that particular way.
Inverted Bob
A blend of light violet and ash blonde highlights, this inverted bob looks amazing. The hair has been cropped behind at the length of the nape, and there are long layers as it comes to the front of the face, thus making it look really voluminous. The deeply angled layers make this style all the more impressive. Although this style looks extremely eye-popping with very less highlighting or coloring, the entire look can be spiced up a little by painting it in exquisite shades.
Bob Haircut with Thin Hair
This is a simple V-cut blonde look with a chestnut balayage done on the hair. The shades have been blended beautifully and look quite amazing as the color transition from a dark brown shade to a light shade from behind towards the front of the face. The bob has been cut at the length of the nape from behind and falls till the shoulders in the front. The hair has also been gently layered as a few short hairs are placed messily here and there making it look natural.
Bob Haircut for Round Face
This bob haircut is suitable for anyone who has a round face. The bangs have been cut from the center of the head itself to avoid making a face and forehead look small. The bangs are maintained at the length of the chin and have been kept plain and simple without doing any extra styling. This bob also suits those who have very fine hair. The ends aren't too jagged too and thus maintained straight and sleek.
Choppy Bob
This bob has been styled in a pure blonde shade, and a bit of shagginess is added to the look by doing some asymmetrical layers. This is the epitome of natural messy hair looks. The curls fall gently but beautifully helping to frame the face perfectly. This is best suitable for those who have short and thick textured hair. A slight feather cut has also been made on the layers, thus making the entire style look more appealing.
Black Bob Haircut
The queen of the beauty industry, Kylie Jenner, is seen here sporting a black plain bob haircut. The entire simplicity of this look makes it look so classy and sophisticated. The straight locks look very sleek and perfectly accentuates the jawline making it pop out. The hair falls straight without any layers and makes this entire look gorgeous. The dark black hair is also a beautiful sight if you're too tired with all the vibrant colors and shades you find on other people's hair.
Asymmetrical Bob
This asymmetrical shaggy bob done on beautiful blonde hair looks exceptionally stunning. The length of the hair has been maintained in the front while it has been cropped at the nape behind. The hair also transitions from a beautiful dark shade to very light soft shades as it comes towards the front. This also helps to give a soft glow to the face. For those people with thick hair, this is just the style you need to try out if you're looking for a combination of styles and colors within your bob.
Blunt Bob
This beauty queen Dua Lipa never fails to look amazing even though she is almost always seen sporting this blunt short bob. The hair is maintained at the same length on all sides and falls gently right a little below the ears. The bob stands out when you sport it with a two side-parted hairstyle. The one-length pattern of this style is sure to look flattering on all face shapes. A side part will also look good as it will help to elongate and accentuate the neckline.
Bob Haircut with Bangs
It is safe to say that bangs never go out of style as the trend has remained evergreen and a favorite of most people for many years now. A layered one-length style has been maintained on all sides of the face while medium bangs are sported on the front. The color on the hair is a brilliant blonde, and the way it falls loosely below the chin is great at making the lips and jawline stand out.
Messy Bob
The honey-brown hair looks amazing on the model's face as the color is too good at making the facial features stand out while also enhancing the skin tone. Medium textured layers all across the head help to frame the face giving the hair a natural yet subtle messy look at the same time. The wavy structure also helps to form perfect but unintended dimensions across the face.
The bob haircut, as you saw, is here to stay. The main thing here is your decision to go for a bob cut. Yes, the idea of chopping off so much of your hair looks a little frightening, but the thing is, like most things in life, you never know until you try. And a bob haircut isn't tailored for one specific style or person alone. There are multitudes of styles and options that are available, and since each person is unique, many beauty salons have now come up with the idea of making each person's hair also as unique as they are. So it's time to let go of the fear and embrace the beauty of the unknown. You never know what will happen and for all we know, it's gonna turn out to be a pretty fantastic experience. And even if it doesn't happen however you expected it to, chill out. It's just your hair, and it will grow out. Stop worrying and start coloring or chopping.