Long hair is a blessings, and if you are the one who have this blessings then you have plenty of options to style your long locks.
Here we are talking about long straight hair. We believe long straight hair is a benchmark of any girls's beauty, specifically if your tresses are healthy, well groomed, cut effectively and styled beautifully. Long hair is truly splendid when it's sleek and healthy. Take your long, straight hair to the next level through adding cute layers, side bangs, subtle texture, or you can make a beautiful updo, try any style you will surely glam your look with amazing long straight hair. So ladies not sure which style is done magic for your look then you have come to the right place. Here we have gathered 27 different and most glamorous long straight hairstyle inspirations for you. So just have a look and get inspired to make one for yourself to fancy up your look.
27 Most Glamorous Long Straight Hairstyles for Women
Blonde Edgy Long Straight Haircut
For this do you need to make your long locks blonde and it also requires full of sleekness and layered accuracy. This edgy locks for long straight style is very amazing to get and glam the overall look.
Blonde Hairstyles for Long Straight Hair
This one is again an excellent example of blonde hairstyle for long straight hair. Here you can see that the round bangs provides a very edgy and classy appeal to the long hair. You can make this style which is very easy and cute.
Blonde Long Straight Hair
If you want to look beautiful with your long straight hair, then you must go for this blonde straight hairstyles that will truly make your appearance looks gorgeous. Adding a layers will enhance the look for sure.
Celebrity Style Long Straight Hair
Here you can see that Olivia Palermo has worn slick and glossy long straight hairstyle. This cute hair is blow-dried out to show off the layers cut round the back and sides that brings the look shape and motion. Layers are cut round the edges to make the length smooth and sexy. Try this long straight hairstyle which can make your look ageless and fascinating.
Haircuts for Long Fine Straight Hair
This one is a sophisticated hairstyle for your long straight blonde hair. This hair is mainly one length, but has superbly cut sliced curves which frame the face and spotlight the chin. This style is smooth around the top without a more volume, maintaining the focal point on the face. So try it and glam it.
Hairstyles for Long Straight Hair
This one is very elegant style to wear. You can see that the superlative brown shine is edgy and classy with voluminous long straight hair with even edges sans the bangs.
Half Up Long Straight Hair
The half up hairstyle for straight hair is looking truly fashionable and stylish. You can make this do with a side swept bang which will surely look extraordinarily elegant and stunning.
Layered Straight Haircut for Long Hair
If you have long locks to flaunt, then this fabulous straight layered hair would be the awesome style to wear. Try this ultimate style and look the same.
Long Blonde Straight Hair
When it comes to style and fashion celebrities are the one from whom we can get lot of inspirations. Here you can see that the long blonde fringes are pretty and truly elegant. This style makes Bella Thorne appearance lovable and fashionable.
Long Layered Straight Hair
If you want a sleek hairstyle that you can wear on formal events, then this lovely layered hairstyle for long straight hair is just so perfect for you. Be classy and stylish by wearing this ultimate style.
Long Straight Golden Blond Hairstyle
This is a Back view of long straight hair style with layers. You can glam this long straight golden blonde style which flaunts like long razor textured layers hairstyle. So just make this style on your own and fancy up your look.
Long Straight Hair with Side Parting
The long straight hair is finished with a graceful side part. The hair is flaunted on one side; it has trimmed uneven edges which can be very pleasant and ombre hue to finish the look. The style is obvious cut and very beautiful.
Long Straight Hair
This brunette style looks very sultry. You can make this hairstyle which creates a zone of light on the front to deconstruct and emphasize the long straight cut.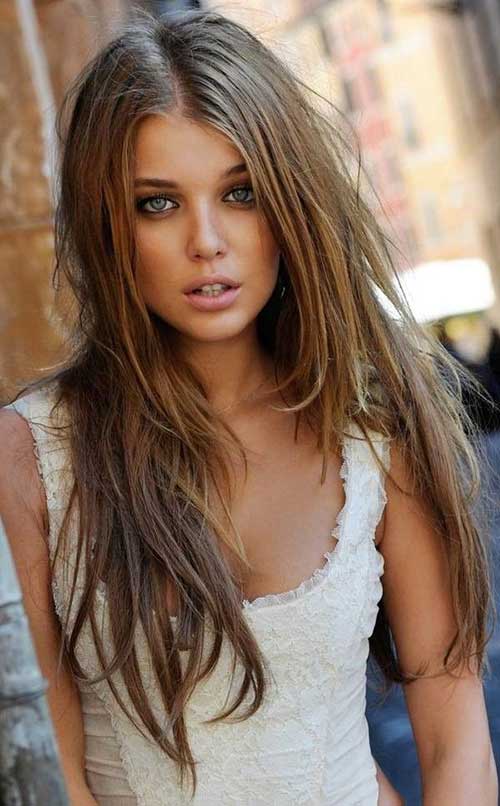 Long Straight Haircut with Bandana
If you have long locks then all you need to do is make it blonde and simply fold the bandana into a triangle shape and then wrap it around your head where you feel comfortable. You can surely glam this same look by doing it.
Long Straight Hairstyle
Straight hair is one of the best looks for girls who have long hair. It looks elegant, luscious and sleek. Here you see that this middle parted long straight locks will surely work on your face.
Long Straight Hairstyles With Layers
Another example of long layered straight hair. For this style you need to use lighter toned shade which can create a classic highlighting effect. Believe us this style will truly enhance the beauty of your look.
Long Straight Hairstyles with Side Swept Bangs
Long straight hair is very fresh and lovely style to wear. This long layered hairstyle with side swept bangs can make a very young and beautiful look on you. It is the perfect way to get rid of a boring flat look on straight hair.
Long Straight Highlighted Hair
The shiny highlighted display is accomplished with brilliant yellow streak mixing in with the brown shade. This hairdo is one of the most beautiful hairstyles for straight long hair. The fine bangs outline the face and provide it a totally defining shape.
Long Straight Layered Hair
The sexy long layered hairstyle seen here is a great look for any formal event. Just straighten your hair and make some layers. You will surely look beautiful and style diva by wearing this style.
Long Straight Ombre Hairstyle with Bangs
One of the trendy takes on the ombre fashion shows beginning the transition of color tons better than we're used to, towards the roots. As we see, this method works tremendous for long straight hair with bangs.
Middle Parted Long Straight Hair
You can make this long straight hair with middle parting and by giving your hair multiple layers of certain lengths. Which will surely give them volume and makes your hair look healthier.
Ombre Hairstyles for Long Straight Hair
Long Ombre straight hairstyles are usually on the trend and they could provide you a adorable and young look and feel. The long sleek style can be appropriate for many occasions and exceptional for many age groups. besides, it is easy to create by straightening the hair part by part lightly and cutting the golden hair into long layers round the edges and back to beautify the movement.
Selena Gomez Long Straight Haircut
Selena Gomez hairstyle for long straight hair is one to make for yourself. When you style your thick long hair in waves, it is becoming extraordinarily voluminous and can appear really stunning.
Side Parted Long Straight Hair with Layers
Ashley Tisdale wears this long side parted haircut which makes her look really sophisticated and stylish. You can look the same by wearing this ultimate style.
Straight Haircuts for Long Hair
Kate Hudson is a style icon and her hairstyles are much talked as they look fabulous the way she wears. This classic straight haircut for long hair is an amazing example of it. So try this style and rock your look.
Straight Long Layered Hair
This is an ultimate style to wear for straight long hair. The light layering of the front locks looks simply amazing. You can use hair color to enhance the overall look of your hair. The long golden brunette hair gives the fresh and gorgeous look.
Trendy Long Straight Hair
Try any of these style and give your long straight hair a totally a new and glamorous look. Do visit again for more ideas and inspirations about long hairstyles.