Looking beautiful and the best at prom night is the dream of every girl. Prom updos can be wild and crazy or cute and elegant, it's on you how you style it.
The hairstyle is a deciding factor of the overall prom look so it is necessary to get yourself a very unique and classic hairdo. You don't have to worry even the slightest about your hair because you are being presented with the finest prom updos which will let you look gorgeous.
30 Charming and Dazzling Prom Updos for Women
Amber Heard Swept Back Mid Updo
Amber Heard is a well known actress and a style diva too. She often gives us an inspiration throgh her gorgeous appearance. Let the spotlight be there wherever you step foot by selecting the Amber Heard swept back mid updo look. To achieve this look, go for golden shades of blonde for your hair. Make sure to complement it with smokey eyes.
Bow Style Updo
Appear dainty and adorable with a bow style updo at the prom. To achieve this look, do an updo and simply make the final loop of your hair into the shape of a bow and place it on the top of your head. The most essential look in terms of beauty and style will be the ravishing look you chose for your special day, and here is the most coolest option for your next glamorous look.
Braided Messy Curled Updo
From this style it seems like the messier the updo gets, the more stunning the style is. Embrace the classic combo of a braid, curls and messy layers with a braided messy curled updo so as to look like a pretty princess at the prom. Just curl your hair a lot, gather a few strands, twist & braid it, pin it.
Bun Updo for Prom
You can appear like a superstar with a bun updo for prom. Make sure to wear a classic bun hairstyle and decorate it with an elegant tiara to finish the look. If you want to look classy and elegant then you should surely go with this low bun style. This style works with any hair type and makes you look more fashionable.
Bun Updo with Bow
Make the best impression at the prom by sporting a bun updo with a bow. All you need to do is have a bun updo and highlight it by twisting the hair in the shape of a bow on the top. This one is very unique updo if you try the same hairdo it will make you look chic and stylish.
Casual Updo for Prom
Get ready to look cool and cute with a casual updo for prom. Just customize your hair as you wish but make sure that there are twists here and there to achieve the casual appeal. This style will complement your overall look, not compete with it. If you want to stand out among others then try this casual hairstyle.
Classic Updo with Bangs
Get the go-to look for prom by donning classic updo with bangs. It adds class and gives a formal appearance when you have a full bun that is complemented by bangs at the sides. Bangs are one of the best hairstyles that one can have, so incorporate this updo with bangs and get the most classy look for yourself.
Curly Messy Bun Prom Updo
Get yourself a fascinating look with a curly messy prom updo. Make sure that the entire bun comprises lots of curls that are clearly visible. You may also accompany it with face-framing wisps of hair. This hairstyle will look very cute and feminine, so try it and believe it.
Curly Prom Updo for Long Hair
Do you wish to appear outstanding on your prom night? Then, choose the curly prom updo for long hair. Curl your hair and pin it as an updo. You need to use lots of texturizing sprays so that your hair can be held well. Formal hairstyles looks stunning if your hair is naturally curly. So if you are blessed with curly locks then this style is made for you.
Dutch Braid Updo with Loose Locks
Get to look like a princess from a Disney movie by choosing a Dutch braid updo with loose locks. You have to make sure that you wear the Dutch braid around your head on the crown and incorporate it with the rest of your hair in the back. So never shy away from exploring braided updos. This is the best example that you will look gorgeous if you wear this style.
Easy Low Twisted Bun
If you don't have enough time to get ready for the prom and yet, you want to look stunning, then the best way to do so is by choosing an easy low twisted bun. You just have to twist your hair around your head and mix it into a low bun. This is a great twisted bun updo for a splendid and stylish look.
Fishtail Crown Braided Updo
Become the queen of prom by wearing a fishtail crown braided updo. It will definitely set you apart from those wearing the standard braids and provide you an extremely spectacular look. So create a fishtail crown with any braids you like and get the amazing look for yourself.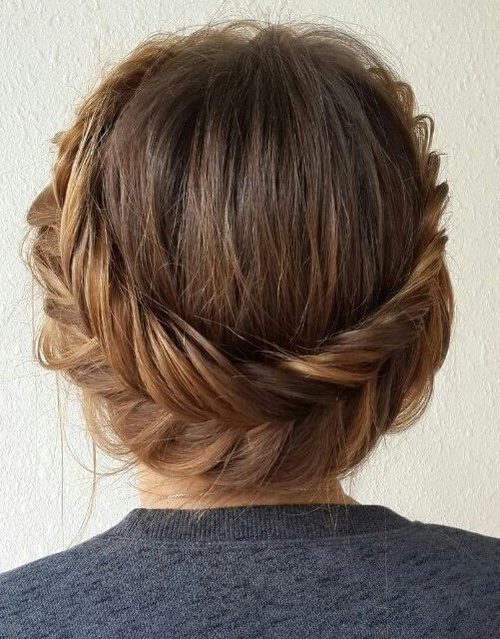 Fishtail Milkmaid Braids
You can get a chance to add lots of detail to your hair with the fishtail milkmaid braids. The blend of two combinations and styles makes it unique and charming. Make sure that you shape your hair into a fishtail braid and wear it along the top like a milkmaid braid.
French Braided Updo
Get a flattering look with any style of your prom dress with a French braided updo. The distinct layers of the French braid provide a touch of royalty to your hair. Make a special look for yourself at any event. Just stand out in the crowd with this french braided updo.
High Bun With Bangs
Add modernity and class to your prom look by opting for a high bun with bangs. It is easy to get and makes your hair look voluminous. You can make it more elegant by having bangs alongside. Bella Thorne has wore this fabulous updo style with bangs. You can also look the same if you try it on your own.
Jennifer Love Hewitt High Bun Updo
All eyes will be on you at the prom night when you sport a Jennifer Love Hewitt high bun updo. Make sure that your bun looks full and voluminous. You may use a sock bun sponge for getting the shape. This jaw dropping style will make people jealous of you.
Jumbo Bun with Braided Headband
Amalgamate the beauties of a bun and a braid by donning a jumbo bun with a braided headband for your prom. Wrap the braid around your head like a headband and pair it with a huge bun on the top towards the back to tightly secure your hair.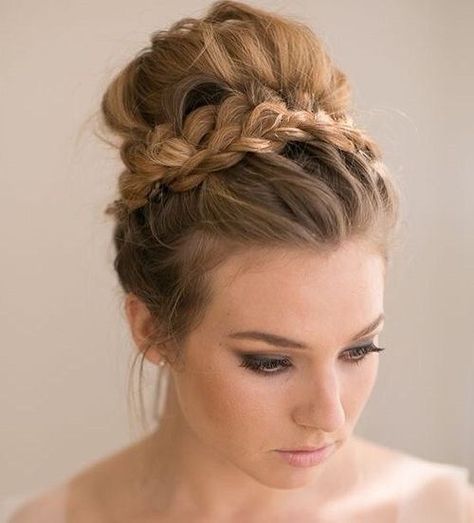 Loose Low Bun
This style on Brooklyn Decker is gorgeous and worth trying. You can become the center of attraction when you sport a loose low bun along with your superb dress at the prom. Remember that your hair should not be too tight while tying the bun at the back.
Loose Low Updo
If you want to look effortlessly beautiful, a loose low updo is your best bet. Make sure to lift your hair on the crown and leave long layers in the front for getting the loose layers for the low updo. To achieve this style, first section off the hair for the braid and create the loose bun.
Low Twist Updo
Appear as if you've stepped out from a fairy tale by selecting a low twist updo. It will complement your long hair if you take the twisted layers and mix it with the low updo. For glamorous appearance this one is worth trying style for you.
Messy Braided Updo
Bring out the peppiness inside you with a messy braided updo. Make sure to blend the braid with a messy bun at the back of your head. We hope that you have found the style the one you love! So what are you waiting just opt this style and look the same.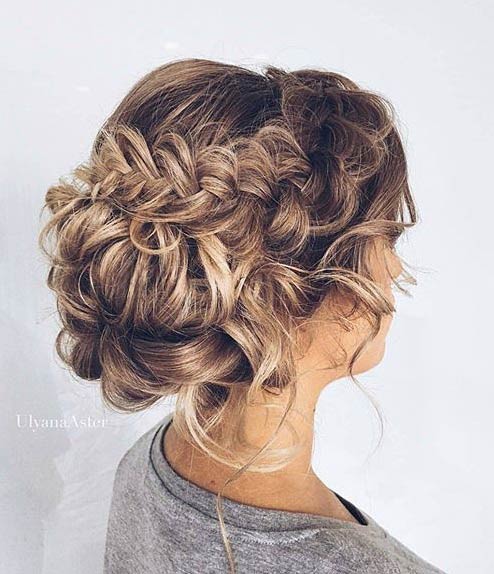 Messy Low Bun Updo
When it comes to appearing stylish, the messier is the better. So, go for a messy low bun updo. The random layers of hair dropping out of the bun will surely add to your look. Glam your look by trying this ultimate style and look like a gorgeous model.
Messy Updo with Loose Curls
This is one of the great hairstyle for any event, it looks sophisticated and feminine. Shine like a star at your prom by having a messy updo with loose curls. It will add lots of volume to your hair. You can couple the look with dangle earrings for absolute perfection.
Milkmaid Braid
Here's your chance to look graceful and adorable at the same time. Just go for a milkmaid braid. All you need to do is braid your hair, scoop it upwards and pin it on the crown. So look as charming as Mary Kate Olsen does here in the image.
Nicole Richie Updo with Fringe
Gain the blend of latest trends and grace by choosing Nicole Richie updo fringe for your prom night. You need to have a fringe along with side-parted bangs to frame your face. So wear yourself this attractive and amazing hairstyle and glam your overall look.
Romantic Twisted Bun Updo
We believe that everyone wants to look charming and impressive on the special and important occasion,So here we are to guide you. Gift yourself unparalleled attraction with a romantic twisted bun updo. Just twist the front of your hair and provide it a high lift. Then, pin it and twist the middle and longer sections of your hair by leaving little hairs to hang.
Short Hair Braided Updo
Don't worry if your hair's not long enough. You can still look scintillating at your prom night with a short hair braided updo. Just braid your hair and mix it with updo. You may leave a few bangs to hang at the front.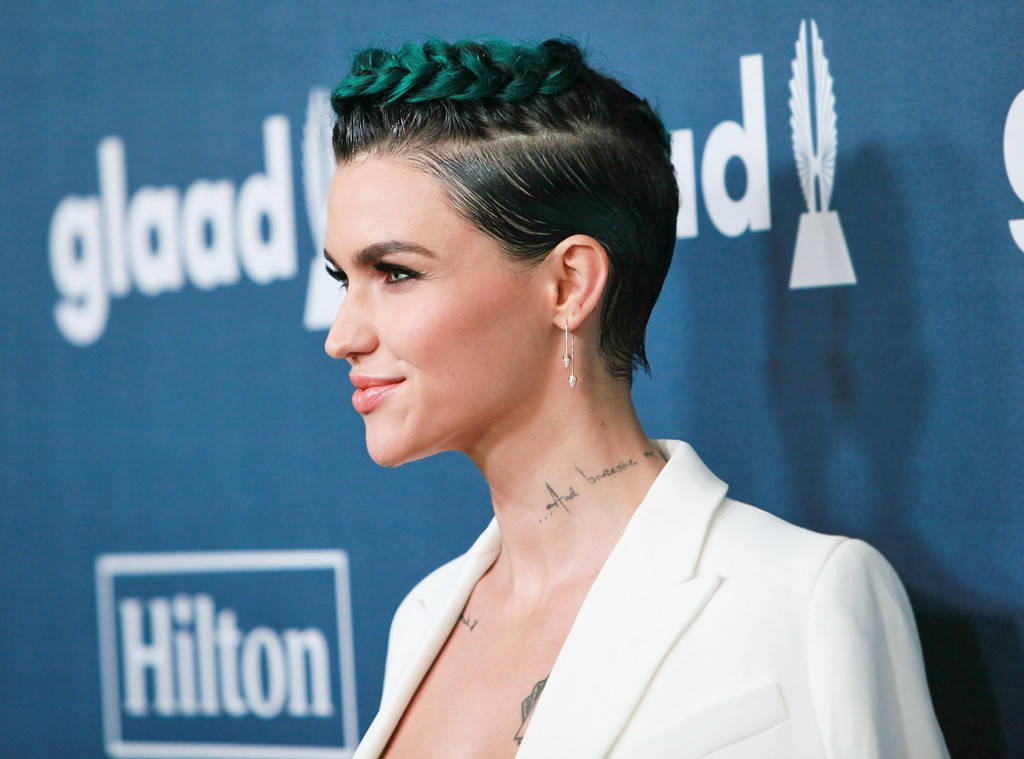 Side Bun Twined with a Braid
If you have very long hair, then you can manage it easily on your prom night by selecting a side bun twined with a braid. You have to ensure that you keep the bun low and towards one side and incorporate a braid into it.
Tousled Messy Braided Updo
Get ready to embrace grace and glamour with a tousled messy braided updo. Make sure that there are lots of imperfect waves and flowy wisps throughout.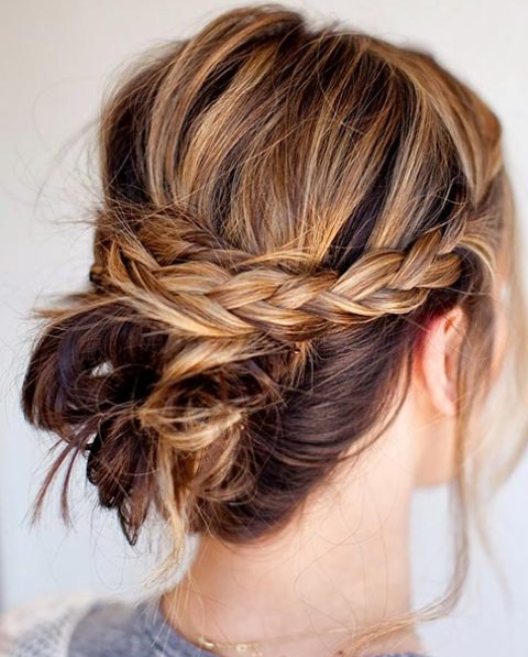 Twisted Prom Updos
Gain the appearance of a timeless beauty with twisted prom updos. You need not have perfect twists, it's okay if there are hanging hairs around your head because that would give a chic look.
Now that you know about the best updos in town for prom, get ready to rock the dance floor and enjoy the evening with these exquisite hairstyles.