If you have thin hair and are looking for styles that will suit your hair, then you have come to the right place.
There are millions of styles that you can do on thin medium length hair that will definitely give you a magnificent look.
40 Most Dazzling Medium Length Hairstyles for Thin Hair
Side Parted Shoulder Length Blonde
Shoulder-length hair paired with blonde color is the one combination that you're gonna love the most in all seasons. This medium length hairstyles for thin hair with the hue will provide subtle and soft contrast and will ultimately become your favorite hair color. If you want to add a twist to your regular look, just go with this style.
Shoulder Length Golden Brown Hair
Apart from the bright neon colors, if you are the one who is looking for some simpler shades, then this is the perfect option. This golden brown global will look great on your medium-length hair. This style will give you a casual look that goes well with all your outfits.
Light Curly Blonde Hair
Medium curls with blonde hair is a kind of super feminine style that will give you a confident and bold look. Moreover, it also gives a graceful vibe, and if matched with natural curls, the color will give off a polished look that'll brighten up the area around your face. This is a great way to refresh your style and get that summery look.
Middle Parting Double Bun
Apart from the usual simple buns, double buns are a great way to style your hair. They do not require much effort and are a cute way to dress up. These middle parting buns are the best way to style your hair in a cool or rocking way and can work well on red tie events, for instance.
Blonde Ombre
Blonde ombre is another type of medium-length hairstyles for thin hair to fall in love with. You can take your natural or unnatural blondes to another level through this style. The style goes well with all sorts of hair types and face cuts.
Golden Ombre Highlights With Fringes
Short ombre hair looks as good as long ones. With a golden ombre, you can go for a bob or even short-length hair as it will add grace to your overall look. Even the soft waves or straight hair will go great with this style. Such colors look beautiful and natural and are ideal if you're looking for balayage or ombre style.
Chin Length Red Ombre
If you are looking for some sensational hair color ideas that'll fit perfectly for a special occasion, like a party, prom, or sunset beach wedding, then this is the perfect option. The medium red bob cut is the one style you must go for.
Caramel Highlights With Bangs
The pretty cardigan of the model's dress reminds us of cold winters when you can try simple, subtle hair colors. Thus, go with these cute simple caramel highlights along with bangs. The side volume covers thin faces, and this fabulous easy care style has a youthful and casual finish.
Messy Bun With Red And Pink Highlights
Want to try something crazy or have a funky look? Then go with these red and pink highlights that look amazing in a messy bun. Try this 'punk' look that will go well with your comfy ragged clothes and create a tremendous effect.
White Sleek Bob
White bobs are for the ones looking for a bold and bossy style. The bob for a round or heart face and global whites for someone in her late twenties will be the perfect match. Here, white bob hair, a lot of flattering light is directed towards the model's face, highlighting the dark eyes and red lips.
Angled Lob with Side Bangs
If you are looking for a new and innovative style, then go for an angled lob. This style gives your look a much needed make over.
Additionally, you can add side bangs to this hairstyle and this will give you a gorgeous look. Sport this look and rock your look. You will definitely love the style that this look gives you.
Ashley Greene Mid-length Ombre Hair
Everybody is familiar with Ashley Greene and many follow her for her amazing hairstyles. One of the best is her mid length ombre hair which she sports with confidence and grace.
This style goes well with any dress and people can also add many hair accessories that will enhance their look.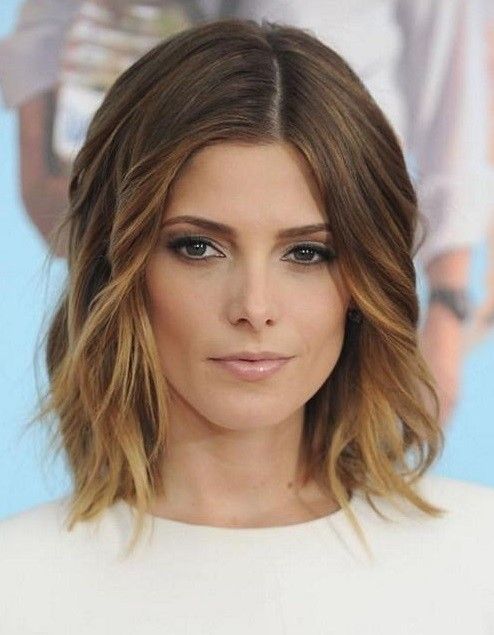 Asymmetrical Bleached Blonde Bob
If you are tired of the same old hairstyle and want to try something new, then go for an asymmetrical bob.
This is a unique hairstyle, where the hair on one side of your head is a bit longer than the other side. Additionally, you can also go for a bleached blonde color for your hair to suit this look.
Asymmetrical Wavy Lob
If you are looking to move away from the traditional look, then go for a style that is asymmetrical in nature. The best fit for such situations is the asymmetrical lob.
This look enhances the beauty of your face and brings out a trendy and fashionable look. In addition, you can also add waves to your lob to get a gorgeous look.
Bob with Fringe
Sporting a bob is extremely trendy and we see many women going for this style, irrespective of their age. If you want to spice up this style and bring in some creativity to your look, add fringes to this style.
Usually, people experiment with their fringes and bring out a classic look. Make sure you sport the bob with confidence and grace.
Braided Bob
If you love sporting a bob, and are looking for ways to experiment with it, then you should definitely try out a braided bob.
There is a misconception among people that only people with long hair can sport a braid. However, we see many people sporting a braided bob. This style combines tradition with fashion and hence is extremely popular.
Brunette Hair
People with brown hair are called brunettes. Brown is the desired hair color and usually suits all outfits. There are a plethora of options that one can try out in terms of hair styles when you are a brunette.
People also add many accessories to get a chic and beautiful look. If you have never tried out this style, then you are missing on some great styles.
Center Parted Blonde Hair
Parting your hair is a trend that has been in fashion for a very long time and will continue its amazing streak. You can do a side part or a central part, according to your need.
However, doing a center part gives you a neat and clean look. It conveys professionalism. Center parting especially goes well with blonde hair.
Faux Ponytail
Ponytails are extremely popular and are one of the easiest styles to get into. The fashion industry has come up with many different types of ponytails and one of the most popular one is the faux ponytail.
Go for this style if you love a hassle free style. However, make sure that you remove the frizz from your hair as it can ruin the look of the ponytail.
Finola Hughes Shoulder Length Hair
Having shoulder length hair is a boon and this is exactly what Finola Hughes proves with the different styles she puts on for her shoulder length hair.
There are many options and every option gives you the best possible look. Choose the one that suits you the best and flaunt out your style. Try out different styles and bring variety in your styles.
Jet Black Neck Length Curls
People sport curls of varying lengths, some love to sport short curls while others like long ones. It is common for people to go for neck length curls.
Having long curls gives them more room to shine and this is one reason why people go for this style. Usually, people go for a jet black color for their curls.
Kristen Bell Medium Layered Hair
Kristen Bell is extremely famous for sporting a medium layered hair. She is known all around the world for experimenting with different styles and many people see her as an inspiration.
She sports all her look with elegance and grace. Going for this style, gives you a royal look and is usually used by people during a special occasion.
Layered and Highlighted Mid Length Waves
Having layers in your hair gives your hair a unique look. Additionally, you can also add waves to this style and highlight your waves using a bright color.
Highlighting parts of your hair brings importance to your style. This is why people go for bright colors.
Lob with Waves
Lob is a hairstyle that gives the bearer a chic and elegant look. Adding waves to this style will create wonders.
This style gives a complete makeover to your style and tends to give the bearer a brand new look. Go for this style, if you are bored of your old style and are in the mood to try out something new.
Medium Blonde Curls
Sporting curls is considered extremely vogue. Blonde curls are considered extremely fashionable and tend to give the bearer a unique and new look.
If you have a party to attend or a special occasion to go to, then go for this style. It will definitely give you a show stopping look and will blow peoples' minds away.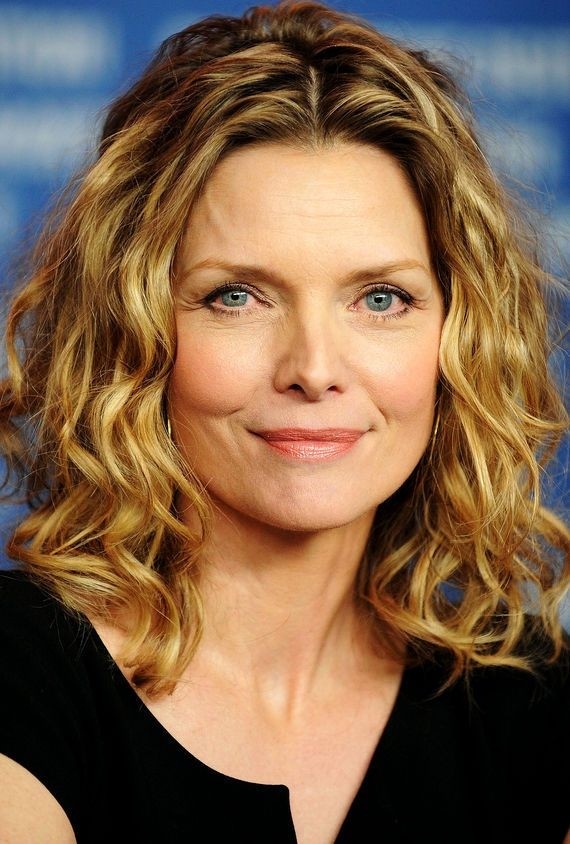 Medium Bob
There are many different types of bobs. Additionally, based on the length of the bob, they are classified as short, medium and long bobs.
We see many people go for the medium bob, which is not too short or too long and hence gives the bearer a lot of flexibility to style their hair as they see fit. Go for this style if you love experimenting with your hair and want a change.
Medium Curls with Highlights
Highlights have become extremely common and people use many new colors to highlight a part of their hair. Usually, the colors used are red, platinum and brown.
You take a streak of your hair and color it according to your choice. Nowadays it has become extremely common to color your curls. Doing so gets a lot of attention to your curls.
Medium Layered Hair
Having a medium length hair, is a boon in disguise. Many people feel that having medium or long hair is extremely difficult to maintain, however, they also have a lot of styles that they can try out on medium length hair.
Usually, it is extremely common for people to go for a layered cut as this cut gives their hair a majestic look.
Medium Layered Hairstyle
You can find numerous hairstyles for medium length hair. Additionally, people sporting this look usually go for a layered cut as the layers get a lot of room to shine.
This is one of the most desired styles and is preferred by many women. However, people who go for this style need to constantly monitor the layers and see that they look perfect.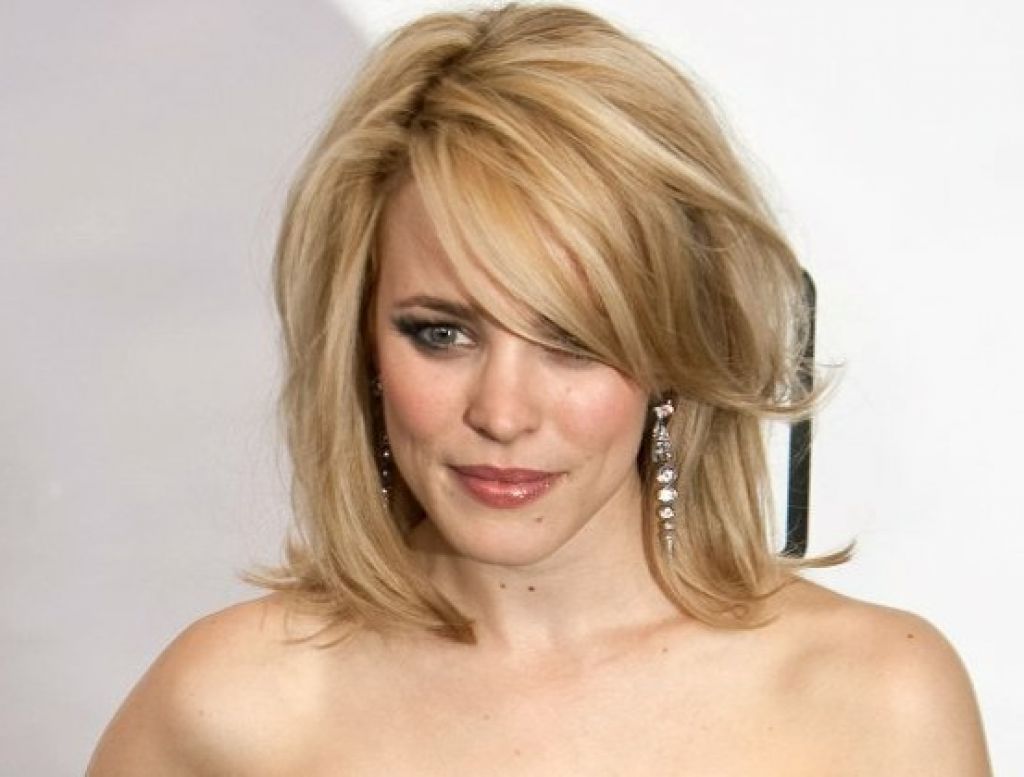 Messy Beach Waves
Sporting a wavy style gives you a look of royalty and makes you feel good about your hair. Usually, people go crazy for a wavy style.
However, nowadays it has become extremely common to add a bit of messiness to your wavy style. Although the two styles are on opposite ends of the pole, when combined together, they give you an amazing and beautiful style.
Side Parted Rolls with Bangs
Parting your hair to the side works wonders and gives your style a new kind of appeal. Additionally, go for side parted rolls to add a few extra points to your style.
And if you are still not satisfied, then add bangs to this mix. This will give you the ultimate look that will definitely turn heads in your direction.
Sleek Layered Hair
A layered style is suitable for every occasion and suits every face frame. Additionally, it brings attention to your hair and the layers magnify your beauty.
People also add many hair accessories to the mix and get a look of beauty. However, leaving your hair free works wonders when you have a layered cut.
Straight Blonde Hairstyles with Side Bangs
There are numerous hairstyles for people with straight hair. Additionally, if you sport blonde hair, then you have a plethora of options in front of you.
However, one style that goes well with all hairstyles is side bangs. Sporting bangs gives a playful look and when combined with other hairstyles for straight blonde hair, gives you a jaw dropping look.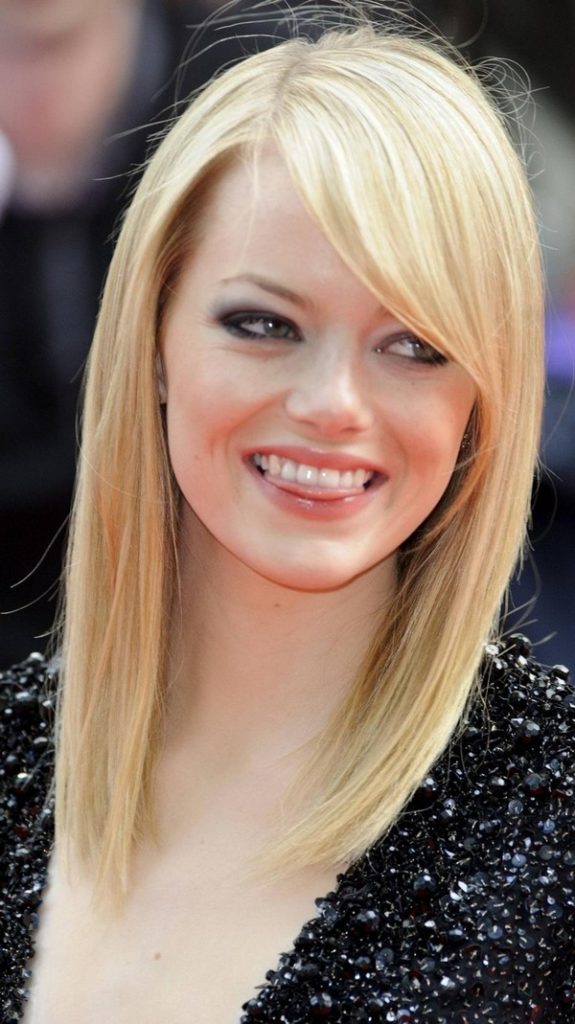 Straight Hair with Side Bangs
Straight hair is a boon. There are numerous hair styles that are specially developed for people with straight hair. However, just sporting bangs with straight hair can do wonders.
Bangs are an extremely famous style and sporting them can give your style additional points for trendiness. So go for this simple yet elegant style for a fashionable look.
Straight Blonde Hair
Blonde hair is a style statement in itself. Just leaving your blonde hair free will speak volumes. If you are a fan of simplicity then straight blonde hair is the right fit for you.
Every style has a unique aura around it. It all depends on how the person carries their style.
Straight Pinned Back Hair
If you are looking for a neat and professional look that is easy to maintain, then straight pinned back hair should be your first choice.
For this style all you need are a few hair pins. Just gather your hair and using the pins, pin it to the back of your head. It is as simple as that.
Sun Kissed Balayage
The balayage style is pretty new to the industry, but is gaining popularity at a rapid pace. It brings a kind of unique and never seen before look to your style that is sought after by many women.
Go for this look, if you want to try something new and set a fashion trend in your locality.
Textured Bob
Bobs have become extremely common and are considered one of the best hair styles to sport. Easy to maintain and hassle free, many women are moving to this style.
A textured bob is extremely easy to style and also gives the bearer a fashionable and adorable look. Additionally, this gives the bearer a lot of room to experiment on.
Tousled Hair with Layers
Messy hair is extremely popular among the younger generation. It is extremely fashionable to sport tousled hair.
Additionally, if you have a layered cut, your tousled hair gets a new makeover. If you are looking for a style that is playful and cool, then tousled hair with layers should be your first choice.
Twisted Fine Straight Bob
Bobs are extremely common among all age groups. It's trendy, fashionable and also has a bit of elegance to it. The most common bob is the straight bob.
To add something extra to your style, go for a twist. Just twist a few hair strands and give yourself an appealing look.