Think you must be Rapunzel shake an excellent updo? Reconsider! Mid-length hair can achieve new statures with these lovely, rich, and outright breathtaking updos.
A medium length may set a few confinements on the fluctuation of haircuts since a few 'dos truly look more worthwhile on longer lengths. Whether you require some motivation for a prom, wedding, commemoration, or simply need to accomplish something else, this is the article for you.
Elegant Wedding Hairstyles for Medium Hair
Chic and Beachy
A chic and whimsical way to style your hair for a classy and simple look.
Add some loose waves and flip your hair onto one side to get a beachy and classy look. This will be an excellent hairstyle for outdoor events.
Faux Flower Updo
Brides or bridesmaids looking for a lovely updo to style their medium-length hair can try this. Loose tucked-in updo with some faux flowers will allow you to show off your nape, shoulder, and collar bones.
Dainty Curls
Colorful and pretty details will add so much attraction to your curls. Divide the hair into two parts and dye the bottom layer with a shade brighter than your natural hair.
If you have dark hair go for light dyes and vice versa. Add dainty curls and hair chains to finish the look.
Layered Curls with Fringes
In order to pull out a perfect wedding hairstyle for medium hair, you will have to set statement hair pieces. Create loose curls, and let the fringe be swept onto the sides. Finish the look with the statement hair piece.
Tucked In Braid
All those fancy-looking hairstyles and still a tucked-in braid with some country vibe to it can be a style to mark your wedding day.
Tuck your French braid under your nape to create this look. You will not require any fancy accessories either. Let's keep it old school.
Relaxed Style with Accessory
It is hard not to get lost in these messy curls with wedding accessories. This is a simple and beautiful arrangement with roughly combed curls made to create a natural style. You can go for baby breath to create this too.
Parted Pin Straight Locks
Ladies with pin-straight locks looking for a fine hairstyle for their big day, embrace your natural texture of hair with a parted hairstyle. This will be the simplest way to look pretty.
Burgundy Blush with Bangs
Many women love to have bright hair colors but back off because it might be too bright for wedding whites. All you need to do is add curtain bangs to your wedding hairstyle.
The bangs will cover your hairline and give you a blended look.
Perfectly Imperfect
Afro heads, here is one style for you. Play around with your hair and utilize your natural texture to create a perfectly imperfect look. Then, add a pearl embellished hair tiara to your hair and finish the look.
Tweezed Braided Crown
Never before crown braids have been so scrumptious; braid a double crown braid and tweeze out the braids to add extra volume to the crown. Add smudgy black eye makeup to add more charm to the look.
Boho Ombre Style
A bride who wears a boho-vibed hairstyle will definitely look the cutest. Adding ombre steaks will add so much prettiness to the wedding hairstyles for medium hair. This is definitely one of the cutest styles we have.
Bold Pink
Silky pink locks will be the ultimate addition to your wedding look. Add a posh and pretty pink color to your shoulder-length hair and flip it onto one side like modern women.
This bold hairstyle will be a great addition to bright wedding dresses that are not white.
Criss Cross Butterfly
This is a fabulous way to style your hair. The shoulder-length hair looks alluring when tucked into a bun. The layers are crisscrossed and pulled to add texture as a butterfly. This is an ideal deal of glamor and art.
Curly Bob
If you want a style to ace your look for your big day, check this out—a must-have curly wedding hairstyle for medium-hair women.
First, curl your hair into thin spirals and brush it out to create volume. Then, apply a handful of serum for the glow.
Casual Bun Look
If you are looking for a bun style that isn't very popular so you can be unique, try an informal bun. Adding curtain bangs will elevate your facial features, and the low braided knot will make it unique.
Signature French Style
Brides who think of simpler hairstyles, so it will be better for them to handle try this signature style. Roughly tousled, and the french tail adds glam to it.
It is a little messy, so any disturbed strands will not be seen separately. Therefore, you can enjoy your day without having any tension of your hairstyle spoiling.
A Floral Topper
No such hairstyle will look so adorable when topped with a floral tiara. Edgy chopped bob topped with a faux floral tiara is so chic and adorable. Easy for brides looking for wedding hairstyles for medium hair to style themselves.
Sleek and Dramatic
This curled and dramatic style is a fabulous way to look flawless for a vintage or retro-themed after-wedding party. The thin, sleek curls are carefully arranged and pinned on the sides to add dimension.
In addition, the eye makeup and pearl choker will give a dramatic and retro vibe.
Side Rolled Updo
A tucked-in roll is an ideal option for a long dance party to secure your hair tight. Add serum in every step and comb with a finely textured comb to get a sleek texture.
Then, add pins, tuck in tight, and fix with hair spray for extra security.
Romantic Water Fall Style
Searching for the right hairstyle to wear at a wedding can be very tough. With so many wedding hairstyles to choose from, it can sometimes feel like you're ruined for selection. These wedding hairstyles for medium hair will give you healthy inspiration to glam your look.
Modern Veil Fix
Medium-length hair gives us a lot of options to make, especially when it comes to selecting wedding hairstyles for medium hair. These gorgeous updos are just so perfect to wear at any wedding event.
Hopeless Romantic Updo
If you or your partner is a hopeless romantic, this will be a much-needed updo. A loose donut bun with a thick braided laid down as a tiara, and the free strands are so romantic. You can add rhinestones to the braid for light.
Front Braid with Loose Curls
If you want to add a little more detail to your curled wedding style, try this french braiding to put your bangs into place. This braid adds a romantic touch and keeps hair out of your face.
Duchess Hairdo
Love royal hairstyles? How about a duchess-inspired braided crown hairdo for your wedding day???
Start the braiding from one side of your head and go along your hairline till you reach the back of your head. Twist the ends, tuck them inside, and loosen the braid for the volume.
Classic Bombshell Bun
A braided bun is one of the classic bridal looks, great for those who have medium-length hair. You can wrap braids in a loose bun, or keep them tight for a more formal look. Flowers will be a great addition for your wedding hairstyle.
Floral Wedding Glamor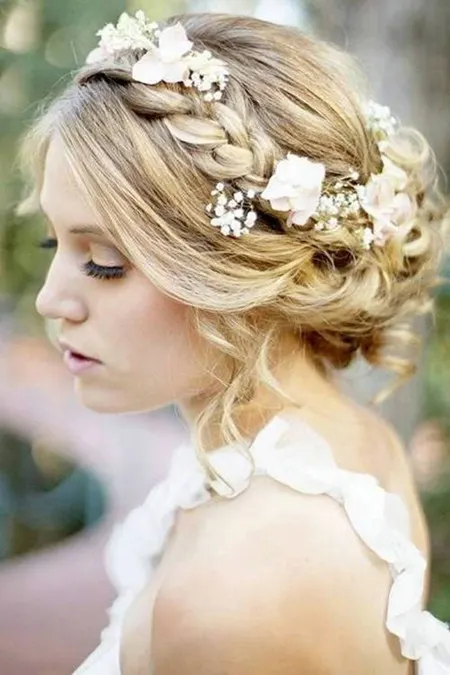 There's nothing that can beat the naturality and glamor of this look. The natural flowers add class, and the loose updo will lift it to another level.
It is soft, iconic, and creative in all possible ways. If you cannot find real flowers, you can add faux flowers so they can last long.
Tousled and Twisted Perfect
This elegant updo uses classic styling tricks to roll and twist hair into place, this will look totally regal for sure. Try this kind of hairstyle to glam any wedding event.
Shiny Glided Touch
We love the shiny romance of this tucked-in updo. The shine is perfect and gave the sandy blonde highlighted tress glow a glided look.
If you also have highlighted hair shown, this could be a glowy after-wedding party look.
Dual Pin Chignon
Chignon hairstyles are fuss-free hairstyles. Textured tendrils pinned into a classic chignon with double hair pins is chic.
The rouge wisps falling free onto the face and neck will give you a picture-perfect look.
A Blooming Bob
This timeless classic style tucks and pins curled hair into a bob type while letting a few loose tendrils escape. The flower on the back of one ear is a refreshing touch, mostly for an outdoor summer wedding.
Organic Flourish
Nature never lets us down, and so does this organic flourished bun. Environment-friendly look for our brides who genuinely care about the earth. This is a pleasant style and can warm up the mood of everyone around you.
A Touch of Gold
Celebrities are one to watch for fashion and style inspirations. These braids look fresh and give a younger feeling,
After center parting your hair, you can create inside-out braids, just crossed them over at the nape, and pinned into place, and secure the best hair look.
Sleek Lustrous Look
Accessories are great for enhancing any hairdo. You can add a headband or flower accessories to glam your beautiful hair look.
Ribboned Hairdo
This is an effortless look that can be created in no time. Brush back your hair and do a highball bun and add a few long pieces of corseted ribbons on the top to add noticeable detailing to your hair.
Captivating Curls
When it comes to bridal hairstyles, the inspiration is normally split into those for women with long hair or those with short tresses. So if it's wedding hairstyles for medium hair you have a lot of options here to grab for yourself.
High-Tied Back Look
Is your medium wavy hair troubling you to get the right haircut? These lovely high bun hairstyles are just so perfect to inspire and have the best wedding look for yourself.
Romantic And High Look
Yet another alluring and romantic hairdo option for brides with dark tresses. Simply put them in a high bun and drag out some free locks to achieve this look. But, again, keep the makeup simple so the hairdo can have the spotlight.
Sexy Mini Top Knot
Whether you have long hair, shoulder-length hair, or short hair, celebrities will always be in the spotlight due to their amazing fashion sense and their hairdos.
These fabulous medium-length wedding hairstyles are good to make for any wedding.
A Tender Display
Best for the after-party looks. Let the hair breathe after tucking it tight for so long. A simple look like this is both striking and memorable. Keep it soft and clean with a hint of your sassy and prettiness.
Head Band Veil Style
If you do not want to fix your veil the normal way into your hair, this is something fun and creative to try. Do a side part and make a messy bun as low as possible.
Now grab any hair band which is heavily embellished and has two metal ridges. Add the veil from one side and pull it through the other ridge to create this style.
A Timeless Updo
When it comes to wedding updos are always in trend. This style will truly give your dream wedding hair look. This twisted updo hairstyles are very gorgeous to make for wedding occasions.
Double The Hotness
It's time to double the hotness of your wedding hairstyle for medium hair with two top braids.
Unfortunately, the ends are messily arranged, and some are left free to fall on the collar bones. Best for no-neck or halter neck dresses so that the collar bones can be highlighted.
Deep Parted Low Bun
This style goes straight into our hearts—soft and gently tousled hair for a romantic and chic look. Low buns have something in them to look beautiful. Add a deep part in the front to have long framing strands.
Wedding Curls with Floral Crown
The only thing which is more important than the outfits on a women's wedding day is their hair and when it comes to wedding hairstyles for short to mid-length hair, it can be tough to get inspiration for something as beautiful as the rest of your big day should be.
Messy Updo
Ever wondered why many hairstylists prefer to add messiness to their hairdos? The simple reason behind it is to add texture and volume.
So if you have thin hair, go for this style; it instantly adds loads of volume and texture to your hair.
Baby Roses Updo
Whether you're going for a classic bob, natural curls, a loose updo, or a half-up, half-down look, there are many ways to style mid-length hair.
Rustic Dark Updo
Dark-haired brides get some dark rustic streaking on the front hair to get framing. The hair will illuminate under the light with two different tones that will be purely magical. Go for shades that are very near to your natural hair color.
Classic Side Curled Bob
A very classy look that is fit for any wedding, this style has every hair perfectly in place and is best suited for medium hair without too much layering.
The great part about wearing medium-length hair is that it takes much less time to execute compared to long locks.
Thin Braided Updo
This is something creative and elegant. First, divide the lower part of your hair into thin strands and start braiding them individually. Afterward, secure them like a loop just under your nape to create this artistic braided updo.
Sassy Modern Bride Hairdo
Many of our modern brides will like to keep it minimal and simple. If you are one of those, try this Sassy style.
The front layers are parted half ways and tucked loosely into the bun. Leave some loose strands for framing the face.
Tucked In Reverse French Tail
Don't worry if you have chin-length hair, it never means that your hair is not suitable to be the standard of a traditional bride.
You can wear any hairstyle that you think will look good on you, and wear a fine piece of hair jewelry with a precious vintage-inspired veil with it.
Cool Girl Style
This is a style that we immediately fell in love with. The dual-toned tress is perfectly arranged to create a beautiful arrangement of dark and light shades.
A pearl headpiece is added near the nape to finish the ultimate creation. You can pin the veil under this pin so it can have a sleek look.
Blonde Bangs Knot
The disconnected bangs and loosely created locks have a sweet vibe to them. Use a combination of thin and thick twists to create this soft, twisted updo—ideal for brides looking for low jewelry style.
Statement Wedding Piece
Couldn't you think of anything to highlight your hair on your big day? Do you think flowers or hair pieces are outdated?
Then we got you!! This is a statement hair piece made out of cloth and rhinestones. Isn't this something you can just DIY?? Something of your style will definitely look good on you.
Spiraled Out Florals
Spiraling your hair is the best and easiest way to add volume. Make thin spirals and turn them into a loose bun to create this look. The braid, top, and floral embellishment are a creative bonus for the look.
These beautiful wedding hairstyles for medium hair will help you spend less time in a salon, and you can get the best curly, wavy, or polka-straight wedding hair for the medium length that we've covered.