Black hair is a blessing that only some girls get to have naturally.
There is so much that you can do with dark hair that many women who are not naturally born with it, get their hair colored black. The first advantage is that of hair coloring or highlights to be more specific.
You can put n highlights of any color, and it will look great against the dark backdrop of the hair. The next is the length factor, and that is where the dark hair wins too as it looks good on any length. You can keep it poker straight or curly- it will flatter your look both ways.
Black Hairstyles for Medium Length Hair also come with the added benefit that it looks good on any skin-tone. So, you can be fair, dusky or dark- this hair will never fail you with its amazing array of hairstyles.
Just take your pick from these fifteen given right below and go for a different style for every month or every party that you attend. The only thing you need to make sure is that you take enough care of your hair to maintain that natural shine and silkiness that it has.
25 Black Hairstyles for Medium Length Hair
Fanned Afro Style Look
This is one of the most natural black hairstyles for medium length hair. The hair fans out around the face very wide, in a nice auburn afro-style look. It's looser than a typical afro, giving it more of a fanned and free look that you'll definitely love, and that will wow the crowd.
Blonde Touched Bangs
This look's feature point is the blonde that's in the long, sweeping bangs that cover one side of the face. The rest of the hair has been relaxed and cut into layers that start chin-length and get longer around the lower part of the neck.
Side Parted Coils
This coily hair look has the hair parted slightly to one side, and it's cut into layers. The layers give it a lot of volume, so it's both long and wide. It's also very bouncy, and it's a very casual look that also looks chic enough for parties and other events.
Sleep Space Buns
This space buns look is one of the cutest black hairstyles for medium length hair. It's great for a fun-loving woman. The hair is braided until you get to the space buns, which are sleek and shiny with braids decorating them.
Dual Tone Long Curls
This long, curly look has the hair dark at the roots, but it's slightly lighter as it gets longer. It's heavily parted on one side, and there's a lot of volume on the right side of the hair. It swoops over so much that it almost looks layered.
Chic Neat Low Bun
Are you looking for an easy hairstyle that you can wear every day without thinking about it? This is a great look for that. It's a low bun with the hair pulled back neatly into it, but there's still some slight texture.
Blue Touched Bob
Here is a very chic and easy look that's a black bob with some blue on the ends. It's asymmetrical, longer at the front than it is at the back, and it makes for a very trendy look that anyone will enjoy styling, wearing, or looking at.
Hugely Volumized Curly Look
This look has the most volume out of any of the looks so far. The roots are dark, but the rest of the hair is a lighter brown color. The hair is layered in a way that makes it look full of volume. Some coiled bangs brush the face, and they're volume-packed, too.
Loose Curly Hair
This curly hair is looser than the rest. The curls are wider and fall more freely. They're tighter by the face, especially around the bangs, but there are plenty of loose flyaway curls to add some fun to the look.
Tight Curly Bun
Here's a bun look for those days when you don't want to style your hair much. The hair is pulled into a high bun in a very simple way, decorated with a nice white and orange hair tie. The hair is left curly, but it's smoothed down very nicely.
Medium Length Layered Black Hairstyle
This hairstyle is perfect if you have shoulder length of hair or are planning to cut your hair to that length. Just ask your hair stylist to cut long layers across the length of your hair. Make a middle parting and brush your shiny black hair nicely on both sides of the parting.
This is one of those hairstyles that frames the face nicely, and it is ideal if you have an oval shape of the face. Try this one with your off-shoulder or one-shoulder dresses and tops.
Side Swept Hairstyle for African American Hair
African American Hair has one of the nicest textures that you can think of. You can style your super versatile African American hair into this pretty hairstyle. Just keep the length of the hair up to your shoulders and straighten it well.
Then make a parting on the left side of the hair. Get the majority of the hair to the right of the parting and let it sweep across your face to complete the look. It looks really chic and fashionable.
Medium Black Hairstyle with Curls
Curls look really nice on any hair color and more so on the dark hair. Your glossy black hair will look even better with this hairstyle. All that you need to do for this one is create curls on the lower ends of your medium-length hair.
The tops of the hair should be kept straight and well-combed. Cut a long bang that will fall nicely across your forehead. Try this style to be the head-turner at the parties.
Black Hairstyle for Medium Length Hair
If you have really silky black hair, then this hairstyle is just custom-made for you. You need to put in hair curlers to make good, big curls on the bottom half of your hair. There is no need to make a parting for this look.
But what you do need is layers cut on the hair and the layer right in front should end just at the length of your forehead. It gives the effect of a side-bang without actually having to cut a bang.
Jet Black Medium Length Curls
It is the hairstyle to try out if you are the blessed owner of poker-straight and jet-black head of locks. You need to curl the absolute ends of your hair and make a central parting for getting the look.
This is a great style to try if you have a long shape of the face. This looks appealing and feminine on women of all ages. You can try this one with all kinds of dresses and tops. The best part about this one is that it is safe for work and great for parties.
Curly Hairstyle for Black Women
This hairstyle is for all the gorgeous and strong black women out there. For this hairstyle, you need to give more definition to the natural curls that you own. You can do it on your own with a hair curler or take the help of your hair stylist.
After curling the hair is done, sweep it to one side completely. It is such a cool hairstyle to try out with your tee-shirts and casual shirts. You can add some accessories to this one too if you feel like it.
Messy Wavy Black Hair with Bangs
A head full of dark wavy locks- it just does not get more beautiful than this. So, make the waves and keep it messy with your hair. You can use your fingers to mess up the hair nicely.
The bangs should be the length of your forehead so that they cover it completely. You will fall in love with this one if you have a round face as it can do away with the apparent roundness of the face by giving it a more sculpted look.
Medium Wavy Bob for Black Hair
Bob is never out of fashion as there are so many ways to play with this simple hairstyle. You can get the perfect example in this look that has been made keeping in mind a black-haired bob.
There are waves made on the entire length of the hair, and the next step is making a small parting in front. This one is perfect for both the round and oval shaped faces. This is easy to achieve and effortless to maintain.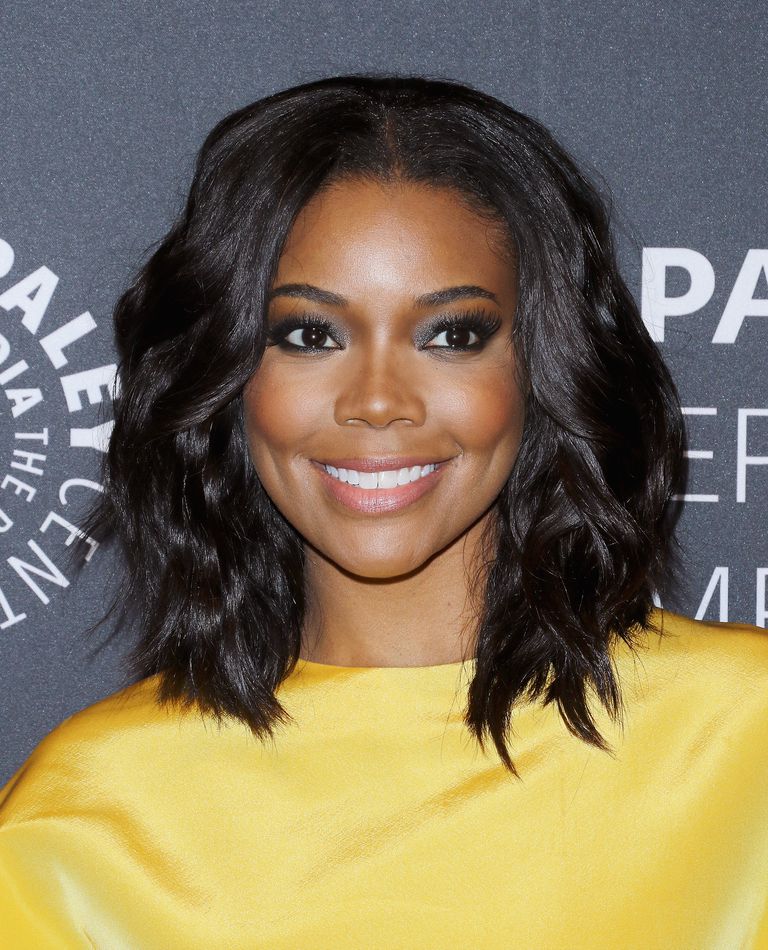 Half Up Half Down Hairstyle for Black Women
This style has been spotted on several occasions on the famous Hollywood actress Zoe Saldana. Now you can flaunt this easy hairstyle too if you want. You will need to curl your hair to make loose waves all through it.
The final step is taking some of the hair and pinning it up while leaving the rest of the hair open to fall on the shoulders. No matter what shape of face you have, this style is bound to flatter it.
Asymmetrical Bob Haircut
If simple is just not your style and you want to go a bit edgy on your look, you must try this hairstyle right here. It is a spin on the regular bob haircut as in this one, the hair is cut asymmetrically on the ends.
You need to make a parting on as much of the extreme left side as you can. Majority of the hair needs to be swept on the right side of your face. Tuck the hair on the left behind your ears and your look of the day is done.
Medium Black Hairstyle with Layers
The hair is kept a little below the shoulder length with this one as that brings out the layers cut on the hair really well. A prominent parting right through the center of the head is a must when it comes to this hairstyle. This style comes with much love from the style icon Kylie Jenner. This speaks volumes about its trending factor.
Cornrow Hairstyle for Medium Length Hair
One of the most tried and tested hairstyle to get that funky look is the cornrow hairstyle. This one has stayed on trend for years and you can stay assured that this one will be in-vogue for many more years to come. Make tight and thick French braids across the entire hair to give it the cornrow look. It is ideal for both denims and dresses.
Prom Hairstyle for Medium Length Hair
This really cute hairstyle is the perfect one for the proms but you can try it otherwise in parties as well. The first step is brushing the hair with the parting on the left. The hair is taken to one side to neatly fold it in a bun.
A lock of hair is swept across the forehead like a bang. Make sure to put in some beautiful accessories to accentuate the look even further.
Casual Updo Hairstyle for Medium Length Hair
This updo hairstyle only looks complicated but is actually easy to make. Do a small parting to the left and the hair on both sides of the parting needs to be rolled and pinned behind your ears by using bobby pins.
The next step is pulling the hair together in a simple bun. You can go for any style of bun that you want to for this look. Wear your hair like this for parties and luncheons.
Black Bob Haircut for Curly Hair
The old-world charm of this hairstyle is hard to miss as it reminds you instantly of the eternal Holly beauties. Your amazing curly locks needs to get cut into bob haircut for to get this look.
Keep it messy and fun for this unique style and be the center of attraction anywhere you go.