A majority of women have thought at some point in time that what blonde hair would look on them. Going full blonde is quite a brave step to take, and many do not like the full blonde look on their hair.
The Blonde Highlights are ideal for situations like these. With these highlights, you can realize your wish of adding blonde hue to your hair without the worries of the color not suiting you.
The truth is that highlights that are done in the blonde color suit every woman. You just need to choose the shade properly. Both ombre and balayage styles look great for blonde colored highlights.
Keep your complexion and natural hair color in mind when you go for these highlights. Also, an interesting fact is that lighter blondes take a longer time to get done than the deeper blondes. So, think carefully about which one you want to get done on your hair.
35 Blonde Highlights For Women To Look Sensational
Golden Blonde For Long Hair
Medium golden blonde is neither too light nor too dark and just shines beautifully under the light. It is a great multi-tonal color that includes shades of honey, golden, brown that are all warm and natural-looking. This color looks best on fair to medium complexions.
Brown Bob With Light Pink Ends
Hairstyles with pink highlights are much liked by people. Thinking of pink, we usually imagine the barbie kinda look. Brown hair dyed with pink ends is another phenomenal combination. This color will give you a subtle pink look.
Sunflower Blonde
Sunflower blonde is a bright and vibrant color that will give you a cheerful vibe and make you smile the whole day. Moreover, it is not much dark and will not make your skin look washed out. If you're looking for a fresh look at the start of summer or spring, then this will be the perfect hair color to go with.
Curly Pixie With Honey Blonde Highlights
Honey blonde highlights combined with curls are the best pair among blonde highlights for women. They create a gradient and amazing effect, giving a natural finish to the hairstyle, which looks flawless. Moreover, this color goes well with medium to dark skin and a round face.
Buttery Blonde Highlights
Buttery blonde is a warm and natural-looking color that features a mixture of both cool-toned and warm highlights. This hair color will go well with fair skin tone and medium-length hair. Combining these highlights with some hair accessories like a tiara will give you even more beautiful and queen-type looks.
Bronde
Bronde is an exceptional choice that can go well with all skin tones, depending upon the particular bronde shade. The ash bronde depicted here will be best for medium to dark complexions that will give a natural and gorgeous look to your face.
Medium-Blonde Highlights For Women
By playing with warmer shades, you can bring some volume and color to your hair. This style is perfect for someone who's not ready to get a complete blonde look. This color will freshen up your look and create a lightning effect that flows through your hair strands.
Dark Blonde Curly Highlights
Adding some blonde highlights to your curly will give you the ultimate stunning look. In addition to giving you a natural look, these highlights will also provide warmth and depth to your beautiful mane. This color is best for medium to dark complexions and gives a bold and stylish look to the wearer.
Black Hair With Warm Blonde Fringes
Don't want to go for full transition? Then, this is just the perfect option. Go with these blonde highlighted fringes that will not only change your look but also save you from a lot of hair damage. In addition to this, the look will go best with a short bob cut.
Light Pink Tinted Blonde
Pink tinted blonde is the one hair color that will not give you a funky but also a classy look. This hair color will go well with an ear-length bob cut and give you a bold, independent, and sexy look. Thus, if you're looking for a dramatic change in your style, just go with this option. It's a must-try blonde highlight for women.
Brown Hair with Blonde Highlights
Blonde highlights are a great way to add some flair to your regular brunette hair. There are two ways to go when it comes to blonde highlighting on brown tresses.
You can either go bold or keep it neat and simple. This one has taken the second route of keeping it simple and sweet. The curls at the bottom make the highlights blend in even more.
Icy Ash Blonde Highlighted Hair
The icy ash blonde highlights look great against the dark color of hair. The best way to go is taking the ombre route of hair coloring.
Keep the color of the hair deep brown on top and let it gradually merge into the icy ash color. This is quite a daring highlight to opt for. However, it is preferred by many as it works for all lengths of hair.
Caramel Blonde Highlights
The caramel blonde highlights against a brown base offer a soft and pretty kind of look. This is a sophisticated way of adding highlights to your hair. It is safe for work too.
So, you no need to think twice before heading out to work the next day. Those who prefer to keep it subtle with their highlights can go for this balayage style of highlights.
Light Brown Hair with Blonde Highlights
Go bold with your hair color if you have naturally light brown hair and want to opt for blonde highlighting. Pick ash blonde or icy blonde as your color of choice.
Go for an ombre but make sure that the color transition starts at the crown itself and not below that. Let the light brown peek out against the light blonde shades and look super stylish.
Peekaboo Blonde Highlights
This style is just for you if you are someone who is not yet ready to go into full-fledged highlighting. For the ones taking baby steps into the world for blonde highlighting, this will be a top choice.
Get the blonde highlights on inner strands of your hair and not on the top. This way when the winds sway your hair as you move, the highlights will play peekaboo.
Face Framing Blonde Highlights
It is the way to go if you want the highlights that nicely frame your face and bring out your delicate features. These highlights are called face framing because the color is concentrated more in front of the face.
As you move towards the back, you see only a few strands colored in the highlight. You can think of this as a vertical ombre pattern.
Strawberry Blonde Highlights
The color strawberry blonde looks really vivid and vibrant. This is the kind of highlight that makes you stand out from the crowd. It gets even better if you already have light blonde hair color.
When the strawberry blonde highlights are blended into the light blonde hair color, the result is pure magic. You will love this look on you as it will suit your bubbly personality rightly.
Icy Blonde Highlights
The fact that you can go edgy with blonde highlights is proven beyond doubt by the icy blonde highlights. Just put the streaks of whitish blonde color in thick strands all across your hair.
You will need to have dark colored hair for these highlights to be discernible properly. So, those with a natural light color of hair will need to get the hair coloring done first.
Light Blonde Highlights
The light blonde color of highlights has been a classic favorite among women across the world. This is because of the fact that these highlights suit all kinds of skin tone and facial shapes.
It is both safe for office and great for parties. Here, the light blonde highlights have been done on a light-colored hair to bring a nice balayage effect to it.
Sun kissed Blonde Highlights
The natural, sun-kissed glow is not limited to your face only. The trend has spread to hair colors and highlights as well. The prime requirement for getting the sun-kissed blonde highlights look is shiny hair.
If you do not have enough shine naturally in your stresses, go ahead and apply some shine tonic. The final step for the look is getting the tresses colored in the ombre style.
Cinnamon Blonde Highlights
The amazing thing about the cinnamon blonde highlights is that they are really understated, but they look super fashionable. It is suggested that you should get the highlights like this one against brown hair color.
The length of the hair should end right at the shoulders or below it to bring out the exuberance of the rich cinnamon color. Get the highlights done on thin strips across the hair.
Cherry Blonde Highlights
Cherry blonde highlights are definitely unique in nature. The way this highlight has been used in this hairstyle makes it even more unique to look at.
The highlight has been done in symmetrical strips all across the hair. So, when you make a parting and brush your hair, the reddish highlights show up symmetrically on both sides of the parting.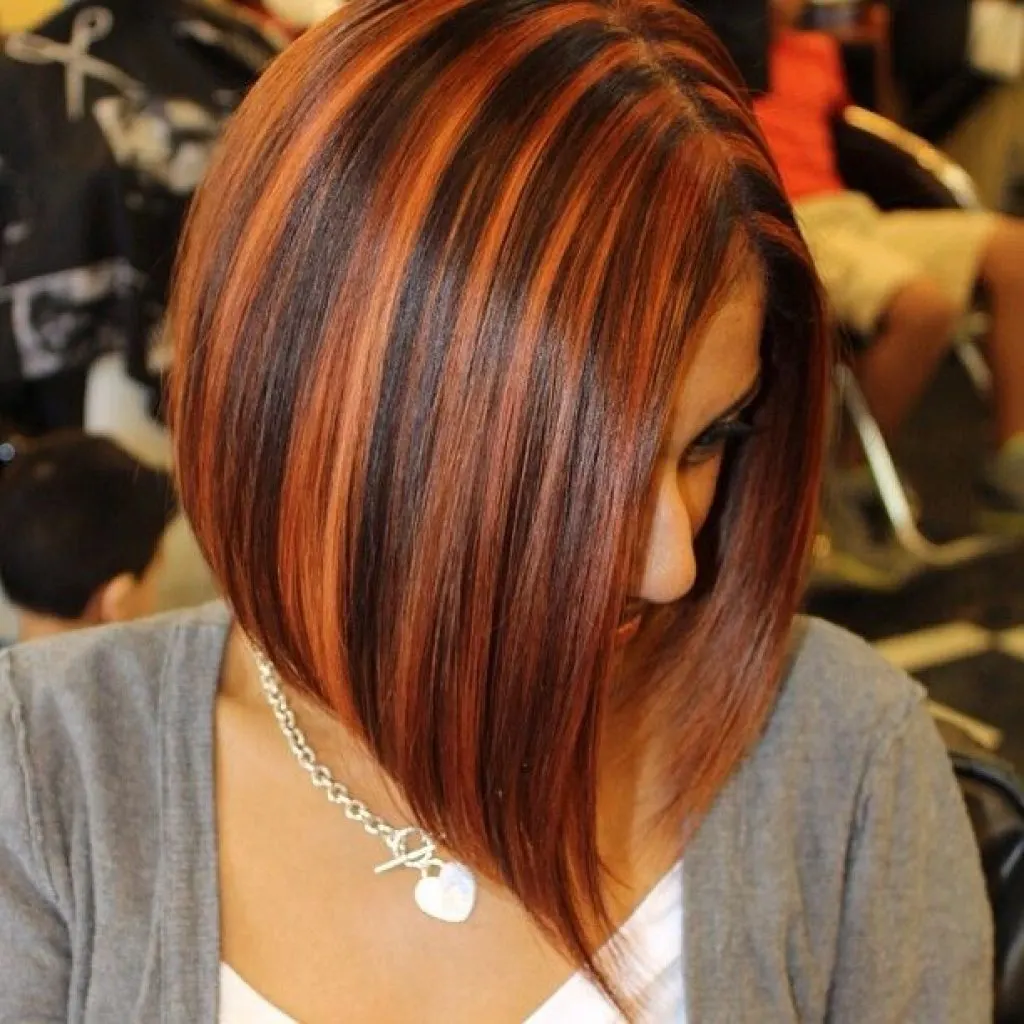 Honey Blonde Highlights
Honey blonde is a much-loved color of highlight among women primarily because it suits women of all ages. You do not need to be too young to carry off these highlights.
Here also the gradient style of hair coloring has been applied. In this case, you can start the gradient from anywhere along the length but make sure to put the highlight in thick strands near the face.
Platinum Blonde Highlights
Platinum blonde will be the hair color of choice for the ones who like to make a statement with their hairstyles. This color is certainly not for the faint-hearted. You need a lot of panache to carry it off.
The ombre style is followed in here but there has been a slight twist in this case. You need to take some strips of hair and make them ombre with the ends of the hair completely platinum blonde in color.
Golden Blonde Highlights
There are many ways to go forward when it comes to golden brown colored highlights. You can go balayage or you can make the highlights stand out. In this one, the highlights have been made to stand out clearly.
You must put these highlights against dark brown or dark blonde hair color. Make the highlights done for both thick and thin strands of hair.
Mocha Blonde Highlights
Hearing the word mocha surely makes you think of your morning coffee. The highlights color mocha is as much popular as that variant of coffee.
This is a kind of cool to neutral shade that really pops against dark or brunette hair. Get the highlights colored as heavily as possible all through the hair. Only a few strands of your actual hair color must be visible from the top.
Dark Blonde Highlights
Dark blonde is the right shade of highlight for you if you are a brunette who is looking to ramp up her hair game. The dark blonde color does not take too long to dry out and the hair takes in the color nicely.
This is one of reasons many women go for this color as the whole process is completed quicker than other colors of highlights.
Dirty Blonde Highlights
Fabulous dirty blonde highlights look impeccable as natural highlights on the dark brown base. It looks so great that once you get this style done on your hair you are sure to fall in love with.
This is an ideal way to brighten up an otherwise deep colored hair. If you feel that your hair has been lacking the zing lately, try these highlights for a change.
Buttery Blonde Highlights
Buttery blonde highlights are classic which means that its appeal is here to stay for a long time. The warm hue has been adored by women. It is easy to maintain.
The other good thing about this is that it gives you a natural and lived-in look. It does not seem like you have got work done on your hair. That is how seamlessly it blends with your naturally dark blonde hair.
Silver Blonde Highlights
The silver blonde is the type of highlight which is more of the cool-toned kind. The stark silver color looks best with lighter complexion. The dark-skinned beauties will need to find a bit of the darker variant of this hair color.
There is denying the truth that these highlights look really funky on everyone. Just make sure your light brown hair color is visible under the silver highlights.
Beach Blonde Highlights
As the name suggests, this is the highlights that looks like you have spent your days on the sand, under the sun, and with loads of fun. It is mix-up of various hues of blondes together as highlights.
You will not be able to make out a single color of highlights in here. There are yellows, reddish, and platinum hues all put together at once.
Bombshell Blonde Highlights
Bombshell blonde highlights will make you more like the sexy bombshell that you are. When done against a dark hue of hair, it is bound to be owner's pride and onlooker's envy.
It is one of the best examples of balayage style of highlighting. This one is for you if you want noticeable but not chunky color on your highlights.
Soft Blonde Highlights
A big advantage of placing soft blonde highlights on brown hair is that it makes the hair look thicker than it actually is.
The highlights have not been done only in strips in here. Instead, there has been kept a contrast of strips of color with the ends of the hair completely made soft blonde.
If you are skeptical about how highlights will look on you, go for this one. you will not regret it.
Copper Blonde Highlights
The redheads and the can revel in these highlights. It looks like this has been tailor-made just for these two hair colors. The ones with naturally light blonde hair color should steer clear of these highlights.
Make the copper blonde highlights done in both thin and thick strands of hair. No need to concentrate the color at the ends. Make it prominent only in the strands.
Rose Gold Blonde Highlights
This one is for you if the color pink makes your heart flutter. The rose gold color does not last long as hair color so it is best to use this color as a hair highlight.
Do not overdose on the color for this look. Use it sparingly on only a few strands here and there. Just let it peek through your light blonde hair color.
So, here you have twenty-five ideas on Blonde Highlights done against all sorts of hair color and skin complexions.
You are sure to find your type among all of these. Get that one done on your hair and let your gorgeous tresses do all the talking when you step out in style.