What can be better to start the fall season with a fresh haircut, as fall is all about the new fresh look? Fall and the new beautiful change are synonyms, and getting a new hairstyle will simply change your look and enhance your personality. As the air turns crisp and the leaves change color snip off the dead ends and opt for a beautiful new hairstyle. Opting for a new hairstyle or a new color or a new cut for this fall season for your beautiful long tresses is easy with this article as we have compiled a few of the hairstyle options for this fall.
15 Most Beautiful Fall Hairstyles for Long Hair
High Bun in Open Tresses
If you have long tresses and want to create a dramatic look without going overboard, then this hairstyle option is just for you. On your long hairs that are in the brown shade with hues of blonde shade take a few strands and tie it in a bun. Let a few strands to fall on the side of your cheeks to get a dramatic feminine look. The remaining strands will fall on the shoulder from the sides, which will take the whole look to another level.
Subtle Layers
Multiple layers in the bottom with the complete lengths in soft long waves is the best way to get on board with the layer cut without making the complete look to get too overboard. The lower ends will have small layers, it is dramatic style as the texture and length for this style does the magic a simple and elegant style that will be created in just no time, but it is only the naturally good quality hair that will make it possible for creating the style.
Choppy Layers with Ponytail
A type of layered cut, choppy layer cut includes a lot of layers and leaves, thus making the style look shaggy and bouncy. If you have fine long hair, then it is the best bet. The choppy layers will make the hair look fuller and voluminous and add the feathered texture to your hair. If you have straight hair, then the style will add more definition to your mane. This is perfect the best option for long thin hair. It is a very stylish haircut that will completely transform your personality. The hair can be done in a fuller pony or a messy braid.
Long Soft Waves
Side parted hairs that fall neatly beyond your waist and are frizz-free is definitely a sight to be cherished. The style is classic and evergreen. It adds versatility to your appearance as you can let it open or braid it or simply tie it in a bun the length and simplicity of the style helps you to accomplish any style, with great ease. Put side pins to enhance the look. Use simple stone studded or glitter pins to add bling to your simple style. For holding the hair in place use serum or any spray.
Long Cascading Curls for the Best Fall Style
Dark black roots with ends in brown and chestnut hues and curls is a style that will create a no-fail look. It is a ravishing style that can be done at home with hot rollers in just no time. The curls are rolled outwards, and this gives a very stunning look of feathered style. The style will prove its versatility as can be tied in amazing styles however, tying it in a low pony or a high pony will look the best.
Rose Bun Half Ponytail
This is a style that will get all eyes on you. Simple and subtle it is a style that will be done in just a few minutes, and the messy look will be an advantage, as even after the long day it will look great. Tie a half pony in your long hair and with few strands make a rosette at the pony and for the lengths let it fall in curls, thus a very pristine style that will look great both for parties and casual days as it fits both the occasion. If you desire to add some more bling opting for floral or stone studded pins or tiara will be perfect as it will add to the look.
The Floral Beauty
The most stunning and out of the world designs can be simply created by flowers. Any arrangement and design done by flowers can never go wrong to stun and amaze all, one such style has been done with beautiful and colorful flowers in this style, and thus it is just perfect for the fall season. In the soft curls of your hair beautifully weave the small buds of flowers, arranging to stand in a wreath around the mane and the ends with a bunch of flowers. It is the most elegant and feminine style, which will make you stand out of the crowd.
Feathered Layers
In the grey tones of hair, these feathered layers will never cease to attract attention. It is slightly on the short length side yet is long to be tied in different styles. The layers are done in hair add to the dimension and volume of hair. The hair has side partition and fall on the forehead and sides of the face till the shoulders, and little lower and this gives a frame to face and the upper torso. The style is best suited for thin hair, and it is a style that will add volume to your mane.
Long Finger Waves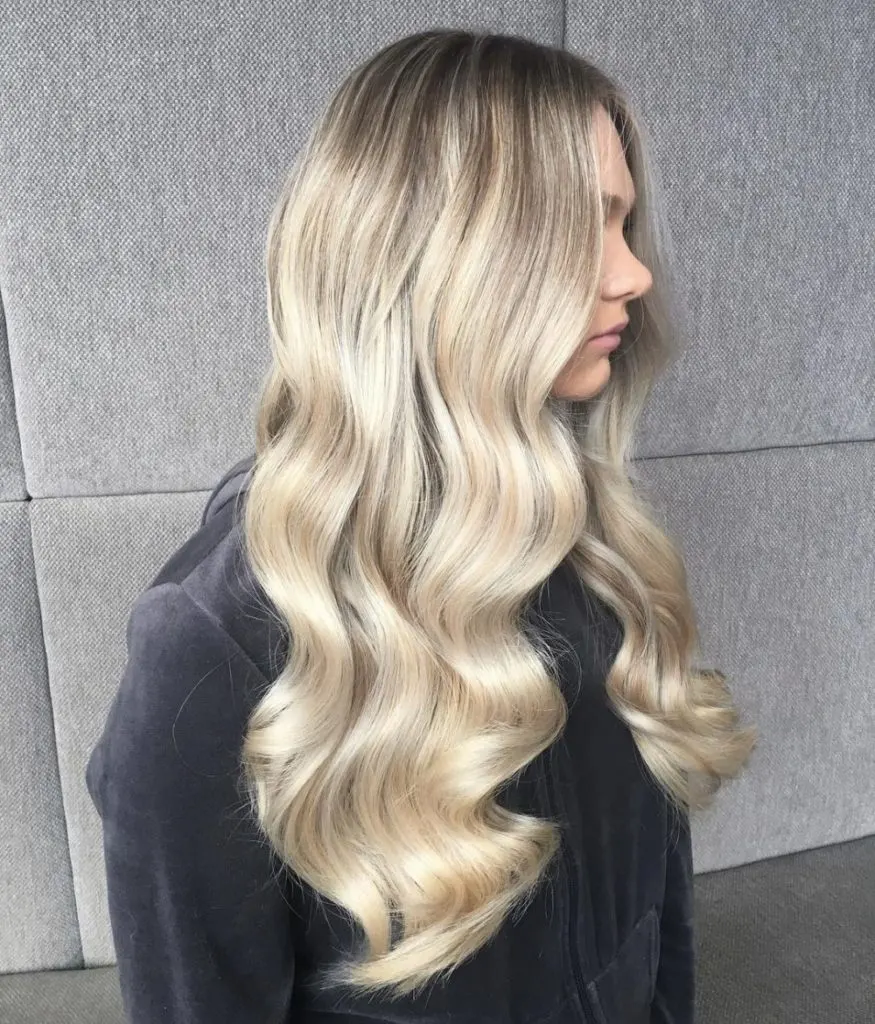 It is the new addition to the simple curling iron waves and curls. Middle partition hair with long waves is something that will break the monotony and make your curls steal the show with its simplicity. The style is all about the long tresses that are finger curls set with gel and setting spray. With hot iron just curl the hairs and let it fall on your shoulders from the two sides to frame the face add the dimension of simplicity with elegance and grace.
Cascade of Long Hair
A perfect style for the fall. Tie your hair in cascade, and the style is simple with the stylish braid. The braid will be done on the lower back, and the lengths fall in cascading tresses and look stunning. It is the perfect style for any get-together or party that will be held during this fall. The braiding will be done in crown form and will define the face as it will add a bit of volume to the hairs along with bounce. It will take off years and weight from the face due to this aspect.
Simple Rapunzel Style
If you have long cascades and heavy tresses do not do anything with them simply let it open and enjoy as they move. The style is classic and will require good quality hair for the style. Just tame the flyaway with gel or serum and the long tresses to fall on your shoulders till your hips and beyond. The style is feminine, and long tresses will need lots of maintenance, but it is totally worth the effort is given in maintaining them.
Knitted Pony Hairstyle
If you have long hair and are unaware as to how to tie them or tie it without spending too much of time and looking overdressed up then this style is just for you. Tie your long hair in a low pony and then tie a few knots ion the hair and leave the lengths of the hair in the pony. An effortless and elegant style that will make it easier for you to maintain your long tresses and look stylish on a daily basis. Use a stylish pin to hold your pony. It will take less time to tie the hair in this style but will look smart and ready for any occasion.
Jet Black Ponytail with Bun
If you are the one who likes the roots of the hair tightly, without any frizz, and in a simple straight pattern, but the ends in waves, then this style is just perfect for you. The jet black hair that is tightly tied in a high pony has curls in the lengths. The pony has a small puff and kind of it is a top knot. Again as the wavy pony will be too heavy to manage it is again tied at the nape of the neck. The striking feather is that the same ribbon is used twice to tie the pony, and this makes the style all more gorgeous. An exquisite style if you have long thick hair, and you lack time to tie it stylishly.
Very Loose Braid
Tying hair in a loose braid at times looks nice. Tough not a very neat style but definitely a very relaxing one. Lets the hairs on the roots lay loose and from the nape of the necktie it in a loose messy braid very stunning and refreshing style for the lazy day. Will not need any styling or holding or equipment to tie the hair in this style. Rather it is the go-to style when after a long time you are tired of your long hair when kept open. The best part is that with such long hair tied in a loose pony, you can simply doze off to sleep. It is a must-try style for long hair girls.
Cornrow Braids
The best style option for long hair as tied in cornrow braids they are easy to manage, style, and clean. Very thin braids are done in side-parted hair, and a few braids are done in sideways to add dimension to the style. A simple and all-time favorite style, which needs time to do but once done goes for 2 to 3 months.
Long hairs are assets and enhance the beauty of girls but need to be maintained with proper care, diet, exercise, or they will lose their volume and shine. Maintain your hair and tie them beautifully to look like a diva.