For women, there are several hairstyles which are extremely easy-going as well as flattering in a way that they do not just stand as a trend, but even prove to be proper for different occasions. Out of the trendy hairstyles for women, one of them is the top knot, known to be prevalent nowadays as compared to its trend before few decades. The quickest, simplest and the greatest artistic knots are the ones that add the extra style quotient to the overall look of women.
It is extremely versatile and enormously pretty. Also,it is known that Top Knot Hairstyles for Women allows you to personalize your hair in different manners to express the individual style. If you are looking for few hair inspirations, you need to check out the subcategories of this hairstyle to enhance your look. Its styles assist you to get an idea of how to look creative. Let's have a deep look at the hairstyles.
15 Top Knot Hairstyles for Women – Look Modish And Marvelous
Half Up Top Knot
A surprising spin made on the conventional top knot is essentially the essence of the half-up style having bangs. It is known that a half-up is usually an excellent option especially if you possess thick or extra long hair which you prefer to wear loose along with amusing detail. You can simply try for this half up bun having bangs as well as a shiny cuff to improve your look. In order to attain a half-up topknot for long hair, you need to use bobby pins. Many experienced barbers make use of them to make the preferred shape of topknot after post the sectioned hair inside a loose bun.
Top Knot with Twisted Braid
The inclusion of twists within top knot is generally a decent protective option for style as it not just helps to protect the natural hair but even allows you to appear fabulous.Besides, they are extremely. Hence you would be capable of trying with diverse gorgeous styles mainly on a regular basis. It is known that Senegalese twists (or even rope twists) would work to retain the natural hair healthy in the absence of leaving your style. This hairstyle is essentially protective and regarded as a decent choice for females who wish to get a break from major styling solutions which comprise chemical and heat ingredients.
Messy Top Knot
The aspects like unruly brows, smudged shadow, strands in disarray are important to define Messy Top Knot. The exclusive part of this hairstyle is that it demands less time for polishing which leaves higher time for snoozing and schmoozing. While trying this hairstyle, there is no major complaint from customers.Besides, there is no perfectly-undone based mess like the topknot or messy bun. Also, the little natural bun which sits atop your head appears very fashionable and simple.
Bridal Top Knot
Set distinct by the quality of work as well as huge experience, the hairstyle is known to continue for decades. The reason is that it takes care of wedding looks and also appreciates to be a special portion of that special day. The aspect that it considers is the hair as well as corresponding makeup experience must be the greatest relaxing segment of it. Trough this Bridal Top Knot based hairstyle; women would have peace of mind as well as the confidence to look best in the crowd.
Top Knot Updo
Nowadays women have an excess of hairdos as well as styles to opt from,and this is commonly endless. This is the reason behind getting the correct hairstyle which could be essentially rewarding. The hairstyle adopts the unique technique of making a knot at the top side of your head. Besides, many factors that women or girls need to consider prior choosing for this hairdo could be tiring.
Top Knot with Layered Bangs
For women, it is possible that large forehead could turn as a pain occasionally as no matter what manner you style the hair, the pint is you inescapably end up appearing half bald. In order to resolve these issues, a top knot is made through the assistance of layered bangs on the head. It allows you to appear young and beautiful with least effort.
Asymmetrical Top Knot Look
This hairstyle is regarded as great as it attains two diverse looks and it is quite simple to pull off. All woman needs to do is to their hair upward. The hairstyle is so simple that even a small kid could provide itself this appealing hairstyle without being taught its technique. When applied to women, the top knot with asymmetrical pattern appears excellent and sophisticated. The hairstyle features smart, clean, and classy look.
Messy Top Knot Bun
Are you the woman who has almost no time to blow out the hair? Well, this hairstyle is for you. Just toss your hair strands insides bun. It is known that the amusing and simple hairstyles would assist you to drag off a last-minute appearance that looks fashionable enough for a workday at the office or even in the night in the city. The simple style accepts the typical high bun right from disorganized to fashionable. You just need to follow some easy-to-master type steps as well as use some bobby pins to make this hairstyle unique.
Sleek Top Knot
The sleek is considered as comparatively fun way approach as compared to other top knot based hairstyle.The sleek top knot based hairstyles are perceived on a number of occasions of red carpets. However,it is rare that we usually watch normal people pulling it off within the actual world. The hairstyle is an essence of rich look and not every woman go for it as only celebs like woman go for it. In this, there is a sleek approach over the top knot.
Top Knot with Side Bangs
Topknot hairstyle with the inclusion of bangs over the sides is usually an ideal solution to carry different types of hair. The hairstyle would not just make you well-matched with your hair appearance, but it would even offer the greatest delicate appearance. The artistic based topknot hairstyles are very famous nowadays. The hairstyle works to provide you a neat as well as face free based look.
Braided Top Knot
Now any woman can make their top knot exceptional by addition of a braid. Some hair expert reveals about how to modernize the trendy style within simple steps in this hairstyle. To adopt this hairstyle, you can begin with naturally textured based hair which was not washed for one day. For women having thin hair, make use of a salt spray or some texturing spray for adding volume. Later, just throw the head upside down and collect your hair over the crown. The process may seem lengthy,but it just takes few minutes.
Two Top Knot Buns
A top knot bun is usually regarded as fashionable hairstyle created from snaking your hair inside a bun made on the top side of your head. The look becomes enhancing when there are two top knots with buns. This adds extremely versatile appearance and can vary from smooth and stylish to untidy chic. In this, women are required pulling their hair into a high ponytail, and then wrapping their hair around the ponytail base, lastly securing it through a hair tie.
Top Knot with Full Bangs
If you admire an attractive top knot, then this is essentially an excellent hairstyle to try for the summer season. It adds an extra level of comfort and looks.Besides, it is considered as a fashionable approach to retain your hair up as well as off your shoulders and neck. Most women admire the way top knots including full bangs to get styled to appear casual for shopping or more sophisticated for a formal day.
Top Knot with Long Wavy Hair
Based on usual findings, women having lengthy and curly hair usually go for this hairstyle. This is because the top knot is such that it is made convenient for long and curly hair. Also, many women have already found some rapid and simple ways to make this top knot. Through lots of diverse variations, women could go for you could new styles. In this hairstyle, the essential aspect is how you part the hair. This is because that aspect is frequently overlooked.
Sleek Messy Bun
Nowadays Bun hairstyles with sleek messy style have been in fashion since long especially among school and college going girls. Irrespective of how many awful hair days woman face, it is known that a messy bun could prove to be the savior on all such days. Besides, women could try with diverse buns as well as team it up through chic accessories. This is true especially when women need to rush from office to a party. The reason is such buns would let you look beautiful with no additional attempt.This hairstyle is must go for women of different ages.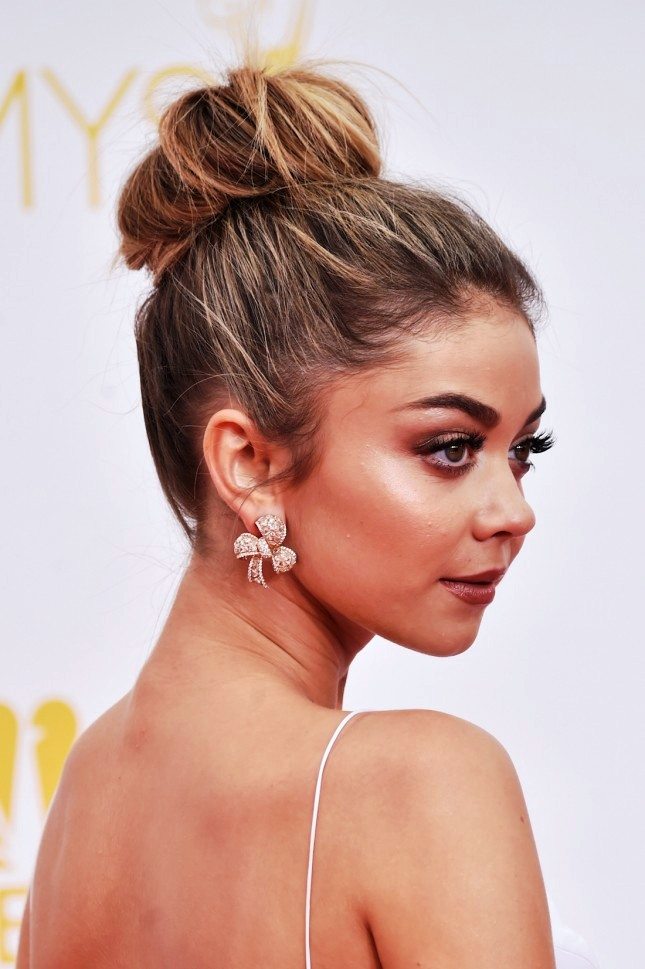 Top Knot Hairstyles for Women adds mystery to men in a way that it becomes almost impossible to guess how they did it. Most hairstyles in this category are wonderfully messy through a teased and high crown bang, adding to the mystery. The hairstyles look smooth and inaccurately messy simultaneously.