Currently, it is the greatest time to have a glance at the trendiest hairstyles for boys and haircuts for men. The essence of fashion for hairstyles is not limited to women.
It is known that in last several years, it is seen that there is a large renaissance in vintage based barbering styles as well as classy undercuts.
Nowadays, boys are turning cautious about their looks based on haircuts. They focus on looking comfortable and attractive.
In spite of the large popularity of buns as well as shoulder-length hairstyles for boys, it is known that haircuts for boys stay as the 'reigning kings,' because of their clean cuts as well as specific styling.
The trend of boys adopting fashionable hairstyle is going, and you must look for Simple Hairstyles for Boys.
Now, more and number of boys have decided to create a statement and also make their signature styles for haircuts. Let's have a look at these hairstyles for boys.
15 Simple Hairstyles For Boys To Appear Personable
Straight Layered Hairstyle
Nowadays, layered hairstyles applied on straight hair are getting famous and trendy among boys. Besides, the hairstyle appears to be brand new; however, they have actually been prevalent since long.
Luckily, this hairstyle is such that boys could do it effortlessly and also they can achieve many things like razored, shag, wavy, asymmetrical or soft layers as well as the existing haircut.
The hairstyle is applied to long, medium and short hair. The hairstyle is very simple to get into a routine.
Short Spiky Haircut for Guys
At present, short hairstyles are known to be very prevalent, and the cause is they are essentially the coolest along with being convenient for boys. Boys usually go for adopting spikes when they have short hair.
This is because doing this would feel that it would recover the entire look. Typically, the hairstyle for boys is followed largely by few military related men.
In addition, the spiky based hairstyle has now advanced visibly via an ingenious spiky type of hairstyles.
Pompadour Haircut
A pompadour is right now trendy, especially for boys. In this hairstyle, hair is usually clipped close or even faded over the sides as well as the hair could be kept voluminous over the top.
The slicked back type of appearance is basically a jazzy quiff based hairstyle which appears decent on all the boys. It is known if you require a quiff based haircut that experiences new and diverse look, you can opt for the combed back type of pompadour which is certainly trending.
For boys, when the matter comes about haircuts which are pompadour based, go for adding length to face shapes irrespective of being square or round.
Messy Hairstyle for Thin hair
The messy hairstyles for boys can be convenient to those boys having short or medium-sized hair. This hairstyle is designed for thin hair, and it is found to be quick and effortless, yet conveying the style.
Few boys might study that messy hair through thin hair is connected to leaving your long or short hair back to its basic form.
Apart from that, the appealing messy hairstyles are mandatory to be provided with the direction along with styling to realize chic look.
Medium Long Hair
If you are looking for the latest look anywhere in the middle of the long and short hair, then you must check out medium long hair, suitable for school as well. It is known that medium hair is usually versatile for boys of all age.
A boy can avail undercut based hairstyle, and he could also leave the hair on top side a little bit longer slick provided on the back.
Alternatively, a boy can also wear messy and loose haircuts. The hairstyle adopts medium to long cut. Hence, there is some fading effect as well.
Short Edgy Haircut
The bad boy or edgy haircuts could be an excellent approach to highlight the style. The fact is edgy men's hairstyle is frequently very stylish and attractive, suggesting a trend of cool hairstyle for boys to attract women.
However, it is found that boy needs not to avail Mohawk or color their hair as purple to attempt an edgy appearance.
Whether a boy is searching for short or long edgy hairstyles, this cut, as well as style, are simply categorized by their divergence from the standard.
Low Maintenance Hairstyle
Boys may wish their hair to be fashionable, however as they have a number of tasks like writing assignments, going to gym and school, they usually don't have much time to devote to their hair.
Luckily, the low maintenance based haircut for boys is such that it needs less to no styling or maintenance. This hairstyle is such that it does not create any negotiation in matters of looks.
Additionally, they are simple to cut in the home; hence boys could save as well as time. They are also sophisticated in addition to being low maintenance type.
Hairstyle for Round Face Men
From all the face shape, it is found that round shape is most likely one of the toughest to manage with. In reality, the hairstyle for boys having round face shape adopts unique and fewer styles to choose (as distinct to boys having a rectangle or oval faces).
The hairstyle adopts a concept of combing the hair on shorter mostly over the sides and also they can be retained longer over the top.
Also, it comes to known the hair combed on the top side should have the proper volume to it and it should be styled up.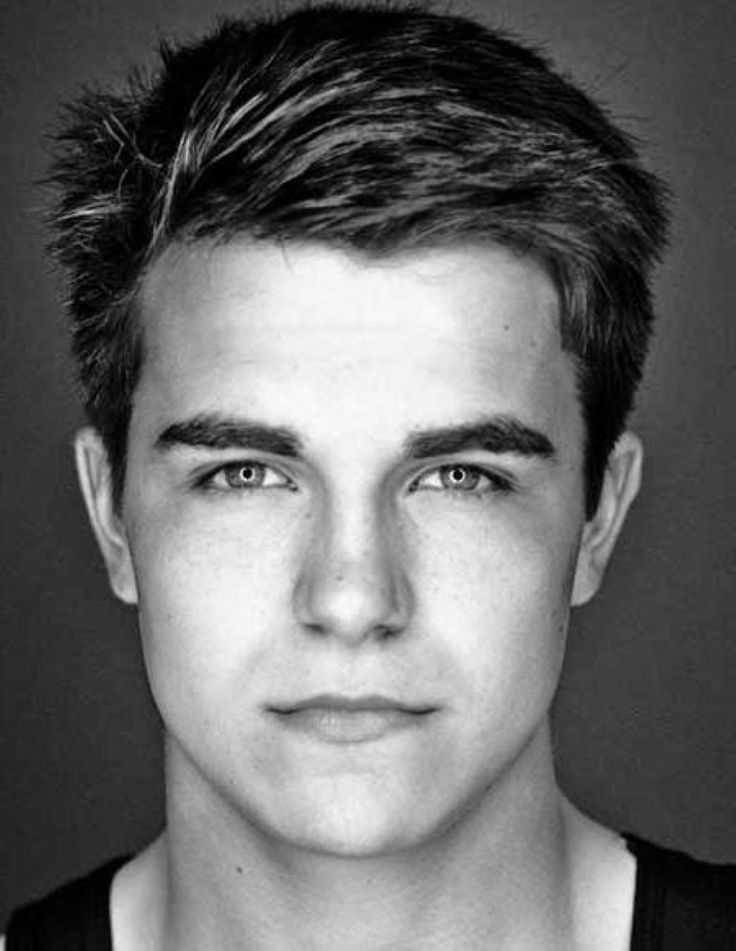 Messy Layered Haircut
The layered type of haircut continues to become more prevalent as trends for boys skew in the direction of longer type textured styles. It is known that layered type of hairstyles could aptly function with any kind of hair length and the cuts applied seem finest on boys with thick hair.
The layers are kept messy, and the reason is the layered hair could flawlessly adopt a turn by revealing excess scalp on boys having thin hair.
In order that boys go for the unsurpassed layered haircut, it is vital to add in a diversity of styles, like the involvement of the quiff, brush back, slick back, pomp, and medium length hair.
Hairstyle with Side Bangs
Nowadays hairstyles adopting bangs are turning famous among boys. The reason is they expose innocence and childish nature among boys.
In this hairstyle, bangs are applied over the sides, and gradually any boy begins to understand that this pattern of hair with side bangs is best suited for them.
Moreover, it offers a great amount of liberty in the assortment of snazzy based style. It is found that the medium haircut adopting a bang, suitable for different pattern hair is at present in fashion.
Hairstyle for School Boys
For school going boys, this hairstyle aptly suits their busy routine and work as it is conveniently shaped. This hairstyle takes into consideration aspect of the growth of the hair.
The growth of hair in school going boys is usually rapid, and this is the reason why it is vital that you select this haircut.
In this hairstyle, you can go for an adoption of the Crew Cut, Wispy, and Layered Fade, the Quiff, the Side Part Haircut, Preppy Modish, the Undercut, Spikes, etc.
Medium Simple Hairstyle
For boys, if the hairstyle is such that it is maintained simply along with length to be medium, ten it suits them better.
This hairstyle exactly suits this aspect, and it is best for growing the hair or getting prepared for a trim. It is known that medium length type hair could be styled different ways, and luckily in this hairstyle, you can also style your hair at any major curls, thickness, or straight locks provided you own the correct cut.
Everyday Hairstyle for Guys
Boys constantly focus on modernizing their hairstyle with the altering season. However, the present hairstyle is such that it is suited for all season and all head shape. It would create your appearance altered and polite.
It works to enhance your personality and also it looks soft. This pleasant and simple haircut for boys would enable them to alter their every day or even week in the lesser span. However, it is recommended to select it based on your face shape to get finest results.
Formal Hairstyle for Men
The hairstyle is such that it adopts a formal way of style, suitable for boys or men having a beard. It is best to try on spectacles.
Apart from being formal, it appears as elegant and stylish. Most of the professional men and boy urge for this hairstyle as it comes with a myriad of benefits. It is simple, easy to maintain and needs less time to make it.
Straight Hairstyle with Fringe
In this hairstyle, boys are required to cut one layered fringe chiefly for the appearance of fullness.
It is revealed that the fringe could work to complement additional coverage overhead and also functions to stabilize the overall look. In this, there is appropriate control of bangs and emphasize on the fringe.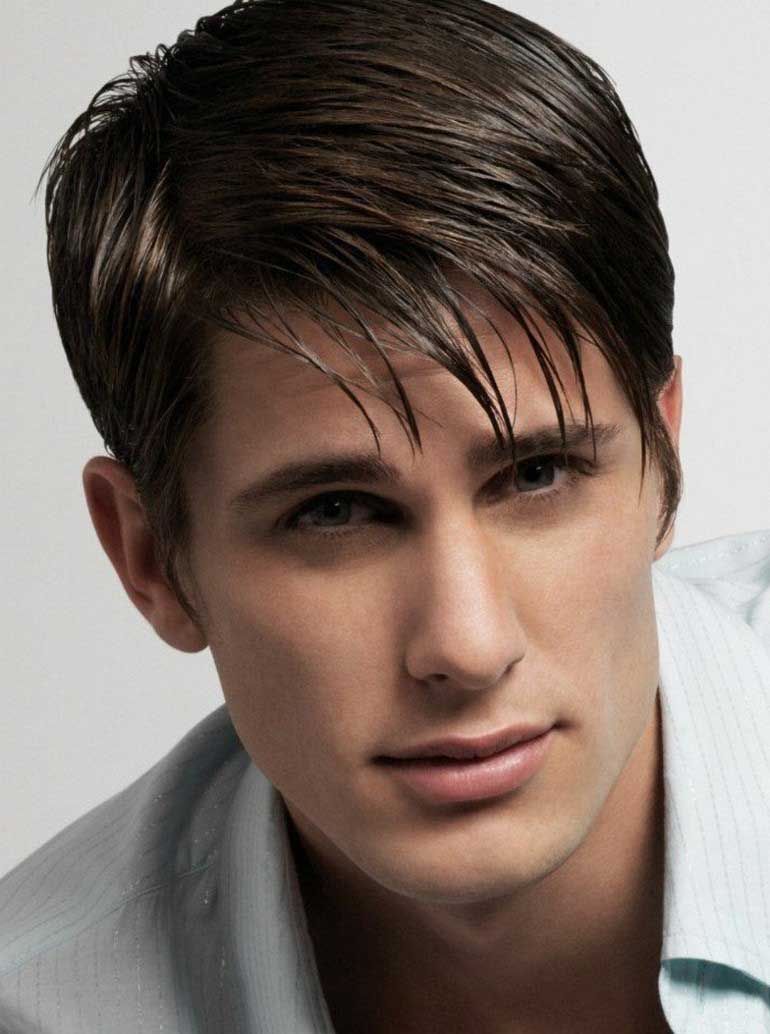 Simple Hairstyles for Boys are must to look for boys confused about what to try. For boys, these haircuts benefit from rapid and simple hairstyles to suit in school or in their play.