When it actually comes to hairstyles, men with curly hair struggles to find the style, which goes beyond their everyday curl.
But in recent times, ample of curly hairstyles have been popular as well. Numerous people along with the curly hair often wish straight hair, but for your kind information curly hairstyle looks absolutely gorgeous and stylish and it also provides you a bouncy look, which further enhance your personality to look like angel. If a man chooses the Curly Hairstyles for Men properly, then it will surely give a dapper look to them.
The Short curly hairstyles are one of a specific kind that can apply for occasions. This perfect hair style gives off the confidence. You can also pull off the short hairstyles often find that short, curly hair to look and feel absolutely attractive. Short hairstyles on curly hair are also quite easier to maintain for the ladies to take care of, which is however significant if you have a busy life.
A lot of people is there that have the short and medium curly hair can try some cool and unique hairstyles. It will provide you the attractiveness and modernize look as well. To know better, you can also take the help from any hair stylist as well.
18 Curly Hairstyles for Men To Look Charismatic
Men's Curly Wavy Hairstyle
Feel the wind blow right through your hair along with the minimalist curly top. Get the sides and nape buzzed or even faded to set off your long curly hair on top. Each and every male along with thicker hair can pull this look off, no matter the shape of your face. This Men's Curly Wavy Hairstyle also helps you to look absolutely stunning and gorgeous.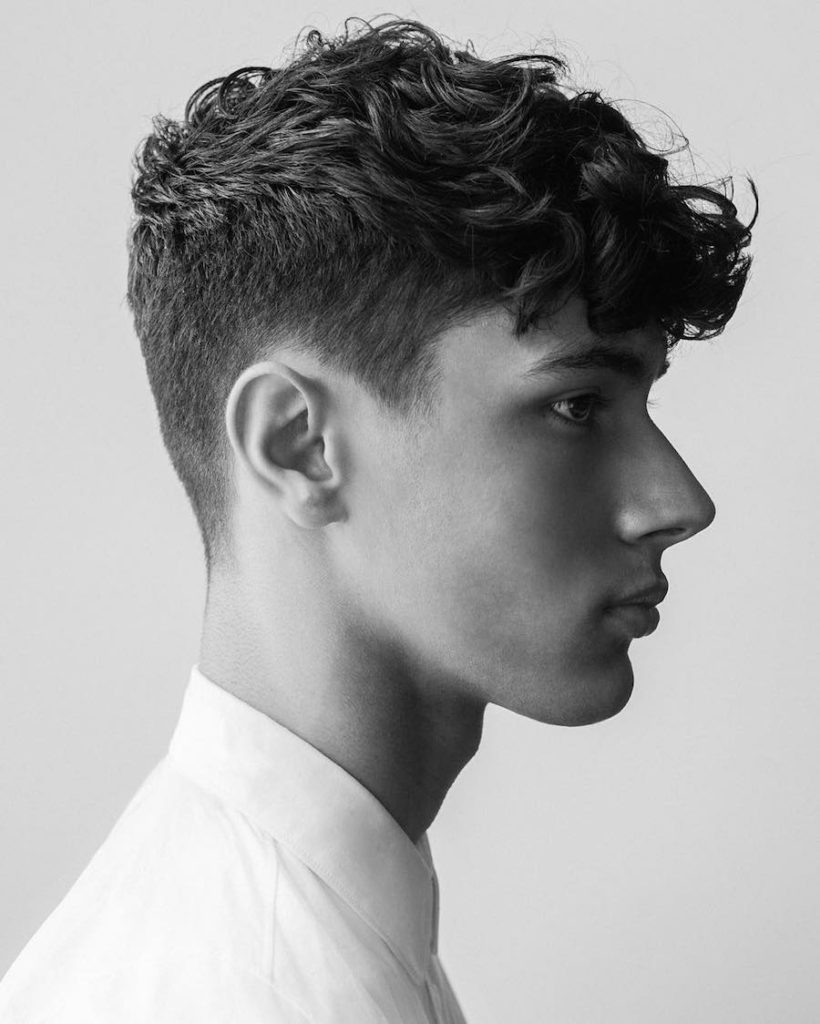 Curly Hairstyle with Undercut
Are you opting for the little messy and beach look? Then you can go for this specific hairstyle. This Curly Hairstyle with Undercut gives you little uneven but absolutely excellent look as well. Eventually, you can also sport this dashing look in any formal or casual party or even in any event as well. The little curls help you to look absolutely bold and attractive too.
Mid Taper Haircut with Curls
For the exclusive and ravishing style, try to part your hair to the particular side and then flip this all into a pile. This Mid Taper Haircut with Curls has gained an immense popularity amongst other cuts. For the maximum fashionable impact, try to pair the funky and crazy hairstyle along with the neatly trimmed beard. You can also sport this particular look in any of the event or occasion as well.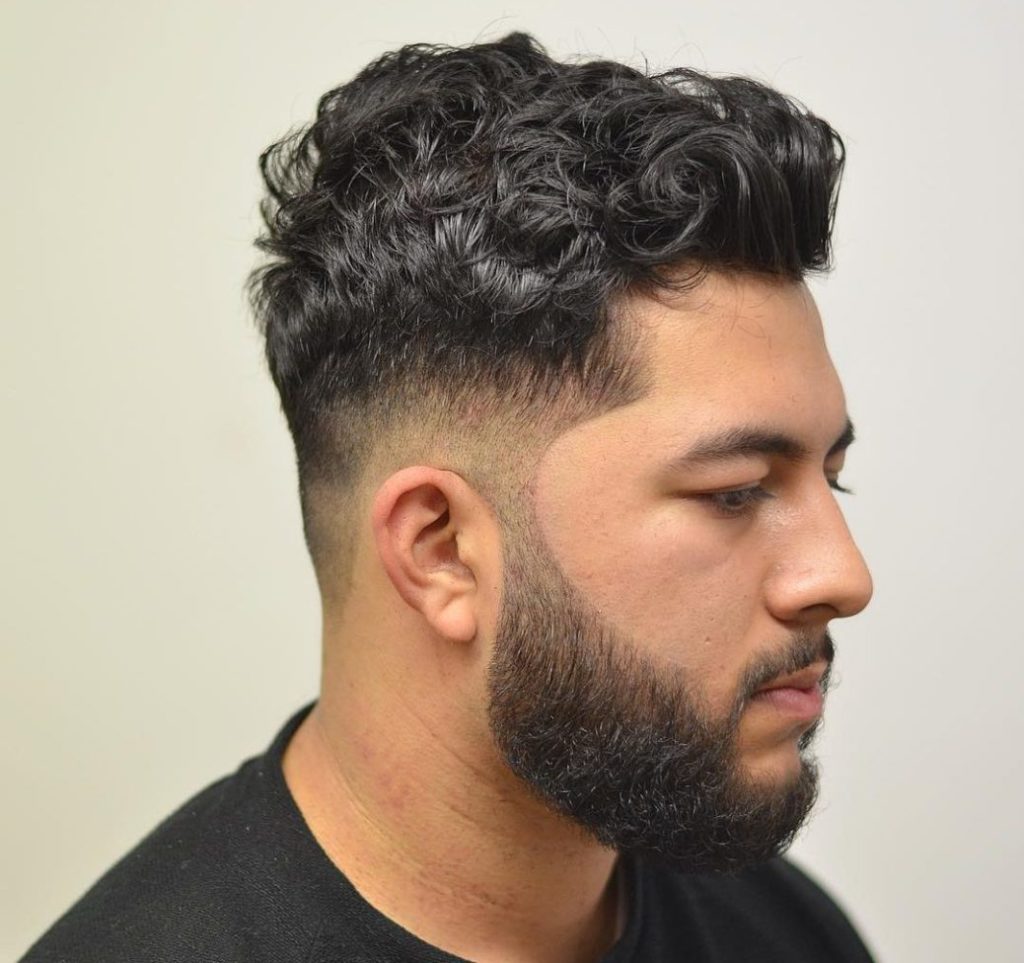 Curly Top Side Fade Hair
If you have been actually blessed with the little messy curls, then all you need is to choose the proper Curly Top Side Fade Hair. This particular hairstyle provides you a cute and absolutely attractive look as well. You can also blend into any of the punk band in this way. If you have a fascination to flatter your exclusive style and look, sporting this hairstyle will be an ideal option.
Fade Haircut with Curly Top
In recent times, a huge number of people are there opt for the finest and absolutely gorgeous look, for them, the Fade Haircut with Curly Top can be a perfect choice as well. Trimming both of the sides of your hair and keeping the middle hair absolutely flowing provide you the classiness and gorgeousness as well. This hairstyle has become quite trendy and gained an immense popularity.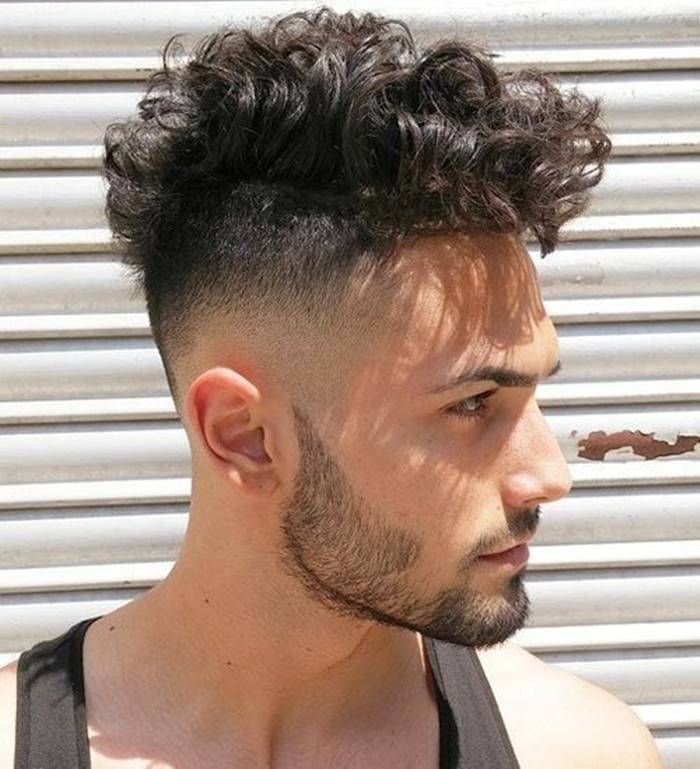 Side Swept Curly Haircut for Men
The look of the hipsters, artists and well-dressed men in general, the specific taper fade style is one of the classy, elegant and gorgeous fade haircuts. And the best part of all? This is incredibly low maintenance, only requiring some of the light styling with a bit of gel or pomade. The Side Swept Curly Haircut for Men helps you to look absolutely amazing, bold and attractive too.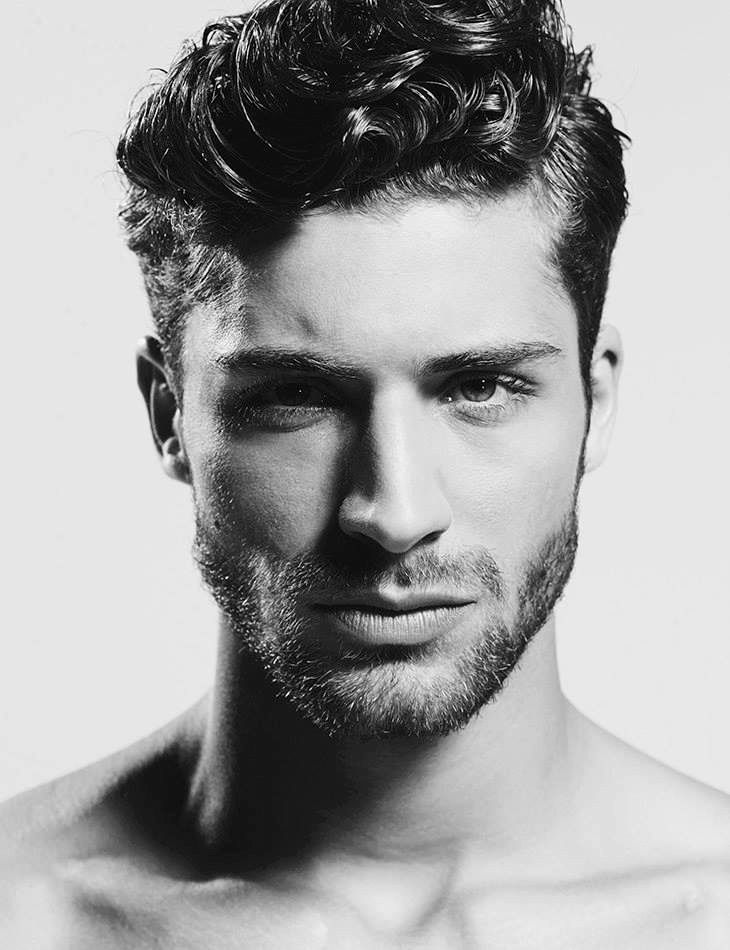 Long Curly Undercut Hairstyle for Men
Do you have a blonde, thick and curly hair? If yes, then sporting some amazing hairstyle can be your perfect choice. This Long Curly Undercut Hairstyle for Men has achieved a huge demand and acceptance and this bold and attractive look helps you to flaunt your beauty. This hairdo gives you some volume and it makes you absolutely classy and elegant.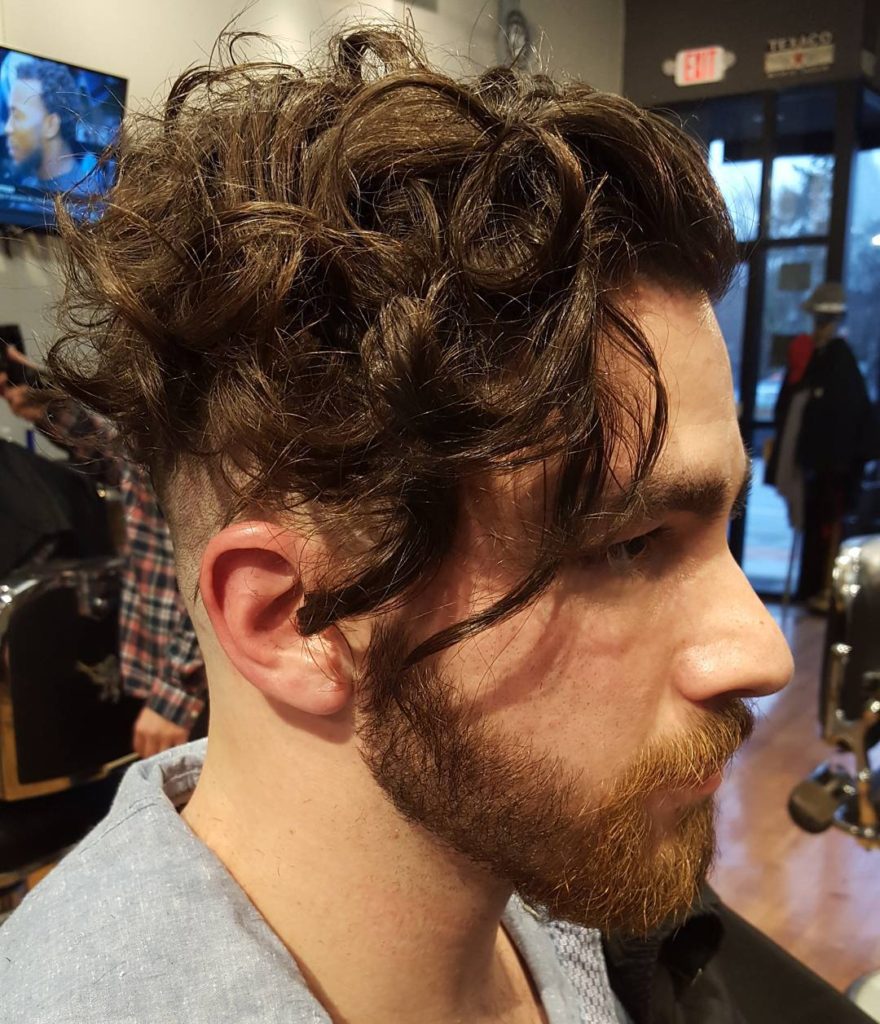 Long Curly Fringe with Undercut
Modernizing the curly hair can be actually tricky sometimes. But the deep mid drop fade along with subtle shadow effects also shows off your curls while still maintaining that cool-factor that you are opting for. The messy bevy of coils or Long Curly Fringe with Undercut brings the absolute fun texture that you should flaunt, not hide. You can try this beautiful hairstyle for any casual party or in branch with friends.
Medium Curly Hairstyle for Men
Are you opting for the finest and absolutely top-notch hairstyle? Then choosing the Medium Curly Hairstyle for Men can help you a lot in flattering your manly personality. Give your cut some height with Medium Curly Hairstyle for Men. It pairs well with the bald drop fade because it actually lets the dramatic top be the focal point of your look. It also provides a contemporary and polished look too.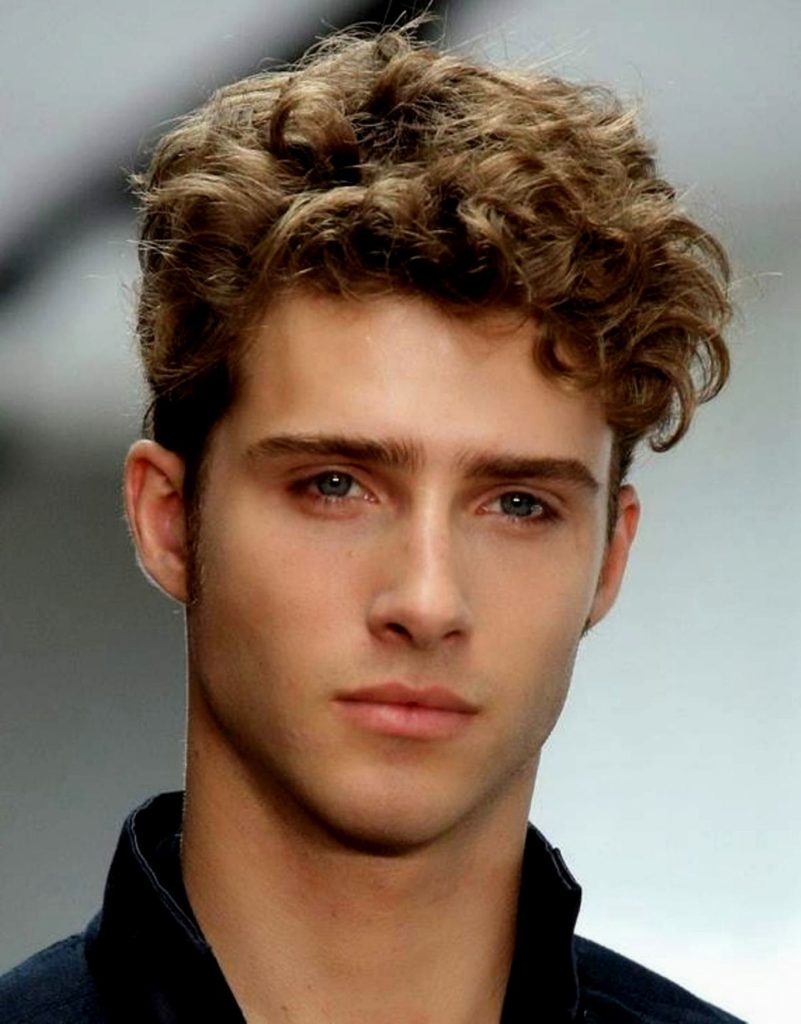 Messy Curly Hairstyle for Men
This specific look is absolutely amazing for men. Though, this classic and elegant look is not always perfect and appropriate for the daily look, but this has been considered as the finest hairstyle for men. The front and little uneven texture of the hair actually helps the face to look more vibrant and the blonde color also makes you look quite bright.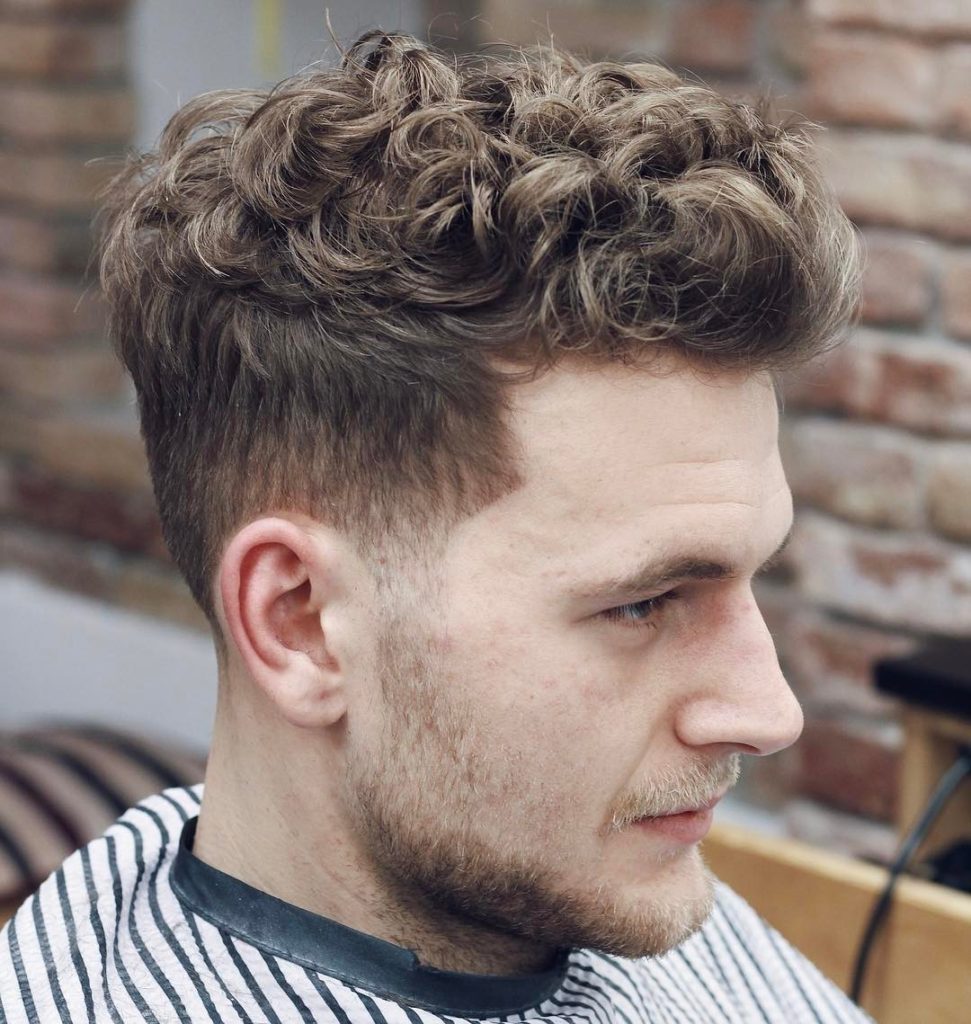 Short Curly Hairstyle for Men
The choppy and short layers bring texture to the straight strands, while also cutting back on their volume. The thick hair can be the hassle to maintain, so Short Curly Hairstyle for Men like the low drop fade takes the grunt work out of just getting ready every morning. Try to enhance the little mousse to hold the crop in place and you are good to go.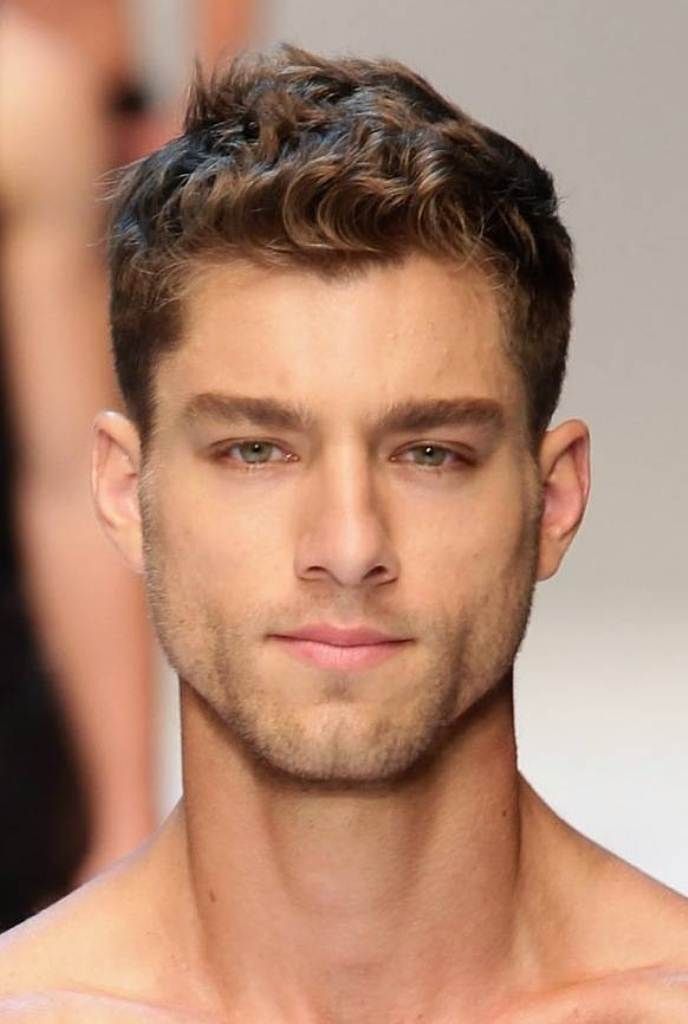 Fade with Curly Hair on Top
A high-top fade along with the drop is a go-to for those with curlier tresses. This Fade with Curly Hair on Top still shows off the thick textured hair, without even letting unruly curls get in a certain way. A clean hairline is the absolute ideal choice for the sophisticated finish. This specific attractive look is absolutely loved by men with curls and they can sport it any event or party as well.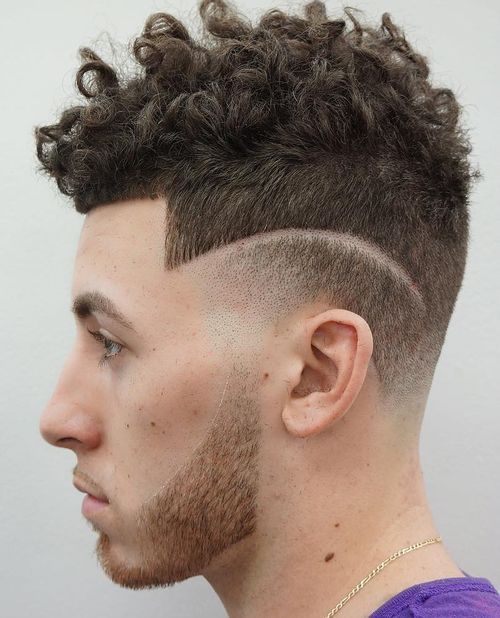 Long Curly Haircut for Guys
Boys who have the long curly hair always opt for the right and top-notch hairstyle that can give you the classy and modern look. And the Long Curly Haircut for Guys can be your ideal choice. The long curls are unabashedly bold. But there is nothing to just brag about when the style falls flat. To maintain yours, opt for the plenty of gel and apply this to your tresses in an upward movement.
Shoulder Length Curly Hairstyle for Men
The shoulder length curly hair is one of the striking and exclusive hairstyles that men opt for. Guys, who have the blonde and curly long hair, can choose the Shoulder Length Curly Hairstyle for Men, which will provide them a defined and rock star look. Though, this look is little messy and uneven but still it has the funky beauty and it delivers a classiness too.
Asymmetrical Curly Hair with Shaved Sides
This specific hairstyle is absolutely amazing for those men who have the blonde and thick brown hair. This is one of the elegant and stunning looking hairstyle, which is perfectly suited for every man. The locks cover the ultimate transition between the shorn layer as well as the top hair. The hair was also blow-dried and parted along with the short off-center parting.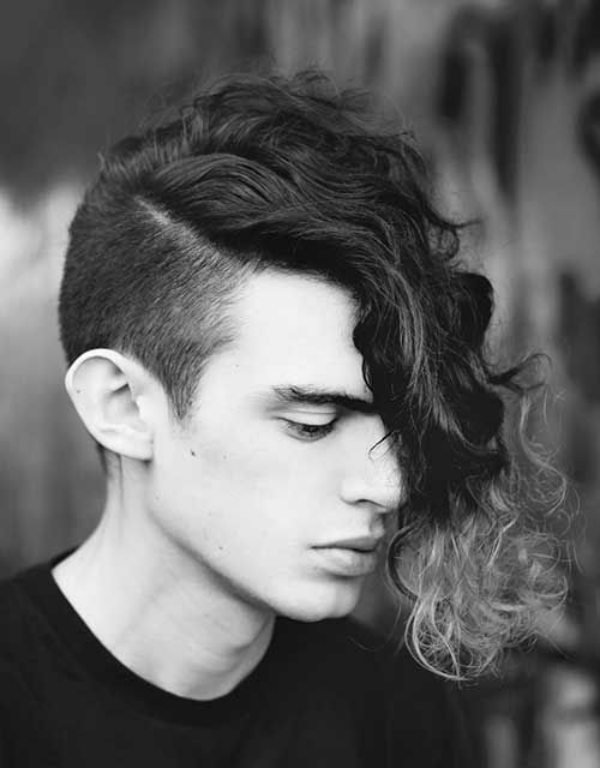 Curly Hair with Angular Fringe
When you choose the curly and blonde hair for styling, you need to make sure that you go for only the right one. The Curly Hair with Angular Fringe is one of the attractive hairdos that offer you the eye-catching and absolute smart look too. The faded cuts in one side of the hair add a cool and racing stripe style. It is fashionable and comes with a panache look too.
Long Messy Curls for Men
Sometimes the simple hairstyle can give you a smart and bold look. Trying a retro or little traditional look with a contemporary twist can help you to flaunt your beauty and bold personality as well. So, sporting the Long Messy Curls for Men you will be able to look absolutely smart and bold. The less maintenance hairstyle is always there to provide you some rough and tough look.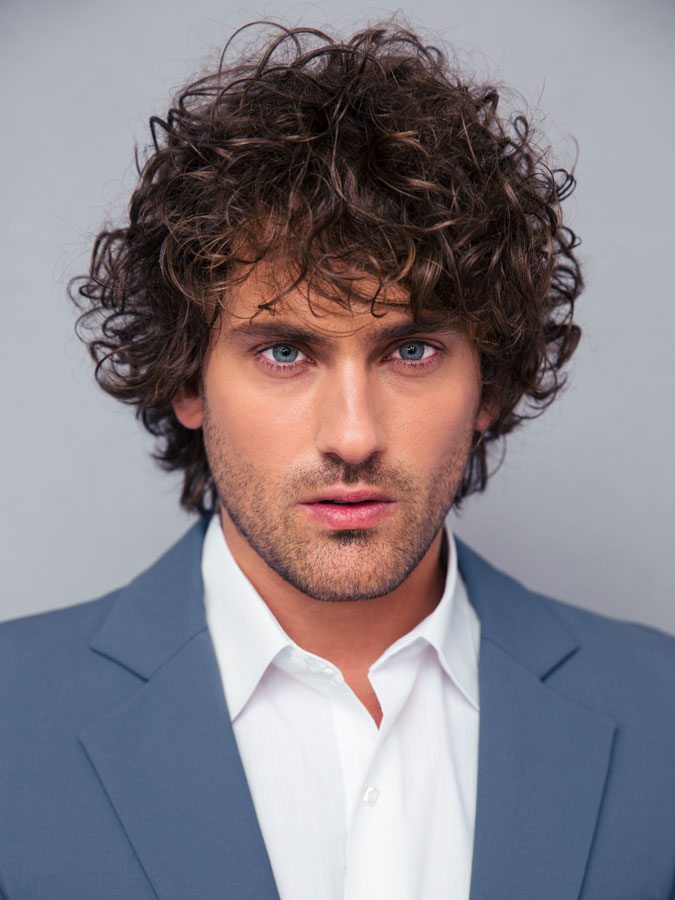 Men's Textured Curly Hair
If you are actually opting for the unique and exclusive style, which is only the bit edgier, this could be the look for you. Here you will see the smooth taper on the back and sides, but along with the bit more length under the crown and also medium length hair on top. The specific hair was also styled along with the deep side part and then brushed up on the other side that creates height.