Fashion is not restricted to gender. Whenever a question arises in the fashion front, the initial thought that crops up is about women. However, men equally love fashion and have a great taste and affinity in the same.
People might have a common notion that men's fashion is limited and has a boundary. Well, it is time to break the clutches of such restricted thought. Form attires to hairstyle men have a huge array of choices.
For hairstyles to there are many cuts of various kinds that can give men a very different look. The recent trend is to incorporate a lot of colors into the hairstyle. Colors like red, brown, light brown, blonde shades are all great.
Also, there are colors like blue, green, pink, and red and other such unconventional colors that look equally stylish and fashionable. For men, styling is easy as they have a short hairstyle and it is very easy to style their hair.
20 Hair Color for Men to Look Ultra Stylish
Grey Color for Men's Hairstyle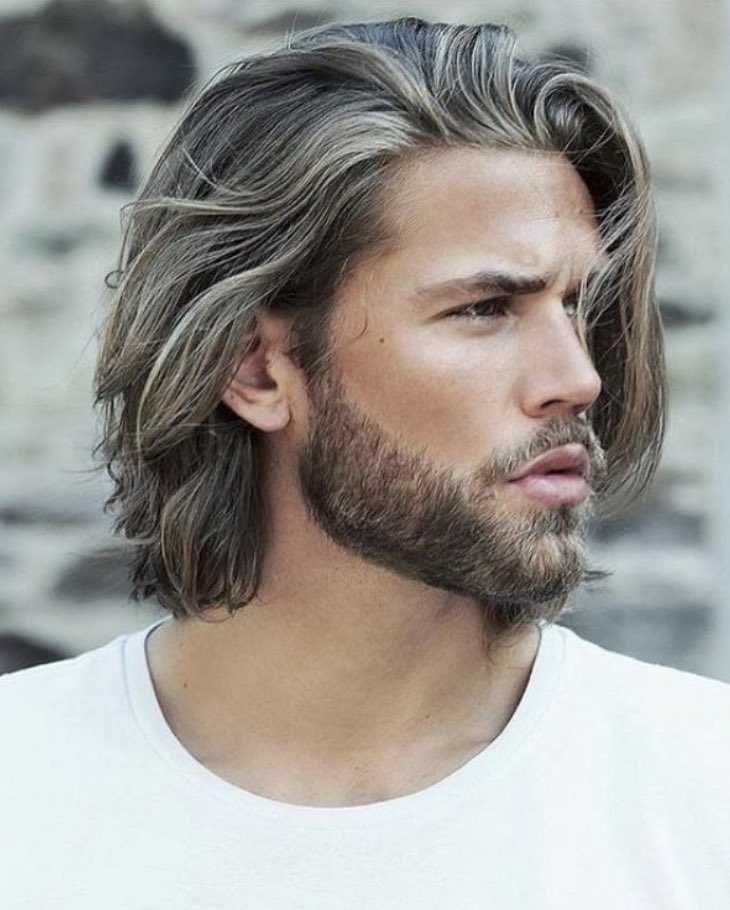 In this hairstyle style, man is seen to flaunt his grey locks. The hairstyle is very trendy because of the color code that is chosen. Search Grey undertones state to be a very bold addition to the fashion sense of any individual's personality.
More interesting is that the color is chosen such that it will the original hair color and the highlights will be in between. Fair men can choose this color. The color will suit their tone very easily. So if you are fair and have a chiseled jaw, then why not give this hair color a try.
The Royal Manor Hairstyle
The focus area is the Crown part in this hairstyle. The middle section of the head encompasses a very sturdy look. The rest of the hair has grey hued undertones, whereas the top of the hair has gold highlights .the highlight is done in such a way that it makes the center part a major point of attraction.
The spike along with the hair color and the highlights together make a lovely hairstyle for men which attract a lot many gases. For this color its ultimate impact tries the side of the hair narrowly and focuses in of the middle section on the upper part of the hair. The careless locks add to the charm of the personality.
Brown Color Hairstyle
One might think that for men, there are not many options to explore. However, that is not a fact men can explore more colors very easily than women when it comes to Fashion and styling hair.
Also, another interesting fact is that the color Brown is one very versatile shade. In this hairstyle part of the hair also adds to the style quotient along with the color shade chosen.
Pointed cut defies the look and the brown shade the entire style a very rich and sharp one. Style this particular number; you will be requiring a stiffening hair gel. You can also work up with lighter shades of Brown the entire look.
Chocolate Highlights for Men
The color chocolate have a very enriching undertone that can add glamour and style to any personality. In hairstyles for men the color chocolate is added as mayor highlights in the front, it gives a very subtle and sensuous look.
In this style has upon pompadour front area variant narrow strands are highlighted in the color chocolate brown. This style is simple quick and indeed very classy.
For this hairstyle, you require hair gel to stiffen the upper part and then close concentration on three highlights and stick it out on the front portion. Sure that the highlights are very easily visible.
Ombre Effect Hair Color for Men
In this style, the haircut is equally important as the color tone, which is chosen. Sure that the hair has quite a volume as this will be needed while styling the hair. Inside of the hair is shaving making an undercut, and a certain pattern looks stunning.
The other side of the hair is made to stick out with the stiffening hair gel in the form of a spike. The portion of the spike has a dark and rich brown color while the upper portion of the hair has Shiny Golden highlights.
Of the two colors from dark brown to lighter Shades creates the ombre effect. Hairstyle along with the color is very trendy nowadays.
Multi Colored Side Swept Hair for Men
This hairstyle is quite different full stop men who love exploring can surely give this style a try. The specialty of this hairstyle is that it incorporates a myriad of colors. Many of the men's hair might think that colors don't go unconventional men's personalities.
However, this notion is truck null and void with the help of this style. In this style, you will see that from shades of yellow reds 2 green and 2 gold in full combination of all the colors incorporated into the base Brown or black color of a men's hairstyle.
This hairstyle for men who love to explore in terms of Style and colors as well. Will portray a very graceful side of your personality. Not forget that colors add a playful note to your personality as well which is all the more attractive.
White Color Men's Hairstyle
One might think that black Brown are the colors that go well with men's hairstyles. However, in the recent fashion trend, the color white has been a trendy color to be sported. The color not only highlights the personality of being very stylish and cool but also men look intensely sensuous.
In this hairstyle, the feather cut is approached, where does the hairstyle has a leaf-like pattern where the white color highlighted gorgeously? The color white suits men of all ages. However, still, middle-aged men would look jaw-dropping handsome with this color for their style.
The Combination of White and Blue Color
In this hairstyle, the color blue is fascinating Li combined with the white shade. The undercut base the incorporation of the blue color as the head moves to the other side in a spike formation the color changes from Blue to White.
This transformation of color greeting shades the hairstyle of a very new look. Mention the style is very interesting exciting has a very cool Vibe added to the entire personality. You are one who likes subtle shades loves explicitly the color blue your bid to get on.
Pink Hairstyle for Men
People will think that pink is traditionally and conventionally a woman's color however fashion is all about trying something different and trying something new. Duration to the unconventional true sense of fashion lies in.
The color pink is taken and updated into the style very shortly and very boldly so that the look comes out very stylish. The undercut region has the pinkish hue while the rest of the upper part there has shades. The combination of pink and blonde color goes so well even with men's hairstyles.
Green Color Hair for Men
The Shade green in a stunning tone Mai Tai print Li that it is not a very good idea to incorporate the color green with men's hairstyle but on actual application will be observed that the shade only interesting but gives a very soothing and calm vibe.
If you are a person who loves to experiment then also get along color by dying your beard as well. The color adds a very graceful balance to fashionable Vibe of the look.
Light Purple Hair Color
In this hairstyle, what is the key attraction point is the subtle color. The color gives an entire look a very calm and soothing appeal. When it comes to men's hairstyle such feminine colors don't actually do so great.
However, eventually so called feminine light colors weave their charm and create a new look that is just extremely stunning in men's style as well and the proof is in the picture itself. You will notice that the sides are shaved and kept minimal while the upper portion is in focus and has a Mohawk kind-of spike.
The Subtle color throughout the hair exuberates a gorgeous appeal. For men who like light shaded colors can get this purple hue tone to make a very soothing style statement. A French beard would not look bad with this style either.
The Brazen Highlighted Look
In this look, the sides of the hairstyle is completely shaved off. The center part of the head that consists of hair with long locks has the highlighted parts. The brazen sides put a sharp contrast to the long locks at the center part.
Together the entire look that is created along with the hair color is extremely trendy and is quite versatile. For summers, especially this kind of hairstyle is a great choice. The brazen highlighted look is something that will make men look really good.
Fire Spike Hair Shade
In this hairstyle, a very bold person is portrayed. This hairstyle is for men who like it to be bold. The color tone used in this hairstyle is very unconventional.
What attracts more choice of the color which is a bright yellow mixed with undertones of orange together with the color yellow and orange combined, makes a very fiery and passionate combination.
Write at the front of the spiked hairdo in the center, such color combination definite Limelight puller. So if you are somebody who loves to experiment as the Gods to explore something new, then this particular color is definitely for you.
Golden Hairstyle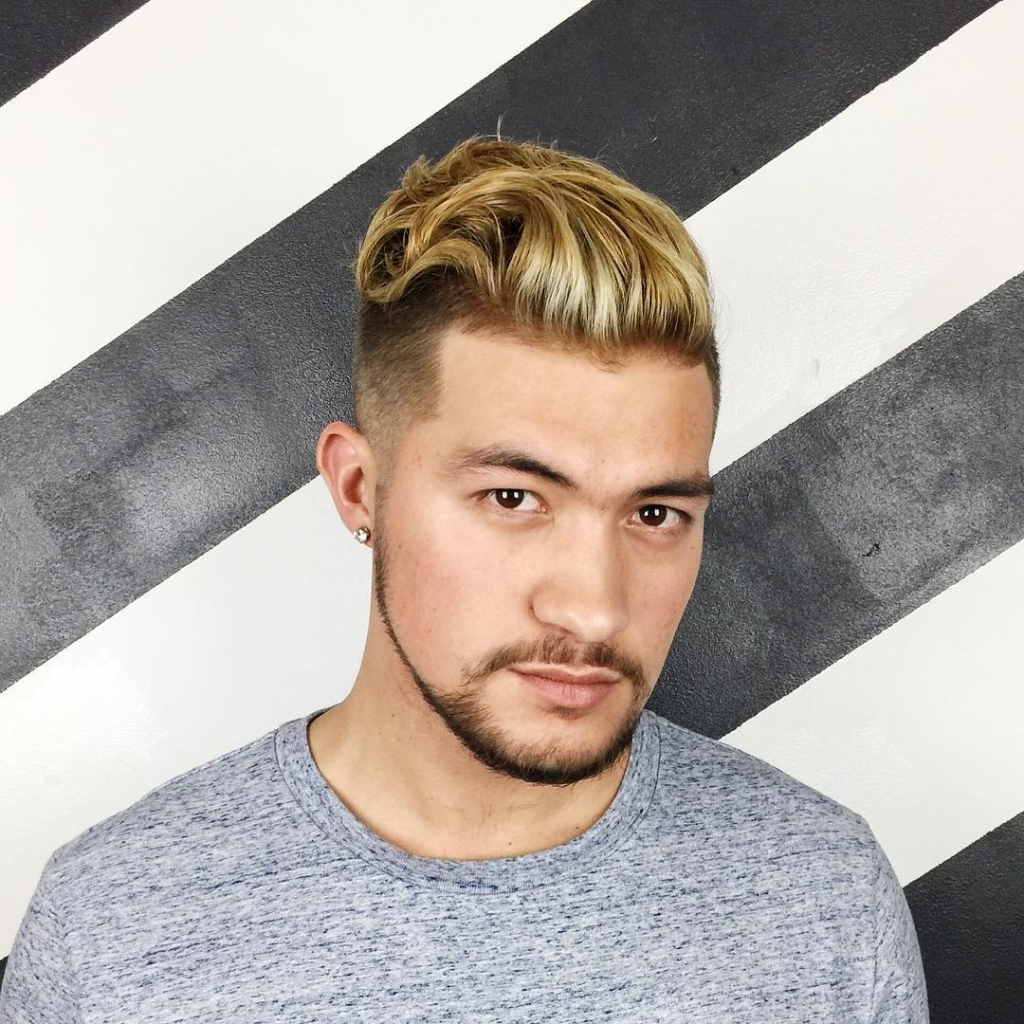 For men who love it simple yet want to be stylish a fashionable sense for them, this color is absolutely a safe bid. The golden color looks enigmatic when it is incorporated through highlights over the hair. The color golden adds a lot of glitter and glamour quotient to your style.
Men who like their style to be conventional can go for this look. Another style tip is that with such gorgeous gold in the hairstyle, you can pair up a bold black outfit that makes the entire look extremely classy. Try with the pair of goggles on and you will see how attractive the entire look comes out.
Classy Brown Shade for Men's Hairstyle
This particular shade is very common and can be seen wanted by men of all ages and sections. This hairstyle is for them who love it simple and classy like experiment marks with their style. This is for men who like it impactful and elegant.
As the name suggests the classy brown shade goes with almost any kind of attire that a man is trying to style up with and being such a neutral shade, it supports every kind of event one needs to go for.
It a dashing party event or simple dinner date with your special one search hairstyles never fail to impress the other.
Red Hued Hairstyle
Experimentation in fashion opens up a new wing of trends. Now, this hair color is one such trendy number in fashion for men's style that no one can disagree about its oomph factor. The color red has a very bold appeal.
The color is put as highlights on the very front portion of the hairstyle, and it looks very bold and extremely attractive.
Also another thing about this hair color is that it adds a note of Punk personality in the individual. The Punk culture displayed such portrayal of bold and vibrant color mark of carefree and expressive spirit.
Red and Yellow Hairstyle
In this hairstyle, you will notice that there is a mixture of colors and the shades are mainly very vibrant. The color palette chosen in this hairstyle is red, orange, yellow, and very minute shades of blonde.
Whether the hairstyle looks extremely vibrant and portrays a personality that is very playfully experimental. If your personality resonates with this style, then definitely, you are an individual who experimentally likes fashion. This hairstyle will never leave you out of trends for sure.
Burgundy Hair Color For Men
This color, when incorporated in hairstyles, be it for men or women, makes the look extremely rich and classy and has a very warm undertone to it. This hair color is elegant and looks great on individuals who love luxury.
This color has a very luxurious finish and adds a charismatic for you. With colors like burgundy, one can style up monochrome colored attires flawlessly. This is one again very conventional color shade which will never fail to impress you. This shade has a very versatile appeal that can be styled for many events.
Blue and Pink Combo for Men's Hairstyle
In this hairstyle, you will notice that there is a combination of two colors pink and the other is blue. This color combination, however, is not a very common functional shade that men usually choose.
However, when it comes to fashion and trend, you can sport anything and almost everything provided, you are confident to carry the style. This particular hairstyle along with the color shows that you have a very playful personality.
If you are in the game and want to do something new and trendy and fun, then portraying primary gender colors together for styling your hair is a great thing.
Light Brown and Pink Highlights
Light brown is such a color tone that when added in hairstyle, looks way too gorgeous for men. This color shade of light brown will make anybody look very handsome.
Again a very safe bed this color tone and soothing personality and Charm. If you want to style your hair elegantly, you should go for light brown highlights in front of the head full stop trust me the entire look will be very pleasantly attractive.
So now you see that there is so much variety in men's hairstyles by just incorporating a few shades of color. Colors add a great style sense to the hair and make men enter the fashion vogue. All the hairstyles mentioned above have their USP.
For men, when it comes to hairstyle one thing is true that not much can be done with tie-up or hairdos unlike with women. So all the men out there who want to try on the hairstyles along with the new color shades there are various styles mentioned above.
The best part about these hairstyles is that they hold a lovely note and have a huge hand in making men look extremely handsome.