Prom is one of the foremost day in any girls life, and surely one to remember. When preparing for your prom, there is nothing more important to think about.
The only thing that matters is looking good and feeling exceptional for that night. So ladies if you haven't decide which gorgeous hairstyle you wear at your important prom night, then this gorgeous prom hairstyles inspirations including long, medium and short do's are truly ones that will rock your prom look. So what are you waiting for just add glamour to your overall look by choosing the right one from these stylish hairstyles and be the style icon of the party night.
21 Most Glamorous Prom Hairstyles to Enhance Your Beauty
Prom Hairstyle for Long Hair
It's a prom night that you all are waiting girls. Young girls are always express themselves in bold yet classy looks. If you have long hair then you have plenty of options to create your long locks in various styles. Your prom hairstyle will convey your character to others, and should be eye-catching for them. So girls get ready to rock your prom look by creating fabulous long hairstyles. Here are some inspiration to guide you for that.
Curly Prom Hairstyle
A simple change within the hairstyle can give you a complete makeover. women has to continuously improve themselves as far as hairstyle fashion is involved as the trend maintains changing from time to time. Get your kinky groove on with the curly hairstyle ideas. Boast those brilliant locks and bubbly texture and you could not regret it. Take a glance below and you'll recognize the key in your locks.
Easy Prom Hairstyles for Long Hair
For any girl, the prom night is the foremost event of her life. If the girl boasts a thick lustrous mane of long hair, getting this perfect and easy yet stylish hairstyles is vital for the overall immaculately glamorous prom look!
Half Up Prom Hairstyles for Long Hair
This is one of the most attractive hairstyle for medium hair. It is an exemplary long hairstyle for girls with thick hair. A light bouffant will make your half Up look more elegant.
Long Prom Hairstyle
This is a classic example of brown to blond ombre wavy hair. You can glam your prom look by wearing this ultimate style.
Prom Hairstyle for Long Hair with Accessories
We vow to love prom hairstyles for long hair through out our lives! This incredible loose curls with an accessories will make you look stunning.
Prom Hairstyles for Long Hair
Half updos are a perfect way to glam up your look without seeming too formal. This half up braid is great for prom event. So make it special this prom night by wearing this gorgeous long hairstyle.
Side Braided Prom Hairstyles for Long Hair
Loose side braided hairstyles for curly hair is quite elegant and popular. This style look charming for prom. If you want to show off your long manes, braid will be your ideal option.
Prom Hairstyle for Medium Hair
Long hairstyle is proper and traditional, while the medium hair will give you less stress accordingly. So if you want casual and formal hairdo for your medium length hair then we have covered both style to guide you. So if you want to make curly, sleek, straight or bangs with your medium hair for the prom night, then no need to hesitate just go for one of these style and get the ultimate look for yourself.
Braided Updo Hairstyle for Medium Hair With Flowers
This traditional prom hairstyle is not only presently the swag style but has a timeless quality connected to it as well. using a variety of braids and creating a side bun, center piece or top knot bun, the alternatives of styling it is significant. Accessorizing it with flowers, embellishments or decorative bobby pins can take these braided buns to a whole new level.
Half Up Braided Prom Hairstyle
If you want to look stylish and glamorous on your prom night then this classic half up braided hairstyle is the right choice to make and glam your look.
Half Up Half Down Hairstyle
This half up half down waterfall hairstyle looks stunning and easy to gain. So jealous everyone by wearing this ultimate hairstyle and be the show stopper.
Prom Hairstyle for Medium Hair
If you have medium hair and you want to glam it on prom night, then both of these classic low chignon and the twisted low roll will be the right picks for the special gig.
Prom Updo Hairstyle for Medium Hair
In this hairstyle, the braid up throughout the top with deep side sweep. The style is beautiful and stylish. it is the cutest medium hairstyles for girls who want to look special in their prom night.
Twisted Half Up Prom Hairstyle for Medium Hair
Another example of a half-up half-down prom hairstyle. This twisted half-updo is an outstanding option for you to make on your prom party.
Waterfall Braid Hairstyle
Medium length hair are trendy and easy to carry. You can experiment many different hairstyle with them. This waterfall braid is one of it's amazing example of it. Try this style and rock your look.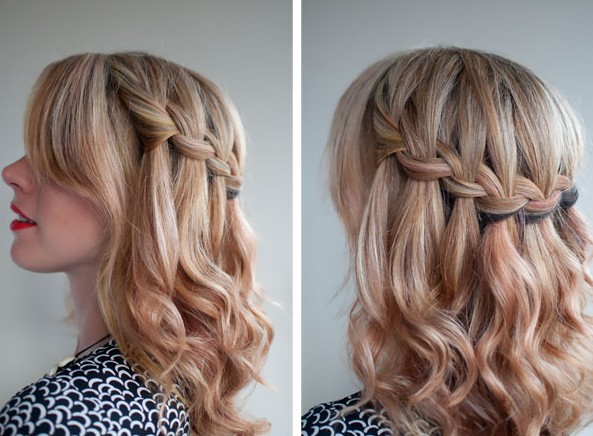 Prom Hairstyles for Short Hair
Every girl wants to look great and stylish for their prom night. We know it's the best time to present yourself in amazingly glamorous manner. So girls if you have short hair and don't know which style to pick and create for that day, you have come to the perfect place to relive your stress. Create your hairstyle in such manner that work best for shoulder length to chin length hair. So be bold and beautiful by making a super sexy short hairstyle for your prom night.
Braided Prom Hairstyle for Short Hair
You don't have to get a side part just for a side braid. Just look at this stylish center parted braid hairstyle for short hair, it looks amazing.
Curly Blonde Bob Hairstyle for Prom
Just love this curly blonde bob hairstyle. It features a luscious mix of golden blonde and brown blonde hue tones and a loose side braid pinned in place. The cascading fluffy waves add bounce and volume.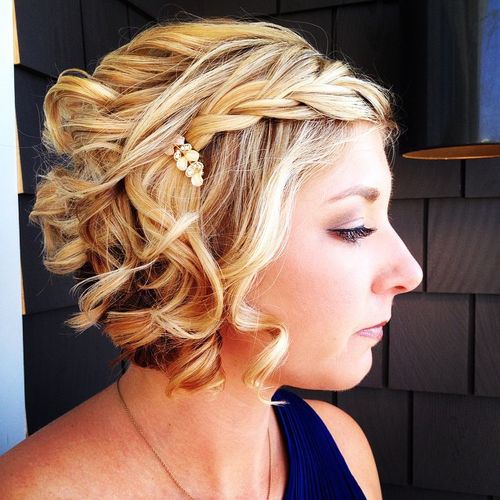 French Braided Prom Hairstyle for Short Hair
For this gorgeous french braided hairstyle for short hair you need to pull your hair up into a couple of braids which wrap across the the front of your head. Layer these "crowns" up till all your hair is covered. you may need to depart a few wispy strands free for added effect.
Half Up Curly Bob
If you want to try something different apart from formal hairdo, then leave your bob down and loosely braid the front layers of your hair. curl the ends and you will gain this ultimate and glorious hairstyle for your short hair.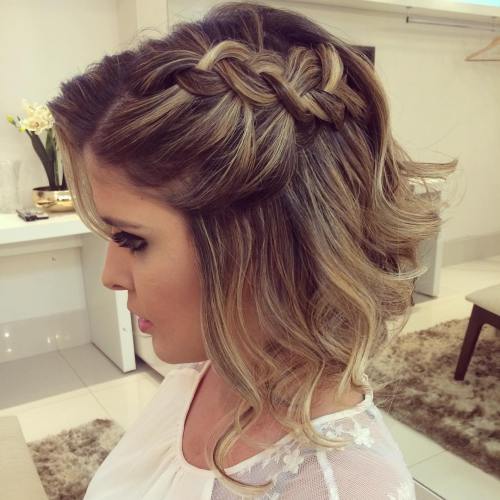 Short Prom Hairstyle with Accessories
If you have short hair and don't know which hairstyle to make, then this will inspire you to make your next prom hair look. A simple gorgeous clip and some curls can also do the magic and make you look exceptional.
Lovely Prom Hairstyle Ideas for Black Girls
Short Prom Hairstyle
This french braid with messy bun looks gorgeous and chic. It can totally work for girls who have short hair. Try this splendid style and you can look at your best for sure.
Side Swept Curly Prom Hairstyle
One hairdo which quite a rage amongst the short hair prom hairstyles is the voluminous side swept curly updo. This stylish hairdo elevates your short hair in terms of extent and texture.
So all the beautiful ladies we believe you will surely inspired by these fabulous, trendy, and undoubtedly cute hairstyle ideas for your big prom night!