Women love their hair as hair is like an ornament that adorns the face and frames it beautifully.
Some women like to keep their open to bounce them all around and feel liberated, whereas some women want to keep them tied by trying out different experiments to create various stylish looks.
Pullback hairstyles are one such category of hairstyles that keep the front hair tied and managed and yet gives you multiple options of stylish looks to carry off and look absolutely gorgeous and striking.
For all those ladies searching for these pullback hairstyles, here is a list of amazing pullback hairstyles. Have a look and find the most appropriate one for yourself out of the wide range of styles for different types of hair and faces.
Pulled Back Hairstyles for Charming Look
Vintage Slick Back With Ponytail
If you have medium-length hair, tie it into a ponytail. With your front stands slicked back tightly, you'll get a neat and sleek look as an outcome. It is a very casual look yet elegant look. Even if you are a teen or an adult, you can easily flaunt this style, but it's really famous amongst college-going girls. It will go for both thin and thick hair. Girls with round and small faces will amaze the look.
To add more charm to it, curl the ends a little, then the pony will look more stunning.
Slick Black Bob
Another interesting pulled-back hairstyle which you must try, even if you are in a jiffy. The black bob at the back is usually paired with straight hair to give you a neat look. The style can also go for curly hair, as it will make your hairstyle unique and bold.
Further, anyone who wants to give a fresh look to their hair can try this. It is the most convenient yet chic-looking hairstyle. The round-shaped and oval-shaped faces can go for the style. The person who wants a short haircut can also go for it.
Low Bun With Front Puff
Take the front tresses, make a small puff with them, and pull the rest of the hair backward to make a bun, giving you a stunning look. The style can go for long straight hair and thick hair. It can also go for curly hair, but for the same look, you might have to straighten your hair.
The style will go for any occasion, especially when you wear loud eye or lip makeup. It will enhance your overall personality for sure.
Wheat Slick Short Bob
It's one of the easiest looks to get, simply wet your hair a bit or use a hair cream. Then use a wide-tooth comb to comb your hair backward giving you the textured slick look. It's a very elegant look which professionals can carry to office or board meetings. One can also wear it for parties, as it will make your appearance more confident and bold.
Further, the wheat color with this style adds more warmth to the look. The round and long-shaped faces will be suited to the style.
Half Up-Do With Curly Ends
The curly ponytail at the back will give you a glossy look. Further, the wheat blonde color looks sleek in a half ponytail. The style will go with any attire, enhancing your overall appearance.
One-Sided Braid With Front Puff
Braids are women's all-time favorite, but to add a little twist to it, make a side braid. Add a hairband to your style, and before that, make a small puff at the front. Overall the look is very classy, easy to maintain, can be worn by women of any age.
High Bun
The style will give a simple look that blends easily with any attire. If you don't want hair on your neck or face, then a high bun is best to go for. You can make it easily, carry it to the office, on casual outings, night outs, and wear it to date nights. It stays intact as long as you want, but keep in mind to tuck it properly.
Messy Ponytail With Side Fringes
A very stylish look for teenagers as well as middle-aged women. It looks even better if you have two-toned hair. An easy-to-carry pulled-back hairstyle. The long and thick hair will make the style glossy. It makes your face look thin and long; the side fringes easily cover the chubby cheeks and draw all the attention towards your eyes.
Loose High Bun With Side Bangs
The evergreen retro with the high bun looks voluminous and dense. The gorgeous black, blonde hue makes it look extremely rich and classy. To carry off such a hairstyle, you must have that sophistication and grace.
The best part is it makes your thin straight hair look amazing. It goes well with casual as well as formal attire.
Side Hair Tied with a Front Puff
The mid-length hair with a straight cut are styled beautifully with this pull-back hairstyle. The straight and lustrous hair is tied neatly to give a sophisticated as well as an elegant look.
This style is appropriate for both formal and semi-formal look and can be paired gracefully with both indo-western and formal wears.
You can go for this hairstyle with any hair color, but the length and texture of the hair is an important aspect to consider. So go with mid-length hair to attain the style with perfection.
This style requires a loose puff kind of look at the front along with tying the side hair tightly with bobby pins to complement the look.
Blond Pull Back Hairstyles with a Retro Touch
The evergreen retro look with curly waves at the lengths and the end of the hair to make the hair look voluminous and dense.
The gorgeous golden blonde hue with a shiny radiance makes the hairstyle look extremely rich and classy. To carry off such hairstyle, you must have that sophistication and grace.
To attain this hairstyle, middle length hair is preferred, and the hair color also plays a vital role in hair to create that classiness and style. It ultimately gives a formal look and hence should be worn with elegant gowns and one-pieces.
A Messy Puff Pulled and Tied at the Back
With a shade of multi hues, the hairstyle is looking more attractive and eye-catchy. In this hairstyle, you need nothing but fabulously colored hair with Matt finish.
The hair is pulled back with making a loose puff kind of look at the front and tied at the back. This style gives you a chic and sassy look, and you can pair it with all kind of attires be it casual, semi-formal, or formal.
This style looks best with round-shaped faces and is most suitable for young women and middle-aged women.
Simply Pulled Back Hair with Asymmetric Hair Cut
The gorgeous hairstyle is complimenting with the lady's personality and attire so well. The choice of brunette shade with the silky and straight textured hair is looking great and makes the hairstyle look effortlessly gorgeous.
In this hairstyle, you can see the hair is cut in an asymmetric way with keeping front hair shorter. The hair is gelled up well and combed up to back tightly.
This is a comfortable and easy to carry look and can be worn by any age group. However, the mature and elderly women can carry it off more nicely.
A Pullback Zigzag Bun with Highlighted Streaks
This is a sophisticated look for the women looking to dress up elegantly and look every bit of graceful. Highlights streaks play an important part in making any hairdo look attractive and prominent.
Here, in this style, the hair is highlighted brilliantly with light caramel shade to contrast with the darker hair. The hair is tied to form a bun at the back. You can see the bun is not a regular one; it is tied in a zigzag way to look different.
Half Tied Pullback Style with Pale Yellow and Grey Hue
First of all; you need exceptionally soft, leveled, straight and healthy hair to attain this brilliant and extraordinary hairdo.
The unique combination of hair color with pale yellow and grey shade makes it look more flawless and innovative. Half of the hair is tied at the back tightly and knotted with hair strands itself with taking circular rolls multiple times.
The tying method is the main thing to learn in this hairdo. This hairstyle is apt for younger women and goes well with formal and semi-formal wears.
Curly Long Hair with Half Tied Hair
The evergreen princess look hairstyle is one of the most loved and most stunning hairstyle. To prettify the long hair, a fair amount of curls and fringes are required to enhance the look.
In this hairstyle, the hair is combed up loosely and pulled back to tie the half hair with a movable knot. The front fringes and the liberated hair strands make the hairstyle look naturally amazing and add volume to the look.
This style is befitting for the young girls or the new brides and can be paired well with beautiful dresses.
Open Hair with a Pulled Back Look
It is a simple and easy to carry hairstyle that is evergreen and everlasting. You don't have to go anywhere to style your hair as this is an easy and effortless style to carry.
All you need is long, smooth, silky, and straight hair to flaunt your beautiful open hair along with some fringes. This style can be carried off well with all types of dresses and all types of looks.
To attain the look, the color of hair here is not significant. You can use the gel as well to maintain the look.
Pulled Back Ponytail with Two-Tone Hair
The combination of chocolaty brown and blonde hair color looks astounding and very charming. This is a fantastic hairstyle to go for in the scorching hot summers.
An easy and cozy hairstyle requires a pullback comb on the front hair and tied all the hair to make a high ponytail at the back. The twist in style is the tying method.
Here, the ponytail is tied with the hair strands itself to look more natural and more stylish. This style is more suitable for young girls and can be carried off well with both funky and formal clothes.
Pullback Style with Cornrow Braids
Cornrow braids is the everlasting and popular hairstyle of African countries. The cornrow braided hairstyles last longer and can stay for around 3 months.
In this hairstyle, different sections of the hair are created to make cornrow braids and are tied together. This gives a sophisticated and classy look and goes really well with dark attires of almost all styles.
Pair it with nice earring, and smoky eye make up to charm the parties you are stepping in. Usually, with such hairstyles, dark-hued hair is preferred to make it look more prominent.
Feather Hairstyle with Caramel Orange Hair
This is such a cute look most appropriate for the teenagers and the girls in her early 20's. The beautiful hair color is also playing a vital role to make the hairstyle this impactful and endearing.
The hairstyle requires soft and smooth textured hair. In this hairstyle, the hair is side-parted vaguely and combed in a pullback style. From both sides, little hair is tied at the back softly and festooned with black ribbon.
Blond and Golden Twirled Hair Strand
The soft and feather look hair with striking blonde, and the golden color looks every bit of sexy and feminine. To attain the same look, you need to have shiny, glossy, smooth, and silky hair.
In this hairstyle, the hair strand is twirled and curled and then pulled back with creating a slight puff at the front. After pulling the hair strand to the back, it is tied nicely with a bobby pin at the back.
The style looks really creative and beautiful from the front and the side. This is an apt hairstyle for college goers and young girls.
Pulled Back Side Hair Strand Twisted and Fastened at the Back
The charming and stunning caramel brown hair color with a blend of black makes the hairstyle look very creative and very attractive.
To attain the same hairstyle, all you need to have is soft, smooth, silky, and straight hair. The hair strand from the side is taken and twisted to make the hair strand look fluffy and voluminous.
After twisted, the hair strand is pulled back and secured neatly with a bobby pin. This is a sober and simple style that can be carried off well by teenagers and college-goers.
A Pulled Back Bun with Two Tone Hair Color
A neat and tidy look for all age groups. In this style, mainly, the blend of white and black hair is used to make it look very appropriate for elderly women who have started growing with white hair.
But the same style can be followed semi-formal different shades of color as well. This is a simple and easy hairstyle that requires pulling back the hair a bit loosely and makes a bun at the back. It can be carried off well with formal and semi-formal attire to grace any event.
Braided Bun Top of the Back
This is a stunning look with utmost soberness and elegance. In this hairstyle, you can see the hair is combed to the back tightly with pullback style and tied together to make a braided tail.
Then the braided tail is rounded together to form a bun that is placed on top of the back. This is, again, a comfortable and easy hairstyle that can make you look gorgeous in a hassle freeway.
This style does not require further managing and can stay as it is.
Half Tie with Puffed and Curly Long Hair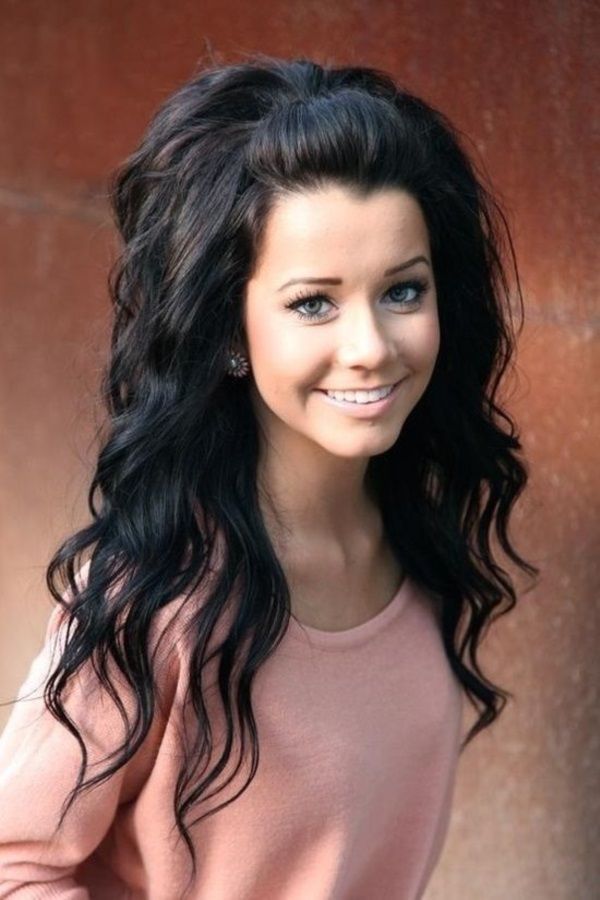 The doll-like look is perfect for the girls who want to look delicate, cute, and charming. The jet black hair color is looking really attractive in this style.
However, going for this style with some different hair colors is also not a bad idea. In this hairstyle, the hair from the front is combed in a way to make a slight puff at the top and tied securely with bobby pins.
The rest of the hair is left open with giving the hair ample curls and waves to create a voluminous and dense looking hairstyle.
Messy Matt Finish Blonde Hairstyle
The unusual and bold hairstyle that requires a lot of confidence and courage to carry such gallant look. To attain this hairstyle, the first and foremost requirement is Matt finish blonde hair with a shorter length.
The asymmetric cut of the hair is significant to add texture to the overall look and give it a fine detailing.
This bold look is apt for the cool and carefree girls who like to have a different style statement and wants to look glamorous and eye-catchy wherever they go.
Pulled Up Side Parted Hair with a Wet Look
This is one of the favorite hairstyles followed by the Hollywood and Bollywood celebrities. The shade of hair color plays a very crucial role in making the style look more attractive and striking.
In this style, you can see the famous Hollywood celebrity is flaunting her bold and glamorous look with two-toned pulled back hairstyle.
This easy to make and comfortable hairstyle just requires a fine texture of hair with straightness. The top of the hair color is brown whereas the lengths are kept caramel blonde. By applying hair gel generously, this style can be achieved easily.
Thin Cornrow Braids Adorned with Golden Thread
The stunning and creative look accessorized with golden thread makes the lady very attractive and unique with her style.
In this pullback hairstyle, the hair is sectioned in many parts to create cornrow braids vertically from front to back and then extended by golden silky threads to make it longer to create a thick high bun at the back with multiple thin braids.
The style is exquisite and most suitable to all the mature and middle-aged women. It can be carried off well with elegant and sophisticated party gowns.
An Evergreen Tight Bun at the Middle Back
It is a most decent and uncomplicated look for those who want to look gorgeous with the ease of properly tied hair. To attain the same look with some elegance, you need to be leveled, soft, straight, and even hair.
This hairstyle is easy to make; you have to comb your hair properly and tie it together to form a bun at the middle of the back. Mostly it looks so graceful with traditional attires, dark-colored party dresses and also formal outfits.
It is recommended to go with the style if you have denser hair because such tightly done hair with shallow hair might not go well with your face.
Side Cornrow Braids followed by Pony at the Back
All the women with permed hair looks for different hairstyles to keep their hair settled for long with great styling.
In this style, the hair is parted equally from the middle, and one cornrow braid is created on each side diagonally from front to back.
Lastly, the braids are tied together, keeping the length of the hair left open. This is also one of the creative pullback hairstyles to add to your personality and walk like a cool and stylish diva.
These are some of the amazing pullback hairstyles that you can choose for your new look.
Be bold and confident with these astounding hairstyles and make yourself look even more beautiful to stun everybody with your graceful and glamorous avatar. Try out your favorite style out of these in the upcoming festival season and look flawless.