The mother of the bride is a very important and one of the most popular persons at the wedding right after the bride and the groom.
So, it is necessary that the mothers appear extremely beautiful at the most precious event. Here is a fine list of hairstyles curated especially for you, the mothers of the brides.
35 Elegant Looking Mother of the Bride Hairstyles
Side Parted Curly Look
Most mother of bride hairstyles are simple, yet they remain very elegant. This one is no exception. The hair is absolutely stunning, parted at the side and swept over so that the curls only appear on one side of the face. This helps the face stand out aside from the hairstyle.
Long Thick Red Waves
This hair is more wavy than curly, and it's another example of simple mother of bride hairstyles. The hair is left long and parted to the side, with bangs that are longer than the face and blend in with the rest of the very thick hair.
Elegant Knot
This hairstyle has the hair swept back beautifully into a twisting knot at the back of the head. The knot is very low and covers the nape of the neck. Some light bangs dust the side of the face, adding more shape and elegance to this style.
Short Flip Hairstyle
This is a flip hairstyle, where the ends of the hair are flipped upwards rather than curling downwards. It's unique and classy enough for a mother of the bride to wear. It's a very short tapered haircut, and the bangs are slightly shorter than the rest of the hair.
Intricate Twists and Knots
If you want a more intricate style, here's one you could try. Three sections of hair on each side of the head are twisted and pulled back into perfectly formed knots, and some bangs fall around the face to ensure there's hair up front, too.
Long Curls and Partial Updo
Curls are always perfect for a wedding, and you can see a great curly look here. The sides and top of the hair are pulled back, and volume is added to the top of the head. They're then secured and fall down the back with the rest of the hair.
Simple Rolled Look and Accessories
This hairstyle has the hair pulled back sleekly and held in a nice little roll, secured with a line of pearls on a clip. There's also a headband with a ribbon and flower display that looks wonderful to make the simple hairstyle stand out.
Short and Mature Flip Look
This is another flip look where the hair is flicked up at the ends. Some light bangs touch the forehead, and there's a lot of volume at the back. The hair is very short and great for a mature lady.
Blonde Bob
Appear uber-cool and classy at the same time with a blonde bob. You can choose to have a center-parted or side-swept bob filled with blonde hues to accentuate your appeal.
Make sure to go for minimal jewelry in order to highlight your hair.
Bobby Pinned Updo
Elizabeth Banks pulled her hair back into a glamorous bobby-pinned updo for the premiere of 'Pitch perfect 2.' This gorgeous updo is perfect for any formal or party occasion. So get yourself this hairdo and glam your look.
Bouffant Updo
You can look like a star throughout the wedding with a bouffant updo. First, you need to make sure that your hair is backcombed very well so that all the layers are straight and then you must pull up your hair to create a voluminous bouffant at the central or back part of your head and pin it tightly as an updo.
Bouncy Curls
Jaclyn Smith is looking great in this with a flattering, wavy hairstyle. The golden reflections looks fabulous onto Jaclyn's cheekbones!
Look impressive with bouncy curls. Make sure that you provide chunky curls to the layers of your hair and leave them free without using any pins. This will add volume and bounce to your hair.
Braid Wrapped Bun
Heidi Klum wore an oversize braid wrapped into a sleek bun at the 2006 CFDA Fashion Awards. She look like Athenian beauty in this bold updo. If you want to look as dazzling as her try this updo and flaunt your locks in coolest way.
Classic Ponytail
Embrace class with the evergreen look offered by a classic ponytail. Smoothen up your hair first with a nice styling product and tie it up into a ponytail by making sure that all your hair looks perfectly in place. This high and bouncy hairstyle is perfect to wear on any formal or casual occasion.
Curly Bob
Get ready to obtain a stylish appearance with a curly bob. Make sure to provide curls all over the head because that would add lots of volume and bounce.
You need not do anything else to your hair because the curls are enough to do the job. If you want to give your bob a bubbly bouncy look, try wearing it down and curling all over.
Extra Long Hairstyle
Demi Moore looks excellent and elegant in this classic hairstyle. Appear like the next best lady in the wedding after the bride with an extra-long hairstyle.
You can flaunt your long hair by providing loose waves from the mid-length to the ends of your hair. You may pair the style with long stone-studded earrings.
French Twisted Updo
Appear graceful with a French twisted updo. Make sure to wear a properly secured updo by giving your hair a French twist at the back.
Use a good smoothing product to get a glossy appearance for your hair. This one is a comfortable yet trendy hairstyle for all the women with medium length hair out there.
Glossy Updo
Heidi Klum always looks impressive with her different updos. Glow and shine at the wedding celebrations with a glossy updo. Blow-wave your tresses and keep them straight and sleek.
Make sure to pull them back and tie them into a stunning updo. Don't forget to use a nice hair product to provide the gloss.
Half Up Medium Hair
Appear extravagant with a half up medium hair. Take some layers of hair from both the sides at the front of your head and pin then towards the back for the half up. Then, make sure to provide curly texture to the remaining hair.
High Bun Updo
This high bun updo is an ultimate elegance. It looks honestly pretty bold in that it puts all attention to your face, instead of creating distraction like a few down dos. For total perfection, wear this hairstyle with a classy makeup and outfit.
Loose Curly Updo
Get the magical blend of volume and bounce for your hair with a loose curly updo. Go for soft loose curls from mid-length to the ends and then gently pull up the hair and tuck it to finish the fantastic style.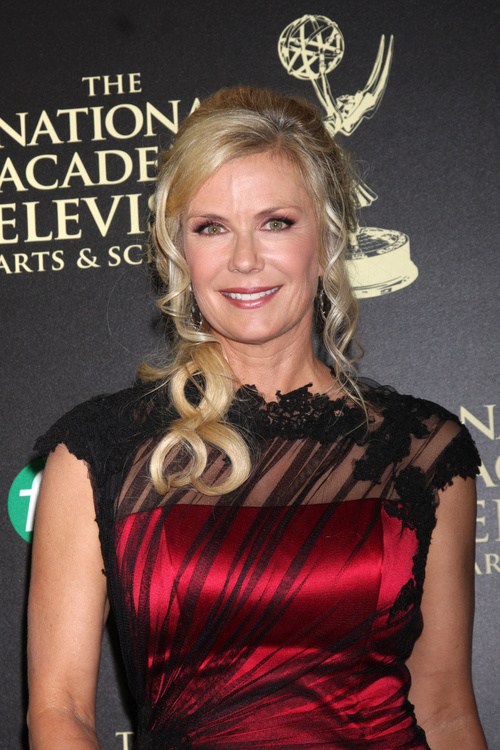 Messy Curled Updo
If you need to attend an outdoor wedding, then a messy curled updo will be the best style for you. You have to curl up your hair and combine it in a messy way at the back to form an updo. Make sure to leave a few tendrils loose at the sides of the face.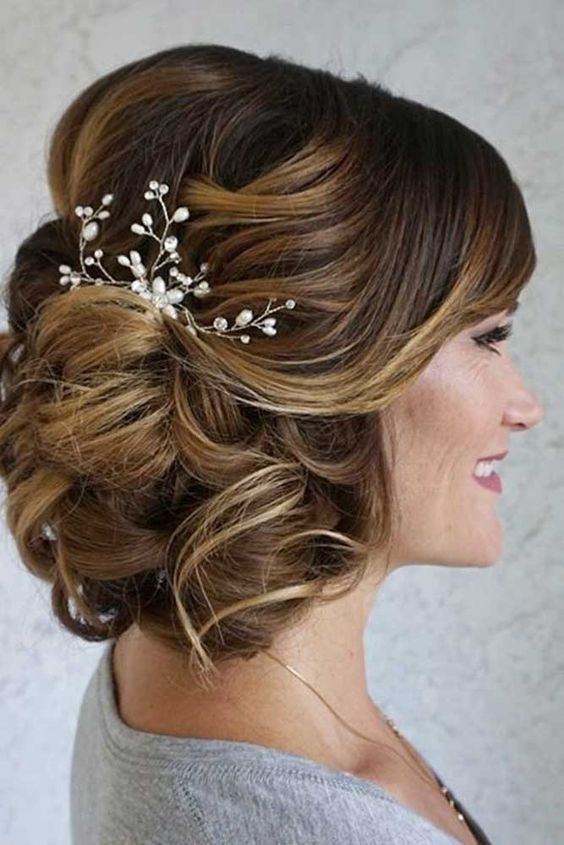 Messy Pinned Updo
Get set to strike a balance between the trend and the tradition by going for a messy pinned updo at the wedding. All you need to do is pin back the layers of your hair loosely and allow them to come together in a haphazard fashion but make sure to tightly secure everything.
Messy Updo
Be ultra-chic with a messy updo for the wedding. You simply need to draw up the entirety of your hair and combine it into an updo by leaving a few layers out here and there. Make sure to provide lots of waves to the layers of your hair.
Ombre Waves
Even you can look youthful and trendy by sporting ombre waves. Color up your hair with ombre highlights and provide a center parting for face-framing.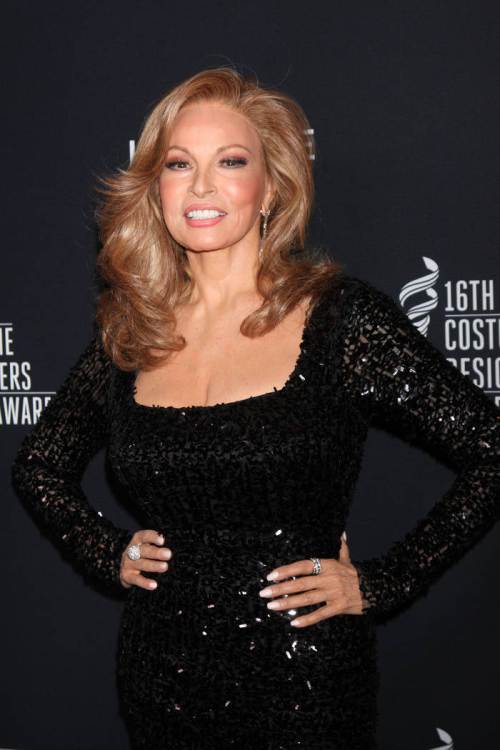 Retro Waves
Look like a vintage diva with retro waves for your hair. Provide lots of bigger curls towards the ends of your hair and wear them by pinning them to one side. You may even go for finger waves on the top of your head.
Short Curled Hair
Look sassy even with short hair by choosing the short curled hair. Make sure to provide lots of curls within all the layers of your hair from the top till the ends. You may provide color highlights to place the focus on the curls.
Short Curly Wavy Hair
Appear vibrantly special by going for short curly wavy hair. You have to keep your hair till shoulder length and then provide it with lots of curls in a wavy texture right from the top of the head till the ends.
Side Chignon
Appear very elegant with a side chignon. You need to place your entire hair behind one ear and wrap it into a chignon. Make sure to accessorize your hair by using a floral hair pin.
Updo with a Bouffant
Bring out your bubbly side by sporting an updo with a bouffant. You need to first pin up a big bouffant at the front top of your head and then, roll the remaining hair at the back into an updo. You may choose to decorate the updo with a brooch.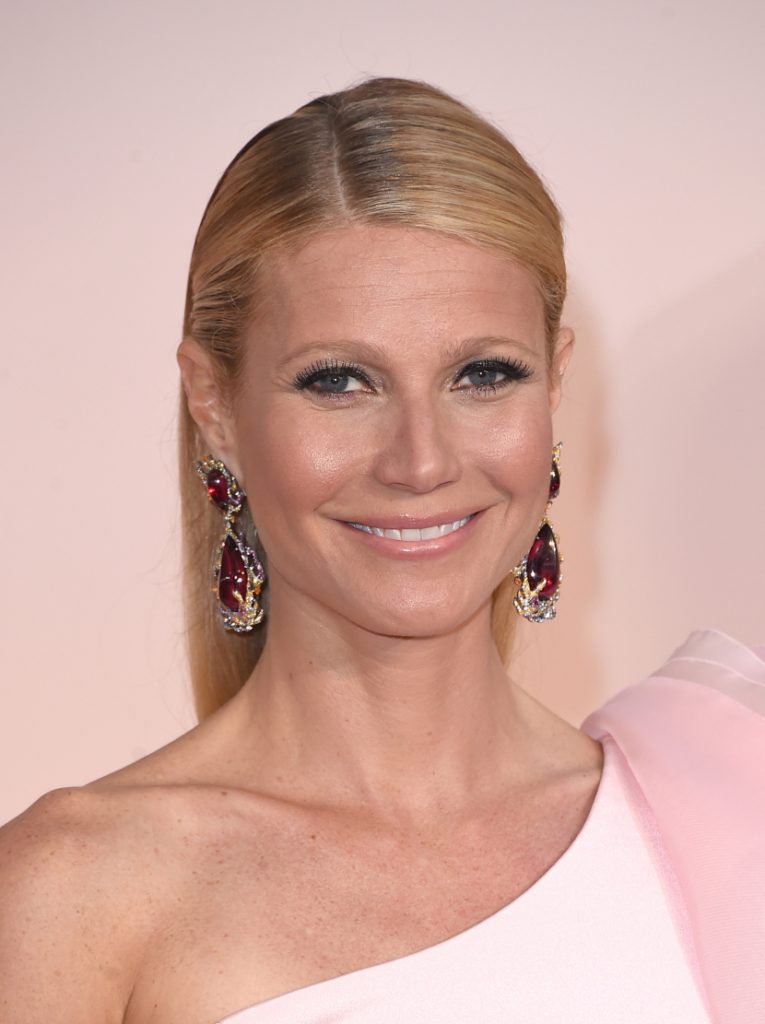 Updo with Bangs
Get set to appear young and sprightly by sporting an updo with bangs. Make sure that the bangs appear natural and subtle over your forehead and then, tie up your remaining hair at the back into an updo. You need to keep the hair in your updo straight and soft.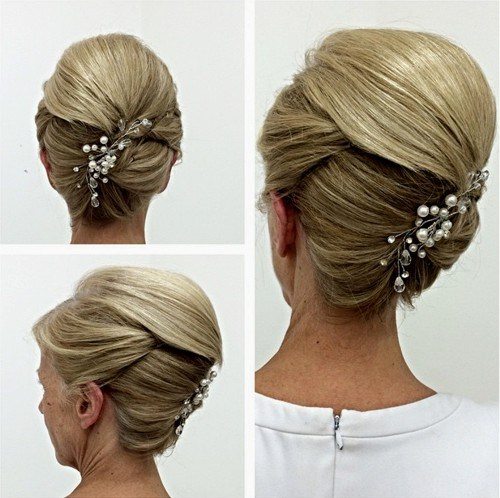 Updo with Bangs
Some women assume that popular messy hairstyles are just for younger ladies. it is a simple misunderstanding, expensive ladies. no matter how old you are, you look more and more appealing, sparkling and stylish, with a modern day updo.
Vintage Curls
This is a classic look that you can pull off with a bob cut. You can Wear curls and glam this old Hollywood glamour in grand style. So pair this beautiful style with stunning evening gown.
Voluminous Swept Back Half Up
Feel fancy and look fantastic with a voluminous swept-back half up. Simply provide a wavy texture to your entire hair and swipe it towards the back in totality. Then take a few layers and tie them into a half-up fashion to finish the style.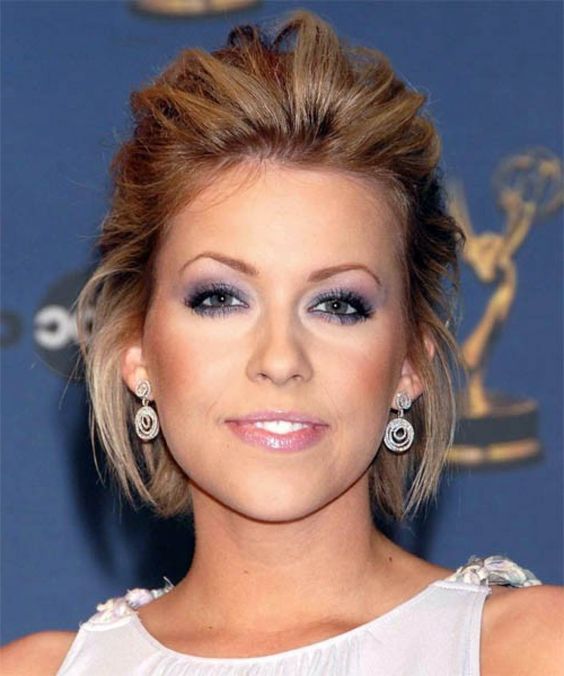 Wavy Bob
If you want to get styled for a beach wedding, then a wavy bob will offer the best look for you. You simply need to pump up the volume in your bob, by creating wavy textures on the layers of your hair. You can complement this haircut with long and dazzling earrings.
Pick from the most popular mother of the bride hairstyles in order to appear super stylish and graceful at the weddings.