Your natural hair is beautiful in its own peculiar way when maintained carefully. Still, sometimes people get tired of it and want to try something new. You can spice up your look boldly or even change your style just for the fun of it. Everyone loves hair makeovers even if its something as small and simple as getting a few streaks of your hair color. But if you're looking for a major change and want to keep in pace with the current trends of 2019, worry not. We have got all your best options covered. Blonde, brunette, ombre, balayage, mermaid, rainbow, whatever you're looking for, here's a list of all the styles of this year that people are going crazy about.
25 Best and Beautiful Hairstyles with Color
Mermaid Hair
Mermaid inspired hair colors are all the rage these days. They're so attractive and colorful; it looks like everyone wants to try doing it on themselves. And when you see someone sporting the mermaid's hair, you just can't seem to take your eyes off those bright and vivid hues. The beautiful blend of colors is sure to make you stand out in any crowd. The fact that it goes quite well with everyone's hair type has made it a favorite trend among all age groups. One can choose a wide variety of color palettes to find which colors suit you the most.
Dark Rainbow Hair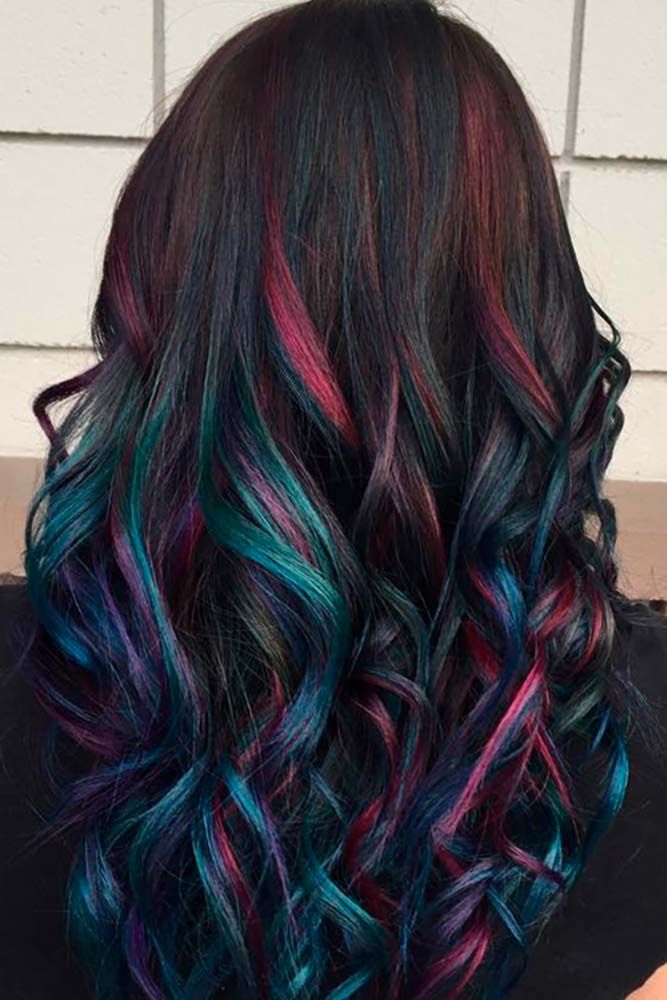 If you are looking for something like brunette for your hair makeover, this is just the hairstyle you need to try out. The rainbow hair gives you an edge over other trends and provides a mystifying look to your beautiful black locks. Wherever you are, the ethereal mix of shades makes sure that you make a bold statement about yourself. If you don't want too many shades, you can also opt for this look by choosing to simply highlight some portions of your hair with rainbow prisms. And the absolute best part is that you can rock this look anywhere, be it your college, workplace or even just a party.
Highlighted Hair
The thing about getting highlights on your hair is that, whichever option you choose, be it a dark or light base, it is going to look drop-dead gorgeous. And if you're doing it on your dark brunette hair, the better. It makes your hair look rich with volume and enhances your tresses beautifully. Whether you're thinking of getting ombre or balayage, don't worry because both give you totally chic looks and is quite low maintenance compared to other styles.
Grey Ombre Hair
Ombre, meaning shade, is a lovely look that involves giving your hair a two-toned effect, thus making it entirely dramatic. Your upper hair remains the same, while the lower portion of your hair is lightened. You can try this look with any color combination of your choice. Though it can be done on strands of any type and length, it's true beauty is seen on long or medium hair. It's reasonable as compared to other hair coloring treatments, but it fades over time wonderfully, which makes your hair color better with each passing day.
Toasted Coconut Hair
Are you a brunette tired of your dark locks? Are you considering switching to blonde hair and trying out light colors instead? Then you're in the right place. The toasted coconut hair color is just what you need to make your hair pop out. It is highly popular these days and is in high demand after the look debuted on social networks like Instagram. This is just the hairstyle straight out of your tropical summer dreams.
Rainbow Pastel Hair
Pastels have been in trend for quite a little time now, and it looks this trend is here to stay. Hair coloring ideas are constantly changing, and a current hit among pastel looks now is the rainbow pastel hair. These look gorgeous on anybody's hair with the subtle and muted tones, but the drawback is that it's gonna cost you a lot of time and money. You'll have to visit your stylist frequently since the colors start fading away very soon. It also requires additional care so that would mean that you're gonna have to invest your time while at home also and not just at your stylist's.
Ombre Balayage Hair
A deadly combination of both ombre and balayage highlights, this look is surreal in every possible way. The combination ensures that even with dark and light highlights present, your hair still has a soft and radiant glow. Still, at times, it manages to make you look sophisticated. The ends have been styled in beautiful loose waves which will help to accentuate your features like your jaw, thus framing your face perfectly.
Dark Red Hair with Caramel Highlights
We've all drooled over Princess Merida's stunning red hair in the Disney movie 'Brave.' Now stop drooling because nobody is stopping you from being a redhead. If you've already decided on it but are confused about what style to choose, don't worry. This dark red hair color with vivid caramel highlights is just what you'll need. A gorgeous blend of sunset tones it gives you an edgy and bold vibe and is sure to catch everyone's eyes.
Medium Length Style for Thick Hair
Achieving thick and long hair would find the first place on most people's hair goals. Those with enough thick hair know the difficulties behind maintaining it. Let's face it; the struggle is real. Although you may have a beautiful volume of hair, thick hair actually means more hair. Which means more time, be it styling, washing, or even drying it. And it's all the more struggle when you have long hair. Styling your hair to a medium length makes it quite attractive and reduces your hair maintenance woes.
Sunshine and Rainbow Hair
This look is purely dreamy. A beautiful mixture of bright yellow and rainbow on your upper hair and a ravishing hue of violet on the bottom and ends, it's practically impossible not to stare and admire at this piece of art. It literally gives out happy vibes and is depicting spring and summer at its best. The tresses have bee styled in light waves and are perfect for those with a pale complexion to make themselves stand out. As the name suggests, this look is quite literally all sunshine and rainbows.
Light Brown Balayage Hair
When you're tired of constantly changing your hair to blonde but do not want to retain your brunette hair just as it is, here's the perfect look for you. Not too blond, not too brunette, this light brown balayage look has warm honey tones. This look goes beautifully in whichever way you style your hair be it voluminous curls or sleek straight hair. This is the perfect style you can switch up to, to debut your fall look. The fact that it also has an ashy grey tint along with the brown undertones makes it all the prettier.
Blue Mermaid Hair
This style is so refreshing it makes your eyes pop out in awe. It has a sleek angle bob cut and cool blue tones coming straight out of an ocean blue color palette. Along with a blend of both dark and light blue hues, it also has a light silver tint added to make the blues really stand out. This hair looks best when your hair is short, thus giving it a bit of sophistication yet remaining at its raw and simple best. You can also nail this look by sporting bangs in the front.
Ash Brown Ombre Balayage Highlights
An intermingling of ombre and balayage, this look has brown, and silver highlights blended beautifully. It has been styled with loose and soft waves on a layered hair cut which will frame your face perfectly. The balayage highlights can be seen more prominently as it goes down towards the ends so that your brunette hair is still visible on the upper portion of your head. The warm undertones with subtle platinum hues make sure to give you a chic and trendy look. Medium length hair and a textured cut are just what you need to make a bold statement for yourself.
Warm Brunette Balayage
How gorgeous do these brown balayage highlights look? I'd say absolutely. The look is quite simple, yet it has a touch of profound complexity to it. The highlights really do stand out among the black waves giving it a soft and sensual glow. If you have long dark hair and are looking for a simple switch-up, this one is the style you need to try like right now. It has perfect hues while remaining at its natural best, making sure that you don't look too overboard with your hair, especially, if you're someone who has never had a makeover before.
Ombre Silver Blonde
Are you tired of subtle and soft looks? Want to add some spice in your appearance a bit with a pinch of drama? Are you a fan of unconventional colors and fond of making extremely bold statements? Here is an idea. Try the ombre silver-blonde look. The waves are glossy and full of glamour, and the look is beautifully surreal. If you have short or medium hair, make the best of it by sporting a long bob which isn't too sleek or too wavy. This style is surely going to stay with more people opting for it due to its versatility.
Fiery Red Ombre
This look is giving us all the chills. It is breathtakingly beautiful, and you can safely say that this combination remains unmatched on any level. It has a violet reddish hue on top and slowly transitions to a fiery orange tone towards the ends. This style is quite literally on fire, considering how the colors have done a great job in resembling a flame. It looks great on long hair and has amazing caramel reddish hues to it. There is a certain kind of warmth to the look, even as it changes shades all along.
Dreamy Blue Ombre
The thing about ombre is, it never goes out of style, and you can style your hair to any color combination of your choice. This gorgeous blend of colors gives your hair a vibrant look, and the sky blue hues couldn't be prettier. It is softly beautiful and has a gentle touch of silver on some strands of the hair, which makes the colors pop out without looking too icey. The faded pastels give your hair a warm and subtle shine. This style looks best on short bobs, or if you want to make it bolder, you can go for bangs or even a pixie cut.
Purple Red Ombre Brunette
Wow wow wow. This look is giving out perfect tropical and summer vibes. The highlights are placed precisely and strategically, thus making sure that there is no mess when the gemstone hues are combined. There are streaks of purple hair all over which show that you don't need to change your hair color entirely to get a new look. You just need to ask an expert stylist to combine the colors of your choice beautifully to make your hair stand out while still retaining your blonde or brunette shades. This style looks best when you have medium wavy hair and a layered cut with enough texture.
Dark Brown Hair with Highlights
This look is the epitome of what you call subtle. Your brunette hair with a hint of dark caramel tones is simple at its best and yet manages to look effortlessly chic. Style your short or medium hair to a sleek and straight look to rock this trend. It is minimal, and the gentle highlights add a touch of glow. The dark base of your hair isn't entirely changed and is sure to flatter the features of your face, especially if you have a light or pale complexion even. It is a classic combo look for any event.
Neon Glow Hair
A vivid and rich mix of neon blue and aquamarine colors, this style looks ravishing. The upper portion of the hair remains naturally blonde, and the fun begins when you go down. The blue and green hues look extremely vivid and are best suited on short straight hair. A short bob, a pixie cut, bangs, whatever you're looking for, this style is fantastic. Make sure your haircut has a perfect frame if you want this style to look it's absolute best. This style would look beautiful if you have your hair just above your shoulders.
Ash Blonde Hair with Rainbow Highlights
This look is stunning with a light silver base and vibrant streaks of rainbow highlights. The colors have been blended softly but still, look bright enough. The perfectly styled waves look as if they're coming straight out of a fairytale and the way the loose waves fall look nothing less than magic. Its ideal for for those who have long hair. But the thing about rainbow hair is that no matter which color or style one chooses, it suits everyone brilliantly. The sheer richness of the colors is what makes this look quite versatile.
Cute Rainbow Braids
Braids have always remained a classic style but if you're looking to spice up your look, then what better way than going wild with your braids? You can keep the base intact with your existing style and choose to add a few streaks of rainbow highlights here and there. It is best suited for short hair with oh-so-soft waves. Live your fairytale dreams by opting for rainbow looks and totally rocking it without creating any fuss.
Pale Purple Blonde Hair
The ombre seems to go on an on in this long hair look, making it look so pretty. The dark hair at the base slowly transitions to a pale hue of purple in the middle section and then to a platinum shade towards the ends. You can add a pinch of cuteness to this look by adding small buns on the top. But even if you don't, this style is capable of standing apart due to the beautiful blend of ombre highlights. Make sure that your hair remains in soft waves instead of going for a straight and sleek look. The pastel hue may fade over time, but it will still look gorgeous due to the brilliance of the color palette.
Soft Pastel Unicorn Hair
Unicorns are so in trend these days; everyone is busy buying unicorn related stuff. But you can also keep up with this trend by merely adopting it to your hair. This look is impressive with a gorgeous blend of pastel, muted, and lighter shades. Style it on your long hair with subtle waves to achieve perfection for this look. You can also try braids to freshen it up. The tones are heartwarming, and a tad bit faded, giving it a natural glow. So go on and be a unicorn. Nothing's stopping you. Especially not your hair.
Purple Blue Ombre Braids
Get yourself a fun dye job with this bold and beautiful look. A mixture of purple, lavender, blue, and silver ombre highlights, how the hair has been braided makes it look absolutely stunning. Instead of coloring it entirely, the colors have been applied from below the roots and then proceed to the ends, making it look edgy. The transition of the hair from dark to light is beautiful and speaks for itself. Try sporting this look on long hair and if you have a pale or dark complexion, the better it is.
Once you've selected what type of hair switch-up you need based on the length and texture of your hair, it's crucial to choose a good stylist to do the job for you. How good your hair turns out depends on how good your stylist is. And the most important thing is to consistently take care of your hair, especially after a coloring treatment, irrespective of your hair length.Don't ever ignore your hair needs but instead act on them accordingly for healthier and long-lasting hair.