There was a time when long hair was a symbol of elegance and grace. The one who possessed the same used to keep it hiding and reveal only on special occasions. The girls used to long for the same and used to devote time and care to achieve the same. The nurturing may sometimes or may not reap the yields as per the requirements. Moreover, our feminine society was more of the homemakers rather than office goers.
Now comes the blast where the feminists take upon the world and leave no stone unturned in doing whatever that comes their way. Times now do not tick but rather unfurls at an "S-Class" pace and style. Their looks play the most crucial role in the first instance which is shaped by the hairstyles which they flaunt. This forms the Launchpad for the uber cool pixie cut which is all stylish, contemporary and easily manageable at the same time. Presenting here are some of the best pixie cuts for the women to grace and feel liberated. Here, you go.
25 Sensational and Stylish Pixie Cut for Girls
Messy Voluminous Pixie
This hairstyle suits one who wants to go for the voluminous look with a messy style. The style is elegant, stylish and befitting for all the age groups.  The cut expertly frames the face and displays the splendid features of doe eyes, bold brows, and button nose. The hair color looks so natural and unique. It is perfectly complimenting to the style and enhancing the glamour of the hairdo. Simply have it, get all the attention and be the show stopper at the parties to go for the click clicks.
Cutie & Sweetie Cut
Pixie cuts are not only meant for the grown-ups but also for the little ones. One looks very cute and sweet and can even carry it in schools with a cute hairband or simply tug their bangs in a side with a simple hair clip. The stylish hairdo with keeping short hair is actually what the little one wants. Keeping short hair is really easy to manage and comforting for kids. To add to the flavor just keep the side edges longer at both sides and you are done.
Jagged Cut Bangs
The classic and endless haircut comes under the category of all times favorite. The length of the layered razor hair is jagged cut. To make the hairstyle look softer and tender the edges can be cut in round shape. The jagged bangs are styled on the forehead giving your face a more elegant look. It is a low fuss hairstyle. The smooth straight evenly layered hairstyle looks quite cute and charming and is ideal for people with round face structures. It is suitable for all types of trendy outfits and can be best paired with red hot lipstick.
Gravity Defying Cropped Do
This style is for those who want to look gorgeous and gutsy. To carry this style, you actually need to have that confidence and boldness within you, and then only, you can wear the style with full glamour and grace. The lengths are shaved on the sides and back and volumized on the crown. The drastic bleached pixie cut will surely be the talk of the town. Go ahead with this sophisticated yet elegant look, and you will never feel more of you in your whole life. This is a must try to style those who search for something new and unconventional.
Sweeping Bangs with Pixie Cut
If you're ready to go short with your hair but don't want to leave your entire face exposed, a sweet side-swept look gives you the security of bangs with the ease of a pixie. If you want to make it look smooth and soft, simply side swept your longer locks. You can even use straighteners create a smooth finish. Those who have straight hair, feel blessed. This style frames your face with utmost grace and elegance. The bangs always bring an effect of cuteness and a younger appearance on the face.
Rockerish Fantasy Pixie Cut
This hairstyle is the short hairstyle wherein the hair are kept short, till the ears. Along with that it has choppy layers which goes from the bangs to the nape. At sides and back, hair is cut squarely, top hair is razored in layers which can be smoothen with the help of gel or wax. The style is best suited for any sort of hair. These are beautiful variations pixie cut have come up with. There is always a scope of customization too if you want to, to suit your personality. It is best suitable for modern outfits.
Cute Short Straight Pixie
Those who want to look every bit of stylish without taking much pain of maintaining and managing the hair, this is the style for you.  The oval-shaped face can really pull off this short hairstyle than anyone else. The cut is with jagged ends that tapers in on the back and sides, and the hairs are styled forward to create a thick full look. The full fringe going with jagged cut ends creates a beautiful frame upon one's face. It is a great cut with full of style and texture.
Super Short Textured Pixie
One looks very appealing in this natural super short pixie cut with showing off a well-shaped forehead and adding a volume on top. It's a great choice for a youthful, low maintenance short hairstyle. The balayage of hair color with caramel hue is adding to the texture and brings more impact and beauty to the style. The flouncy layers just rev up the romance within and make the guys go mad about you. This is a super hot style to carry by teenagers and young girls. So, girls go for short hair and rock the party.
Ultra Chic Pixie Cut
This is a cut styled in a deep side part with tousled waves. One is able to pump up the volume even without long layers to weigh down the hair. It clearly has enough length where one would be able to play with the texture, going straight or wavy with ease. If you're a newbie to the pixie cut, forever holding on to your long hair, this might just be your excuse to cut it all off.  After all, everyone wants a change and this will surely prove to be a pleasant change.
Short Fringe Close Crop
Short hair don't care, is the mantra for this style. Sometimes drawing out a silhouette for the edges of your pixie cut can give it a neat and organized effect for those who hate the messy designs. It is recommended to use a radiating gloss and shine enhancing pomade to create a shiny finish with a soft hold. The gloss would give the pomade a little slip, and create a smooth texture that will not sit heavy on the short style. The style is exquisite, sophisticated and neat. It is suitable for all age groups, and elderly woman will just cherish this style forever.
Chic Short Straight Hairstyle
Your face would definitely be charmed with the amiable and childlike short haircut. The side-parted hair and the short sides are the distinct features of this hairstyle. Likewise, the jagged bangs are really cool to look at. The streaks of a different shade add more to the aesthetic appeal. Color of hair is something that really brings a difference in the style. Here, also, the hue of hair is creating a significant impact.  It brings a nice, funky and casual look with for the girl who likes to look cool and awesome in hot summers.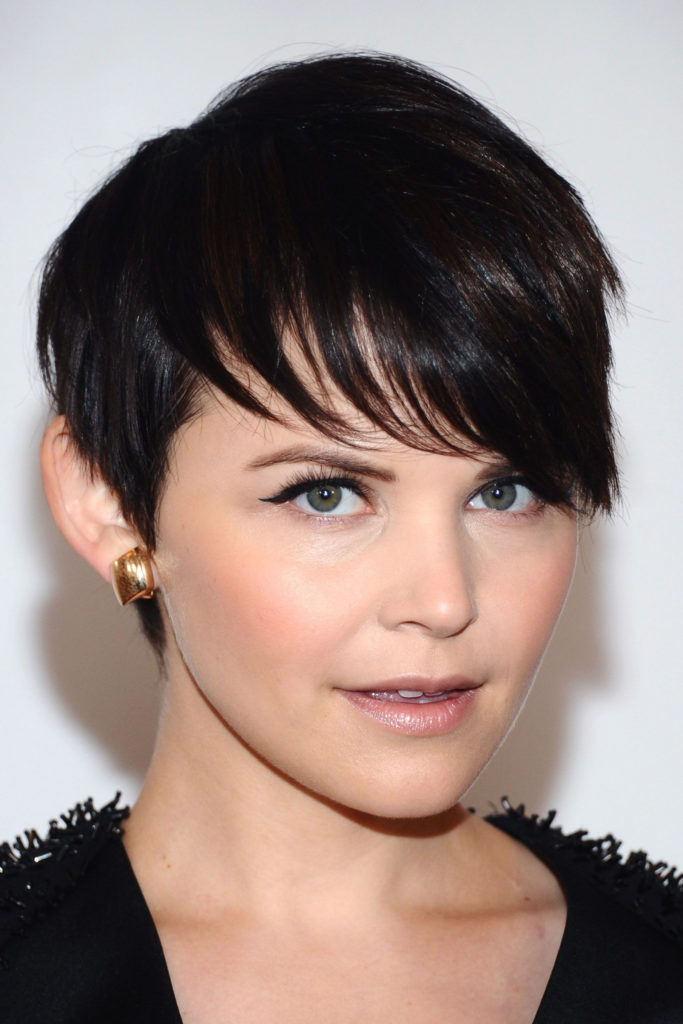 Liberating Perky Pixie
This is an extremely side-parted short cut, in which the hair are too short at the back, but have a bit long at the front in layers. The bangs are a sliced-in fringe resulting in a hairstyle that's slightly easier to grow out because you already have the longer bangs in front. Along with it, the hair over the ears are carefully angled to give you a 70's free spirit vibe. Overall a versatile stile feeling liberated. You must try this style to feel the difference within and flaunt your style to the world with utmost grace.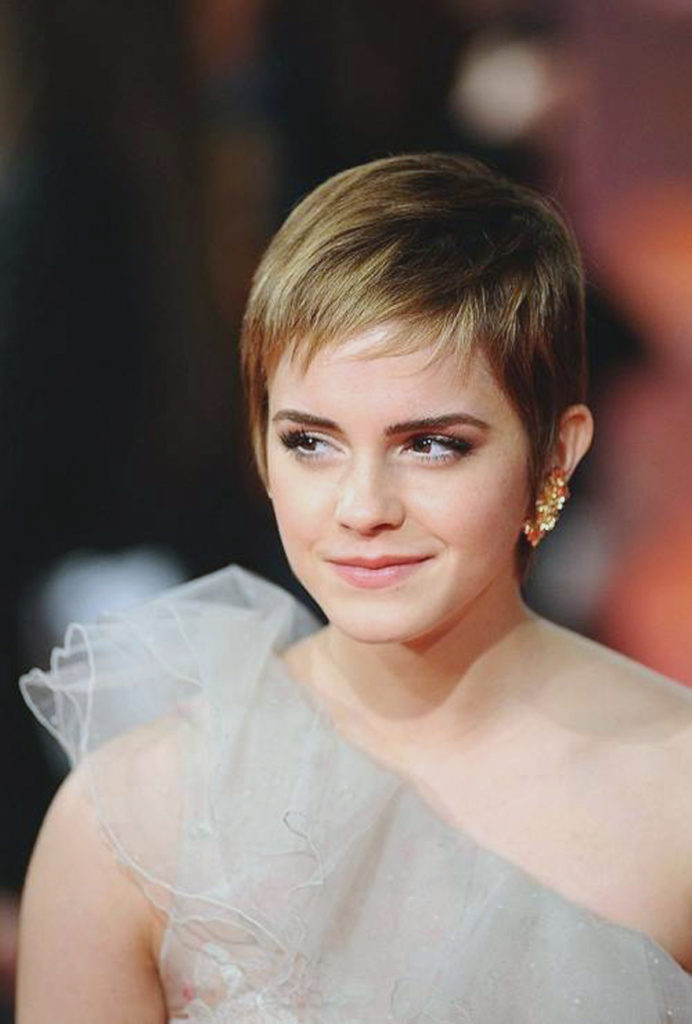 Angled Bangs Sweet Pixie Cut
This sweet pixie cut features bangs that not only sweep to the side, but they are graduated in length going from shorter to longer across the forehead. This asymmetric cut looks unique and creatively designed. This style covers up the forehead so beautifully with the silky and shiny black colored hair. Irrespective of your color, this style goes well with any and looks absolutely gorgeous. It highlights all the best features and hides all the imperfections. Though this one is perfect for all groups; Elderly women will surely love and admire this hairstyle.
Super Short Iconic Pixie
With the blonde locks closely cropped to the head the natural beauty would shine brightly. The attention-grabbing pixie shows how a short hairstyle can look extremely feminine. Neatly the side bangs are swept down on the forehead which gives your face a additional charm and looks superb with any outfit. An ode to perfection. This style can be perfectly paired with one piece and casuals outfits like denim with beautiful complimenting accessories. Those who like to go for short hair; do go for it and create your own style statement.
Short and Tousled Pixie
Go full-on cool girl with textured bangs and short layers. This edgy look is polished with blonde highlights giving a bold look to the heart-shaped face. This shaggy hairdo is a good option for those who want a little more flexibility with styling and want to look bold every moment. Taking your platinum hair to new shorter lengths can be really fun, especially if you are willing to try something a little more funky, textured and flexible with this domino inspired haircut. Young girls, this style is definitely for you.
Short Shaggy Pixie
Just because your hair is short does not mean you cannot enjoy stylish layers. This hair cut is a superb innovation in the world of hair. In this style the hair are kept slightly edgy, especially if you love a messy look like this one. Charming, bold yet elegant, this short pixie hairstyle is all about that. One should be bold enough to go for this one. This look is perfect for everyday routine and suits every type of face, just wear it with grace, confidence, and attitude, you will look like a glamorous diva.
Short Cropped Curls
The short crop not only does it keep you physically cool, but it also adds an instant edge. The classic curl gives the appeal of pop culture. The looks go cute with a wavy, curly pixie. It looks simple yet very stylish and perfect for all occasions. The glance is commendably out of the ordinary. It is an awesome pixie hair cut with an ultra modern touch and can be worn gracefully with a dauntless attitude. This is an ideal adornment for going anyplace and in any outfit.
Drop Dead Gorgeous Pixie
This one is not meant for everyone, but for the ones who love to experiment can wear it with grace. The style might not look good on girls with long face, but suits those who have an oval or heart-shaped face. The eyes and cheekbones are efficiently emphasized and enhanced. If you have a round face and wish to make it appear longer, go for a pixie haircut with the body at the top of your crown so that it lifts the crown of your head, making your face appear more elongated than usual. Beautiful gowns and long dresses can be best paired with this hairstyle.
Shaggy Textured Pixie
Even messy hair can be designed this brilliantly. If you are on the curlier side of the spectrum, embrace your natural texture with this shaggy pixie. You don't need a breakup, or any excuse for that matter, to inspire a serious chop. The newest shortcuts are feminine, flattering, and just plain cool. The chic short crop has us contemplating a dramatic cut. For added texture and hold, twist the ends with a tiny dab of pomade. Flaunt your style and beauty with this super cool and trendy style and spread your charm all around.
Beauty Pixie Crop
This pixie cut can seem like a daunting prospect, but once you go for it the long hair would be happily forgotten. This blonde pixie cut will make us want to reach the clippers for a crash course on short hair. Embrace short hair like this super short crop look. Add a tiny bang to give yourself a little pop and keep everything else super short and buzzed. If you want to elevate your look a little, add a little dye to provide yourself with a pop of color. Short hairstyle looks really cool, bold and denotes to an ultra modern woman.
Blue Hued Permed Cropped Top Pixie Cut
This is the epic style with all the flavors of hippie touch. The dauntless and bold look is not for every girl next door. To carry this hairstyle a lot of confidence, grace and charm are the first and foremost requirements. This style is most suitable for the ones with permed hair. The hue of the hair is adding the real style to the hairstyle. The color is definitely very complimenting to the style with its unique and cool effect. This is a perfect style for the younger generations.
Platinum Grey Pixie Cut with Bangs
The hairstyle looks super delicate, soft and sophisticated. The beautiful blend of grey and platinum shade with highlighted streaks simply looks amazing. The balayage of grey and white added a great texture, style, and uniqueness to the style by placing the color perfectly on each and every hair. This style is befitting for all age groups and can be paired with all types of attires; be it casual, formal, traditional or party wear with utmost grace. The style is loved by many celebrities and famous personalities of the world all around.
Golden Pixie with Defined Texture
This one is a super short haircut with great style. This is the best feature of pixie cut that it offers various wonderful hairstyles with the ease of short hair. You can look every bit of sexy and hot diva without having to keep the burden of long hair. The ultra-short hair with smooth and perfect balayage of golden color looks phenomenal. The pixie cut with each and every defined hair strands look amazingly awesome and brings great texture to the hair. This style can be carried off well with both funky dresses as well as stylish and elegant gowns.
Asymmetric Pixie Cut with Longer Side Front Hair
The unusual but progressive hairstyle this one is, Where the back hair kept very short and front hair kept longer with a side partition. The twist in style is the twisted, wavy front hair that is actually adding a lot of style to the front hair. As discussed before, the color of the hair is the supreme thing that distinguishes the style and makes the hair cut look prominent. This is definitely a bold look that needs lots of guts to wear this style. This is the style that can make you the style symbol and make others follow what you follow.
Rich Glossy Mermaid Hued Hair with Simplistic Cut
The simple cut for simple people, wrapped up with a lot of style and awesomeness. Those who like to keep their styling simple yet noticeable and eye catchy would definitely get attracted with this kind of styling. With elegance and sophistication, the hairstyle is looking apt for the mature women and professional women. To achieve this style, rich, glossy, smooth textured and silky hair is preferred with any shade of color as per your suitability. The style is suitable for all types of outfits.  So go bold with this simple looking hairstyle and cherish your look.
The above mentioned 25 hairstyles are in and trending. The beauty of the style is that it knows no age and comes with a style statement of its own. One can easily customize according to one's own requirement or simply go with a fusion of styles. It does not take much of time to nourish or pamper. Just power yourself up according to the needs and simply take upon the challenges head-on. Be an icon in a jiffy and throb the power punch backing you every time. Go ahead and rule the world and see men gurgling "why should women have all the fun."
25 Sensational and Stylish Pixie Cut for Girls
was last modified:
February 11th, 2019
by