Round faces have their charm and beauty. If you too are one of those with a beautiful round face and want to make the most of the fashion and hair styling that is available out there, this excerpt is exclusively for you all ladies.
And to be frank, it is mostly the medium level hair styles that suit a round face more than any other hairstyle. No matter whatever be your hair color, blonde, brunette, burgundy or the ever exotic Celtic red, a medium hairstyle will suit you the best.
It doesn't matter whatever be your height, complexion or age; a medium hairstyle usually suits a woman with a round face. Especially, if you go to the Midwest, you will be able to find women with Germanic and Scandinavian looks and round-headed, but sporting a medium hairstyle.
Down below, we have listed thirty different types of medium hairstyles that look gorgeous on a round-faced woman.
If you too have an elliptical or round face and are tired of all those typical hairstyles that work mostly for your friends, but not for you, this guide will help you to choose from thirty hairstyles.
Round Face & Medium Hair: Hairstyling Tips
Round faces are adorned with a soft jawline and symmetrical dimensions. The broadest area on a round face is the middle region. Let's look at some hairstyling tips for medium hair that will flatter your softly-etched round face.
What to Avoid For a Round Face and Medium Hair
Your main objective is to balance out your circular face shape and try to give it the illusion of a longer, more oval-like shape. To do this, you need to avoid getting a short bob. It'll only make your face look rounder.
You should also avoid getting too many layers since they'll soften your already soft face shape.
If that's the case, you might think of keeping your hair all at the same length, but that'll also cause the same effect and make your face appear even rounder. Same-length hair is too angular and won't give you the contrast you're going for.
Tips to Flatter Your Round Face
You're trying to look for hairstyles to elongate your face shape. Soft, long layers below your jawline will lengthen your round face.
You can always couple your hairstyles with a side part. You can also opt for an angular fringe and add a bit of height near the top of your head, giving the illusion of a longer face.
If you're not a fan of layering, you can give your hair a thicker and fuller look with a blunt cut and minimal layering.
What you're trying to do is add more volume to draw away attention from your spherical face shape. Don't be afraid to add texture. You can consider adding some beachy waves or go full out and add some curls.
We recommend using a mousse on your hair and blow-drying it afterward with a round brush. It'll give you the sultry voluminous look that everyone's after.
Opt for a Middle-Part
Mila Kunis' most coveted straight, middle-part hairstyle works well on her round face due to a slight lift in the top. While it's subtle, it draws just enough attention away from her round face shape.
In most cases for round faces, a middle part would work best. It'll give your face some symmetry and frame it nicely.
Whether you prefer a sleek look or want some big wavy hair, we're sure you'll rock your hairstyle both ways.
Looking For An Updo Hairstyle?
Whether you're going to a black-tie event or the gym, you probably want to either showcase your make-up-clad face or keep your hair away from your face.
For a simple and elegant look, we recommend a low messy bun. You can keep it at a side or middle part. Make sure to get a few wisps of your hair out to gently frame your face.
Not sure whether to keep your hair up or down? How about a half updo? Not only will it make your face appear longer, but it'll also make for the easiest, go-to hairstyle. Like the messy bun, pull out some tendrils to surround your face.
30 Medium Hairstyles For Round Faces – Wear It And Glam It
Lob With Curly Edges
Curls can transform medium hairstyles for round faces into fun and textured ones. Side-part your hair and use a curling iron or rolling pins to create thick spirals falling over your shoulders. Face framing locks take away width from a round face. The warm brown shade at the edges adds a glow to your complexion.
Perm Hair With Pastel Shades
Perm your hair to enjoy tight curls. Comb your hair thoroughly and use hair cream or serum to keep your locks moisturized. Tight curls add volume to fine hair structure. Opt for a prominent pastel shade like aqua blue to step up your style. Unique and bright aqua blue shades are sure to make you stand out.
Money Piece Highlights
Money piece highlights give a burst of brightness around the hairline, making your dark hair color more prominent. The cherry red locks add color to your face and give dimensions to your hairstyle. It also gives details to your facial features.
Razor-Cut Bob
Use straight edge razor blades to give an edgy twist to your straight bob. A razor-cut bob gives a sharp feathered look with those wispy ends. It minimizes the need for further styling and gives a textured finish. The blonde hair color over dark roots gives a beautiful contrast effect.
Medium Hair Length With Flicked Ends
If you have fine hair, flipped ends can help to add illusory thickness to your hair. Create outward flicked hair on your damp hair by using a round brush or a blow dryer. Add full wispy bangs to further accentuate hair volume and elongate your round face structure.
Soft Waves
Create soft waves in your thick and dense hair to prevent it from weighing down and flaunt your natural texture beautifully. Voluminous waves encasing your face make it look slimmer and make your chin line more prominent. The blonde highlights match the eye color.
Medium Shag With Angular Fringe
Fill your hair with short and uneven layers to create a shaggy hairstyle. Use a razor instead of scissors to get those wispy bangs which further add to the chaos. Layers add volume to fine hair. Pair your hairstyle with a long angular fringe to make your face look curvy.
Luscious Waves
Wavy hair gives a free-spirited vibe to your hair. Side-sweep your hair and let your waves trickle down on your shoulders. Use a round brush to create the luscious waves. The orange-brown hair color gives the feel of autumn.
Inverted Bob
A shaggy inverted bob is quite trendy right now. They add volume to the crown and the back and give an illusion of longer hair. The soft layers give texture to your hair. Play with pastel shades for a more stylish look.
Long Side-Swept Bangs
You need thick hair to achieve these medium hairstyles for round faces. Blow-dry your hair and side sweep your hair. Create long bangs framing the face. Curl the edges using a curling iron if you do not wish for the usual straight look.
Layered Hairstyle with Side Bangs
If you have a round face with sharp edges in places such as the chin and sometimes your upper jaws, a medium hairstyle that flows up to your upper shoulders would look more than cool.
Especially, if you have a pronounced chin that blends with your rounder face, your hair suits you better with fashionable pointed ends.
Lob with Bangs
Sometimes a round face can also be a square face, and when you have a broad chin thrown in the mix, the best hairstyle that you can sport here is the free-flowing burgundy color hairstyle that comes up to your shoulder blades.
If your complexion is light with a yellowish tinge, any color shade from red to brown suits better.
Brown Balayage Medium Hair
When you have a face that is a bit bulged and rounder on the upper cheeks, a curvy and free-flowing hairstyle suits you better.
This free flowing hair wiggles all the way up to your upper shoulders and does a decent job of covering up the bulges on your upper cheeks by blending them with those funky looking wiggles.
Side Swept Blonde Lob
This hairstyle mostly curves towards the inside, and unlike other medium hair, it ends up in your lower neck. It mostly suits facial shapes that combine square and round shapes.
If you have a light complexion, coloring your Side Swept with different shades of blonde would make you look funky and cool.
Medium Curly Hair with Layered Bangs
When your face is curvy with a pronounced jawline and raised upper cheeks, this hairstyle blends beautifully with the contours of your face.
This hairstyle spreads your hair just up to your shoulders and wiggles outward, giving them a wild yet sophisticated look.
Their outward nature perfectly suits your wide and pronounced jawline thus making you look even more attractive with all hair wiggling and spreading outward.
Blonde Wavy Hair with Choppy Ends
Having a broad and spread out face sometimes may feel like a manly feature, but ladies, please do not fret. A broad face on ethnic women looks just fine.
A wavy hairstyle that extends all the way up to your upper chest just looks awesome on a face with pronounced front contours.
Even if you have a dark complexion, the wavy outward nature of your hair and their choppy ends will suit you way better than any other hairstyle.
Medium Wavy Haircut
A face where the person has a narrow chin coupled with a pronounced jawline with a bit broader face makes sense when it sports a medium wavy haircut.
The hair is wavy and bit wiggling outwards, which suit the broader nature of the face. Also, the maximum length they are taken to is up to the upper shoulders, where they rest like a bird perched on a branch.
Blonde Lob
An elongated face with rounder features such as a pronounced upper cheek and a narrow jaw looks unique and sometimes even exotic.
A lob like a hairstyle is all about giving the hair, a characteristic of its own as it falls and drapes downwards all the way up to your lower neck. While you can also color this type of lob like hair with red, it will only further suit your strong facial contours with a thick canopy.
Blonde Wavy Hair with Side Bangs
A broad and spread out face looks quite charming and even beautiful. With a prominent chin and wide looks, blondes would suit a woman so nicely that they blend in together and create an awesome fusion of looks.
This type of hairstyle has a smooth flow to it, and it goes all the way from top to the shoulders where they rest and complete your facial build by mixing in great with your broad looks.
Middle Parted Blonde Hair
Who wouldn't want a wide but beautiful and round face like Cameron Diaz? A round face with a prominent upper cheeks is suited a blonde hairstyle where the hair parts from the edge of the forehead and go sideways and to the back of the shoulder and the upper chest.
Also, you will have some hair falling in the front of your face, thus adding further to your looks.
Medium Blonde Hair with Layers
This hairstyle looks fabulous and great for women with a rounder face and a pointed chin.
The hairstyle is layered as it shows the various parts of its underlying hair and it wiggles in a steady flow, making you look cute and elegant at the same time. This hairstyle even fits a modern professional look of a girl.
Straight Pink Lob
Although pink hair does not occur naturally, it still looks better on a girl with a round face with a pointy chin. The lob style here bends your hair towards the end and points towards your lower neck with an inner curve.
You can also call this look like the punk look as it is derived from punk hairstyle. Therefore, it is better suited to a more casual and funky look, especially with tees and strapped tops.
Medium Brunette Hairstyle
This hairstyle is free-flowing and essentially has a very heavy looking look to it. It goes straight without any wiggles and lands straight up on your shoulders.
This look suits more to a professional environment, but not very strictly. It makes you sexy and sophisticated both at the same time and works well on dates and other occasions equally.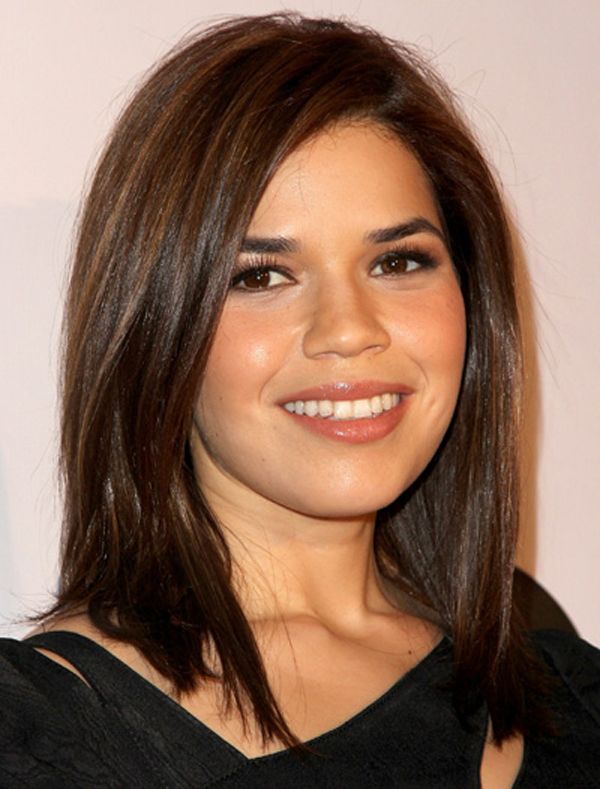 Medium Length Bob
This hairstyle looks controlled and chic with its smooth and soft flow that ends up at the lower neck.
If you have a sexy face with a shorter vertical length with a bit of a pointed chin and upward cheeks, this hairstyle gives it a final touch of cuteness that works well both as a casual, cool and professionally default look. Also, this hairdo curves at the back, thus complementing your rounder face.
Side Swept Lob with Blunt Ends
If there was something called as a 'minimalist' hairstyle, this is what it would look like. This hairstyle is more about expanding a bit outward while staying in the flow.
However, what is better about this hairstyle is that its ends bluntly, thus making a powerful statement. It gives you the 'you go girl' look with the calm and casual demeanor.
Layered Bob with Side Bangs
This hairstyle looks a bit like the 80's thick hair, and that's what which makes it so special. The hair curves towards the back, and this makes it look thicker than they are.
While at the same time, it can expose the layers like peels of onion which make you look so hot while also looking very elegant and professional.
This hairstyle flows smooth and ends up near your lower neck, which coupled with its thickness, makes it even sexier.
Blonde Wavy Hair
Have you ever thought of how would the princess's hair in a fairy tale look like? It would certainly look like this hairstyle.
This hairstyle is so free-flowing, it looks almost like water flowing from a cool fountain. Add to that, the golden fire blonde color, and you have an explosion of exotic hotness. This looks better when you have a Scandinavian face and a beige like light complexion.
Side Parted Medium Hair with Layers
If you are looking for a balance in your hairstyle that combines minimalism of hairstyle while giving it an effect of being fashionable, this hairstyle will work better for you.
The hairstyle is mainly based on free flows that go smooth like running water while some strands will also curve around your ear.
This contrasts adds to you overall beauty and looks. Especially, if you are a redhead, the shine from the curvy hair will make you look even sexier.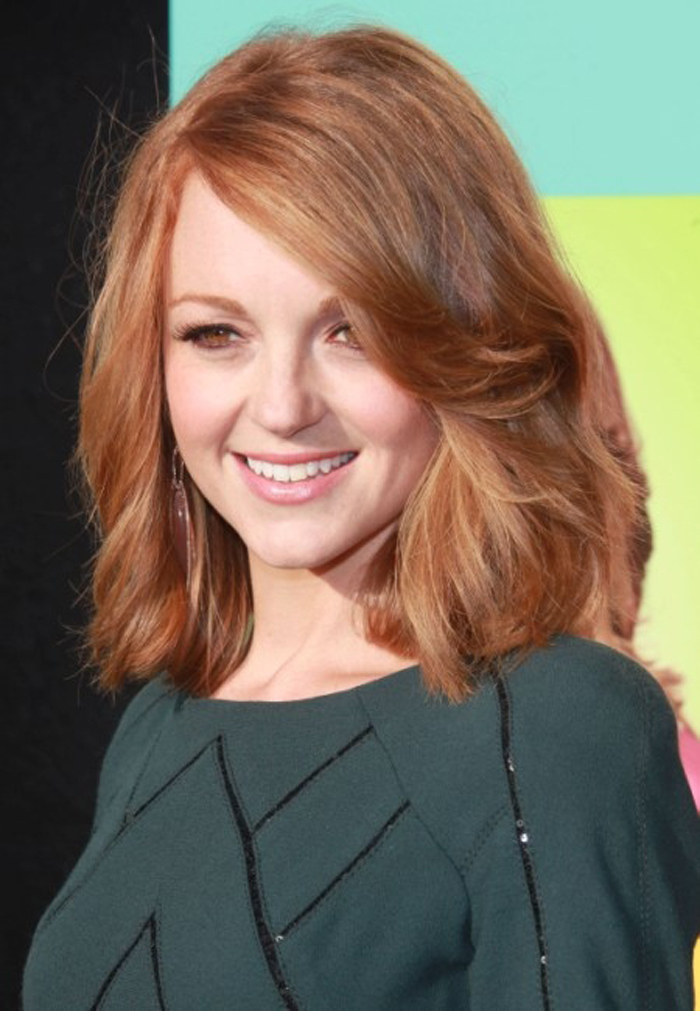 Messy Updo with Bangs
This hairstyle combines the wild with the sophisticated. While at the top, the hair is a bit messy, at the ends and the corner, they are curved with bangs.
This hairstyle is most suitable for those ladies who have a frizzled and naturally curly hair. The hairstyle makes a statement that gives an impression that you can be sophisticated and elegant while hiding an undertone of being a wild child.
Symmetric Bob with Blunt Ends
If you love to look orderly and want to see your hair in a more symmetric fashion, this one will suit you better. The effect this hairstyle has is that of sophistication that imbibes symmetry and discipline in your style.
Unlike most other styles, this one ends abruptly and bluntly, thus making it look bold and strong, making a statement of power with sexiness.
Layered Haircut for Brunettes
Brunettes have a unique and sexy appeal to their look because of the contrast created by their light skin coupled with their dark hair.
If you too are a brunette, you can maximize your looks by having a layered haircut that works very well with your round face and light skin tone.
This style suits very well to women from the age thirty-five onward and gives them a very mature feel and look. It combines elegance with sexiness.
Shag Haircut with Bangs
Have you ever wondered what you would call the typical cute girly looks? This is what they would look like. This hairstyle is for those women who live with the motto '18 forever' and are young at heart.
The shag haircut goes all the way back to the 60s and has sustained even today. The shag haircut flows freely and ends bluntly right before the shoulders.
This hairstyle especially looks better on redheads and blondes as it blends very naturally with the hair color.
Medium Haircut with Loose Waves
A wavy hair cut is usually thick and long. However, if you are looking for a haircut that combines minimalism and flaunting, this one strikes a golden middle ground. While the hair is loose and wavy, they define a character of casual seriousness in you.
This haircut works better when your hair color is blonde. However, it also does the job when your hair color is burgundy and red. You can also tie the blunt ends with a rubber loop that will make you look different.
Middle Parted Blunt Bob
The long hair that men sport, is way different than women's long hair. However, if you try the middle parted style like Kurt Cobain, you will have a sexy new combination of hair that makes you look chic and tough at the same time.
This hairstyle also ends bluntly and hence making a blunt statement about your personality. If you have a broad and a bit flatter face, this hairstyle suits you better. And even so when you have a blonde or golden hair.
Side Parted Hair with Voluminous Curls
Side parted has its way of making you look hotter and cuter. The side-parted hair gives you a look of confidence and a bit of an attitude that helps you stand out.
The side-parted hair also sports some wavy wiggles that suit you even better when you have a broad face. This look suits you even better when you are in a professional environment as it looks stylish while keeping its relevance.
Blonde Hair with Wispy Layers
If you want a hairstyle that suits your age of 35 years and beyond and yet does not become too old and bland, the wispy haircut will work wonders for you.
And if you have a whitish blonde hair, this haircut will suit you even better as it mixes in with the color and makes you look five years younger than your real age. It gives casual vibes without making you look frugal.
Medium Haircut with Soft Waves
Do you have a broad face with a defined jawline? The medium haircut will blend so perfectly into your facial contours that you are more than going to love it.
One defining feature is the waves that flow so softly and yet so strong, as if they are making a statement about you.
This hairstyle looks better and works better for redheads with a broad face and light skin tone. The hairstyle runs all the way up to your shoulder blades.
Shoulder Length Hair with Layers
If your facial contours are very puffy and a bit swollen, this hairstyle will work wonders for you with its wavy and curvy hair that reaches up to your shoulders and adequately make up for your broad, curvy face.
It has looks of elegance and a bit of 80s Madonna hairstyle. You can maximize this hairstyle by coloring it with burgundy or dark red which gives it a shiny new effect.
Asymmetrical Bob with Bangs
The inward bending hair bob looks cool even when you have a naturally dark hair. The bob on the side will make you look as if you still have that spark of youth in you while completing your looks like a grown-up, mature woman.
This hairstyle would look even better if you give it some shades of burgundy or dark red in between the lines.
Feathered Medium Blonde Wavy Hair
If you are an ardent fan of wavy looks and have blonde color hair, perhaps this is the sexiest and most suitable hairstyle that you can sport.
It flows so effortlessly and fluidly down to your upper shoulders that the waves look so natural with their smooth and thin texture. Add to that the blonde color of your hair looks so fine and natural that it almost makes you look surreal and sexy.