Are you up for some new hairstyles? But still confused what hairstyle to get? Forget this confusion, as you have a simple but stylish solution to your haircut problem. And that is the blunt cut hairstyle.
A hairstyle which can fit almost every hair type beyond the hair size. Whether you have long hair or short hair. So, no worries at all if you want to go for a haircut now, you can choose from different blunt cut options we are giving you here.
For those who still associate the blunt cut with the short straight hair cut like the old school type, take it easy. As the short one can be the favorite of many women or girls. But it's not the only blunt cut we have.
We have long hair blunt cut as well as medium hair blunt cut. And what I like the most about these blunt cuts is that they give a fuller look to your hair seems like a good volume of hair.
And this is a hairstyle which even celebrities do like. And many of the Hollywood celebrities have tried different blunt cut hairstyle on different occasions. So, let's check some of the blunt cut hairstyles listed below.
35 Most Coolest Blunt Cut Hairstyles for Women
Colorful Middle Bob Cut
If you love to play with colors and want to try something new, then this is the one for you. Blue and pink highlights alternatively in the middle part of your crown make the cut more refreshing. After coloring, keep the hair straight and just let it flow freely.
Red Wine Long Bob
Wine red color is one of the most attractive hair colors which every woman wants to try. It's an exciting blunt cut hairstyle for women that can make their whole personality stand out in the crowd. It's simple to maintain, just keep your hair straight, use a shiny cream to keep them lustrous, and enjoy the day.
Colorful Bob
Play with the colors of pink and use highlights as well as overall hair color mixed with your natural hair tone. Keep front bangs naturally, and a few hair tresses on your cheek and rest tucked behind your ear at one side, and that's it. It's a girly look which you can easily carry with any outfit without worrying much about the hair.
Silky Side Swept Blunt Cut
Part your hair from one side in a textured way keeping the bounce at the middle, so it doesn't look flat or sticky. Let the hair flow on one side, covering the ear slightly, and voila, you are set for the day. You can use your fingertips to keep the partition like this if needed or use a spray to keep it intact.
Orange Coily Lob Cut
Managing coily or curly hair is quite difficult and styling them is also tricky. But worry not, we brought the easiest and simplest hairstyle for your coily hair. Color your hair with an orange hue, and simply use your fingertips to set your hair. Let it fall freely, just keeping it away from your eyes to get all the attention towards you.
White Gold Blunt Style
Another amazing easy to maintain blunt cut hairstyles are best suited for thin as well as thick hair. It makes your hair look stylish, bringing the best of traditional cut. It adds an elegant charm to your overall look. Just try it and see the transformation yourself.
Purple Bob
Natural curls are a boon for some, but for some, it's a curse. Add burgundy color to your hair and make it more interesting with the outward curls. Use bigger curlers to make big curls and set them with your fingers. Keep the fringes to one side and on the other side, use some flower accessories for extra fun.
Silky Long Blunt cut with Layered Fringes
If you like to keep long hair, then try this hairstyle. Women with straight hair can easily manage it with a hair spray and add elegance with layered fringes. In the case of curly hair, simply straighten them and side-swept your hair to one side of your face, covering half of your face with the fringes. You will love the look it creates.
Sky Blue Short Bob
Blue is always in trend, a color that captures the most attention. Side-swept your front hair and keep the rest straight and free falling. Even if you wear specs, the look will support it. It is suitable for all age groups, events, and face types.
Baby Pink Straight Hair
Neck-length hair is easy to maintain and carry, but at times, it becomes boring, so to get rid of that, color your hair with baby pink. Part your hair slightly from the middle and let the hair fall freely. Straighten them for a better appearance. Its best suited for oval-shaped people and hides your chubby cheeks, making you look more glamorous.
Middle Part Black Hair
For the classic and elegant look, this jet black blunt cut is a big 'Yes'. This hairstyle can be carried on hair length from long to medium. Set the tresses straight and get the blunt haircut done.
Part the hair from the mid adding a frame to your face. For some, it may look dull. But adding charm to this hairstyle is the shining jet black color shade.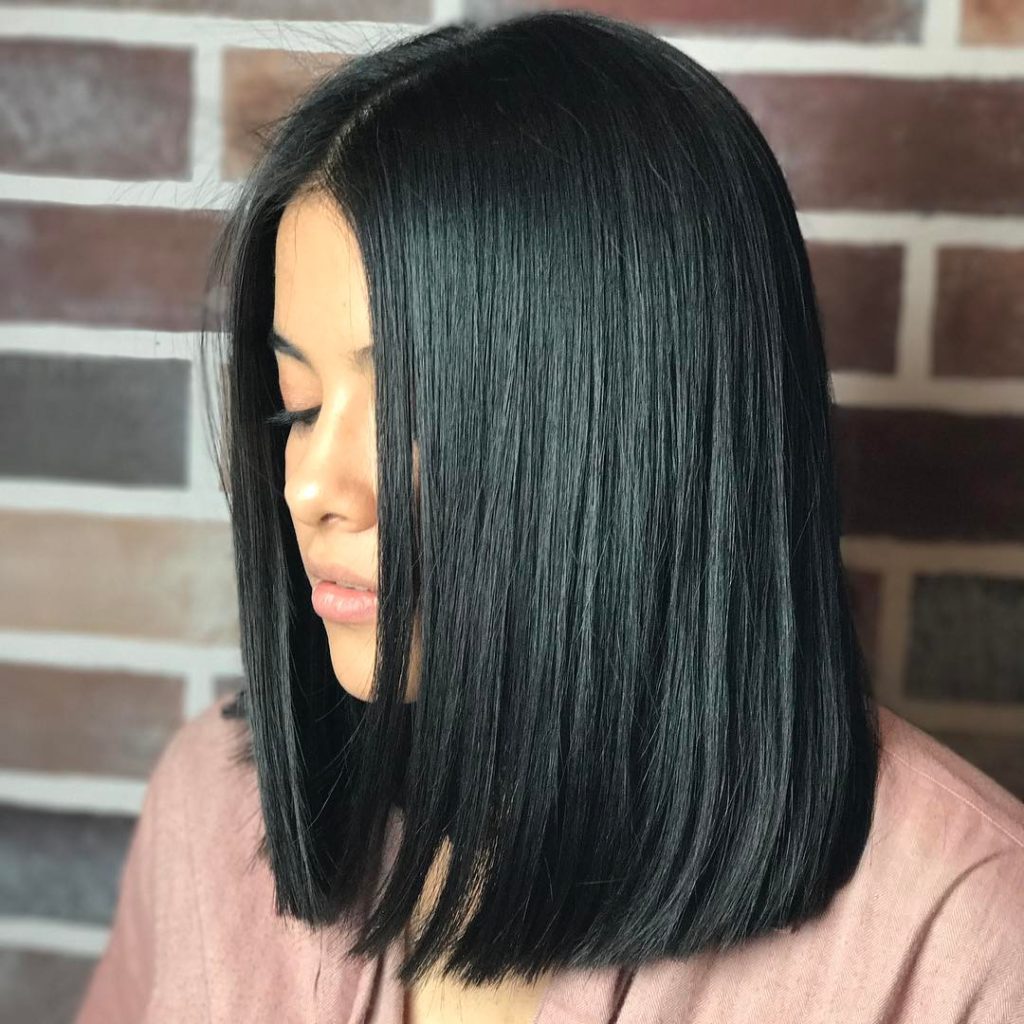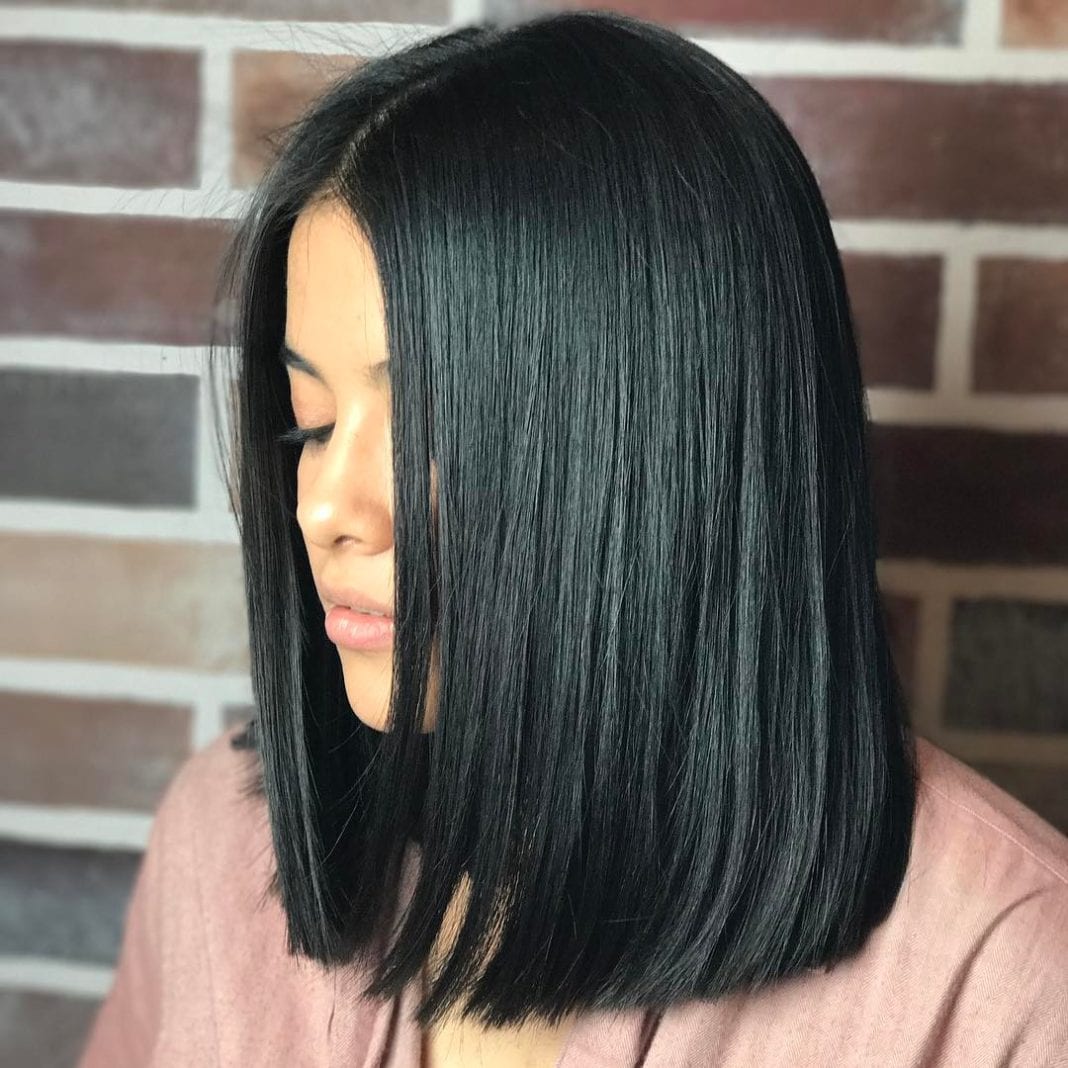 Platinum Blonde Lob Haircut
Achieving elegance with the hairstyle is not what everyone can do. But with this hairstyle, you will surely be able to get the elegant look with the lob cut in the platinum shade. Such hairstyles are good for the long shape face.
Get your stick straight hair the blunt lob cut with a tidy center partition. And for the hair color shade, get your tresses the platinum blonde shade leaving root tip black.
Brunette Wavy Hairstyle
There are some hairstyles especially for the long and thick hair which never go out of trend. You can try this haircut by getting the blunt cut on the tousled wavy locks.
This hair look will add volume to your hair by giving them a fuller look. And along with that use the dual shade brunette combination of medium shade brunette with the light golden brunette.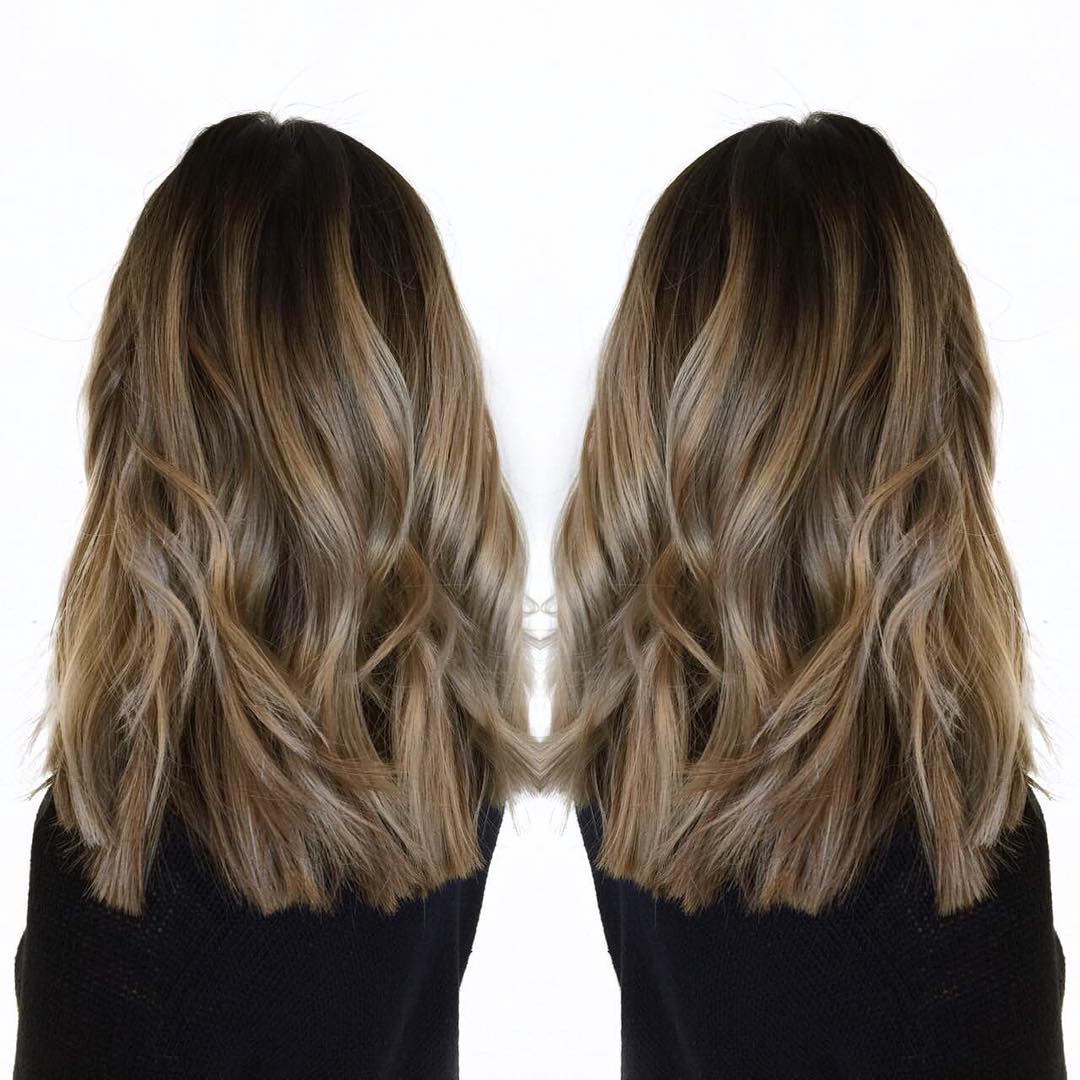 Straight Blunt Cut
A perfect option for women with medium and straight hair. Well, this look is in for the casual occasions as you will not need to put much effort with this look.
Get the blunt cut done on your medium straight hair. And part them from mid making your hair fall on both the shoulders. The shade of dark brown and the light chocolate brown will make a good combo for this hairstyle.
Brazilian Straight Hair
For a triangular shaped face, you can try this look if you have fine long hair. With fine hair also you can get the volume if you will try this hairstyle.
A perfect blunt cut on the straight, smooth fine hair is all that you need to get this hairstyle. Coming to the color shade so that you can try espresso color shade.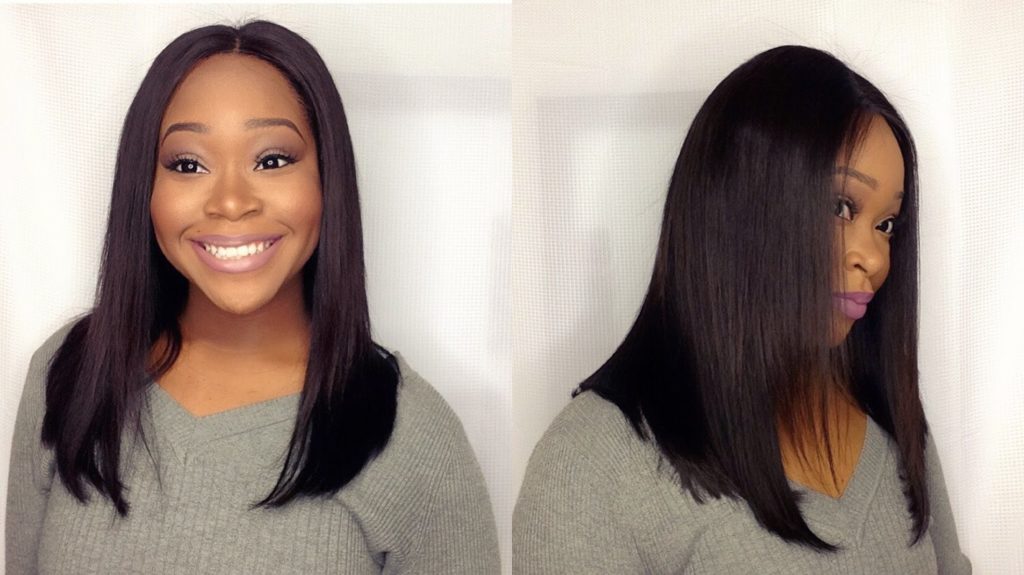 Blunt Bob with Bangs
This look goes for a round shape face. Being a stunning hairstyle it can be carried for any occasion or at any place. The women with short hair must give this hairstyle a try.
Get the blunt bob cut on your hair with the fine bangs on your forehead. To match up this look, you can get the light golden blonde color shade.
Side Part Bob with Blunt Curls
For the women with the short hair, try this new blunt look with the curls. With the bob, blunt cut gets you hair ironed with asymmetrical curls.
Go for the side parting with both side strands coming to the face. The hair color shade you can match up with this look is the Dark shiny brunette. This is also one of the casual looks you can try for the parties or your travel trips.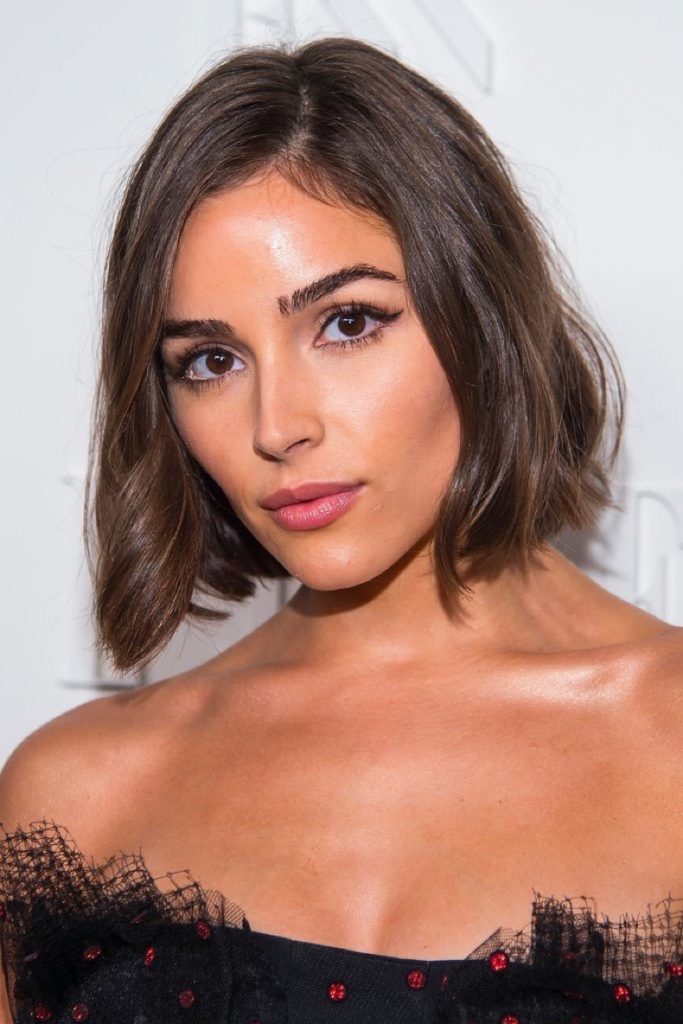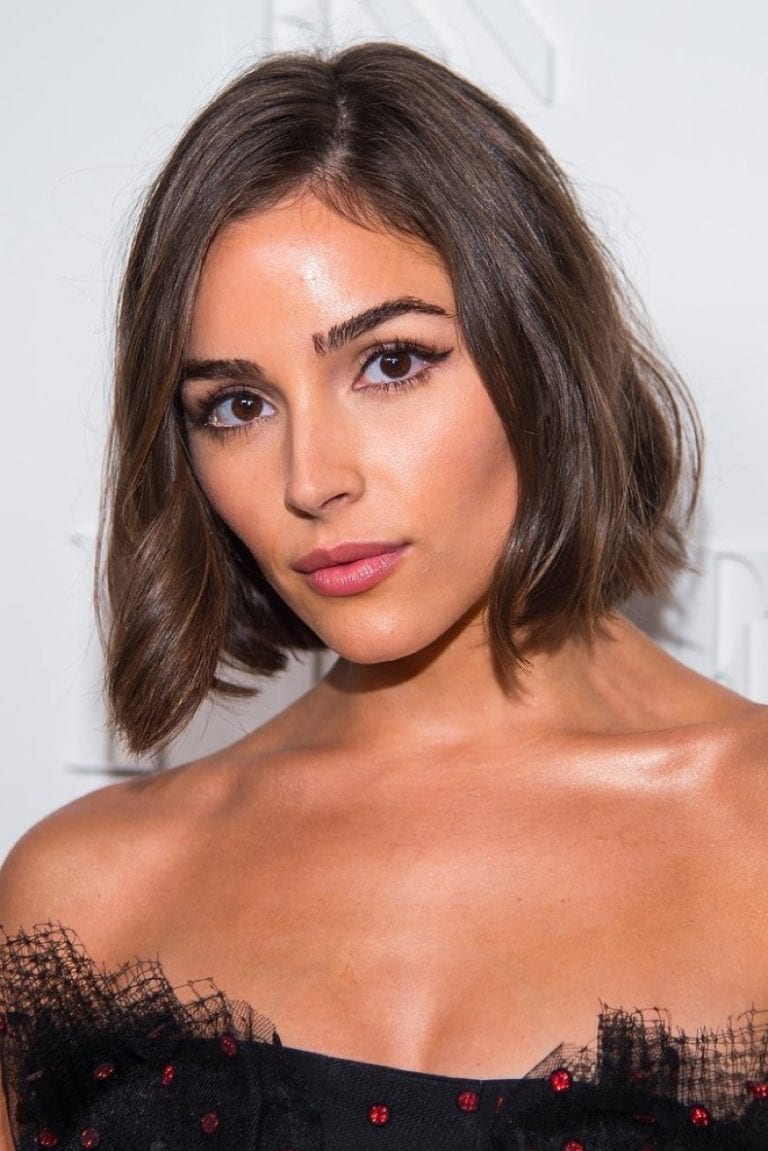 Layered Bob
For a bob cut, this is a fresh look which you can get. And undoubtedly, this look will look sexy on all age group women. The hairstyle will need the blunt bob cut along with the layered cut.
Adding the sexy look to this hairstyle is the leather black color. With the side partition, you can tuck the hair off one side behind the ear and the other side combing up back and to the side.
Center Part Long Straight Hair
Many of us crave for the long straight locks, just because of the variety of hairstyles we can do with them. So, for women with long locks, here comes another hairstyle. The blunt cut looks superb on the long straight hair.
Do the mid partition and let the hair be free giving a frame to your face. With the dark brown blonde shade hair and the black shade root tip, you will rock this look. You can also add golden highlights in between.
Blunt Cut Lob
Bangs with the blunt cut is in these days. They make you look like a style icon especially if you have straight hair.
For medium to long hair type, the blunt lob cut suits a lot. Along with that the bangs covering your forehead, give it a chic look. For a square shape face, this is a sassy look. Get your hair colored with dark brunette and light blonde color.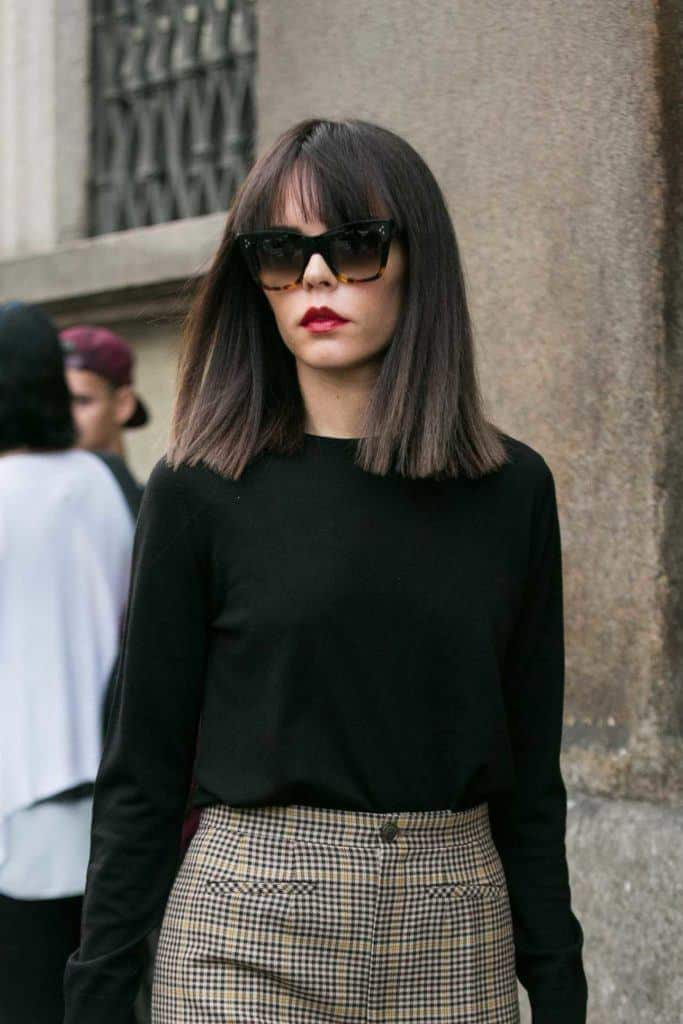 Bouncy Bob Haircut
Even with fine hair you can get the volume with this hairstyle. It involves the blunt bob cut with mid partition. And along with that style up your hair giving it a billowy or bouncy look.
The curve of the hair around the face will give it a nice frame. And the ash brown hair color with golden blonde highlights is making it more pretty.
Brown To Grey Ombre Bob
If you are bored with the bob style than here is how you can style your bob cut look with the dual shades. Flaunting the dark brown to grey blunt bob will make your bob look in for the fashion.
And you will have another reason to keep your bob look for next few weeks. Giving it the mid partition will make it like a pretty chic at any age.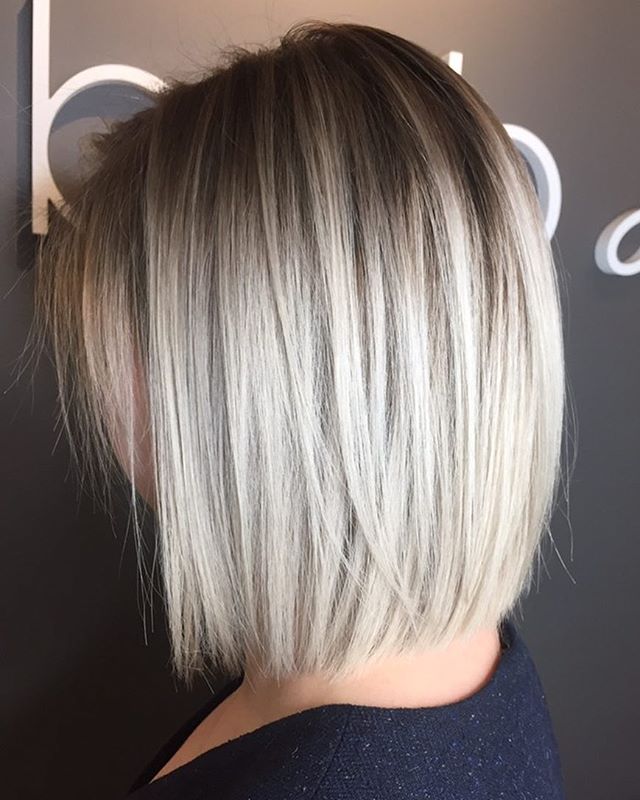 Long Blunt Cut
By the name only, you would have guessed that this hairstyle is for the long and smooth hair type. The blunt cut looks quite sexy on smooth long tresses.
And the hair color shade from espresso to chocolate brown gives a lively and bouncy look to your hairstyle. This will suit both the oval shape face and the long face also.
Straight Black Bob
Are you trying to get a sexy look with the sparkling black color hair shade? If you have medium or shoulder length smooth hair, then this style perfectly go with you.
Get the blunt cut and style your hair with the mid partition. Let your hair form a frame around your face giving a fuller look to your face. This hairstyle suits oval shape face a lot.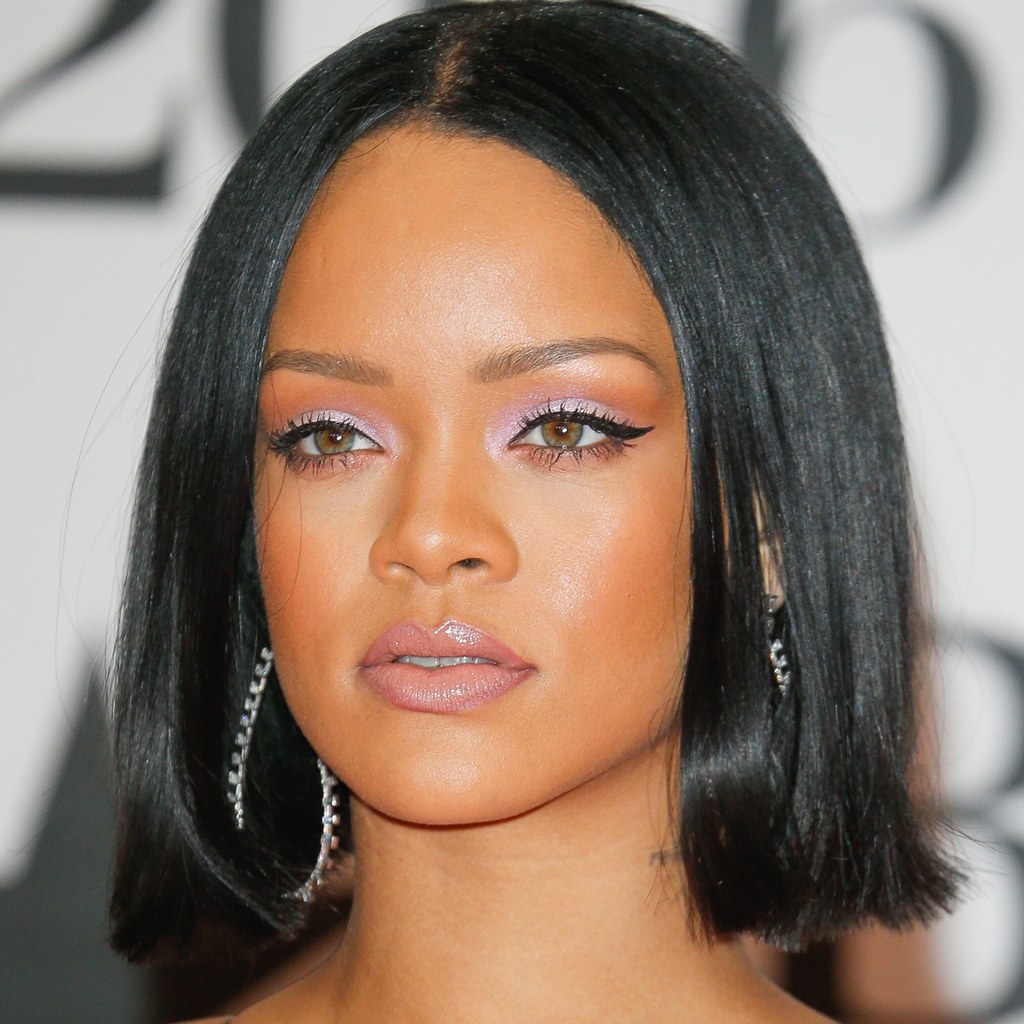 Thick Wavy Hair
If you are in no mood for the bob cut, then try your hand in the lob cut, which is a longer bob than the usual one. And this blunt lob cut with the wavy hair will make you look fancy and impressive.
Adding the dark blonde color to these waves with the light blonde highlights will make them more attractive.
Angled Blunt Cut Bob
For a decent bob look, you can try this hairstyle. From the front, it may look a little fancy but closely it will look decent.
Here, you will have the angled blunt bob cut. It's a flattering hairstyle with the straight hair and bangs cut on the forehead. Coming to the color shade, the dark golden blonde will go well with this hairstyle.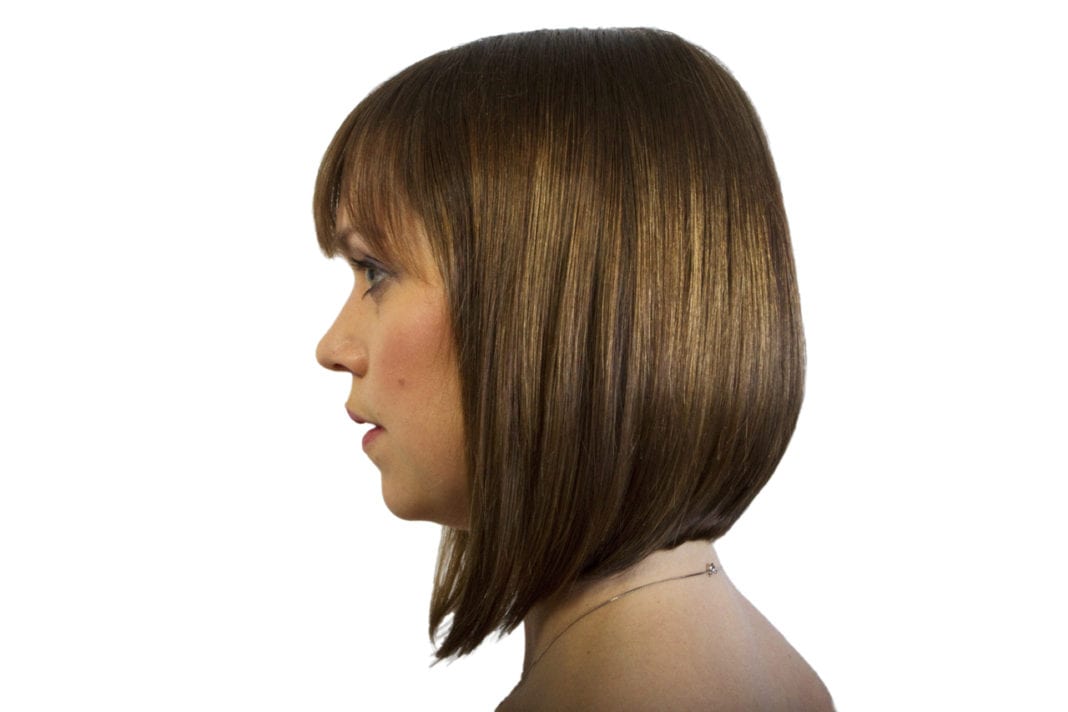 Medium Length Blonde Hairstyle
With blonde shade, you will get numerous hairstyle options. And for the fair skin women, the light golden blonde looks prominent.
To do this hairstyle, get the blunt cut, and then to style up your hair, do the side partition. And roll up the hair of one side making a curve. And the other side behind the ear. If you have the fine hair texture, then this will look more beautiful.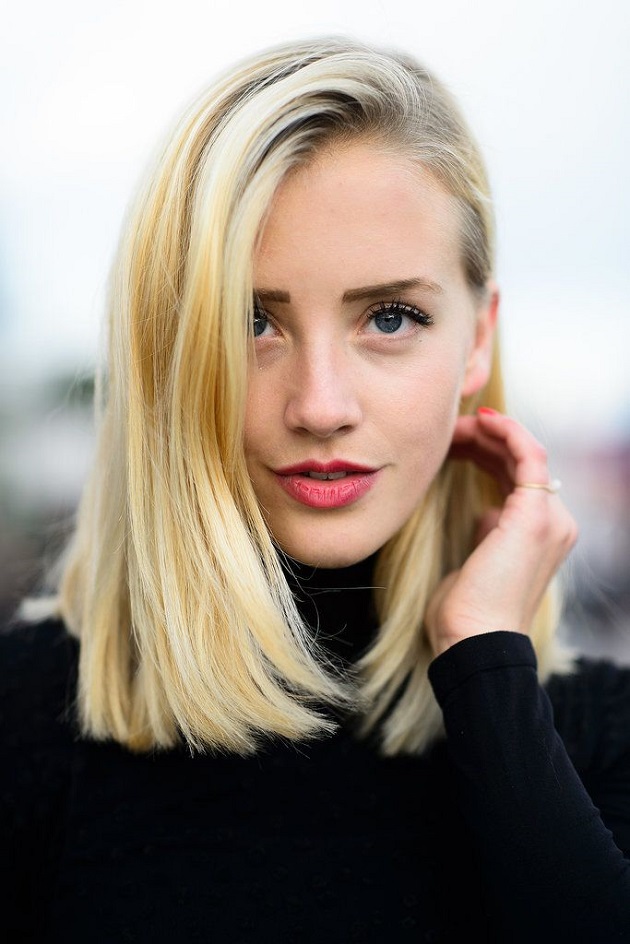 Sleek Blunt Cut Lob
This hairstyle is quite spectacular with the cut and the color shade involved. It's a long lob blunt cut for the silky straight hair.
The center partition makes it look perfect and bold at the same time. And as I mentioned about the hair color shade above, so jet black or leather black is what you should do with this style.
Glamorous Waves
There is no doubt that the loose wavy hair with the blunt cut looks sexy and glamorous. It will catch all the eyes wherever you go, whether it's your workplace or any big party or any club also. Especially on the people who have V-shape small face.
The hair on both the sides gives the coverage to the face making one look more beautiful. With such hairstyles, the dark color shade goes perfect, so you can go for cola shade or dark brunette.
Bangs Haircut
If you have thick hair or fine hair, bangs can always add a charming effect to your personality. This is a simple yet sassy hairstyle for those who want to have medium-long hair. Just go for a medium blunt cut, keeping the front bangs short till your eyes.
Let it cover your forehead fully, giving you a attractive look. The haircut can be easily maintained and can be tried on any occasion. If you have colored hair, the style will look even more impressive.
Updo with Blunt Bangs
Bangs looks pretty persuasive when it comes to the hairstyles. As bangs can add taste to even a simple hairstyle also. So, here is the blunt cut bangs falling fully over the temple and just above the eyes.
To style up in a prettier way, just do the updo hairstyle by pulling the rest of the hair back either making a bun or even a ponytail will go with this style. Go with the dark brunette or cola brown color shade for this hairstyle.
Blonde Wavy Hairstyle
Here comes another style with the bangs. But this style is unique in its own way. As here you have to style up by getting the blunt cut with the wavy tresses. And bangs cut over the forehead in a neat way.
For a color shade, I may sound typical but the light golden blonde is what will look pretty with this hairstyle.
Super Straight Hair
We have the bangs for all type of hair, so get ready for some more bang styles haircut. As, I already mentioned that bangs look impressive with any hairstyle, so will they look on you also, if you have long hair.
Get your long hair the blunt cut and the thick bangs on the forehead. Let some of the tresses fall in front and some at the back. Give your tresses the shade of dark golden brown with the medium blonde highlights.
Blunt Layered Haircut
Layered blunt cut itself look very stunning. And adding bangs to it will give a very innocence look. So, get ready to rock the two looks together. This hairstyle is for the medium to long length hair with the fine or thin hair texture.
You have to get the layered blunt cut done along with the bangs on your forehead making you look cute and stunning at the same time. Color them with the dark brown shade and chocolate brown highlights.
Classic Blunt Haircut
Get ready for another sassy look for your party. The super light blonde shade hair color is making it look vivid.
If you have short hair, then get the blunt bob cut, and leave the thick and long bangs on your temple. The little cute tiny hair peeping around your ear will give you a complete fancy look.
Short to Medium Blunt Haircut
If you have the shoulder length hair, and that too kind of straight hair, then blunt cut is ideal for you. And for coloring your hair, use medium golden blonde and dark blonde.
Use dark blonde for the highlight for root tip and also highlight the inner tresses. For styling, do the side zigzag or kind of messy partition and let the tresses on both side covering your temple partially.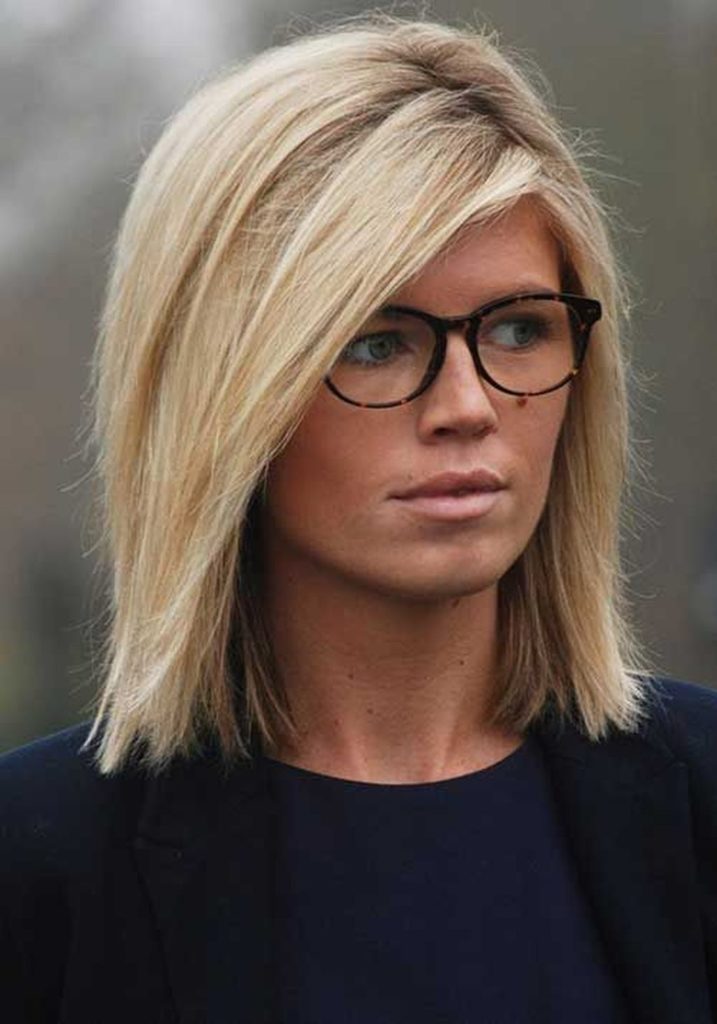 Platinum Blonde Short Hair
If you want to get a modern chic look, then this style is for you. Get your cut in the blunt bob cut style. To add color shade, platinum blonde shade is the one which can go with this look.
To style up your hair, do the slight side partition from front (leaving back), and roll up the hair of one side forming a curl. And tuck the hair of the other side with less hair behind the ear. You can use iron for forming little loose waves also.
Shiny Blunt Bob Haircut
Do you not get amazed seeing such glossy shining hair? Would you also like to have hair like that? So, follow this hairstyle tip to get the same look.
Style your straight hair with the blunt bob cut and you have to do the mid partition. For that glossy shining hair look, get the shiny dark golden brown shade with the chocolate brown highlights.
Side Part Hairstyle with Waves
Just like the bob cut, the lob is also trending whether they are smooth lobs, straight lobs or wavy lobs. Here you will style your hair with blunt lob cut and the hair pattern will be wavy with the side partition.
For hair color shade choose dark golden blonde and light blonde shade. For casual look, this goes pretty well.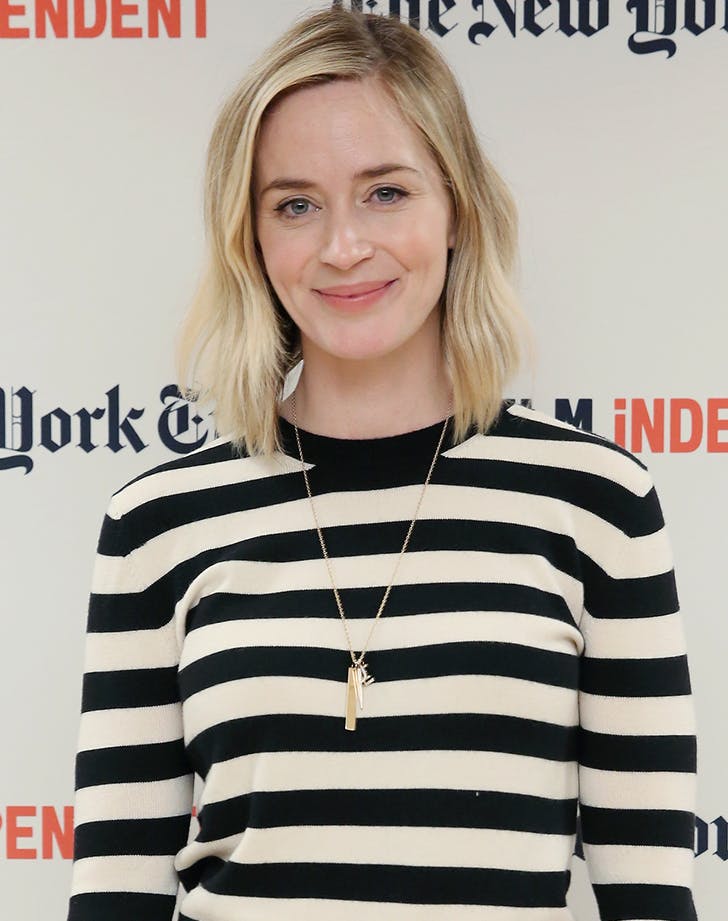 Shoulder Length Blunt Cut
For getting a chic look, here is the hairstyle for you. This hairstyle will look good on the women with oval shape face.
For the haircut and the hairstyle, you will need to get the shoulder length blunt bob cut with the straight hair. And to make it the chic look, color your hair with the shade of Diamond Blonde leaving root tips with dark brown shade.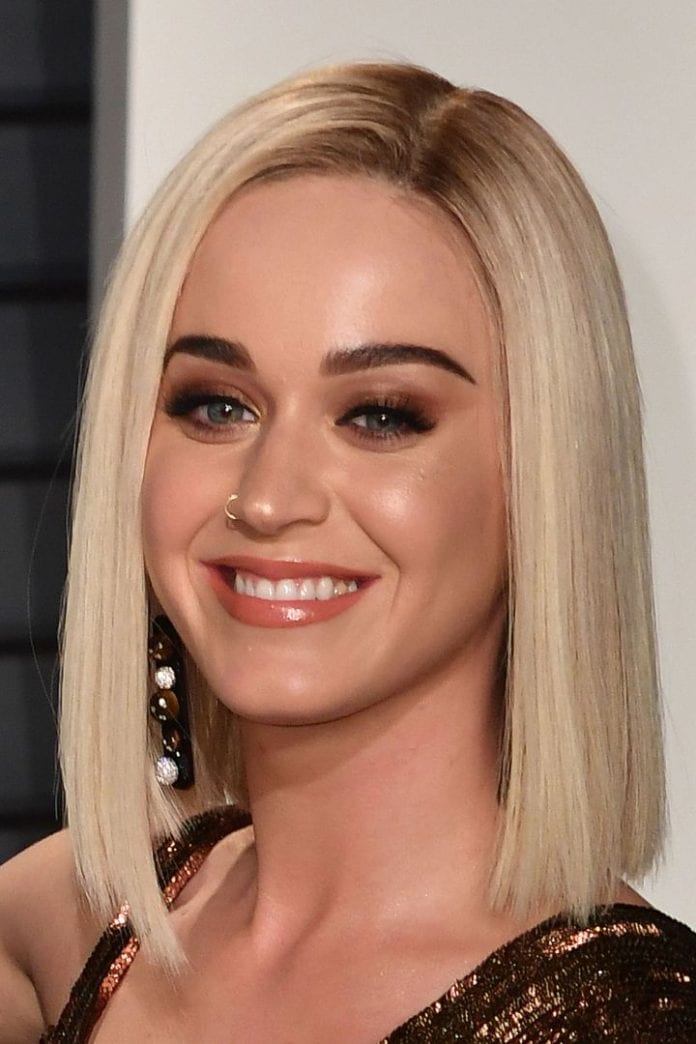 Long Hairstyle with Side Bangs
Long hair always steal the show. And if you have styled up your hair in this way, then you are surely catching many eyes.
For this style you have to give your long hair blunt cut with the long bangs falling on the one side of your temple with the side hair partition. Adding the extra look to your hair by 2 blonde shades of dark beige blonde and light golden blonde.
Blunt Pixie Cut
For a small and square-shaped face, this style looks very cute and pretty. If you want to look younger than your age, then do try this look.
Set your look with the blunt cut short tiny bangs, styled up in the pixie hairstyle. The ash brown color shade will go perfectly with this look especially if you have a fair or Wheaties skin tone.
Glossy Long Hair
Who will not love to have the long straight tresses? Of course, most of the females love it. But what if you get a chance to style it up in a little different way.
You can get the long layer cut along with the blunt cut to highlight the layers. With the dark brunette glossy shade, along with the centre partition, and both side hair covering your slim cheeks will make you look no less than a star.
Curled Out Bob
For your professional world, the bob cuts are the one which you can get without any doubt. Here is the dual color shade hairstyle with the shade of brunette and medium blonde hair color.
For hair styling your bob cut, do the side partition of hair forming an arc, with slightly covering your face.
And the other side with the less hair, tuck those hair behind your ear giving full coverage to the other side of your face. This hairstyle will reflect confidence in you.
Short Blonde Blunt Bob
If you are bored with the straight blunt bob cut, then here we come with the wavy blunt bob cut for you. From shoulder length to very short hair, this will suit both. And you will go gaga with the shade of light blonde hair color.
With the center partition the wavy blunt cut will work for many occasions. From the in-house party to your solo travel trip, this style will give you a carefree independent look.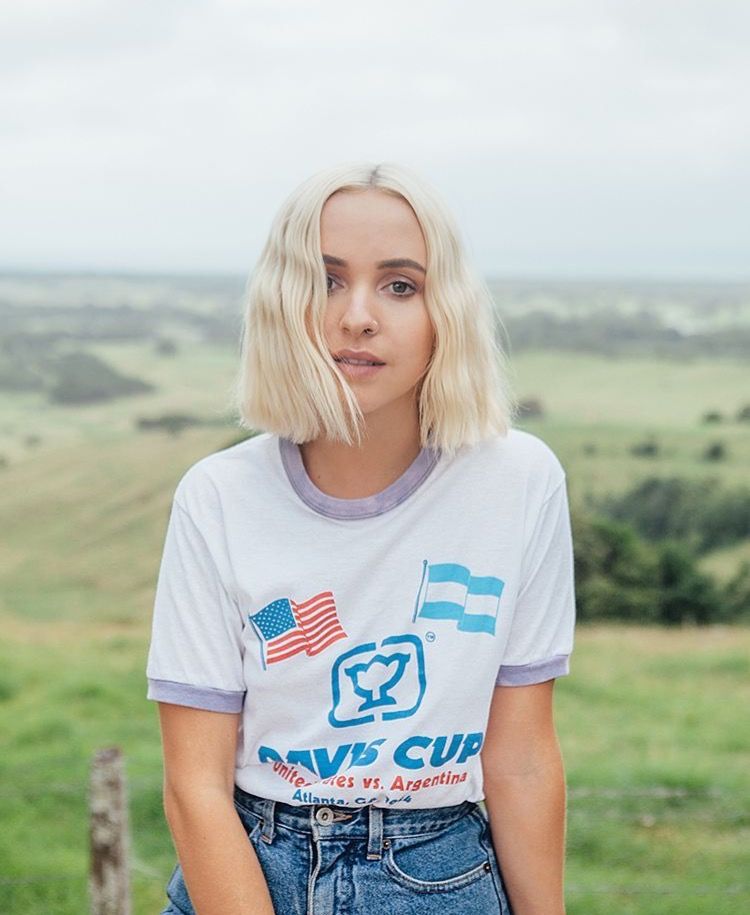 With these different styles of the blunt haircut, you now have amazing options to try on short hair as well as on long hair also.
Even you can pair up many other haircut options with the blunt cut to look cool and pretty at the same time. We have shared Blunt Cut Hairstyles which you can carry casually, for work, and even for the parties also.
They are not limited for any particular age group, so which means that from a young girl to the women in the late 50's can also try these blunt cut hairstyles.