Whether it is to get a complicated haircut or just simple hair maintenance or beard trimming, whatever your reason be, going to the barber is a must. It's not just a haircut that you can get at your barber's.
Barbershops around the world today offer more than just hair cutting. You can get facials, spa services, and even hot towel shaves.
To provide quality services for customers, barbers, therefore, need to be up to date with the latest tools required for performing these.
While you might want to save a trip to your barbers, the fact that your hair might not be done professionally may be holding you back; keeping this in mind many companies have now launched professional tools that can be used by people at home itself.
Let's now look at the 10 best professional barber clippers that you can use, but before that, here are all factors you need to consider before buying it.
Things to look for in a Professional Barber Clipper
If your clipper or trimmer has a blunt blade, shaving and cutting through really thick hair can be a real task, so make sure to look for the sharpness and quality of the blade.
This is important to consider since then only you can buy a product which will meet your requirements of cutting at different lengths.
Clippers should be cleaned and maintained regularly if you want them to have a lasting shelf life.
At the same time, buy a product that will require less maintenance from you and yet stays solid.
These basically represent the remaining length of hair once the clipper passes over an area.
Cordless electric battery run clippers are all the rage these days. You can literally use them anywhere, even if there is no socket.
But some people may prefer corded clippers, and that is okay; you can but the one of your preference.
10 Best Professional Barber Clippers for 2023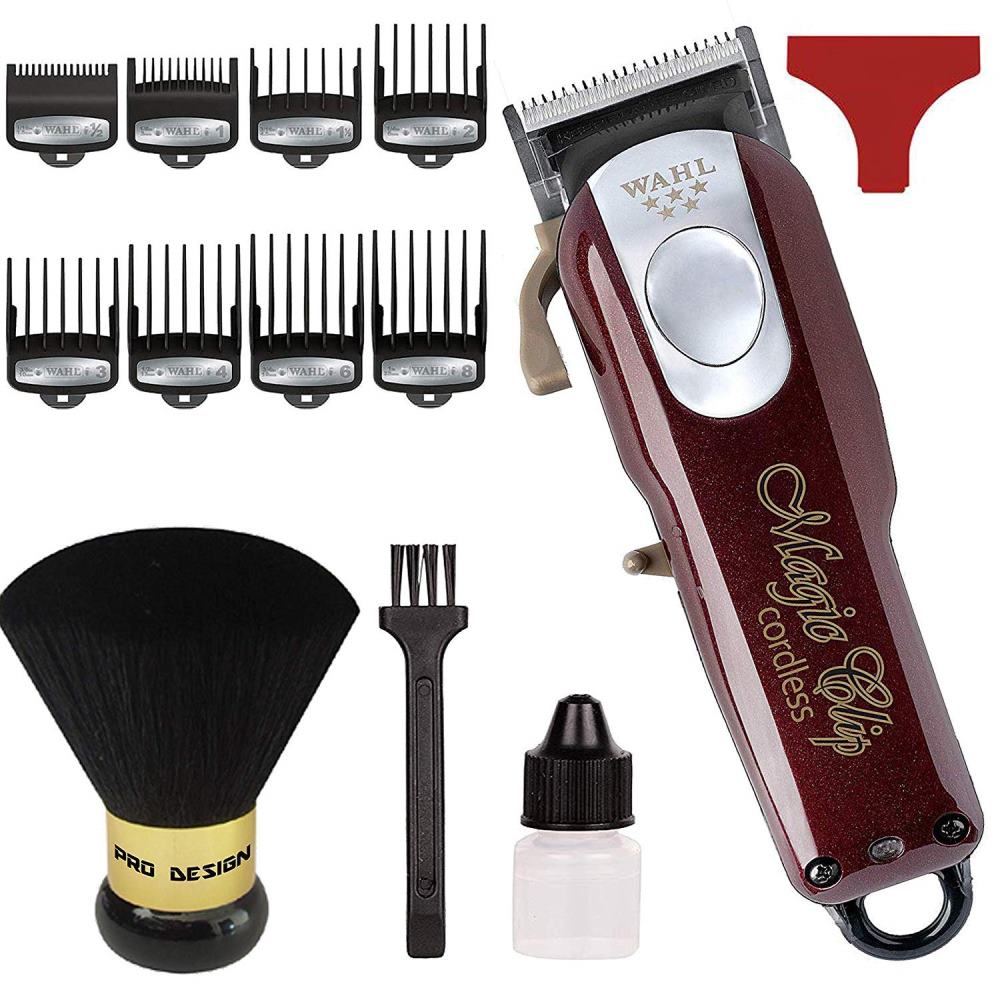 There's nothing like a gorgeous thick beard that will make you look extremely attractive. But along with the perks of looking ridiculously good, comes the problems of maintaining this look. And to maintain your sexy bearded look, your beard needs to be trimmed at regular intervals and kept neat.
Cutting through thick beard hair is a universal problem that many men have come across. Well, with this adjustable hair clipper, that will be one less task for you.
Made with the latest technology, the Wahl 5 star magic clip features zero overlap blades for a smooth experience as well as precision when you are cutting the hair. It comes both with cords as well as in a cordless model.
The device has a runtime of more than 90 minutes in a single charge itself. Additional accessories like the clipper, attachment guides, comb, blade oil, brush, charging transformer, and the operating instructions are all included in one single package.
Wahl clippers have a legacy of being the best providers of grooming tools and is a household name and product among barbershops across the world.
With their superior quality, Wahl products are essential in any barbers toolkit. Weighing only 10 ounces, it is quite lightweight and, therefore, easy to use and carry around.
Pros:
Corded and cordless models
Zero overlap blades
8 attachment guides
Electric haircutting machine
Cons:
Needs to be tightened constantly
Thumb rest breaks easily
Battery stops abruptly and needs to be restarted
Best suited for heavy-duty use, this hair clipper by Oster is another quality product. Hailed by barbers and hairstylists across the world as one of the best hair clippers to ever exist, this product has it all.
It comes with 2 blades for convenient usage, and it just looks too good too—a perfect product to match the aesthetics of its environment, especially modern barbershops or styling cabins.
Being a leading brand of hair clippers, you can trust Oster on all their products, especially this 76 clipper, which is their flagship model.
It has a modern and compact design, which makes fitting it into your hand very easy. It is made of a lightweight casing that is made of valox material.
Another great feature of this clipper is that it doesn't overheat in a quick span of time. You can use it for longer durations with ease and reliance. Compared to other clipper models, which heat up fast and become too hot to hold, this is a great boon.
The blades are sharp, strong, and hard and made to reduce fatigue while using it thanks to its cryogenically treated technology.
Being quite efficient, you can cut the hair smoothly without having to do the same area again and again. You can also find an interchangeable blade system to switch between the different blades easily.
Pros:
13 blade sizes
2 blades of sizes 000 and 1
12-month warranty
Cons:
Heavy to use
Cordless model is not available
One of the handiest and convenient clippers for professional grooming, this small and lightweight clipper/trimmer from Wahl is a classic product.
It is just the right size to carry around and is only less than 4 inches in length. The detachable blade that comes along with it makes it super easy for cleaning too.
The device is rotary powered and delivers a brilliant performance in terms of its quality. This feature also enables it to be used as a clipper and trimmer. You can shave through even thick and coarse hair using this trimmer.
The trimmer comes included with 4 attachment combs that can be used according to each user's preference to groom their beard. This is surely a favorite product for many users due to its convenience.
Pros:
Precision blades
Lightweight
Easy to carry around
Cons:
Rough blades
Pulls on hair while using
Motor stops working
This lithium-ion clipper by Wahl is another classic Wahl product which not only meets industry standards of perfection and reliability in usage; it also comes with double the power when compared to other models of clippers by the same brand.
It is claimed to have about 50% more power than the normal electromagnetic motor clippers by Wahl. This model has 13 guide combs which range from 1/16″ to 1″.
The lightweight body makes cutting through the beard and hair a simple and precise affair, hence most suited for professional barbers, hairstylists, and hair cutters.
The clipper itself is quite sturdy and easy to hold. Specifically made for sideburns and necklines, this surely is one hell of a product. Other interesting features of the clipper include self-sharpening blades.
These blades are rust-resistant and have a stainless steel finish that is also quite easy to clean. The clipper is battery controlled, and the expected average run time of the clipper is about 2 hours in just a single charge.
You also have the option of adjusting the taper levels to your preferred cutting length.
Pros:
Rustproof blades
Easy to clean
Battery controlled clipper
Cons:
Clippers die fast
Stops working
An excellent grooming kit for men, this all in one product by Wahl is top-notch. It has many amazing features like a cordless facility, self-sharpening blades for utmost precision while cutting and trimming, the extended run time of about 6 hours in a single charge, etc.
It is a complete grooming kit that includes all of the following items too: shaving head, trimmer head, power adapter, combs, cleaning brush, lubricating oil, and an easy-to-carry-around travel pouch.
The trimmer has a stainless steel finish that simply makes it look very classy. Being a travel-friendly product, the trimmer also has a travel plug that can be connected to different types of sockets.
With all its different accessories like the different combs available, this is more than just a trimmer. It combines the features of a shaver, trimmer, and a clipper into a single great product.
Pros:
Quick charging
Longer battery life
Cordless
Cons:
Too many functions that compromise the quality
Travel pouch is cheap and of less quality
Tome consuming while changing clippers
While most hair trimmers and clippers in the market are excellent products for usage by professionals like barbers and hairstylists, one might wonder where he can find a great trimmer that is suitable for personal use as well.
Well, this color pro trimmer by Wahl is perfect both for professional use and personal use. It is lightweight and comes in a perfect compact size, which makes it a delight to carry this trimmer around.
And it looks super cool too. The detachable blades have a stainless steel finish that is easy to clean.
And the entire kit includes 21 pieces such as clipper, charger, storage case, combs, scissors, blade oil, etc. The cordless clippers also have universal voltage compatibility; thus, you can use it any time anywhere in any socket.
This is the only grooming kit you will ever need if you would like to do things by yourself and save a trip to your barber's every single time. This trimmer has a run time of about 60 minutes in a single charge.
And now, we come to the best feature, which is an entire set of attachment guards that are color-coded. This makes it easier for you to choose the right size for you.
Pros:
Color-coded guide combs
Detachable blades
Worldwide voltage compatibility
Cons:
Misaligned blades
Makes too much noise
Can heat up fast
This clipper comes in a beautiful 21 piece package that includes everything essential for men's grooming such as guard combs, blade oil, cord wrap, cleaning brush, storage bag, and even a styling cape.
It is a heavy-duty item with much weight and is quite durable for longer use. The motor of the clipper is claimed to be the most powerful motor ever in a clipper by the company. The self-sharpening precision blades are also perfect and make your job done more efficiently.
A key highlight of this Elite Pro model is the adjustable taper levels on the clipper, allowing you to adjust the height of the blade according to your preferred cutting lengths.
When cutting close to the skin, it works just so smoothly that you won't even feel it. The guide combs have a stainless steel attachment clips that again ensure a smooth experience. This is a great clipper by the ever famous brand Wahl.
Pros:
Very agile
Motor has 15% more power than other Wahl models
8-foot heavy-duty cord
Cons:
Very bulky
Leads to fatigue while using due to the weight
Wahl's yet another grooming kit, known as the Chrome Pro Barber kit, is a great all in one kit which is suitable for both professional as well as personal use since it has all the accessories one needs for trimming and cutting hair at home on their own.
And even as a professional barber's tool, it is simply amazing. The ergonomic shape of the trimmer makes it a standout amongst all, which also makes it easier to hold while using it. And for sideburns and necklines, you also get a finishing trimmer.
Its design has been developed, keeping the user's comfortability in mind. It's sturdy enough to last you for a long time, and the grip is great.
The fact that the clippers have very minimal vibration is a blessing, especially for barbers and stylists since using it for continuous periods won't wear you out.
The blades are self-sharpening for precision and coated with carbon for extra thickness. The carbon coating, combined with the stainless steel finish of the blade, ensures that the blades are always sharp and ready for use.
Pros:
Sturdy design and sharp blades
Does not overheat
Carbon coated steel blades
Cons:
Pulls at hair
Hair trimmer lacks in its features
Battery dies quickly
Here is another quality clipper from Oster Company that many people love. The clipper is very comfortable to use since it has a strong and steady grip and also stays cool for a long time, thus avoiding overheating that arises as a result of prolonged usage.
The blades of the clipper can be adjusted using the side lever according to your preferred cutting length. The fact that along with staying cool, it also makes very less noise and the vibration is a significant advantage.
The blades are also of superior quality, being cryogenically tested for durability, made in a stainless steel finish, and coated with carbon.
Along with being increasingly durable, the blades also get sharper due to this, and shaving and trimming will no longer feel like a task. The blades are equipped to cut through even thick and coarse hair, thus ensuring a smooth shave.
Pros:
Less noise
Stays cool while using
Solid cord
Cons:
Screws come loose
Trimmer are not sharp
Faulty motor
A very popular trimmer known for its small size, lightweight features, and comfortability of use, this is one stalwart product of clippers from Wahl.
Owing to its shape that looks like a peanut, the clipper itself is named as the peanut model. The super cute and funky design isn't just the only thing that will attract you to this product; it has several other amazing features that you wouldn't believe exists in a clipper as small and reliant as this one.
Coming in both corded and cordless models, the cordless model also has a battery recharging station included with it. Designed solely for professional usage, it has a very stylish design and superb quality.
The clipper only weighs 4 ounces, and you can carry it around no matter where you are going. Hairstylists that travel around the world are surely going to love the small and compact size of this model.
Pros:
Sleek design
Easy to carry around
4 attachment comb cutting guides
Cons:
Machine does not turn on
Motor stops abruptly while using
Every Barber's Favorite Clipper
In most barbershops or stylist salons, you can find that professional barbers use both corded type of clippers as well as the cordless models.
Some of the barber's favorite top brands across the world include Wahl, Andis, Oster, etc., all of which are mentioned above.
These brands are preferred almost always since they offer exceptional performance with their powerful motor and sharp blades, along with other qualities.
Don't Forget to Clean and Maintain Your Clippers
Just as you would maintain your hair and beard for a great look, it is equally important to maintain and take care of the clippers and trimmers too.
By doing so, you can make them last for many years and not worry about purchasing a new one every 1-2 years.
Some common tips for ensuring the long life of clippers include cleaning and washing the clippers, blades, and trimmer regularly, aligning and oiling the blades for efficiency, and washing the attachments.
Which Clippers are Best for Fades?
Fades are a very good looking haircut that is trending worldwide but to get the perfect look of fades; you also need professional tools.
The design of the clipper is the most important thing that barbers look when buying them to be used for fades.
Other factors you need to consider are the portability of the clipper, time taken to do a fade, accessories that come along with the clipper, etc. that being said, Wahl and Andis are common clippers specifically used for fades.
Should the Hair be Dry or Wet while Using Clippers?
In any case, make sure that you dry your hair before using clippers by yourself. It can prove to be an extremely difficult task if you use them on wet hair, and you won't get the required results or the perfect look.
Another thing you should look at is to buy a clipper that perfectly suits your needs as well as the size. Do not buy a product just because it looked great in its advertisement.