Gone are those days when we think that only women can keep long hair or style them. We can see many men around us who are very much particular about styling their hairs or beards. Individually they have their own unique styles.
With all the new style and fashion trends coming up in the last few years, one thing that has seen a remarkable change is how men like their facial hairs.
Well, if we notice carefully, then we will see that having a clean shaved face or a 5 o'clock shadow, which was very much in common during the 90s or early 2000, has now taken a backseat for many men.
Now men mostly prefer to have long, thick beards which are well maintained, properly trimmed, and give them a rugged look.
So, if you have such thick, coarse, frizzy beards that you cannot handle properly, this article is for you.
You cannot afford to go for a work meeting or a date with your wild-looking beard, you need to polish it, and for doing that, you need proper tools.
There are many oils and waxes available for making your beard look good but, personally, I feel beard straighteners are the best option for this purpose.
They give quick and better results than any other oil or wax, and you can even use it on your hairs.
Here we will talk about some of the best beard straighteners available in the market, which you can use to tame your long beards.
However, before diving into the list of beard straighteners, let's see what the factors that you should consider while purchasing a beard straightener are.
Buying Guide for A Beard Straightener
Beard straighteners can be of different types. It can be a brush, a comb, or a flat iron.
If you have short, thin hair, like below 2 inches then, you should opt for a heated comb, whereas a heated brush is best for thick, long beards, which are above 3 inches.
However, if you are thinking of a flat iron, then make sure that it is a mini flat iron that has been designed specifically for beards. Otherwise, there is a chance of getting injured from burning your beard or your facial skin.
If your facial hair is sensitive to heat, you should better stick to brushing combs than any brush or flat iron.
Most combs have 375°F to 400°F, whereas brushes and flat irons go up to 425°F to 450°F.
Check those tools with the auto shut-off feature to switch off automatically, even if you forget to switch it off.  Also, look for adjustable heat settings so that you can adjust the temperature as per your requirement.
You should also consider the weight of the straightener as you have to use it for at least five to ten minutes or to straighten your beards. So, check the weight before buying it, not to strain your wrists or arms later. Also, it is important if you are carrying it in your luggage while traveling. Then, a heavy straightener is not a suitable option.
Though it is not that common in beard straighteners, you can still look for the ionic feature. As negative ions reduce frizziness and treat damaged hairs, having it in your straighteners can make it easy to manage your beards.
Last but not least, you should definitely check the price before you decide on a straightener. Make sure that the straightener that you want to buy is well-fitted within your budget.
Check for these few things, and you will surely get a beard straightener that will be perfect for you.
List of 10 Best Beard Straighteners
1. Andis High Heat Press Comb
As we have already discussed that comb is a suitable option for short, thin beards, so we have found one of the best-heated combs for you.
Andis press comb has a gold-plated ceramic surface, which not only helps in the retention of heat and its uniform distribution, but the ceramic coating also helps in retaining moisture on the hairs and thus keeps them soft and smooth.
The comb is attached with a black handle. There are two buttons present on it, one on and another off button, and a regulator to control the temperature. A safety stand is also attached to the comb so that it does not leave any burn marks on your beds or dressing table and keeps it stable.
The long swivel cord attached with its body keeps it free from any tangle and gives you the freedom of movement.
It has 20 different heat settings. The temperature ranges up to 230°C, which gives you a wide range to choose the perfect temperature for your beard. The comb requires a maximum of 30 seconds for heating up, and then it is ready to work.
Apart from the safety stand, this tool also has the auto shut off feature as a safety measure. So, you do not have to worry about whether you have switched it off or not.
Overall, this press comb gives a salon-like result at home and is suitable for traveling purposes as it has the worldwide dual voltage. So, you can use it anywhere if you have a suitable adapter.
Pros
Completely straight hairs in minutes
Auto shut off feature
Safety stand
Multi-temperature heat settings
Worldwide dual voltage
Cons
High heat settings can lead to injury.
2. CNXUS Ionic Hair Straightening Brush
The next one on the list is a straightening brush. You can use it on your beard as well as on your hair.
The electric brush is equipped with a high-quality ceramic iron tooth, which is infused with negative ions. This ionic technology makes your hair smooth and frizz-free.
The body of the brush has a matt finish black colored body. On the handle, there is an LED screen for showing the temperature, along with three other buttons – the power button, temperature settings, and the ionic button.
A professional swivel cord is attached to the brush, which has 360° movement flexibility.
The bristles of the brush have the MCH ceramic heating technology, which is known for rapid, uniform heating. The temperature range available in this brush is 300° F to 450° F, which helps all kinds of hair types, like thick, thin, curly, wavy everything. The tool takes less than a minute to heat, and then you can set your preferred temperature and start the process.
You can easily switch between Celsius and Fahrenheit while setting the temperature, just by pressing the power button and the ionic button together.
The bristles are made up of hard plastic, so your skin does not get burned from the heat. Also, it has the auto shut-off feature, which activates if it remains unused for 30 minutes. There is also a safety beep voice, indicating that the machine now has the power supply, and its temperature can be adjusted.
You can very much opt for this electric brush as its ionic energy penetrates deep into the hair cores and nourishes the hair from within.
Pros
Ionic technology
Wide range of temperature settings
Auto shut off feature
Dual voltage
Toggle between Celsius and Fahrenheit
Cons
The time taken for heating up can be higher than other similar products.
3. Aberlite Beard Straightener
This one has been designed specifically for working on men's facial hair.
Since it is being designed especially for men's beard, it is equipped with anti-scald comb teeth, which straightens out those hairs which are closer to the root. It also has 40 ceramic coated comb teeth, which distributes the heat uniformly and gives a long-lasting smooth effect.
The brush has advanced ionic conditioning, which is combined with anti-static coating. There is also a ventilator for emitting negative ions, which retains moisture on the hair and prevents it from getting dry.
The body is a mixture of black and white colors. On one side, there is a small digital LED screen for showing the temperature. There is one '+' and one '-' button for regulating the temperature and a power button.  Also, a blue indicator light is present behind the brush, which shows when the machine is on.
The power cord attached to it is a swivel cord that has 360° rotating flexibility.
It has the PTC heating technology, which maintains a consistent heat level throughout the process and delivers the best result at each pass.
The brush has five different heat settings ranging from 300° F to 440° F, and it takes 60 minutes to heat up completely. This wide temperature range is suitable for medium length beards, thick or coarse beards, or wild untamable beards.
As common in other straightening tools, this brush also has the auto shut off feature. Moreover, its anti-scald designed comb teeth are for protecting the skin from any burn injury.
Overall, with advanced ionic technology, anti-scald design, and PTC heating technology, it is one of the best beard straightening tools that you will get in the market.
Pros
Anti-scald comb teeth
Advanced ionic conditioning with anti-static coating
Auto shut off feature
Dual voltage
Compatible with various types of beards.
Cons
No complaints from the customers.
4. AmoVee Mini Flat Iron Hair Straightener
After brushes and combs now, we have brought you a mini flat iron.
This flat iron is equipped with 3D floating plates that are coated with ceramic and tourmaline. While the plates distribute heat uniformly throughout the hair's length due to its ceramic technology, the tourmaline emits negative ions and thus keeps it free from getting frizz. It gives a smooth, silky look to the hair.
As it is a mini flat iron, its whole length is only about 7.9 inches. Its black body has a textured surface that acts as its anti-slip element. On the inside, it has the on/off button and the power indicator button.
Its swivel cord is similar to the other machines, and it also has a 360° rotating capacity.
Unlike other straightening tools, this mini flat iron has only one heat setting, which works at 410° F. The machine takes 3 minutes to reach that temperature, from the time it is being switched on, and then it stays at that temperature throughout the process.
The flat iron has a safety lock at its tail, which is suitable for storage, and it also comes with a safety glove.
Its ceramic tourmaline coating is one of the best features that you will get in any straightener. For that reason, it definitely qualifies to be on the list.
Pros
Dual voltage
Ceramic tourmaline coating
Cons
Lack of multi heat settings.
5. Kuschelbär Heated Beard Straightener
This one is also a straightening brush and is rather a trending one, currently in the market.
It has short bristles that are perfect for short or medium length beards. The bristles are infused with negative ions, which keeps the hair hydrated and makes them smooth.
The bristles are guarded with a heat barrier so that you can use it effortlessly on your facial hair without thinking about hurting your skin.
It has a sleek black body on which there is only a power button is present.
This electric brush also works at a fixed temperature, i.e., 374° F or 190° C. You have to wait for 3 minutes for it to reach that temperature, and then you can use it on your beards.
It works smoothly on any rough, coarse hairs, and for a quick solution, it is definitely a go-to option.
Pros
Quick straightening at one pass.
Cons
6. Charminer Beard Straightener
With its innovative bristles' settings, it is one of the best electric brush that you will find on today's date.
The bristles are designed in an anti-scalding manner so that your skin does not get burned from using it.
There are shorter ceramic teeth with porcelain technology, which helps them to get heat up quickly and straightens hair smoothly. Surrounding the shorter teeth are, the longer golden rubber teeth, which act as a safety barrier from the heat.
The brush is black, whereas; the handle is of golden color. And the handle is designed carefully to protect your hand from the heat.
On the handle, there is a sliding button that acts as the power button along with a power indicator light.
The swivel cord attached to it is fully rotatable.
Heat Settings
This one has only two heat settings, one is 200° C or 365° F for thick beard, and the other is 180° C or 392° F for thin beards.
You have to give the machine 2 minutes for heating up before you can start using it.
The brush delivers quick, long-lasting results and keeps the hairs frizz-free, without snagging.
Pros
Anti-scald comb teeth construction
Dual voltage
Suitable for both thin and thick beards
Cons
Limited heat settings
No auto shut off feature
7. Mexitop 2-in-1 Hair Straightener/Curler
This one is also a brush straightener, but it looks different from the others that we have discussed before.
The bristles are present on all three sides to give a better straightening effect on your hair.
This hairbrush is an extremely lightweight brush, very suitable for traveling purposes. The body has a combination of black and blue colors, and there is a power button in the middle of the handle.
It has MCH heating technology, which helps in fast and uniform heating.
Three different heat settings are available on this tool, and there is an indicator light that shows three different colors for the three different temperatures.
Its auto shut off function activates after 25 minutes of remain unoperated. They also give a heat resistant glove with the brush.
Pros
Auto shut off
Dual voltage
Lightweight
Cons
Does not have ionic technology.
8. Tame The Wild Beard Straightener
Another brush straightener on the list, which has been designed specifically for men's beard.
The brush has an anti-scald design. The bristles have a ceramic coating that spreads the heat uniformly all over the length of the hair. And the presence of an ionic generator helps stabilize the moisture in the hair by emitting negative ions, which counter the positive ions produced by dry hair.
It has a completely black body, on which there is a digital LED screen for showing the temperature along with three other buttons. One is a power button, and two other buttons are for increasing or decreasing the temperatures.
This one has one of the best heat settings, as it provides 12 different options where the temperature varies from 250°F to 450°F. it has the MCH heating technology for rapid heating purposes.
The auto shut of feature activates after 30 minutes of remaining idle.
This one is one of the best options for you if you have a small length beard.
Pros
Ionic generator
MCH heating technology
Auto shut of feature
Cons
9. BeardClass Premium Beard Straightener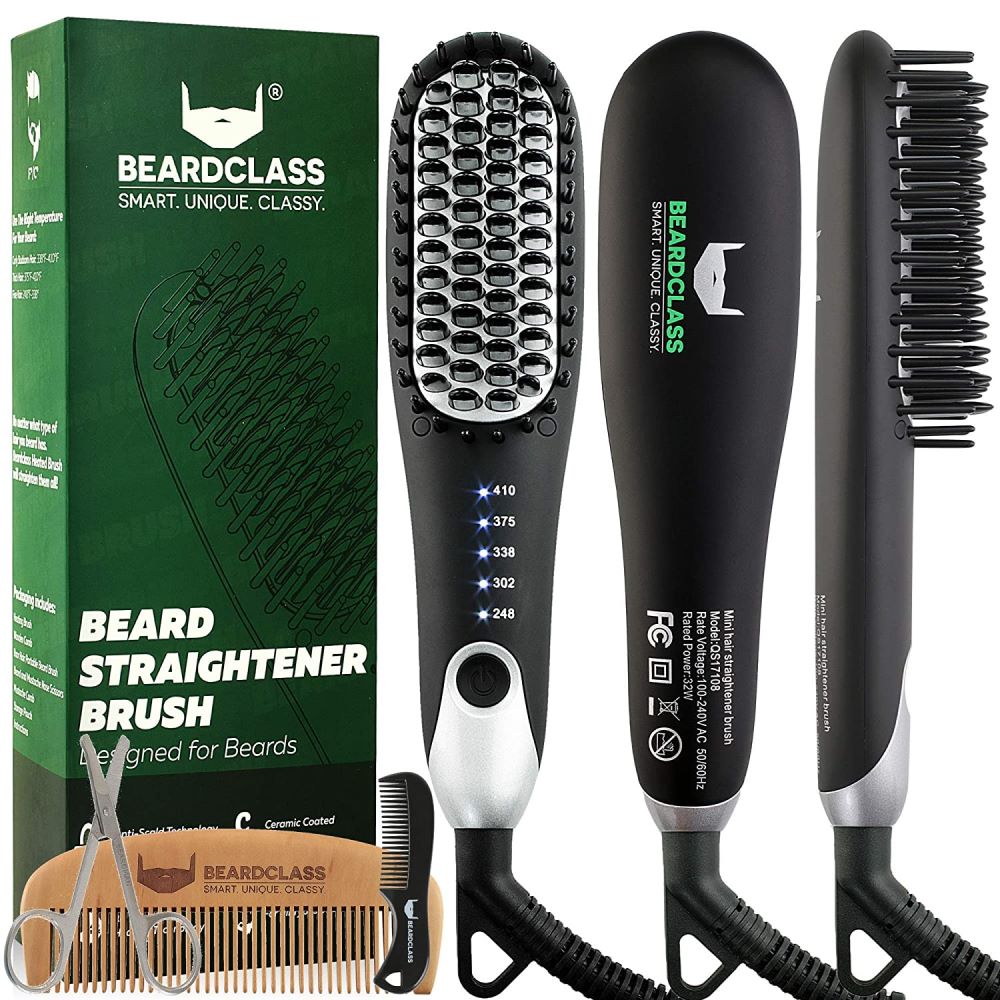 This lightweight, the portable hairbrush is easy to carry and is perfect for traveling purposes.
The bristles have been designed following the anti-scald technology and covered with ceramic coating for maintaining the uniformity of the radiated heat.
Its black body has only one power button and five different temperatures settings options. The swivel cord looks after the flexibility provided by the tool.
The fully rotatable swivel cord does not restrict the movement of the machine.
The brush requires 40 seconds to get ready, and after that, you can select any of the five hat settings available to suit your requirement. Its five different temperatures are 410°F, 375°F, 338°F, 302°F, and 248°F.
Like others, this one also has the auto shut off feature, which initiates after 30 minutes of remaining idle.
Pros
Multiple heat settings
Compatible with all types of beards
Auto shut o feature
Free beard grooming accessory kit
Cons
10. MIRUOC Electric Beard Straightener
The last one on the list is a bit different from the others. Though it is a straightening comb, it also massages the skin.
The device has a heating plate, and on top of that, there is a series of comb teeth, which are detachable.
The comb is black, whereas the handle is white. There is a power button on the side, and indicator light is present in the handle's middle.
The handle has been designed ergonomically to avoid having any pressure on the hands.
It has the PTC heating system, and due to its rapid and uniform heating technique, it takes only 15 seconds to get heated up.
A plastic protective cover covers the plate, so the hair do not receive the raw heat directly.
Pros
Can also be used for massage
PTC heating technology
Lightweight and portable
Verdict
Here we are at the end of the list with some of the most innovative beard straighteners. Each of these tools is unique in their own ways and benefits us with their unique features.
There are straighteners on this list, which will be perfect for any type of beards, and you have to find the right one for yourself after studying them properly.
I hope that by the time you reach here, you have already chosen one for yourself, which will be perfect for your beard, after considering all the factors.
FAQs
Are Beard Straighteners Worth It?
If you have a long wild beard that needs to be tamed, you should definitely go for a beard straightener, as they keep the hairs healthy and give them a smooth, shiny look. Moreover, these straighteners are not much expensive, so it is worth taking a chance.
What Is The Best Beard Straightener?
Though in this article, you will get a list of some of the best beard straighteners, with their best features, let's not get confused with so many options. Straight away, go for something with enough heat setting that will be suitable for your beard type and preferably equipped with ionic technology to keep the hair healthy. You will have a perfect beard straightener for yourself.
Are Beard Straighteners Bad For Your Hair?
Some may say that the heat can adversely affect your facial hair, but that is possible only if you are using a too high-temperature setting above your beard's capacity to take in. Moreover, nowadays, most beard straighteners have ionic technology, aiming to moisturize the hairs using the negative ions. You must choose the right temperature for your beard; then, there will be no problem with overheating.
How Can I Make My Beard Straight And Soft?
Though there are many oils and waxes and other chemical treatments for making your beard straight, personally, I feel straighteners give the best results and that too rather quickly. There are beard straighteners available, which can give the best straightening result only at one pass. And most of them have ionic technology that hydrates the hairs and keeps them moist, making them soft, smooth, and shiny.