Long hair, short hair, bob cuts, and pixies; curly locks, straight tresses, fringes and bangs; highlights, global, balayage, and ombre; these are some of many styles that one could possibly try. Out of these, perms are back in fashion again. Fashion come and go; similarly hairstyles also vary each year. Every year begins with a new resolution for some, and for me, it starts with a new hairstyle.
You have seen your mum and aunts carry those very curly locks so easily. You must have been a child back then and couldn't have been able to rock in style with such awesome cuts and styles. Now is the time for you to get that 90's look back. Now is the time for you to try out those very popular small curls are known as "Perms." Perms are back in fashion again with a hilt. Seen Bollywood and Hollywood actors slaying with such perm cuts and styles? Now is the time for you to slay these gorgeous permed locks.
21 Unbelievably Stylish Perm Hairstyles to Glam Your Look
Here are some looks that you can rock and carry with ease.
Beach Waves Perms with Layers
This is probably one of the easiest hairstyles to carry. Easy to create by yourself too. No need to book an appointment in the salon to get these beach waves. You hardly need half an hour to get this look at home. For this, you need large barrel curlers or tongs. Tongs can be 2 inches large so that these waves can be created easily. Dampen your hair. Pull out a section of hair and roll onto the tongs for good 10 minutes. The longer you hold onto your tongs, the deep curls you'll achieve. Follow this step by pulling each section slowly. Don't rush – you might end up burning your gorgeous curls. Once this is done entirely, spray a hair fixer to fix your perms. Create a center or a side parting. Slay with style.
Ringlets for Medium Hair with Light and Dark Blonde Balayage
This look is a bit of a tedious job. If you are an expert hairdresser, go ahead with this; else book an appointment with your hair stylist. You need a small curing rod to achieve this style. Dampen your hair and pull out one section at a time. Keep rolling onto your curler. Spray hair fixer to set your hair. This style gives much volume to your hair. Best for those who have straight and light hair. If you already have coarse hair or thick hair, avoid creating this style. Light and dark balayage work just perfect for this look.
Straight Hair with Natural Curls
This is one of the easiest styles to create and also gives you the best look. You simply need outwards curls with the help of a blow dryer to achieve this look. This will provide you with straight and frizz free hair. It will also boost up the volume of your hair. A chocolate brown and caramel balayage work just the perfect for this look.
Very Small Stylish Ringlets
This is just another loom of the day. Get a picture perfect snap for yourself or create a portfolio by slaying with this style. Very small curler/tong is needed for this style. You get a volume by this style. This is also called a celebrity style perms.
Rough and Messy Curls for Blunt Cut Hair
Your hair may be naturally dry and rough, and many of you might have this kind of hair naturally. But if you don't, needn't you worry. Book an appointment with your nearest salon. Cinnamon global color looks absolutely stunning.
Light Waves for Short Hair
Slay like our very hot actress Selena Gomez. This style with short hair has been trending ever since she has been carrying it. Gone are the days when girls used to straighten their hair permanently. With the onset of 2023, naturally and created perms are completely in. if you are the one with short hair but not style, ask your stylist to re-create magic with his/her hands by giving you hair this stunning look.
Heavy Ringlets for Long Hair
Long hair but no style to carry? Ringlets and perms are in fashion. Change your look by creating small and permanent curls/ringlets. This look gives your hair complete volume which you've thought of. Nothing unreal and everything real. These perms stay for a year if you take care of them. Dark and light blonde balayage works stunningly well for this look.
Voluminous and Bold Curls with Blonde and Light Brown Balayage
These are shiny and voluminous medium curls for sleek and straight hair. If you are the one who has very light hair texture, definitely try this hairstyle. This will give your hair that much-needed boost and volume. Try out the very latest blonde and light brown balayage to give your hair the shine that's needed.
Heavy Perms for Blonde Hair
Heavy perms for blonde hair is something that girls are dying for. These perms are pretty in this season. Don't you worry that summers are approaching – you can still manage to rock on with this style. Too cool a hairstyle, in this scorching heat. Light brown to dark brown balayage melt works up pretty perfect for your portfolio. Keep using serum and mousse to keep your spiral ringlets intact and in proper shape.
Loose Perms with Light Brown Melt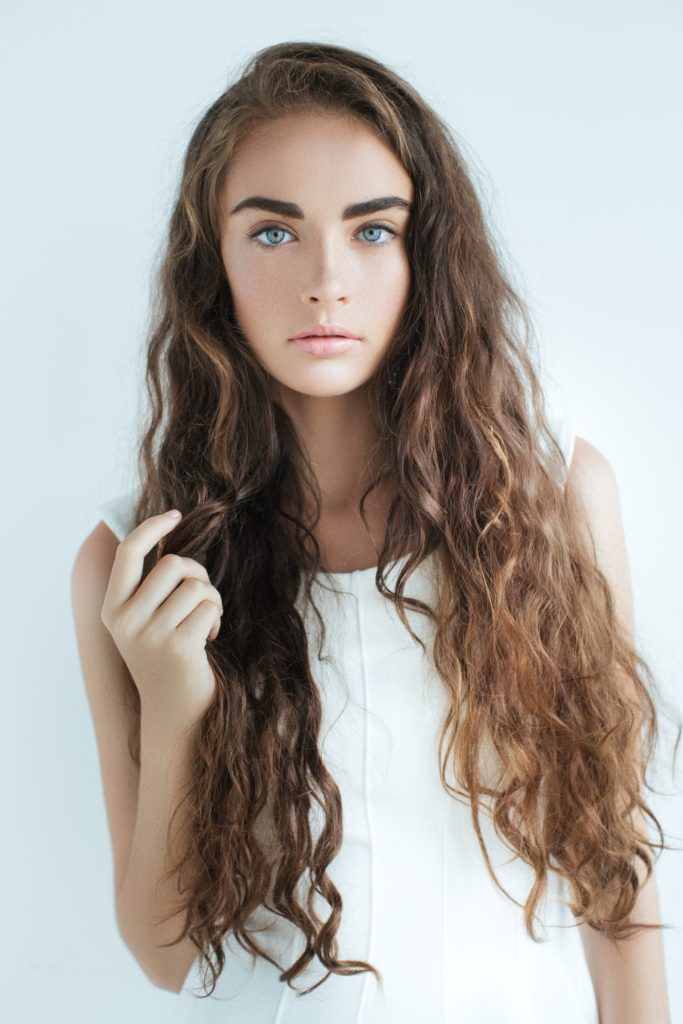 Girls with long hair have all the way to be happy and enjoy. These loose curls are for only and only those with long tresses. A light brown melt works perfectly fine for your long tresses. Keep your perms secure by spraying a hair fixer spray. But if these are naturally curled hair, then you go ahead babe.
Beach Waves Perms for Long Hair
Beach waves for short hair works perfectly great on a sunny day too. But if you have long hair, you have all the more reasons to be happy. Beach waves would simply look "wow" on your long tresses too. And if your hair is thin and straight, these beach waves temporary curls will bounce up your hair.
Messy Curls with Blonde Melt
Look stunningly hot and gorgeous with these temporary messy curls/perms. Medium length hair would look absolutely great in this style. So next if you have any outing or a day party in your kitty, grab your slot with your hair stylist a day prior. These temporary curls would jazz up your day. Pretty in, these permed hair look anyway great on everybody. You got to team up something jazzy with this kind of hairstyle. A blonde balayage melt will add looks and shine. Simply finger comb your hair and flip it towards one side to give a natural look.
Frizzy Perms/Curls
Girls born with frizzy or dry hair do not prefer their hair to be like this. And they have all the reasons to be upset with their frizzy hair. Who, after all like this unmanageable hair? No one! Yet this style was popular in the early 90's amongst the Hollywood stars. I am pretty sure that your mum would be a fan of this style. And today you have all the reasons to opt for this one. Back again with a bang after almost two decades, these frizzy perms are back in fashion and are here to stay for a while.
Long and Natural Curls
These are entirely liked and preferred by all ladies. You can call this to be a hit hairstyle and has been taking the center place from quite a long time. This is one of the easiest styles to be made. So if you are either running out of cash or out of time, this style is your savior. Just a simple blow dry with straight and natural curls will make your hair look like this. And if you have got any hues done, your hair will look great.
Spiral Curls for Long Hair
Begin by taking a small section and mist with a thermal heat spray from at least 6" away to protect the hair. Twist the entire section from base to ends. Instead of twisting you'll additionally braid the section of hair. The key here is to twist the section and wrap it around the curling iron all in the same direction. You can also twist and wrap in the outwards direction from your face to create long and loose curls. Wrap the complete twisted section around your household appliance and let it heat up. Once you are done with the curling, mix the curls gently with your fingers to loosen them, which will add a lot of bounce and volume to them.
Permed Bob with Tousled Curls and Braids
Have got naturally straight hair? Now you can enjoy your time creating perms. Perms are completely a popular style this year and gaining much importance among the younger lot. But be careful to wash your hair and protect your perms by washing them with a sulfate free shampoo. Always keep them moisturized by using hair creams or oils. Try out for a different look by creating small braids on the sides. This will give a masculine and a tough look.
Ribbon Perms
Take a medium size section about one inch in length and half an inch in width and use a thermal heat spray on it to prepare your hair. Use the flat iron on it vertically to make ribbon perms. Hold the section at the end, pinch it and fold your hand till your palm faces you by keeping in grip the section with your left hand. Now, use the hot iron slowly at the ends of your hair and loosen your grip. It will allow the hair to spring into a ribbon curl.
Using your hands to shake the curls out and finishing with a flexible hold hairspray to keep the curls in place. Use your brush to comb the sections from roots till ends, hold the hair at the end for few seconds so that the waves created can be relaxed and set properly. Then loosen your grip on the hair and enjoy the waves. Add some lightweight oil liquid body substance to assist tame any frizzle and for further shine.
Medium Perms with Highlights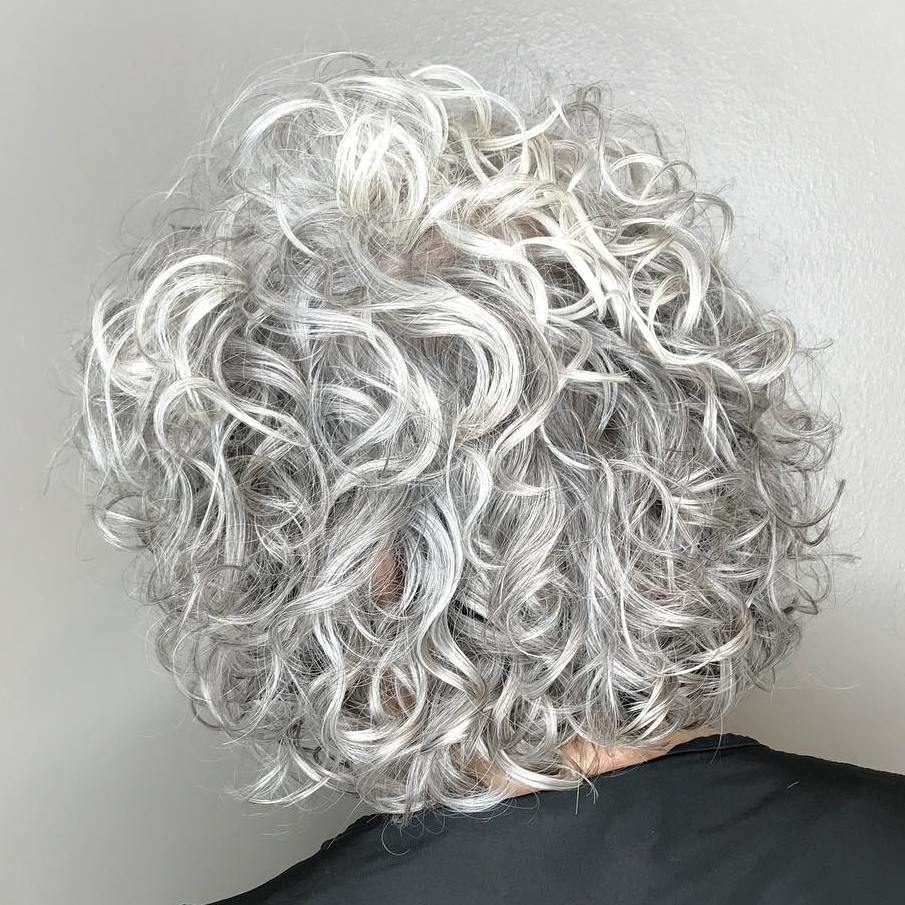 There are many curls patterns for long and medium length hair because you can curl/perm them at any desired length you wish. These are medium curls that can be achieved easily with either curler or even a flat iron too. Creating these curls with a tong is more natural than creating it with the help of a flat curler. Just pull out a section of your hair, tie it onto your preheated tongs and pull them in outward directions. Use hair mousse or fixer to fixing the curls.
Lazy Curls for Long Hair
Pull out a section of your hair. Preheat your tong/curler. Now place this section of your hair onto your heated curler and keep rolling on to it. Pull this in on an outward motion to create loose and messy curls. After you complete the flat wrap, hold the section and roll the iron and close near the scalp and allow the section to heat completely before moving on. Place the iron within the spot wherever your last curl was created and repeat the method, flat wrap, roll the iron and close. Once to the end of the section, comb through with your hand and finger through the section to separate the curls. End results are a lazy curl that appears terribly natural. Finish with a flexible hold hairspray.
Ribbon Curls for Long Hair
Hold the section at the end, pinch it and fold your hand till your palm faces you by keeping in grip the section with your left hand. Now, use the hot iron slowly at the ends of your hair and loosen your grip. It will help you in forming ribbon curls. Using your hands to shake the curls out and finishing with a flexible hold hairspray to keep the curls in place. With your styling brush, comb through the section to the ends, holding the hair at the bottom for a few seconds to relax the waves. Release the section, and your loose waves appear. Add some light-weight oil to assist tame any crimp. This looks good on all aged females. The younger lot completely likes these ribbon perms. A blonde chocolate brown balayage looks pretty good.
Off Center Perms
There are many variations in curls and perms, so you are not restricted to just one style or type of perm. Those basic perms and super kinky perms are not reigning. Girls have the option to opt for natural looking perms that sit nice and neatly when combed.
These ever stylish 90's look is back. So you have all the chance to adore yourself and get those perms that once your mum and your grand mum used to get.