This year 2023 is the time when you should be brave and embrace your look with some cute bob hairstyles, gone are the days when bob haircuts were only limited for boys as now days keeping these bob haircuts and styles are more common in women of all ages.
Whether your hair are naturally long and straight or curly and short or somewhere in between them, the bob can be super versatile and stylish like crazy. Bob haircut is relatively decent and low maintenance solution as it is an easy way to do something very fashionable and super stylish with your hair.
This bob hairstyle looks super stylish on lovely little girls, and it looks super classy on a sophisticated on middle-aged women. The main reason for its popularity is its clean and unique look. Here we are going to have a look at some of these stylish bob hairstyles.
20 Cute Bob Haircuts for Women to Look Charming
Textured Wavy Mid-Length Haircut
This bob cut has many cute tiny flicks very nicely and decently chopped. These hair are very skillfully colored to make them look amazing; these types of styles need good quality hair to make them look more stylish and styling them for you becomes effortless.
Mainly looks good on oval shaped face and the color of your hair as always depends on your complexion.
Textured Hair with Swoopy Bangs
This bob hairstyle requires a good texture and volume of hair, for those who do not want to go for something very edge or like any pixie cut can surely go for this, this cut and style looks very cute on girls and can be enhanced more by some highlights of your choice.
The swoopy bangs cover one side of your forehead when parted on sideways and are even long enough to be tucked behind your ears as they are cut till your jaw line which makes you look younger and stylish.
Bob with Subtle Purple Highlights
Above the shoulders, the hair is generally light and hold more volume and height.
To grab more attention tease the crown section and back brush your strands and the rest of your hair will naturally drape over the teased area, needless to say, this cut and style need a good volume of hair.
Straight Long Bob
This hairstyle may not be too edgy, but it gives a lot of confidence to those wearing it, this is for those who want a look to steal the show without working too hard on it.
These long shoulder length bob is super sexy and also boost the volume of your hair, middle parting and subtle cinnamon highlights go with your complexion very well and make you the show stopper wherever you go.
Asymmetrical Bob
This haircut is very edgy, this asymmetrical bob cut is very easy to maintain as far as length is concerned, and it is prevalent for those easy going girls who just want to flaunt a lot of style, this work on both fine and thick hair.
Super trendy goes with all outfit and works well on every occasion.
The bob was modernized into lob but yet more refined and something effortless, the slight twist which is given while straightening gives volume to hair and speaks all.
This blonde hair and this twist provide a variation to simple straight hair, this cut is almost for every woman out there who wants to be carefree irrespective of their ages.
Bob with Soft Layers
This is what we say short and to the point and when combined with different subtle shades of blonde then we get this which makes us look neither less nor more, looks best on oval shape face.
With side-parting, the left side of the face is slightly covered with your hair and the rest of hair the other side of the partition hair are tucked behind the ears which give a very sophisticated look.
Loose Curled Bob
These loose curls are often seen in Hollywood where the actress flaunt their loose waves bob which helps in enhancing their cheekbones as it gives a lot of volume to your hair.
The hair needs to be of great texture and shiny, and the color adds an oomph factor to your look which should be definitely matching to your complexion and make sure you use a protective serum for your hair to protect them from any damage caused by the chemical color, and you are easy to go as always.
Edgy Bob
This cut is extremely edgy, length till your ears, left partition with most of your hair on the left side and the hair cover the left side of your face.
The white color with very little brown or caramel highlights just at the roots compliments the whole look. Bottom of the hair is done with a razor, which makes it look super edgy and super stylish.
Blonde Lob with Waves
These are not bob cut, instead they are lob a bit longer than bob, and middle-parted, blonde hair with darker tone at the bottom with some waves in them makes you look like some celebrity.
This style is for those who look like a million dollar bucks without investing much time on their hair and are very easy to carry wherever you go.
Casual Razor Cut Lob
Very casual yet very stylish this casual lob with some loose waves have always worked for ladies of all group. Such fast life where we want everything to be easy hairdo comes under that, and just some strokes of your brush and you are ready for all the occasion.
Middle parted gives it a very dramatic look and pairing them with some over sized junk jewelry enhances your look.
Bob with Loose Waves
This deep side-parted bob haircut with loose waves creates such a dramatic look. These waves are created by giving a slight twist while straightening of hair. Hair is long enough to be tucked behind your ears and are easily carried wherever you go.
Grey Bob for Fine Hair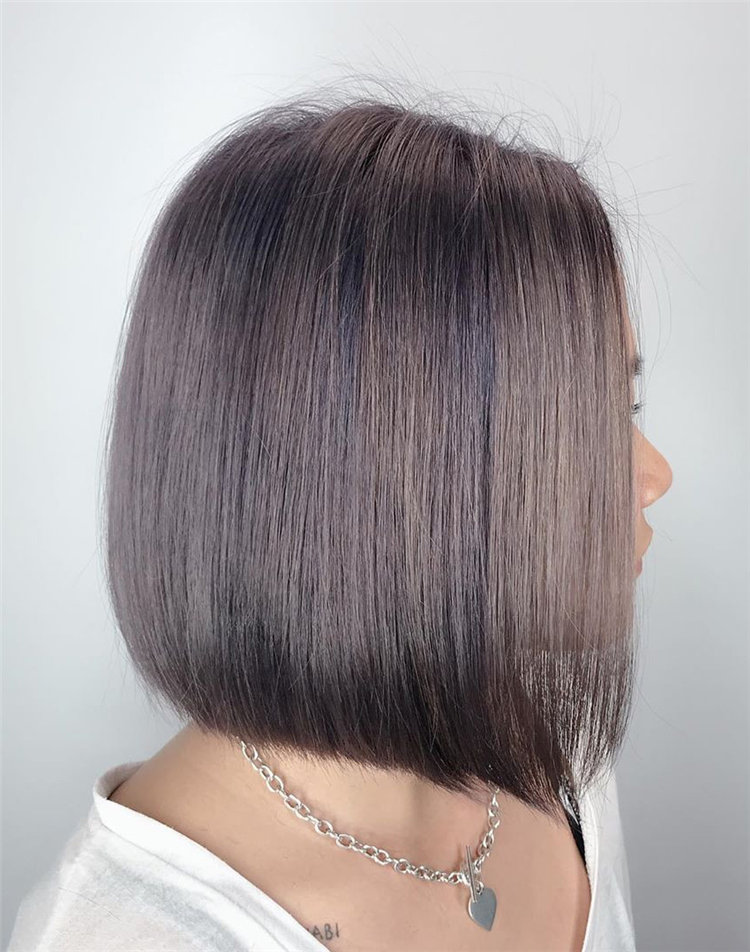 Subtle colors uplift the look of this bob, beautifully done in this haircut the hair falls seamlessly and gives such an elegant look.
This work with both youngsters who go for a carefree look and even for sophisticated middle-aged women. These fine hair compliment your entire look and are very easy to carry.
Bob with Caramel Curls
These curls are for die for, this razor bob cut with such caramel curls are so attractive and for all the girls out there who party hard without any worries about their hair.
Side parted some long bangs on one side covers your eyes and gives a mesmerizing look, with brown color and caramel curls complement each other well. Make sure always to use a hair spray that covers your colored hair well protecting them from harmful rays.
Jet Black Lob
This jet black lob is always in trend; you can never go wrong with these neither the color nor the cut. Middle parted the hair falls over seamlessly so well, and the volume and the texture do the talking.
Bob with Razored Layers
Razor cut techniques gives you an edgy look. The length varies from chin to neck length, the back brush gives you a crown look at the back, and the layers define you so well, though edgy yet sophisticated and we should not forget the highlights which give this cut full marks and even makes it one of my personal favorite.
One thing we should really consider while going for this cut is your face cut and features and your complexion for sure before going for the color.
Back Razor Cut with Layers
This back razor cut gives you a neat look and a clear definition to your neckline. The blonde hair with purple highlights have layers in front, and these side swept bangs gives a lovely look.
Actually, this is all in one cut as you have a razor with layers and even with bangs, so much to experiment with you can be different whenever you step out and look different.
Bob with Crown and Different Angle
There are so many options available when you go for a bob cut. When you give it a unique twist by adding a significant angle, it gives such a dramatic look.
How can we forget about the crown that is created by back brushing your hair, but it all depends on the shape of your face, the angle and the crown gives you a sleek look. Classy, unique, and feminine.
Bang with Waves
Black with subtle brown highlights with some bangs work wonder for middle-aged women, waves with bangs create a dramatic look, and the combination looks great.
This hair cut is very easy to carry and is very easy to maintain for all. The bangs cover almost your forehead, and the waves cover your face from the sides gives you a perfect party look.
Sleek Bob with Bangs
Black sleek bob with bangs, these chin length bob and bangs are a great combination, black hair can never go wrong on any occasion, bangs with bob and oh so glamorous makeup complete your look for any party.
The hair so gentle and soft falls sleek on your head and bangs complete your look.
Whatever your style is long or bob, make sure your hair is healthy enough for any style you want. It comes from healthy living; it matters what you are eating and giving your hair.
Wash them, keep them clean, go for regular trimming and spas, which helps in keeping the quality of your hair intact. Pick any style with your healthy hair. Bob cut is among those cut which can never go out of style and go for all ages.
Thus, just go girl, and you can never go wrong whether it is a razor, angle, or crown look. It always works wonder when the cut is chosen based on your face cut, complexion, and your features.