Short hair is all about confidence, boldness, elegance, individuality and style. Straight hair is very modern and stylish.
Here we are talking about short straight hairstyles. Straight hair is the most admired and loved hair type for women. We all knows that women with straight hair want to wear curly wavy hair and women with curly wavy tresses try to straighten them. The right conclusion in this situation would be a selection of the perfect haircut for your hair type. Short hair is gaining more popularity than ever before and there are lot of ways to style the short hair. We suggest just go for a straight. For try worthy inspiration here we have 20 most versatile short straight hairstyles that you can make on your own!
20 Most Versatile Short Straight Haircuts for Stylish women
Blonde Short Straight Hairstyle
If you are having short hair and you want to wear it straight then this gorgeous blonde short hairstyle worn by Julianne Hough is the perfect option for you to make.
Brittany Snow Short Straight Cut
You can never imagine that an attractive hairstyle can make you so beautiful. If you want to make an amazing look, you can go for this gorgeous short hairstyles which are surely very popular among lot of celebrities who wear it.
Emma Roberts Short Hair
We believe you not are aware how beautifully you make your short hair in straight look. Here you see that this gorgeous short blond straight hair is just the right choice for you to make.
Emma Watson Short Straight Hairstyle
Emma Watson Short Haircut is an inspiration for you to make this kind of hairstyle. The short and straight flexibly tousled hairstyle with side-swept bangs completes the over-all look stunningly.
Jenna Elfman's Short Straight Blonde Hairstyle
Jenna Elfman's short, blonde, straight hairstyle is a sultry look that works totally right for your inspiration.
Jennifer Lawrence Pixie Hairstyle for Straight Hair
A short haircut is a very prominent look. It gives you style and boldness. Here you see that Jennifer Lawrence's straight pixie inspires you to achieving the desired look very effortlessly.
Julianne Hough Straight Hairstyle for Short Hair
You have to be aware that the type of short haircut you go for will surely give you the best look. If you are not sure which hair type would be great for your short straight hair then this will help you to achieve the perfect look.
Short and Straight Hairstyles
We always admire and follows the celebrities. Weather it's their outfits or hairdos. Here you can visualize that Keira Knightley has rocked the glamorous short straight hairstyle which will surely inspire you for your next hairdo.
Short Blonde Stylish Straight Hair
Don't be so choosy to make short haircuts for blonde straight hair. It's very easy to maintain and wear this lovely hairstyle.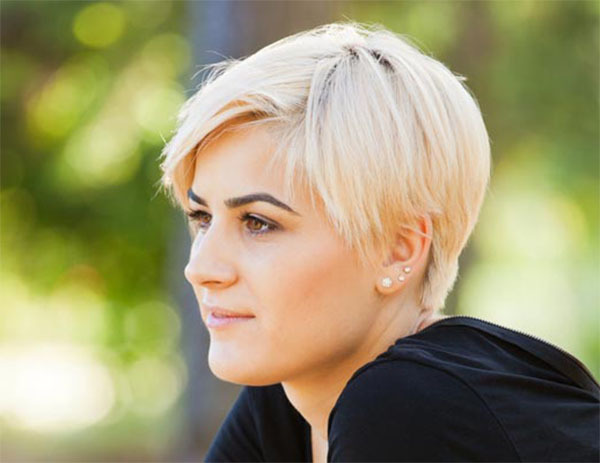 Short to Medium Bob Haircuts
If you are having short to medium hair then this bob hairstyle will surely enhance you beauty. Make it straight and sleek and add some hues to it.
Short Bob Straight Hairstyle
Nowadays, women are no longer obsessed with long locks any more. This stylish side parted straight bob can work very stunning on your short hair.
Short Straight Blonde Bob Haircut
Short straight blonde bobs are extremely flattering. This one beautifully accents Charlize Theron's face. You can go for this dazzling style and have the gorgeous face look of all time.
Short Straight Haircut with Bangs
If you want to get a sassy short straight haircut and don't know which style to try, then just have a look at here and you can find the one coolest haircut that suits you the most.
Shoulder Length Straight Hair
Emma Stone wore a casual yet classic shoulder length bob which is one hairstyle that you can make and have the gorgeous same look.
Sleek Blonde Bob with Bangs
The shoulder length straight short hairstyle worn by Brittany Snow makes an outstanding statement with bangs. She gives her bangs a soft sweep and makes a little side part on the stylish blonde bob.
Straight and Short Ombre Hair
Slicked short straight tresses with wavy style for you to try and stylishly glam your chic look.
Straight Chin Length Hair
A sleek side-fringe always looks fantastic. Chin length bobs with wide fringes are very popular this days. To make your look stand out from the crowd try this classic style and see the difference.
Straight Hairstyles for Short Hair
This short blunt straight hair is undoubtedly the great option if you want a gorgeous short hair look.
Straight Wavy Bob
Julianne Hough opted for a short and wavy hairdo to show off her textured blonde tresses. Add some glamour to your style by having this kind of lovely haircuts.
Textured A Line Bob
Have short hair and want to take it up to higher level. Try this chunky and choppy layers to add some amazing a line bob texture to your tresses.