The Academy Award recipient Hollywood actress Emma Stone is very popular for her wondrous hairstyles.
She has always made sure to look different and dazzling at every occasion with her beautiful hairdos. She gives us marvelous inspirations every now and then. So check out these extraordinary hairstyles of Emma Stone to look as breathtaking as her.
30 Glamorous Emma Stone Hairstyles for You Inspiration
Blonde Blunt Bangs
Get a casual-chic appearance with blonde blunt bangs. Make sure that the blunt bangs in blonde hues cover your entire forehead and also the eyebrows for a cuter appeal. This blunt style is a fashion statement and bangs will always enhances your look. So go girl get yourself this hairdo and glam your look.
Blonde Straight Hair with Bangs
Look as if you are ready to go to the college right now by choosing blonde straight hair with bangs that will provide you a youthful appeal. Make sure that the bangs are well-trimmed and cover your forehead.
Bob with Side Bangs
Emma Stone is such a dazzling diva. She is always known for her signature hairstyle transformation and this one is coolest example of that. This gorgeous bob cut with bangs will give you an amazing look. So opt this style look the same.
Center Parted Medium Hair with Bangs
Appear like an elegant angel by going for center-parted medium hair with bangs. You need to adorn your hair with golden bangs towards the sides and provide a parting at the center of your head. So If you're looking for lovely hairstyle for medium length hair this would be the great option to make.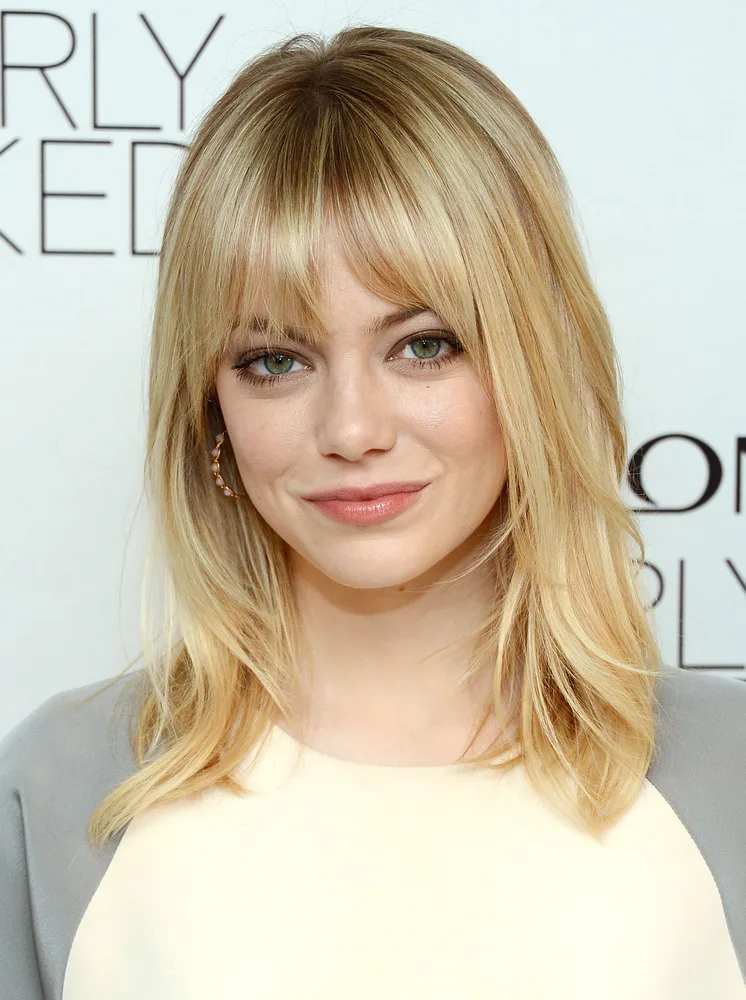 Classic Waves
Appear highly ethereal with classic waves. Smoothly blow-wave your fine locks and add movement to the ends for a pristine look. This classic hairstyle is great to turn heads at any special occasion or party.
Dark Red Medium Wavy Hair
Get the dynamic appeal of a Phoenix with the dark red medium wavy hair. The dark red tresses will offer you a powerful appearance. Make sure that you provide waves to the layers all around the back and sides of your head.
Half Up Half Down Hairstyle
Gain the uber-trendy look with a half up half down hairstyle. You can simply take two strands of hair from both the sides of the front of your head and fix them at the back to achieve this look. Try this style and appear as dazzling as Emma Stone.
Long Layered Hairstyle with Bangs
Here's a coolest style of an Old Hollywood glamour. Look a lot younger by choosing a long layered hairstyle with bangs. In addition to the layering, you can also provide flip-up ends to your hair. The bangs will act as good face-framing elements.
Long Layered Red Hair
Appear like a sensational beauty with long layered red hair. Choose the coppery-red shade of Emma Stone's hair for your's too and blow-dry the layers through the back and sides to flaunt your long tresses. Appear as stunning as she does and be the stylish diva.
Loose Side Braid Hairstyle
Get a pleasant and pretty appearance with a loose side braid hairstyle. Provide lots of textured layers in your hair and then comb most of your hair to one side to create an effortlessly beautiful loose side braid.
Medium Blonde Hair with Bangs
This is such a fierce style and glamorous too. So look as radiant as gold by going for medium blonde hair with bangs. You can make use of different shades of blonde to highlight the various layers of your hair.
Medium Blonde Hair with Curls
Look equally alluring at both formal and casual events by selecting medium blonde hair with curls. Make sure that you provide messily-tousled waves on both sides of your head. This style is timelessly elegant.
Medium Blonde Wavy Hair
Appear extremely trendy for the special evenings with medium blonde wavy hair. Make sure that the hair on one side of your face has waves that turn towards it and the hair on the other side is pinned back over the ear.
Medium Curls with Side Swept Bangs
Get set to attain the girl next door look by sporting medium curls with side-swept bangs. You can cover half of your forehead with the side-swept bangs and put the hair on the other side over the ear for perfection.
Mid Length Hair with Fringe
Show off your style statement by having mid-length hair with a fringe. Make sure to have a layered and smoothened fringe at the top to frame your face. Her side-swept fringe added more dimension to her look.
Retro Bob
She wore this classy hairstyle for the London premiere of The Amazing Spider-Man. Get the blend of vintage beauty and modernity with a retro bob. Simply provide thick curls to the sides and keep the mane soft to achieve this look.
Shag Haircut with Bangs
Appear stunningly ravishing by donning shag haircut with bangs. Make sure that your head is filled with shaggy layers that are well complemented with the bangs on the forehead. You will caught great attention if you are wearing this style.
Shoulder Length Hair with Loose Waves
Look ultra-cool and cute by having shoulder-length hair with loose waves. You need to add waves from the mid-length of your hair to the ends to provide bounce and volume to your short shoulder length hair.
Side Parted Medium Curls
Turn the heads at any event you step foot at with side-parted medium curls. You have to add wavy curls to the sides and back of your head so that your hair looks very voluminous.
Side Parted Wavy Hair
Emma has flaunt this style for the Oscars red carpet. Flaunt your splendid tresses with side-parted wavy hair. Provide a deep side-parting and lots of wavy layers throughout the lengths of your hair to up the style quotient.
Side Swept Long Wavy Hairstyle
Accentuate the beauty of your hair by choosing the side-swept long wavy hairstyle. Make sure that you provide a wavy texture to all the layers from the ear-level to the end to attach bounce to your hair. This is great style for those who have fine hair.
Side Swept Medium Straight Hair
Demonstrate your sassy attitude with side-swept medium straight hair. Make sure that all the layers of your hair are perfectly straight. You must sweep a major portion of the hair towards one side so that it appears to be almost covering one of your eyes.
Side Swept Short Hair with Low Ponytail
Appear young and pretty by sporting the side-swept short hair with a low ponytail. Make sure to sweep most of the bangs to one side and then wear a low ponytail to appear like a college student.
Side Swept Wavy Hair
Appear ever-adorable with side-swept wavy hair. You have to ensure that your hair is side-swept deeply and is textured with subtle waves. This looks amazing and will give this classic style a modern update.
Top Knot Bun Hairstyle
Get set to appear picture perfect with the top knot bun hairstyle. All you need to do is wear a short ponytail and then put the tail inwards at the top of your head to finish to look.
Updo Hairstyle
Gain a graceful outlook with an updo hairstyle as done by Emma Stone. You need to simply part your hair from one side and then collectively pull the entire hair into an updo secured by bobby pins. This is one of the best look that one can wear.
Updo with Front Bangs
Steal the spotlight at any important occasion by having an updo with front bangs. Make sure to completely cover your forehead with the front bangs and tie up the remaining hair at the back to look bold. This is the timeless haircut that you have to wear on special occasions.
Vintage Curls
Get to feel like a classic diva with the style of vintage curls. You need to make sure that your mane is filled with waves throughout the back and the sides. You may have your hair colored in a copper shade to look like Emma.
Wavy Bob with Bangs
Look lively and lovely by having the wavy bob with bangs. Make sure that the mane is scrunch-dried and there are long bangs to the sides of your face.
Wavy Updo
You can achieve the appeal of a matured woman with a wavy updo. Fill the layers of your hair with wavy textures and secure them at the back to create an updo.
Embrace the exquisite hairstyles of Emma Stone and look like a celebrity 24*7. Try out all these hairstyles to get special applause at all times.