While braids hairstyles are commonly seen in women's hairstyles, things surely seem to be changing as braids hairstyles are making their way into men's styles as well.
For those boys who have naturally long hair, well, you should definitely try out any one of the 21 braids styles for boys that we have listed below.
These styles are cool, unique and sure to give you an edge wherever you go. The list features all types of braids from classic chunky braids to cornrow braids and almost all other types of braids hairstyles.
Cool Braids for Boys
Short Box Braids Style
Here's a cute hairstyle for little boys. Most times, when it comes to boys' long hairstyles, mothers simply chop it in some popular style and always tend to keep it short.
But some parents surely do go the extra mile especially when little boys have long hair and style it into something much more adorable.
In this style here, the hair has been styled by dividing up the hair into box-like sections and the hair has then been tied up in thin braids.
Braided Crown
A cute and amazing hairstyle for boys which really looks good. The braids have been done beautifully that they stand out in a particular shape which includes dividing the hair into many braided sections and then tying it up.
The braids are thick at the top but they get thinner as they come down and have been accessorized with golden beads to make it look good.
Braid Style with Fade
Faded undercut styles are very common in men's hairstyles and this hairstyle here has combined together both of these looks to create a stunning hairstyle.
The hair has been done by dividing up into sections of equal length and then tying it up in a backward braided pony style.
The rest of the hair on the back and the sides has then been neatly shaved into a fading undercut which gives it an overall classy look.
Clean and Sharp Braids
It is a clean and good looking hairstyle for when you just need that perfect braids style that does not have too much glam to it.
Just a simple look at its best is how we can perfectly sum up this braided style in which the hair has been divided into triangle-like sections and then pulled backward in the normal braided style.
It is paired with a trimmed undercut that gradually keeps fading till it reaches the bottom.
Zig-Zag Braids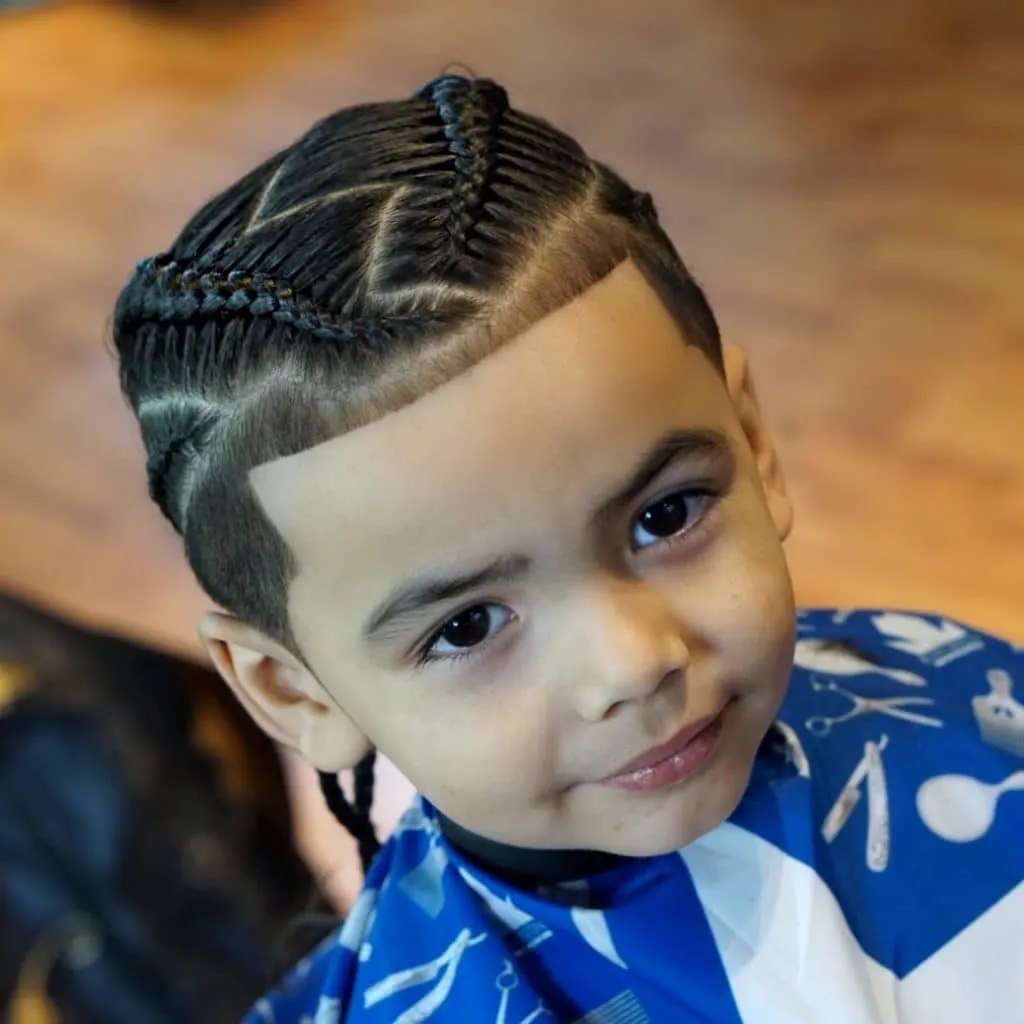 Little kids surely love having their hair done in a wide variety of ways that make them look very cool and as a result, they surely don't mind when you do little experiments on your boy's hairstyle to pull off a whole new look that is amazing.
This is one such hairstyle that is born out of innovation and creativity. The hair has been simply parted onto both sides and then tied up in a zig-zag braids style.
The braids are quite thin and so they blend in well with the rest of the hair that simply lies flat.
Cornrow Braids for Long Hair
Now, this is the perfect style for both little boys as well as men who grow out their hair to longer lengths and are looking for different ways to style their hair.
Well, this is the right hairstyle for you because not only is it great to keep your hair in place in a stylish manner, it also helps to protect your long locks.
These braids have been done in the cornrow braids style, which makes them look all the more amazing due to its intricate design and shape.
Travis Scott Style Braids
Well, we can give all our thanks to the famous rapper Travis Scott for giving us this style and making it an inspiration to be looked upon when styling the hair of men and boys.
This style mainly included either styling up your natural hair itself or by adding in synthetic hair or braids to complete this look.
Not only does adding synthetic hair help to achieve length, but it also makes it look more voluminous and full.
Triangle Braids Design
It is another creative and fun look when you are tired of your normal braids and are looking for a cool hair inspiration.
Well, you have come to the right place because here is a stylish braids hairstyle with a lot of innovation plus fun.
The hair has been made into many triangle-shaped segments and divisions and the hair in each of these sections has then been braided and tied up with elastic bands.
Tucked in a Ponytail Style
While this hairstyle may look quite complex when you take a first glance at it, if you would simply take a closer look, you can observe that there isn't much to be done in this style and it's actually a different version of the basic braids hairstyle.
The hair has been parted into several sections of equal length and thickness, and then all of these sections have been taken together to tie it into a high ponytail style. But the tail is then again tucked into the upper part of the ponytail.
Twisted Snake Braids
Snake braids seem to be trending these days with more and more people seen trying out this hairstyle. It's very simple actually and is not as hard as it may look in the picture to get it done.
The hair has been tied up in small twisted braids in a net-like shape on the upper middle section. On either side of this crown or middle area is where the snake braids style has been done.
The Asap Rocky Braids Style
Just like we saw a braids hairstyle based on Travis Scott, here is another hairstyle that became popular after it was done by another rapper, asap rocky.
But again the hairstyle is quite simple and you don't need to worry just by hearing its name. The hair has been divided into square or box sections and then tied up into braids across its entire length.
The braids get significantly thinner and curlier towards the tips of the hair but have still been tied in a braid.
Feed in Braids for Boys
The feed-in braids hairstyles are a very popular style when it comes to women's hairstyles and the same seems to be the case in men's hairstyles too.
They help to make the natural braids look much more better and thicker, with the simple addition of few synthetic braids.
At the front part, these feed-in braids are very thin and as they go back, they get thicker and thicker. So this makes the top part of your head look full with thick braids.
Creative Braids
As we have mentioned before, braids hairstyles surely do present an opportunity for more innovation, and it all depends on the creative ability of the person who is doing the hair.
That fact is very true if you take a look at this simple braided hairstyle but which has been done creatively with the addition of intricate designs and twisted patterns that help to make the overall look stand out. The braids are in a zig-zag pattern as well as a snake braids pattern.
Dyed Braids with Ponytail
A fashionable hairstyle makes you look like quite the gentleman while you are at it, and it also protects your hair in a natural way itself.
The crown or upper-middle section of the hair has been dyed and highlighted in the shade of platinum blonde which makes the stark whiteness of the hairdo look stunning.
These have then been braided in many sections and then together tied up into a ponytail. The rest of the hair on the back and sides are done in a cleanly shaved fade style.
Creative Braids for Long Hair
This braids hairstyle for long hair is a good one that will help you to protect your long locks of hair and retain the moisture while at it.
Therefore it provides great protection as well as comfort to the person when wearing such long hair.
The hair has been shaved in particular shape at the front portion and then divided into sections so that the braided hair can be pulled back into either a bun or a ponytail.
Twisted Dreadlocks
Twisted hairstyles are very adorable as is obvious from this hairstyle. The hair has simply been parted to both sides and then thinly twisted across the entire length of the hair.
This hairstyle is best suitable when you have long hair as these staggering twists would surely fall on your face in a beautiful manner, thus framing it perfectly.
These thin twists look their best when they are worn by parting in the middle so that the hair falls graciously onto both sides.
Knotted Braids Design
Yet another stylish way to do your hair in braids would be the knot design. It basically involves parting your hair into thinner sections or divisions, and then they are braided in a knot style that is tucked in with the free hair once the braids are done.
In this style, though, all of these knotted sections are further tied up into a bun while the hair on the sides and the back have been neatly trimmed and shaped making the overall hairstyle look very full and voluminous.
Braided Designs on Long Hair
While many men these days are trying out new trendy hairstyles in long hair, such long hair is actually a rare sight and well, we have to say that it looks quite beautiful and stunning.
On the upper front portion, a section of the hair has been tucked back in a bump hairstyle and the sides have been braided through at various parts. The overall look is made better by complementing it with the beard that looks simply stunning too.
Snoop Dogg Style Braids
Braids inspired by celebrities seem like they only keep increasing with each new trend and in this style, the braid we have is known as the Snoop Dogg style, clearly inspired by Snoop Dogg itself.
This hairstyle doesn't have much to it and all you need to is simply divide your hair into wider sections so that not more than 4-5 sections of hair are present on your head.
Then the hair in each of these sections is simply braided up where they are thicker at the top and get thinner as it comes down to the tips.
Dyed Braids with French Crop and Low Fade
Combining different styles into one single hairdo is not an easy task, and it requires skill as well as effort because you don't want it to all go wrong simply because the styles do not complement each other.
In this style, the upper middle portion of the hair has been dyed in a beautiful shade of red. Red which is primarily seen in women's hairstyles, has leaped men's hairstyles as well and they do look stunning.
They have been done in the classic French cropped braids style and then paired with a low faded undercut on the back and the sides.
Micro Braids Bun Hairstyle
And to end this list of braids hairstyles for men, we have saved the most dramatic look for the last. A hairdo that is simply serving looks with its sheer beauty.
The hair has been done in very thin and needle-like micro braids style so you can see that there are about hundreds of tiny little braids in this picture.
All of these braids have then been tied up into a gorgeous man bun to enhance the look simply. The lower side portion of the hair has subsequently been done as an under shave — a great hairstyle for those who have long and thick hair.
And with that, we have come to the list of the best braids hairstyles for boys. Braids are a great way to express your personality, and by including it in men's hairstyles.
It has become a way unique way of expressing yourself since not many people try out braids hairstyles when comparing to women. This list has all the styles you need to try out like right now.