Box Braids make a beautiful combination of twists and creative hairstyles. You can be as creative as you want with the box braids, but when you make braids thin, it takes a lot of time styling them, and you need to be very perfect for the style and finish.
One way to make your task super easy and get an eye-catching hairstyle is to make the box braids bigger. Jumbo box braids are usually made using a bigger section of hair strands, and it takes less time for styling your hair.
It might be difficult for you to get the jumbo box braids perfect at the first time, but over time, you will love the hairstyle as it becomes neat and the braids become perfect in shape and size gradually.
If you are looking for a ravishing hairstyle that immediately gets everybody's attention, then jumbo box braids are a great choice for you to opt for.
When you maintain them well, it can last up to 12 weeks and makes your high-volume Afro hair easily manageable.
Jumbo Box braid is a versatile hairstyle, and you have a lot of choices for the thicker braids, and to make your task easy, we have come up with some stunning Jumbo Box braids hairstyles.
21 Endearing Jumbo Box Braids to Look Amazing
Unswerving Box Braids
A sensual and sassy thick hairstyle for African American girls having long hair. The Unswerving box braids are the straight jumbo box braids that suit perfectly on a long face type, such as rectangular and straight.
To achieve unswerving box braids, middle part your long and thick hair and start creating the braids from the top using thick hair strands towards the front side similar to flicks.
Now, when you complete braiding, all your hair into thick braids move all the braids towards the front side, dividing into equal portions creating a beautiful and elegant look.
Intrinsic Box Braids
For the girls who love their natural thick hair and need a jumbo box braid hairstyle without using any extension to get an easily manageable hairstyle, Intrinsic box braids hairstyle is a great choice.
To make the jumbo braids, hair is divided into various sections in the shape of a box. All the hair strands are tied using a rubber band by making a ponytail.
Now, one by one takes each strand and create a simple three-strand braid leaving a small section of strands to roll over the ponytail. Repeat the process to get an adorable jumbo box braids hairstyle.
Blonde Triangle Braids
An attractive hairstyle for African American girls who love brown lemonade shade long hair. Blonde triangle braids are a different and stylish hairstyle that includes thick strand braids with the blonde extensions that can be taper into natural black hair.
You can also get a blonde highlight if you have thick volume and long length hair. The top section of the head is divided into a star shape making a triangle for each strand of the jumbo braid.
Then Each strand is braided till the ends giving a beautiful and charming appeal of the blonde triangle braid hairstyle.
Senegalese Twist Braids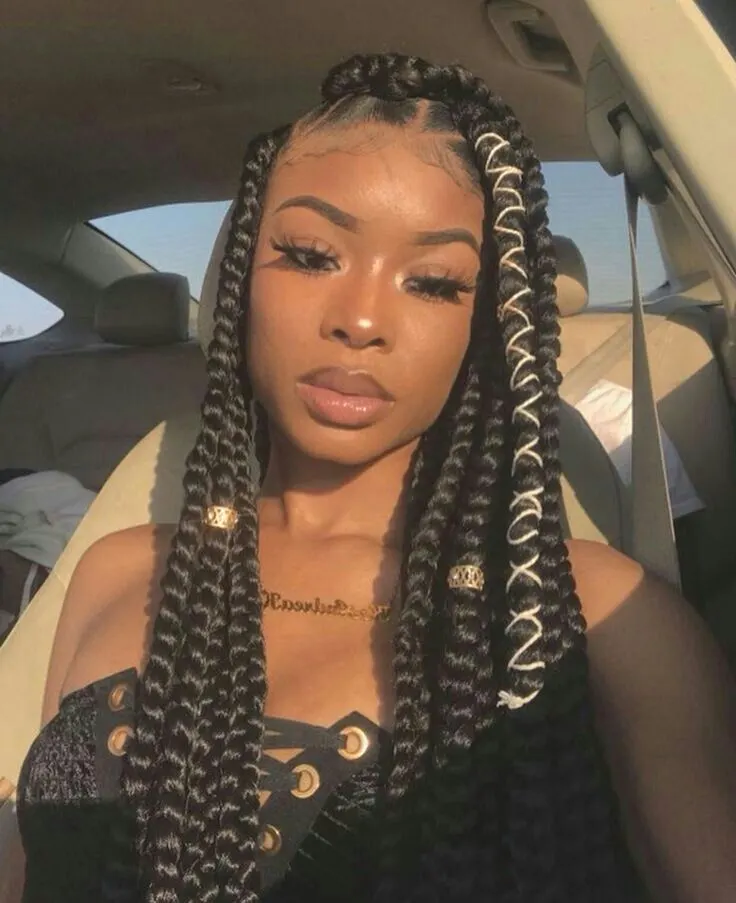 Senegalese twist is a commonly used extension that is known to be silky braiding hair, and you can create jumbo box braids with this shiny braiding hair tapered into your natural hair.
The particular hairstyle can be achieved using back braiding your hair and leaving your tiny front hair on the forehead.
The box braids are created using backcombing and taking a thick section of the Senegalese twist and styled in a side parting way. For the thick braids, you can use cuffs and cord for a few braids to make the hairstyle more lovely and attractive.
Grey Weave Braided Ponytail
An easy way to get a modish hairstyle using jumbo braids is to use a weave. Grey extensions are becoming very popular these days because of the gorgeous charm they carry.
You can taper the grey weave with your natural black hair and create the jumbo box braids, even with your short hair.
Now, if you are planning to go for a party or an outing in summer, it is complicated to carry those jumbo braids when you are not habitual. So, gather the braids and tie them in a high ponytail to get a pleasing and easy manageable hairstyle.
Zigzag Combo
For teens and young girls, the zigzag combo is a fun-loving and charming braiding hairstyle. It is really easy to make and carry the whole day.
To achieve this hairstyle, divide your hair into two sections with a zigzag parting and divide some sections of the front also with a zigzag parting.
Create French braids on both sides for the front parting and grab a thick section of hair from the side and create a jumbo box braid and repeat the step for the rest of the hair on both sides to get an adorable and sweet appeal.
Cerulean Braids
A trendy and eye-catching shade is always a great choice for the jumbo box braids hairstyle. Cerulean shade braids look very cute and pretty for young girls and teens having medium length hair.
The cerulean shade extension strands can be used with each strand of the natural hair box braid from the middle and then braided along with the natural hair till the extension length.
The shade looks super cool and gives you a fun-loving and an easy hairstyle. You can carry a Cerulean braids hairstyle for a day outing or casual look also.
Back Swept Cornrows
Cornrows are also a popular hairstyle in Africa that a lot of girls and women prefer to wear with their natural hair Back swept cornrows hairstyle works best for the girls having ultra-short hair.
The cornrows extension can be tapered to the natural hair and braided towards the backside, keeping a long distance between every jumbo braid.
You can use brown, black, or any trendy shade for the cornrows. The back swept cornrows hairstyle gives a gorgeous look for black women having an oval face type.
Platinum Box Braids
The long platinum blonde box braids are a delightful and chic hairstyle for black women having short to medium length hair. The platinum shade gives a beautiful shine to the hairstyle and adds a nice charm to the personality.
To achieve platinum box braids hairstyle, create a triangular section for the top hair and start braiding your natural hair while adding the platinum extension.
Create thick strand braids for the rest of the hair and gather the braids together from the top section and tie them into a high ponytail for an easily manageable hairstyle with a lovely gaze.
Double Layered Jumbo Braids
Double layered jumbo box braids look very adorable and pleasing with the natural thick and shiny hair. To achieve a double-layered jumbo braids hairstyle, do a middle parting for your hair and divide each side into two sections horizontally.
Now for each section, take a thick strand, making a box shape, and create a jumbo box braid. Repeat the step for both the sections on both sides to get the double-layered jumbo box braids. It looks very cute and lovely on girls with short face type.
Braided Bob
It is not always that jumbo braids look cute when they are long, sometimes short braids also give an alluring look to the personality.
Braided bob is a charming hairstyle that includes jumbo box braids with a bob hairstyle. You can use braiding hair into your natural Afro hair to make thick box braids.
You can also use mix color extensions like black with a pinch of brown and golden shade to enhance the look.
Braided bob hairstyle is achieved with a middle parting and jumbo box braids on both sides till shoulder-length, giving an impressive look.
Senegalese Bob Twist
Another beautiful hairstyle with the Senegalese twist with short hair. The bob twist hairstyle looks great on high school and college girls as they can carry the hairstyle as their daily casual looks.
Thick sections of silky braiding hair are used to create jumbo box braids till bob length.
Style the braided bob with a side parting to get the attractive look with the jet-black shiny Senegalese twist. Bob Twist hairstyle suits black women are having an oval or round face type.
Half Updo Twists
Jumbo box braids give a glamorous appeal for the black women when they are tied in a half updo. Half updo hairstyle in a particular look is achieved using Corkscrew hair.
The hair is attached with the natural hair and twisted to get the braided look. Use thick sections to make the jumbo braids look.
After Back swept twist, gather the twisted corkscrew braids from the top section and tie them in a top knot bun. Leave the back twisted braids freely and style them using a golden cord.
Casual Box Braids
When you do not want any creativity with your hair and prefer a simple braided look giving you a celebrity appeal, try out the casual box braids hairstyle.
The hairstyle includes simple middle parting and thick section braids. Take a box section strand from one side and create a thick braid leaving the ends free.
Repeat the process for all the sections on both sides. Get a trendy highlight color such as chocolate brown or ombre for enhancing the gorgeous appeal of the casual box braids.
Chunky Braids with Cuffs
If you are looking for a bold and carefree hairstyle, chunky braids with cuffs is a great choice for you to opt for.
It suits black women having a bold and confident personality. You can carry chunky braids as a casual hairstyle or a day outing also.
Create triangular box braids for the thick Afro hair by taking bigger sections from the top and repeat the braiding process for the rest of the hair. Add golden cuffs to the braid and an optional pink wire cord for the front braid to enhance the glaze.
Forward Swept Braids
Back swept braids are quite common for the jumbo box braids, but the forward-swept ox braids also make an offbeat style with a bold look.
It suits the black women having a longer face type and shoulder-length medium Afro hair. To achieve the forward-swept box braid hairstyle, divide your hair into box shape thick sections, and create the braids for each section heading towards the forehead.
It creates a nice style and adds charm to the forward-swept braids. You can keep some of the braids covering the front of the face to add a natural appeal to the hairstyle.
Knotless Brown Braids
An easy way of styling your jumbo box braids is without any knots to keep them free and alive. The dark brown shade braiding hair with the combination of natural black hair makes a dazzling hairstyle.
Get chunks of strands for the natural hair and start braiding them towards the side with a combination of dark brown braiding hair. It looks very shiny and beautiful.
Knotless brown braids suit girls with square, oval or rectangular face type and is a great option for daylight party.
Rainbow Braids
When you plan to look funky and bold, getting a rainbow style is always adorable and dashing. Rainbow braids help you to outshine your inner bold personality while giving you a colorful and pleasing appeal.
The natural black hair is back swept, and the box braids are combined with the colorful and bright strands.
After you finish the braiding, you can take a few sections from both the side and make a half twist towards the back to make the style more impressive and brighter.
Hefty Bun
A unique of styling your thick and heavy jumbo box braids with the black and white extension for braiding hair making an enduring combination.
The hefty bun makes them thick and long, braids easy to manage. All you need to do is create jumbo box braids for the natural hair combining the braiding hair extension and taking few white sections.
Gather all the long braids and tie them on the top, creating a hefty bun and secure the loose and voluminous bun with the hairpins.
Black and Green Cornrows
Thick cornrows are always a cool and trendy styling option for thick and long hair. The cornrows are braided very close to the scalp giving a nice and modish appeal.
To achieve the particular hairstyle, take some sections of green shade braiding hair and add them to the thick cornrows created towards the back.
Add the shading section after mid-length to get an impressive look. You can style black and green cornrows hairstyle with a few golden cuffs.
Crochet with Rings
A perfect hairstyle to show your ring love with a traditional twist. Crochet hair can help you to get the length and shade you prefer and easily taper into your natural black hair.
Do a center parting and created jumbo box braids towards the side by taking a bigger section of crochet hair. Light brown and golden shade of crochet hair braids look perfect on a short face and gives a bold and attractive look.
Style the jumbo braids using rings, and you can use as many rings as you can at a few distances to make them look more pretty.
Jumbo box braids have been a famous hairstyle choice among African American women, and they love to style their hair using thick braids to get a modish and charming appeal.
They are also a very protective hairstyle, and when you use extensions and keep on trying different hairstyles for jumbo box braids, they actually protect your natural hair from daily wear and tear.
Jumbo box braids give you a delightful, elegant, and versatile option to get a trendy hairstyle with a culture-filled history and give you a stunning appeal.