Black and mixed-race women have unique hair textures that lend themselves well to a variety of different styles. Braids are extremely common for women with these hair textures to wear. Braided hairstyles are also highly protective for natural hair and will help keep it stronger and under control for longer.
As a result, numerous hairdos have become incredibly trendy and beautiful to wear. You'll find a nearly endless variety of ways to style your lovely locks and let your uniqueness shine through while doing so. Any black woman armed with a talented hairstylist and a flare for hair trends will suit these looks well.
Fashionable and Protective Braids For Natural Hair
Let's take a look at this vast array of hairstyles that you will benefit from and will want to experiment with in the years to come.
Half Up Bun

Wearing a braided bun is classic. It helps keep hair out of your face and lets people easily see the amazing work that has gone into styling your tresses.
The bun sits right on top of your head while the rest of your hair cascades over one shoulder.
Curls and Braids with Hoops
Sometimes you can mix in some loose sections of curls with your braids. It adds tons of volume! Adding little hoops to various sections of your style will give you a slightly edgier vibe and look incredibly trendy.
Crown Braid with Slick Sides
If you'd like to wear an updo while still showing off your tresses, then a crown braid can work well. It sits right on top of your head while keeping your hair out of your face.
The sides are beautifully sleek and look chic. A real fashionista will suit a hairdo like this.
Braided Cornrow Ponytail
One common protective style you find is cornrows. This keeps the plaits very tight to the scalp and gives them a distinct shape. Spice things up a little by forming a ponytail with them.
Sweet Little Space Buns
Every hair type looks amazing in space buns. They're so sweet and will give you such a playful appearance. Here there's a full head of very skinny braided sections. They pull up into the style nicely.
The hair forming the buns is unbraided. It's a nice contrast that will make people find your style very interesting.
Over the Shoulder Look for Mature Women
More mature women who don't want to spend as much time maintaining their hair may prefer a thinner and more controllable look.
It's a very simple style as the hair is pulled over one shoulder. The locks on the scalp form a nice curving pattern that's pleasant to look at.
Light Crochet Braids
If you have short natural hair then you can get a crochet braided hairstyle to make it longer. Basically, your hairstylist will take sections of your hair and use a crocheting technique to attach it to braid extensions.
This is a great way to wear a lighter hair color without damaging your own locks by bleaching them.
Thin Beaded Braids
Beads are a really common way to decorate thinner plaits. They sit at the ends of your tresses and are simply unmissable.
They'll make a lovely sound every time you move and will capture everybody's attention when they glance at you.
Braided Two Tone Look
Would you like to add a little variety into your look? Getting a two tone style will help you stand out . Blonde goes really well with the natural black of your tresses.
This full head of medium thickness braids has a nice side parting that looks really chic and will be fun to play with.
Curly Updo with Braid
If you need to create a style for a party or a formal event then you should definitely consider this one. A single plait decorates the front section of the hair. The rest is very curly and pulled up into a little updo pinned on the crown of the head.
Long Black Braids Hairstyle
A long braids style like this is a very classic hairstyle to show off your naturally curly locks. This is a style that will allow you to experiment with your volume and length and so you can create a unique look each time.
And even if you have shorter hair, you can always add in extensions which have become an integral part of most hairstyles these days. On the front and upper portion, the hair has been styled in short and cute box braids and the rest of the parts; it has simply been tied up in the normal braids hairstyle.
Braided Ponytails
Ponytails are said to be a girl's best friend and when combining it with these beautiful braids, it makes a killer hairstyle. As seen in this style here. Fashion icon Yara Shahidi is sporting a high braided ponytail that looks effortlessly gorgeous on her.
You can also rock this hairstyle by simply adding in a statement hair accessory like the one shown here and your look will be completely red-carpet ready. This is a bold hairstyle while also being one of the simpler ones in natural braided styles.
Cornrow Braids with High Twisted Bun
Tying up your hair into a big bun updo like the one shown in this picture is not just a comfortable style, but also one that looks extremely cute too. So if you're willing to tie up your hair and start loving this style, then this adorable hairstyle is just the one for you.
The entire section of the hair has been tied up in cornrow braids and then taken together and tied up into a high twisted bun. You can keep this hairstyle for many days so you don't have to worry about styling your hair in different ways each day.
Natural Twist Hairstyle
A twisted hairstyle like this one will surely make you look effortlessly chic. It is a dramatic hairstyle that will turn all eyes to you. In this style, the hair has been maintained as a short lob, and the thickness of the hair is very visible through the twisted style.
Adding in some cute hair beads will definitely level up your look and add more drama to it. While there are different ways in which you can style these twists, sometimes simply letting it be on its natural hairstyle also looks fantastic.
Long Thin Braids with Violet Highlights
What better way to add a dash of glamour to your naturally black braids than with a pop of bright colors? In this hairstyle, the hair has been tied up by sectioning it into thin and long braids.
The hair has been highlighted in a beautiful shade of violet in various places and creates a hide and seek look where the highlights are only visible at some places but in all the right places. A further glam up is added to this look by adding in few statement hairpieces which are also quite colorful.
Best Ghana Braids for Goddess Look
Intricate Extra Long Braids in a Ponytail
A long braided look like this is sure to turn all eyes on you wherever you go. And when it is a style that was sported by the queen Nicki Minaj herself, it surely became a huge hit.
The hair has been tied up in braids that aren't too thick but are not too thin either. It is styled in the high ponytail look, which really does add a bossy look in the overall and helps to accentuate the outfit better too.
Long Box Braided Hairstyle
It is an amazing hairstyle for those who are looking for something simple to do with their braids without adding in too much of anything else. While it is not exactly a low-key look, it still looks quite simple and believe us when we say that sometimes simplicity is the best outfit you can wear.
On the upper front portion, the hair has been styled in cute and tiny box braids and the rest of the hair has then been tied up in long braids. Some of the hair has also been let down flowing freely thus making the entire look quite interesting.
Simple Knotless Braids
Speaking of simple and minimal looks, this is also another basic hairstyle but one that also looks very glamorous. A hairstyle that will suit all types of hair regardless of whether it is thin or thick.
The hair has simply been parted very neatly to both the sides and then tied up in elegant knotless braids. With functional hairstyles like these, you can wear then with any outfit and to any event, even if it's for a party or just going for work.
Chunky Box Braids with Beads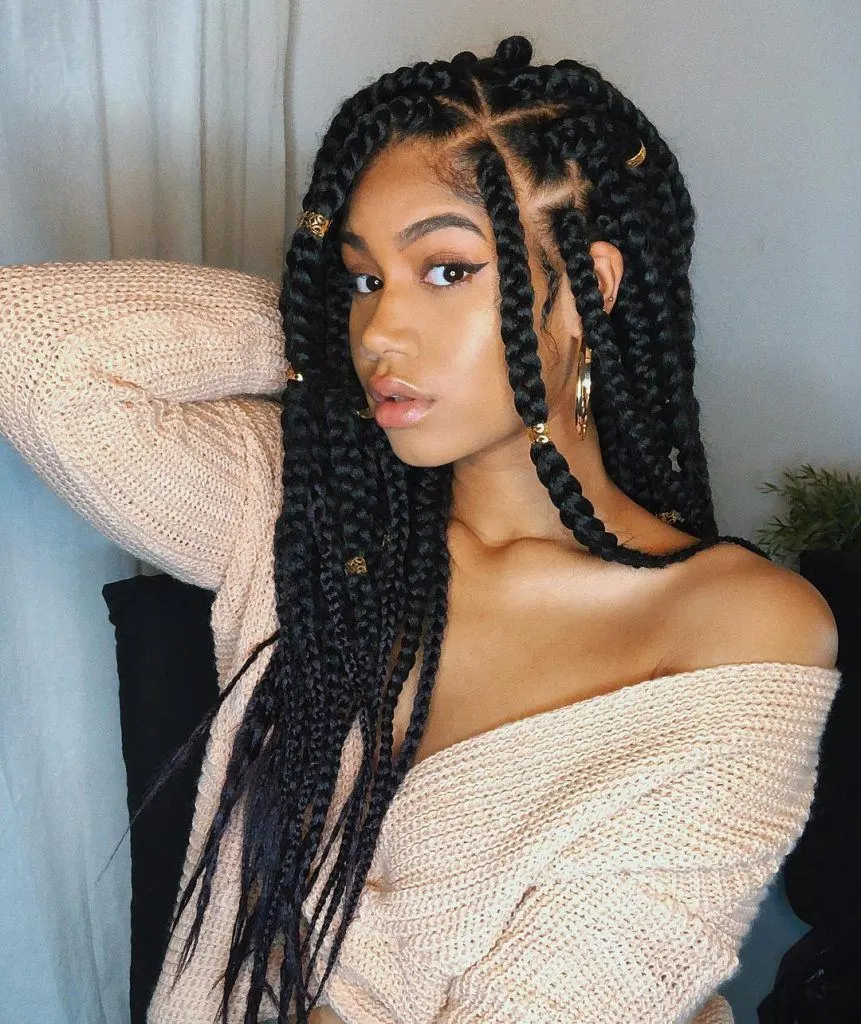 Chunky styles are all the rage these days, with most girls going after it. After the chunky slippers and many other chunky things proved to be a hit, people are now trying out chunky hairstyles like the one shown here. It helps to lift your face and make it look much more defined.
On the top part, the hair has been tied up in small box braids and as we come down towards the bottom, the chunkiness and the thickness of the hair significantly reduce to very thin loose hair. Few golden beads have also been added in various places to spice up the look.
Mid Length Hair with Golden and Silver Blonde Highlights
We have all seen blonde highlights as well as silver blonde highlights. While they look quite beautiful on their own, here is a combination of braids hairstyle that gracefully blends together both of these colors.
Gold and silver on your hair have never looked better than this. The hair is maintained at medium length and has been styled in the style of the normal braid itself.
Simple Braids Hairstyle for Curly Hair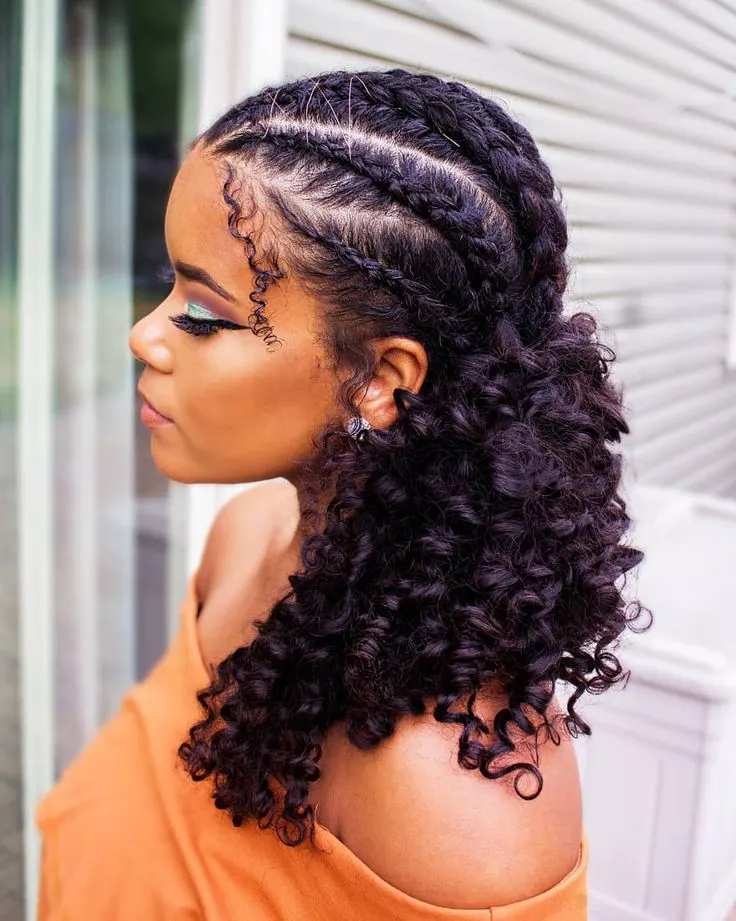 Here is a great way to show off your beautiful natural curls. Simply tie up the upper portion of your hair in the four braid hairstyle. Braid it all the way back till you reach the tip of your neck, in a length that is suitable for tying up into a low ponytail.
And then simply tie it up and leave the rest of the hair flowing freely in its natural state. Your curls are guaranteed to look gorgeous, and you can also wear this hairstyle for parties, events, weddings, etc.
Long Straight Braids
How gorgeous does this hairstyle look? We have to say very much. It is as simple and natural as it can get. Yet there is something eye-catching and ravishing about this look.
All of the hair has been divided into thin sections and braided in the same thin style itself. The style has a vintage charm to it and is sure to look great with all kinds of outfits. You need to have hair of at least medium thickness to achieve perfection for this look.
Curvy Goddess Braids
While long and curvy braids like this are a far cry from the original braids hairstyle, they still manage to look quite amazing every time.
This is a great and refreshing look with hair that is very closely braided to the scalp, thus showing off a major portion of it. The braids have been beautifully styled in a curvy style to create the required dimension perfectly.
Asymmetrical Curvy Braid
This is another gorgeous hairstyle taken from the curvy styles look book. The hairstyle is simply on point and the model looks straight out of a fairy tale, looking extremely beautiful.
This hairstyle can be tried out by those who have thin or medium thickness hair since much texture isn't required here. You can just take few asymmetrical sections of your hair and braid it backward in this curvy hairstyle to get this look. As it reaches the bottom, in the area of the neck, you can tie it and tuck it in with the rest of the hair.
Curly Short Bob
An adorable hairstyle if you have short hair and want to flaunt your naturally curly locks. The hair is maintained at length a little below the ear and barely touching the chin. This helps to make the jaw look much more structured than it actually is.
The curly luscious hair has been styled by subtly parting it to both sides, in the style similar to long side-swept bangs. This is a simple and cute hairstyle and if you want to add some bling to your look, then you can either go for few hair accessories like beads, or you can also choose to get your hair highlighted in a beautiful shade.
Wavy Twisted Braids
Well, if your friends and family call you the drama queen in everything you do, then maybe you should try out this hairstyle. Because you don't need to be any less a drama queen when it comes to your hair.
It is a bold and cool look that will definitely make you stand out no matter where you go. The middle section of the curly locks of hair has been simply let standing just as it is, instead of tying it up.
And the hair on the sides has been divided into sections and tied up and twisted into braids. This hairstyle could also be the female version of the spiky hairstyle which is a favorite among men's hairstyles.
Side Parted Twisted Braids
This is another interesting twist to the chunky hairstyles look. The hair is very visibly thick, and to protect and maintain such voluminous hair with some style, there is no better option than tying it up in a cute braids hairstyle.
The hair has been side-parted and also divided into thicker chunks or sections. This is a look that is sure to look great for weddings and parties because it has a charm to it that is very irresistible. You can also wear this look for casual outings and not have to worry about styling your hair differently every other day.
Short Braided Hair and Natural Curls
A fun and interesting way to style your hair if you want to flaunt your naturally curly hair. The hair has been divided into many sections and all of these sections have been tied up into uniform braids. A part of the hair.
Probably, on the area below the neck has not been tied up and instead is simply let down. Instead of the usual style of letting it down freely, it has been brought towards the front and simply tied up and placed on the top.
High Braided Bun
This is another natural and easy way to style and protect your hair. Natural hairstyles have this authenticity about them that you cannot find in other hairstyles, even complex hairstyles or just artificial styles with extensions, in general.
The hair has been divided into thick sections, and all of these sections have been bought together into a huge and high bun on the top. The natural twists of the hair look extremely gorgeous even if the hairstyle is a very basic one.
Low Pony and Bun
Usually, most hairstyles feature either a bun or just a ponytail where the upper section of the hair is styled beautifully, and the lower section is simply tied up. Witnessing both of these styles in a single hairstyle is rare, and that is also the reason why it is such a refreshing look.
The hair has been tied up into a high bun on the top, and the rest of the hair below has been styled in a low lying bun. This style is surely a great combo that gracefully blends together both the styles without making it look too made-up.
Thin Braids with Gorgeous Beads
While most braid hairstyles focus on the complexity of the braids more than the accessories, this one here is an interesting twist to that concept. The style of the hair is quite basic and is maintained in ultra-thin braids.
All of the braided hair has then been taken back and simply tied up into a low bun. A few strands of hair on the face though, have been left flowing freely. Not only do they help to accentuate the facial features, but the hair accessories done on those face-framing layers also look simply extraordinary.
Chunky Box Braids with Hair Bobbles
This hairstyle could literally be the most fun and cool one to try out from this list of braided styles. And the fact that a hair influencer herself popularized this hairstyle makes it all the more special.
The box braids have been styled in this adorable way of tying them up into chunky and thick braids and then hair bobbles in a vibrant shade of blue have been placed on the top and bottom of each single braid. Not only does this create a very playful look, but it is also great at protecting such hair.
Short Bob Hair in Neon Orange
Braided and protective hairstyles like these are almost always found to be experimented and styled on long hair, so seeing this style on a short bobbed style is very refreshing and makes it look unique.
Well, it is actually unique too, especially with those neon orange classic highlights that have been dyed all over the hair. The box braids have been maintained very well by keeping it at a short length and has been secured with elastics of various colors at the bottom.
Simple Curly Braided Crown Hairstyle
A fabulous way to style your hair if you have medium length curly hair and are looking for ways to protect it in style itself. In the upper section, the hair has been tied up in horizontal braids and the rest of the natural curls haven't been tied up and are simply flowing freely in its natural state.
The whole vibe about this look is all about summertime and beaches and in general, just having fun and relaxing. A must-try hairstyle if you think you are the queen of braided styles like these.
Classic Bun Braided Hair
To show off your beauty and elegance as a woman, even if you have naturally curly hair, there is no better hairstyle than this one. The hair has been divided into sections and braided backward in the style of cornrows.
They have been tied up very neatly thus only adding to the perfection of this look. The braids have then been taken together and tied up into a low and gorgeous bun at the bottom area. A hairstyle that is so much simple yet has people all over the world trying it out due to its classiness that is simply undeniable.
Blonde Thick and Thin Braids
This is one killer hairstyle to show off all that beautiful blonde color of your hair whether it is natural or you dyed it. On the front and top section, the hair has been divided into few very thin sections and the rest of the hair has then been tied up in much thicker braids.
This hairstyle is surely a work of art and a purely golden style that looks amazing. Be it to a wedding, a party, a casual outdoor hangout or even to your workplace, this style is surely your best friend.
Blonde Faux Locs
A hairstyle that features further extensions yet it looks simply stunning. The hair has been tied up in a twisted braid manner and then bough together into a bun at the upper portion. Gorgeous blonde faux locs have then been added to the hair.
They help to add not just volume and length to the hair but are also a great way of protecting your natural hair from heat, pollution, etc. This is surely a killer hairstyle that you really need to try out.
Fluorescent Pink Bob
Another brilliant hairstyle is all about bright and beautiful colors. The hair has been maintained at shoulder length itself in a short bob and has been tied up in the style of braided bob plaits. The styling has been done in an asymmetrical and curvy manner, which makes it look all the more interesting.
The best part of this style is the neon glow that is coming from the beautiful fluorescent pink highlights that have been dyed all over the hair. The ends of the braids have been neatly snipped short and secured with elastic bands.
Long Bohemian Braids
Bohemian styles leave their mark everywhere in any possible way and that is one such mark that they have left in this beautiful vintage hairstyle. It looks very charming and pleasing to the eye.
While some parts of the hair, especially on the upper section, have been tied up into very thin braids, the rest of the hair is simply let down as it is, in its natural wavy texture. A very chic look has been created here by adding some twisted elastics on the upper braided section of the hair.
Golden Box Braids
As the saying goes, always save the best for the last. So if you think these braided styles couldn't get any better, well, then you are in the wrong because we have definitely saved the best-looking braid style for a final climax.
Seriously though, the beauty and complexity of this hairstyle are very stunning and will surely make you think twice if you have already made a decision to try out another hairstyle. The hair has been dyed in a beautiful shade of golden brown and tied up in adorable box braids.
One Side Crochet Braids
This hairstyle has a very intense look which has an extremely bold look. Though it may seem difficult to tie with the help of a crochet needle it's simple enough. This hairstyle of braiding can be done on women who have short hair length.
Also, this hairstyle is great for summers or travel or workout sessions not only does it imparts a stylish look but also works as a great summer style and allows air to blow and doesn't make you feel hot. This hairstyle will look great with western attire or just shorts and a denim t-shirt. The look is bold and funky.
Cornrow Braid
In this hairstyle, the plates are comparatively thicker. This hairstyle incorporates two braiding styles in one and gives a great and unique look. This hairstyle looks really cute and gives you a bob look.
The scalp area incorporates the cornrows and the later end has the spiral crochet braids. These two styles give a unique natural braided hairstyle that can steal the show. For small school girls, this will look great. Also if you have hair that is still on the shoulders, then you can braid this look.
Bun Braid
This braid is just stunning. The braids are done on the scalp and the entire hair is tied in a clean bun. This is an overdo hairstyle and the bun is the USP of the look. The bun is tied keeping a headband of sponge around and then the hair is fluffed up to cover it.
This pattern of tying adds the extra volume in the crown area of the head and the bun should be done with the help of the braid by spiraling around the head. The entire look is very bold and grand and is perfect for a party or grand event where you can reduce the apparel grandeur to highlight your hairstyle. You can also glamour up the style with a chocker on your neck.
Ornamental Braid Hairstyle
Well, this hairstyle is classy, out of the box, grand, and above all has a very quire style. The best part of this hairstyle is that it can be decorated according to your own free will and to the context of the occasion.
In this style, there are individually braided plates on either side of the head starting from the temple area. The bun is tied in the back. A very dramatic look is what comes out of this hairstyle. The scalp areas have clean cornrows that add to the beauty of the entire look. Matching golden earrings with the bead on the hair looks just amazing.
Beaded Cornrows
If you have slightly longer hair then this one is for you. You can tie the hair in cornrow braids.
The middle has a center aligned plait while the sides incorporate spiral side braids and the end of the braids are secured with colored plastic or brown wooden beads. The entire look of the hairstyle has a very boho appeal to it. It is a great kid's friendly look.
The Rope Braids
This hairstyle is great when it comes to flaunting both the length and volume of your hair. The hairstyle can be done by micro-braiding. Take three strands in a narrow sections and braid the section.
Repeat this method taking several sections throughout the hair so that it looks as if the hair is all open with thick intricate strands which in reality and closer look nothing but micro braids.
Crown Braid Hairstyle
In this braided hairstyle, the scalp region incorporates minute cornrows and then the rest of the hair is braided in thick plaits. Now the braids are tied in a ponytail and then surround by the pony with the braid.
This gives a crown effect on the head and adds a lot of volume and height as well. You can pair this hairstyle with a gown and give a glamorous world. So try out this hairstyle. You can also adorn this hairstyle
Inverted Braid Hairstyle
This hairstyle is a bit odd and that is the USP of the style. In this style, the hair is tied in braid from the lower end and then put upside and the loose end that is clipped on the crown are is fluffed up to form a bush like an effect.
So overall this hairstyle is different and smart but definitely, it is out of the box and indeed can be the talk of the event. Because this hairstyle leaves the back area and you can pull off a great backless dress to flaunt your feminine charm.
Pomp Braids
So far this is the cutest braided hairstyle ever. This hairstyle looks a tad bit complicated but once done taking a bit of time it renders a wonderful result. This hairstyle suits children the best. The cuteness quotient somehow increases drastically.
First, leave a section of hair on either side after doing a middle partition. The scalp hair is plaited in cornrow micro braiding along with the incorporation of Cris-cross style, leaving the individual sections on either side. The rest of the hair is tied in two pomp pomps.
The first section that was left untied is now to be plaited. This style has a quirky fun look that kids will just love. Also, the braid can be crossed over the front to the length of the chin.
Rope Braid
This hairstyle suits women with thick hair. Also in this hairstyle, the most important factor is the tying method. If your hair is not curly enough you can definitely back brush to create some amount of volume in the hair.
Also, the fluffier the hair is better the braids will turn up. In this braid start right from the scalp. Take multiple sections of three strands each and the style and tie the braid all along.
Patterned Waves
Now, this hairstyle is a definite show stealer. It is very stylish intricate and pretty. The hairstyle is not at all complicated. On the contrary, it is quite easy. The hair is sectioned out as you want the gaps and patterns to be and then they are braided very close to the scalp and tucked back to the major mass at the crown area.
After the patterned braiding is done, the hair is curled in waves with the help of a curler if it lacks natural curls. Then it is secured with pins. The rest of the hair is left to be as it is falling on the back beautifully.
This hairstyle can also be decorated with beads at the tip or a small ornate piece of the head ring can be attached to the center pattern to make the entire style look even more attractive.
Long Braids
If you have long hair then this hairstyle is definitely for you. Take out sections from the scalp and start braiding them randomly till the tip.
Repeat the process all through the length of the hair and what will be left at the end is a beautifully styled thick braided hair that can be paired with large hoops.
Highlighted Braids
This hairstyle looks good on women with short to medium hair length. In this hairstyle what is necessary is to clean comb the hair making it completely tangle free and then tie the hair in close-knit braids.
At the rim of the crown make a knot and then again continue. Repeat the hairstyle throughout and you can see a lined gap that creates a very pretty partition with the knots like a hair band. This hairstyle is very simple pretty yet elegant.
Top Knot All-Braid Hairstyle
This look is just aptly dramatic and speaks a lot about your personality, about the bold and smart carefree vibe that you portray with such a hairstyle. Braid all through the hair taking individual strands.
After it is done taking in few braids to form a thick knot more like a bun. This hairstyle has a very weird glamorous appeal to it. This can be a perfect part hairstyle that will be the most talked about hairstyle of the event as it stands out from all the mundane hairstyles. It is unique, bold, and different.
Bun on to Braid
This hairstyle is ideal for women having a carefree and simple yet adventurous persona. This hairstyle incorporates a top bun and the rest of the hair is left to be braided.
This is done in medium hair length and the best part about this hairstyle is you can decorate it with beads and other such hair accessories. This hairstyle is great for teenagers and also for women who have a very fun-filled happy spirit.
Maggie Cut Hairstyle
In this hairstyle, one can either go with just the simple styling or else can adorn it with a hair accessory. The braids are twisted and fall on the hair-like shoulder and define the face. This hairstyle is apt for women with medium to short-length hair.
There is a casual undertone to this hairstyle and the best part is it can be effortlessly styled with casual types of denim and t-shirts and yet looks so classy. A baggy sweatshirt and jeans and this hairstyle are here best of friends.
Bantu Knot Braided Hairstyle
This hairstyle is great for children who are playful. The hairstyle is a very easy one. Take two sections from each side and braid them. Gather them on the crown region and then tie a knot. This is known as the Bantu knot braid.
The hairstyle has a very cute vibe to it and also adds volume to the hair. A casual pair of jeans, jeggings, or jumpsuit will beautifully compliment this hairstyle. This hairstyle can be styled on hair length that is short. This is possibly a great summer hairstyle that incorporates braids.
Braided Ponytail Hairstyle
This hairstyle incorporates both braid and ponytail. After you tie it up you can add some hair spray. A hair spray will the hair last all day. This braided hairstyle is best done after a bath.
This is because post bath the hair still remains wet and can be tied in a proper way and doesn't turn out very fizzy. However, initially, it should certainly be dried. If it's a bit wet then fine but should not be very wet.
When the hair is still damp this hairstyle takes great shape so it is advisable to tie hair while it is still a bit wet. Braids are always very pretty and also easy to do. You may tie it adding some ribbons or hair decor ornaments to glorify the entire look of the hair.
Dragon Fin Braided Knot Hairstyle
If you love being dramatic and have that bold and odd style that is not for faint hearts this one will definitely woo your heart. This hairstyle is just way too gorgeous and the best part is that this hairstyle has a great attracting quotient because of its sizable fashion.
In this hairstyle, the braids are done close to the skin of the head but inversely. The braids go up from the neckline to the crown region and then each braid is formed in rounds like a knot and the rest of the hair is left puffed up. When the full styling is complete it gives a fin-like appeal to the hair on the top.
Maw Hawk Highlighted Braid
Well in this hairstyle the center part has the highlighted braid and the lower ends have natural black. It is a beautifully contrasting style.
This hairstyle can turn all the limelight towards you and anything grad or royal will match up to this hairstyle. You can also choose to secure the ends of the braid with the help of a few beads to add a little bit of ornamentation to your hairstyle.
The Mohawk Braid
Getting protective braided hairstyles like these is quite a task since sometimes it can take hours. So it is only necessary that you style it in the best way possible to make an effort worth all of it. We hope that this list of some of the best-braided hairstyles will definitely help you in choosing a style that will not protect your hair, but also help you to stay ahead in the fashion game.
These braided hairstyles for natural hair are truly stunning and will help you shine with radiance. They'll also protect your tresses to keep your hair longer, stronger, and healthier.
These fashionable looks can truly be trendy as well as beneficial for your overall appearance and your hair's health!